* We're sending lots of love to everyone in Boston (our cousins were at the marathon but are thankfully safe).
Back in October we hardly would have called ourselves traveling experts. Honestly we only took a flight once every few years (we went to Alaska for our honeymoon in 2007 and didn't get back on a plane for a family vacation again until 2012 when we went to Hawaii for our five year anniversary). But thanks to our book tour, we've been on lots of flights. 29 of them in four months to be exact. So while we still can't quite claim expert traveler status yet, here are a few things we learned about planes and hotels along the way…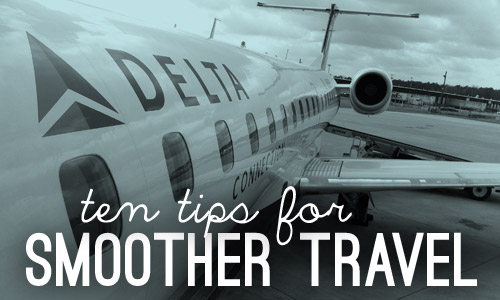 #1. If your airline is gate-checking bags, get on the plane towards the end of boarding (even if you're invited to board earlier). On small planes where rolling suitcases & duffel bags are tagged at the gate and stowed underneath the plane, we found that often the last bags to go on were the first to come off. So if you've got a tight connection or just generally don't like waiting for your bag, don't be in a rush to board because your bag may end up at the bottom of the pile. Don't be dead last and get left behind or anything, but try going on with Zone 4-5 people instead of Zone 1-2. Note: this works best if after you gate-check your bag, the only other carry-ons that you have can slip under the seat in front of you since overhead bin storage fills up while you wait to board.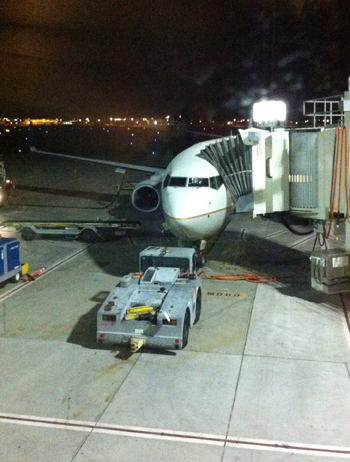 #2. If you're arriving to town before hotel check-in, just call ahead. Our flights often got us into town before noon – a few hours before the standard hotel check-in time of 3 pm. We used to think this required us to kill some major time, but usually all it takes is a call to get into your room early at no extra charge. We often called before getting on the plane (to let them know we were interested in an early check-in) and then again when we landed in that city (to hopefully secure something that was ready). This method only failed us once, but in about a dozen other circumstances when we arrived early, there was a room waiting for us.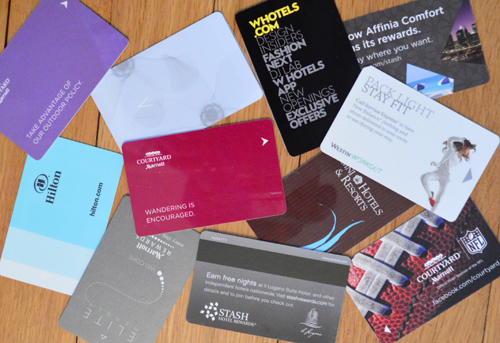 #3. Be the bright spot in the front desk clerk's day. Hotel employees deal with plenty of jerks each day (we witnessed more than a couple), so by being the friendly / smiley / not-engrossed-in-your-phone guests can sometimes earn you more than good karma points – we even scored a couple of random room upgrades.
#4. If you can't reserve plane seats together, book seats that would be next to each other, even if they're in different rows. All of our tour flights were booked by our publisher (many of them last minute). So on the few occasions where we couldn't get seats together, we'd ask the desk agent, which worked in most cases. But for two instances it didn't. So as a last ditch effort, we chose an aisle seat in one row and a window seat in another – even if it was a row up. Then we'd get on the plane and before the person in the seat we wished to switch with sat down and got settled we asked if they minded sitting one row up in the same exact seat that they booked. In those two cases, the person didn't seem to mind at all (of course nothing's guaranteed, but we thought it was worth a shot).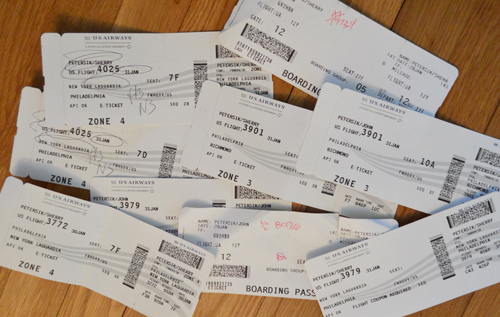 #5. Whenever possible, pack light and carry on. In all of our 29 flights, we never lost a single bag. This is because we packed light and carried on every single time. I just carried my purse (which also had our camera, our phones, our tickets, some snacks, and our itinerary) and John carried the backpack (with our books for reading on the plane, our computer, and signing stuff in it) along with dragging the carry-on-sized rolling suitcase along (full of clothes, shoes, etc). This is all that we brought with us, even when we were gone for nearly a week: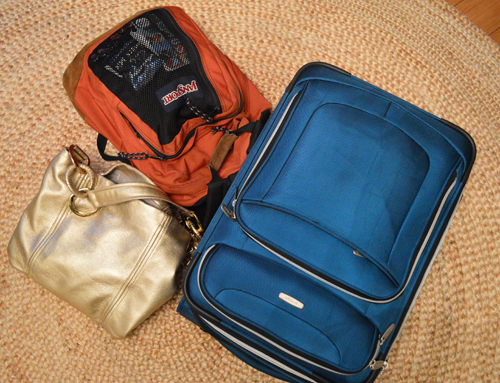 It might seem hard to get all of your stuff down to just a few bags, but our advice is to pack a few wardrobe staples that can all be interchanged (ex: don't pack any tops that need specific shoes or pants that don't go with anything else). In our case, a few pairs of jeans and tops along with one extra pair of shoes each, and some obvious things like underwear was all that we needed in our suitcase. When we travel with Clara we use one more rolling suitcase for her clothes, sound machine, blanket, and a few other comfort items, but since each person is allowed one suitcase and one carry on, we're still good to go in that scenario without any bag checking.
6. Keep toiletries easily accessible in a plastic bag that you can pull out in two seconds at security. Many of the airports we traveled through were extremely strict about removing our liquid toiletries from our luggage when going through security (and it can really slow you down if you have to dig through your suitcase to grab them) so we learned to keep our plastic bag of contact solution and other small liquids more easily accessible. Rather than burying it with the rest of our toiletries in our suitcase, sticking it into the front pocket of the backpack made for easier grabbing.
Oh but they'll take any and all fancy sodas away from you as you go through security 100% of the time.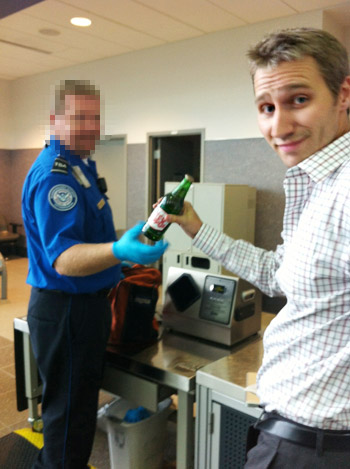 #7. Make a travel document to use as a quick-reference itinerary for every trip. We put all of our hotel accommodations, flight confirmation numbers, and scheduled dates for departures & check-ins on one sheet of paper that we printed out before we left for the airport. It's also a nice simple sheet to copy for a family member so they know where to find you in an emergency.
#8. Do a night-before-check on your flight, print tickets at home, and double check your hotel reservation. This is another one of those prepping-beforehand-is-much-easier-than-panicking-later things. We liked to check on our flight the night before, just to be sure it wasn't delayed or canceled and, if possible, even print tickets at home to save time at the airport. We also learned the hard way to check our hotel reservations – on one of our first tour stops, we arrived to find that our hotel was booked for the following night instead of that night and we had to kill a few hours while everything was straightened out.
And if you're lucky, your room looks like this…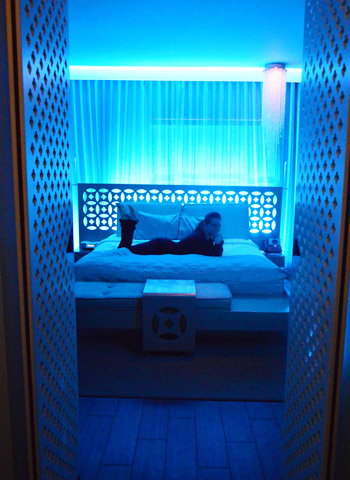 #9. Everything takes longer than you think. Always give yourself a lot more time to do basic things like fly somewhere, catch a cab, check into your hotel, etc. In the beginning of our tour we tried to squeeze in a lot of things that we soon learned we're close to impossible (ex: a house crashing after a delayed flight meant shooting a house in the dark and then eating a crazy-late dinner and collapsing into bed at 1am, which didn't set us up well for our morning signing the next day). So it was a lot less stressful once we stopped underestimating the time it would take to do things and started being realistic about how much "fuzzy" time there is in there. You know, all those moments spent deplaning, waiting for a cab, or sitting in a restaurant waiting for the food can really add up.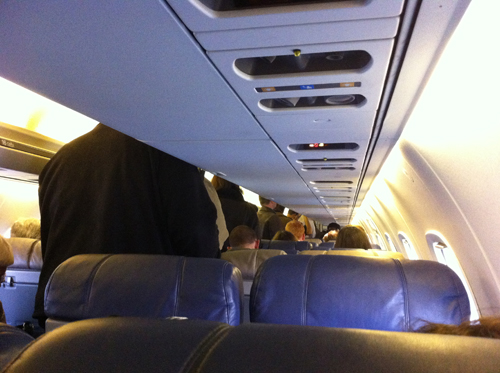 #10. Hotel TV can stink. I know, this isn't a huge deal for most people (us included) when you're going to be staying somewhere for a few days, but when you're traveling on and off for four months you definitely start to miss the simple comforts of home that help you unwind (your own couch, your own bed, and even your DVR). So we wised up in the last month of travel and got a free one month trial of Amazon Prime, which allowed us to watch Downton Abbey on our computer in any hotel. It sounds odd, but having this simple luxury really helped us relax and it made those random hotels feel a little more homey (instead of sitting on the bed watching Cops and missing "real life" like crazy).
So there you have it. Ten things that made all that traveling a little easier, more fun, tastier, and more comfy. Do you guys have other tips out there! I'm sure there are some we have yet to discover and a few that we're forgetting thanks to scrambled travel brain. That's a real thing, right?
Psst- Here's a post about toddler travel that we did a while back, just in case that's on the agenda for you.