Clara has had her play kitchen for over a year and a half and she still plays with it nearly everyday, which is practically a toy miracle considering how quickly other items are dismissed. So play kitchens have a special place in our hearts. And this one is extra special because, well, Casey and Phil had a ton of fun making their own – and brought lots of new ideas to the table. They don't have a blog, but they outlined their process here for you guys:
Much like you guys, my husband Phil and I decided to build our daughter Zoey a play kitchen for Christmas. I sketched it out to mimic our kitchen cabinets, and I knew she'd love a pretty realistic looking stove in a fun color. Luckily my husband is a fantastic carpenter, so we built the whole thing from scratch using scrap lumber from from our whole-house renovation and butcher block left over from our previous house's kitchen renovation.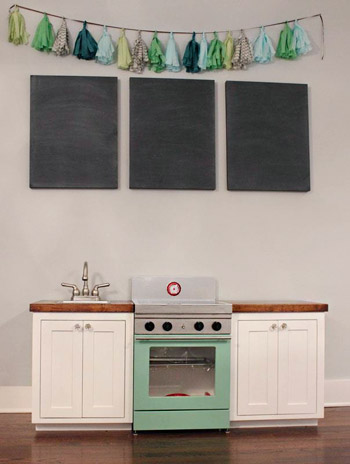 All said and done we spent an embarrassing amount of time on this, but I think the end result was worth all the work!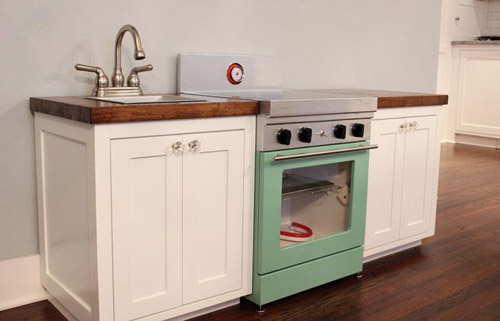 The cabinet building was pretty straightforward- we built basic cabinet boxes, added the face frames, then added the extra paneled detail on the sides. Phil build the doors separately and we attached them after everything was painted. The stove was a little (okay, a lot) trickier. We build it in 2 major parts- the lower half (the painted part) is all one unit, and the upper half (the stainless part) is the other half.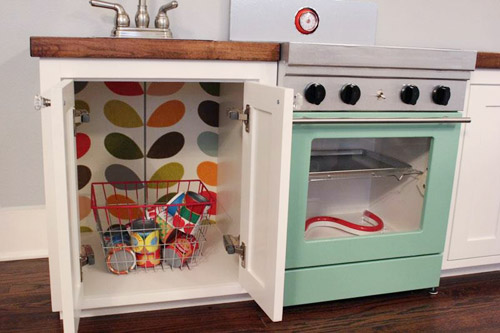 Phil loved the idea of dimmable "burners" so that was definitely our biggest expense in the whole project – but he was right that it takes the whole thing to the next level. Zoey loves them! For the top half we sandwiched the LED lighting in between 2 layers of wood to hold it in place. We used a 6″ hole saw to create the 2 openings where the coiled LED lighting shines through. We wrapped the top part in stainless contact paper, covered the lighting with a piece of tinted plexiglass, then we put the whole thing on top of the lower half.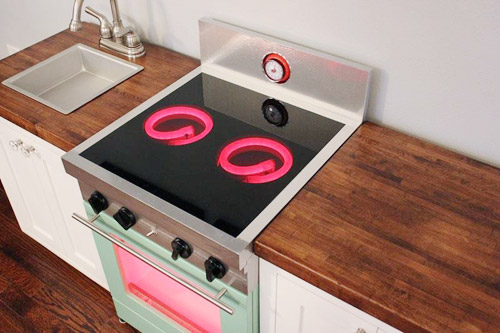 And I know people love a good resource list, so here's where we got things:

Cabinets- made from scrap wood from other projects
Countertops- leftover from previous kitchen (lumber liquidators)
Sink – Amazon
Faucet – Amazon
Cabinet knobs – Target
Paint color on cabinets – Benjamin Moore's Super White
Paint color on stove – Benjamin Moore's Meadowlands Green
Handle on stove – Ikea
Knobs on stove – Amazon
Timer – Anthropologie
"Stainless steel" contact paper – Home Depot
Oven rack – Dollar Store
Flexible LED neon – Del Lighting
Dimmers – Amazon
Plexiglass for stovetop – eBay
Wallpaper on interior cabinet – leftover from Zoey's nursery, Wallpaper Direct
Hope you enjoy! -Casey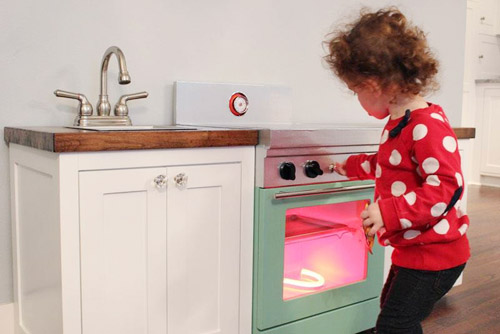 Isn't it awesome? Zoey is one lucky kid to have such resourceful and creative parents who have so much fun building things for her. Thanks for sharing your creation with us, Casey and Phil!