We're back with our third installment of cash conscious ideas, so lets-save-some-moolah-people! For our first post about all the ways we keep our wallets in check, check out Save It: Part 1. And for a slew of other money saving suggestions, see our more recent post Save It: Part 2. Who would've thought after 21 tips we'd be back with more… but desperate times call for even more penny pinching, so we're here to spill the beans (and hopefully save some too).
Cheapola Tip #1- Point Taken. In tight times like these, it's nice to use our extra credit card "points" strategically. So instead of cashing them in for something that's not entirely necessary (like a Bose stereo or a hotel reservation), we like to put them towards something we ordinarily would have spent our hard earned money on anyway (like a gift card to Home Depot to cover a year's worth of air filters for our HVAC or even a grocery store gift card for food and other monthly expenses). There's nothing like an indulgence in good times, but it's super fun to think that Visa is paying for garbage bags and other household staples so we can bank a bit more dough these days.
Cheapola Tip #2- Waste Not, Pay Not. We realized that thanks to composting and recycling, our garbage bin only fills up every two weeks instead of having to be dragged to the curb every 7 days. Thankfully there are trash services that offer bi-monthly pick-ups (for less!) which work perfectly for our reduced trash load, so we're planning to switch over and save some green.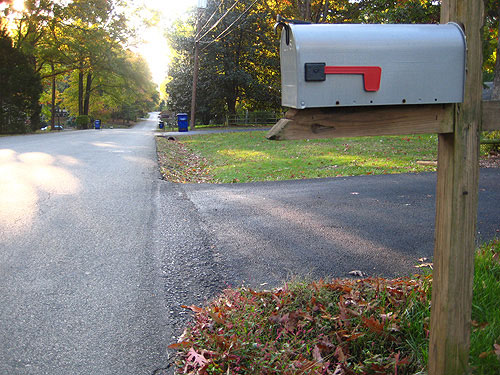 Cheapola Tip #3- Second Chance. Purely on a whim, I decided to take a big bag of old clothes destined for Goodwill to a local consignment shop- just to see what would happen. The verdict? I'm a consignment convert. I walked in with a bulging bag of clothes and walked out with $44 in my pocket (and still had a few things in the bag for Goodwill!). They certainly won't take everything (color and season along with size and the trends come into play) but for two pair of jeans, some red flats that never fit right, and an old dress that I'll never wear again, I made close to $50. Not bad for offering up closet castoffs and twenty minutes of my time.
Cheapola Tip #4- Seize The Birthday. Much like tip number one, resisting the urge to ask for off the wall "would be nice" gifts and instead requesting something you would actually spend money on might feel a tad less exciting but your wallet will thank you. And it doesn't always have to be something boring like razors and toilet paper. I had been eying some candle sconces from ZGallerie for a while, so adding them to my birthday list ensured that I'd get them without having to enter my credit card number. Happy birthday to me!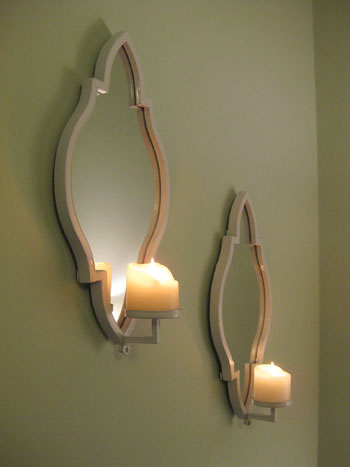 Cheapola Tip #5- Go The Long Haul. We actually went all of March without "major food shopping" at all. Not once! Other than stopping in two times pick up some eggs, milk and produce (which came in under $25 each time), we didn't do any grocery shopping for the entire 31 days of March! And no we didn't stock up on $300 worth of food on February 28th or go on vacation for three weeks of the month. We just set one goal: no food shopping until we eat everything that we already have. Like most people we had random cans of beans, forgotten boxes of brown rice, and tons of frozen salmon that we avoided since frozen pizza is easier (so off to the store we went to buy more instead of eating what we had). By vowing to finish the rest of our oatmeal and veggie burgers, we thought we'd save a bit, but we had no idea we'd save hundreds of dollars that we usually spend on food for the month. Bonus: now our cabinets are cleared out and we know what we never really ate (so we can avoid it and save even more loot).
Cheapola Tip #6- Work The Land. Thanks to a super simple compost bin and an inexpensive rain barrel, Mother Nature's doing the work for us and we're getting free organic soil and water- just in time for planting season. And thanks to a fruit and vegetable garden that we're in the process of establishing, we're looking forward to gaining even more good stuff without spending much green.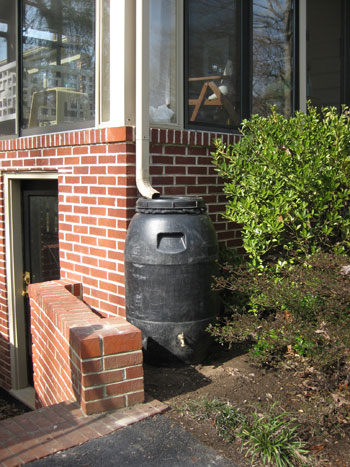 Cheapola Tip #7- Order In. John's a big runner, and he's had knee problems in the past, so shoes with adequate support are imperative. That means he can't exactly wear his Asics into the ground (since they're only good for about 6 months and then they start compromising his knee-health). But all that shoe-replacing can get expensive. Of course he would never blindly order a running shoe online (he likes to try them on and trot around in them) but he knows that there are online retailers who sell the very same shoes he could buy at a big chain nearby for $20-$30 cheaper (with free shipping). So he has taken to trying shoes on in the store and memorizing the name and model number so he can find the exact same sneakers online for a lot less. He even researches coupon codes for additional savings. Gotta love shoes that go the distance and come right to your door.
Cheapola Tip #8- Take The Subway. Now that every single Subway footlong is $5, we can easily have lunch or dinner on the go for $2.50 a person. By splitting a sub (they're happy to put different toppings on each half) we feel better than noshing on artery clogging Big Macs, and it's a lot easier to save cash (and avoid a side of fries). Although we still prefer to eat at home, for those long afternoons of running errands on the weekends, Subway is often a much needed pick-me-up along the way.
Cheapola Tip #9- Refinance, Baby. We already did a post about this (and how it's saving us some serious bank) but it's worth mentioning in this round-up of ideas for anyone looking to own their home for a bit less in the long-term. It's a great time to drop your interest rate substantially.
Now it's your turn! Tell us all of you penny pinching tips and tricks. Share and share alike!
For more great money saving strategies check out this post over at My Sweet Savannah.