Let's talk about DIY haircuts, shall we?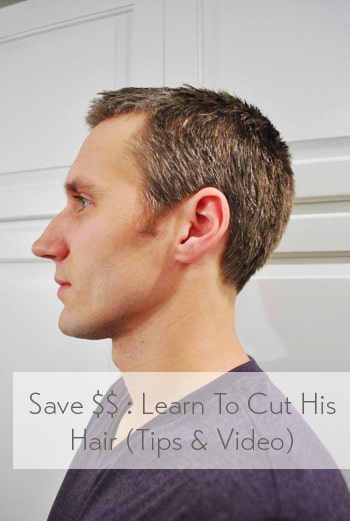 This is one of those posts I never thought I'd write (it's definitely not very home related) but due to a surprising amount of requests, here it is. I guess anything that has to do with saving money and doing something yourself is fair game, right? I have no idea how I got into cutting people's hair, but throughout high school and college I just played around, cutting off a guy's mullet here and giving my BFF a super short pixie cut there (all at my "client's" requests, of course). Why did they trust me? I have no idea. Maybe I just have a trustworthy face? I most certainly don't have any formal training. I just sort of treat hair like I'd imagine I'd make a butter sculpture. You just remove the extra stuff so you're left with the shape you want. Confidence inspiring, huh? But a bunch of people actually noticed my latest work of haircut art on John's head in party pictures yesterday, so… score! Haha.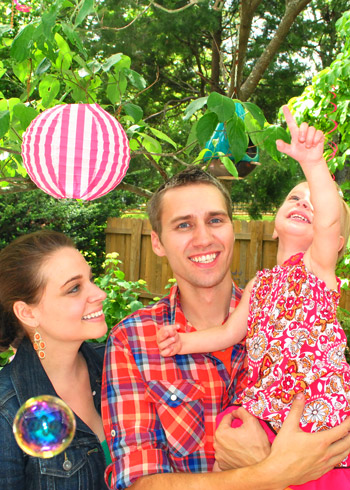 The funny thing is that we realized I've been cutting John's hair for seven whole years! And I've probably dished out 50+ other haircuts to other friends and family members throughout the last ten years (why yes I have cut my brother in law's hair in the backyard of John's parents beach house). So take this post for what it is, one not-professional gal's take on how she grooms her man. An above the neck manscaping lesson if you will.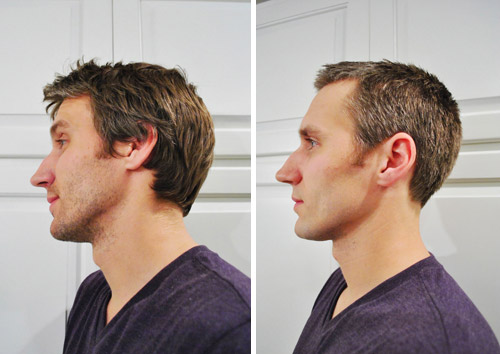 But since it's extremely impossible to tell you how I cut John's hair and a lot more descriptive to just show you, we actually made a video, thanks to the help of our handy little tripod. Look at that shaggy hair John had going on in this "setting up for the video" shot: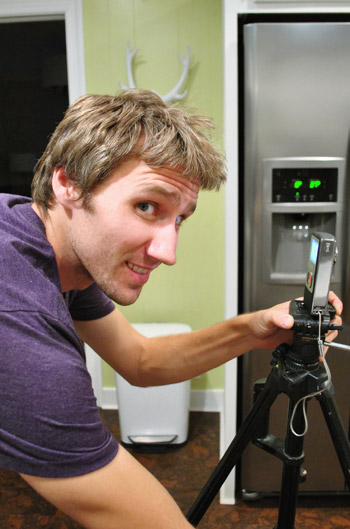 It's amazing what a little at-home clippage can do. How YOU doin' hubby?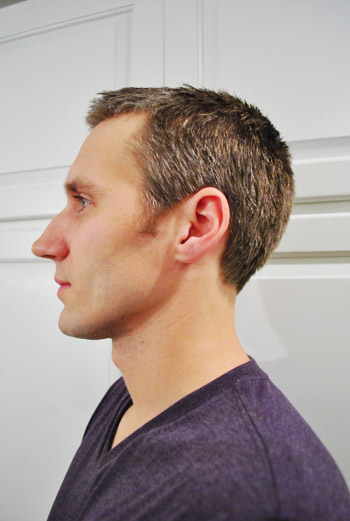 But on with the video! Let's get up close and personal with those light brown locks, shall we? Oh yes, and I have primer/paint all over my hands from Clara's birthday dollhouse (more on that tomorrow). You can watch it below or here on YouTube.
For anyone who can't watch the video with the sound on (mehaps you're at work?) it's actually still pretty easy to understand on mute (since you just have to see what my hands are doing to get the gist). And I've included a few written tips in bullet form below, just to help anyone with a sucker on standby who's ok with you experimenting on their head. I say that in the most kind and loving way, since all of my friends and family who have let me go to town on their hair are pretty darn awesome. I actually haven't had an oopsie since college (I went a little shorter than I meant to on a gal in dorms, but she totally had the bone structure to work it). Although now that I've made that claim I feel like I should knock on wood. Or John should, since he'd be the most likely person to have to walk around with a potential hair snafu if it ever were to happen. Anyway, on with the tips:
I cut hair when it's dry or very lightly misted with water because my experience when cutting wet hair has been that it "shrinks up" and is always shorter than I mean for it to be – which can lead to profuse apologies. Also hair that's wet might not "lay" the way it does when it's dry (ex: a cowlick might make itself known when hair's dry and result in an uneven effect).
I cut John's hair at night after Clara's off to bed so we can get 'er done without distractions (no toddler running through the hair pile on the floor- which Burger thankfully avoids like the plague).
I don't use a buzzer and just shave John's neck for him after the haircut with a regular shaving razor. That always makes things look nice and polished, and this way we don't have to store a big hair buzzer (or pay for one).
I just use hair-cutting scissors that I got for like $5 from CVS. They don't even have a brand name on them to pass along. Sorry!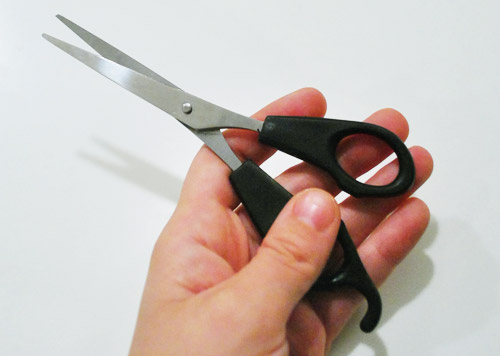 I use my fingers to keep things even. For example, when I cut John's hair I cut it one-finger-length from his scalp, so it all stays that length. I go a little longer on top – maybe two finger lengths (see the video for more on this).
I always try to cut hair vertically (ex: parallel to John's spine) – except for trimming the line around his neck – since it can look dorky and block-ish if you cut things horizontally (parallel to the shoulders). It's really hard to explain in words, but the video makes this much more clear.
I'm not a pro, so this isn't real hairdresser scoop. Haha. I'm just a crazy girl with a penchant for pickles and cutting hair – so this is just what works for me (and John, my sweet hair-model hubby).
Oh and here's an after pic from the back, since that might help you guys visualize it from that angle.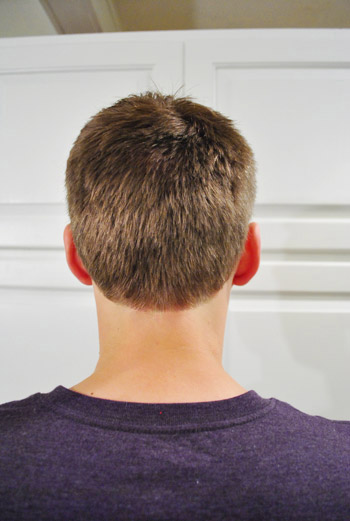 Hope that helps any DIY-haircutting-hopefuls out there! Does anyone else host haircuts at their house? The craziest thing is that I just calculated that we have probably saved at least $700 in the past seven years just by me cutting John's hair (not counting all the times that I cut my own hair or ask John to snip a straight line in the back when I need a little trim and can't reach – which might be an additional $500 in savings over the years). That's a lot of cheddar ceramic animals…