A dove and a moose walk into a bar. Just kidding, not a bar. That's not kid-room appropriate. How about a dove and a moose walk onto a playground? Anyway, I'll just cut to the chase. We finally found a dresser for Clara's big girl room, complete with dovetailed joints! Hence the mention of a dove (ah, they don't make 'em like they used to).
We wanted one for the playroom/ big girl room for Clara once she moves in there (so that eventual-second-child can use Clara's original dresser since it works so well as a changing table in the nursery). And that way we're not undoing one room to redo another room, which always feels counter productive. Plus nine more drawers worth of storage in our house = jackpot. Especially when it's taking the place of an old room full of clutter, which used to be what this space was.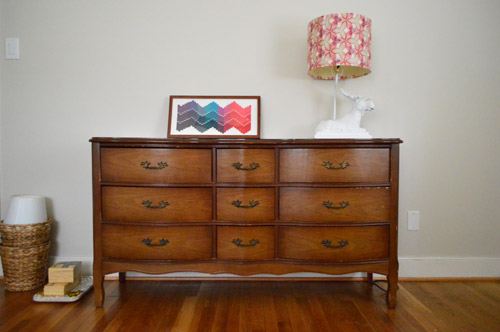 It was a pretty great secondhand score thanks to Sir Craig And His List (craigslist for those not down with my dorktastic lingo). For just $50 we're the proud owners of this nine drawer dresser. As for how we found it, we just searched "dresser" on craigslist in our area a few times a week (maybe once a week if I forgot) for about a month and then finally this guy came up: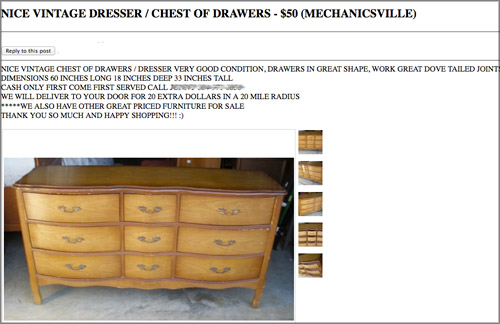 Our only real requirements were something from a non-smoking household (that's a hard scent to remove), something with at least six drawers like Clara's nursery dresser which has worked out so well for us (nine is a total bonus!), and something long as opposed to tall (since we figure as she grows she can reach these drawers and get dressed herself more easily than she would with a tallboy since she might not be able to reach all those upper drawers).
After we got it into the room, we tried the daybed and the dresser on a few different walls and preferred the dresser right to the left of the door as you enter the room (it's a lot shallower than the daybed, which sticks into the room quite a bit, so we liked that on the back wall with the dresser across from it).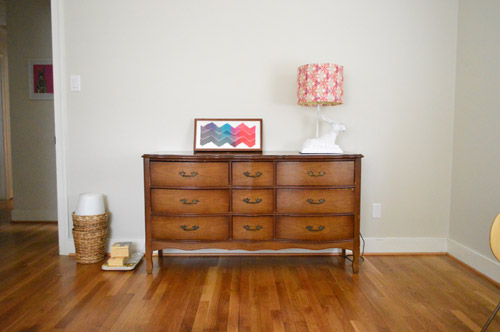 And here's the other side of the room to help you get your bearings: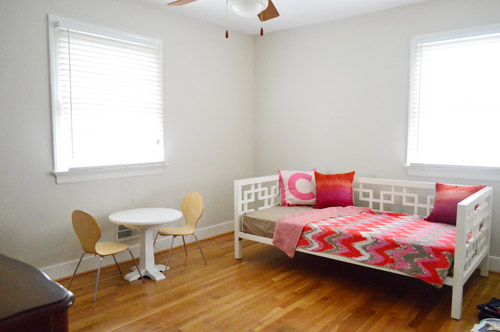 Oh but our new dresser's not in perfect condition…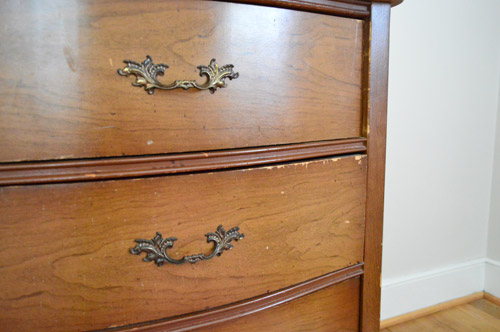 … so we're planning to either refinish it or paint it depending on how the room evolves around it. We don't want to rush into anything so it's easiest to do what we call sticking & moving. We drop it in place in the room and just keep on adding other elements that we need in here (a rug, window treatments, art, a new light fixture, etc) and we're sure at some point it'll become a lot more clear if we want to refinish it in a deep wood tone, paint it a moody navy, or go snowy white with it. Who knows, we might end up somewhere else entirely! No matter what we decide, you know we'll keep you posted!
But where does the moose come in? Remember the estate sale light that I sprayed ceramic-animal-white back here? Boom, moose.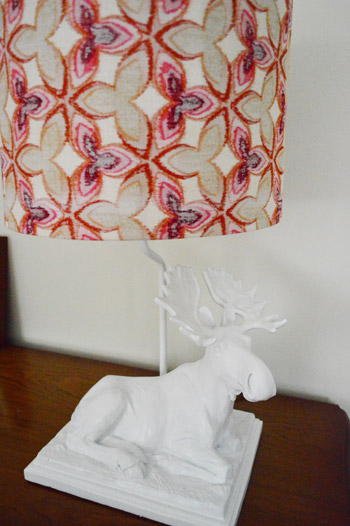 I promised you guys a shot of him with his final lampshade on, so there you have it. Remember the fabric-covered shade was a book project (#182) so we couldn't share it until the book was out but now that it's out, I'm all about it. We used fabric leftover from Clara's monthly picture to recover a shade that we already had, and I actually used the back side of the fabric (I'm a huge fan of using a fabric backwards to mute it down a little).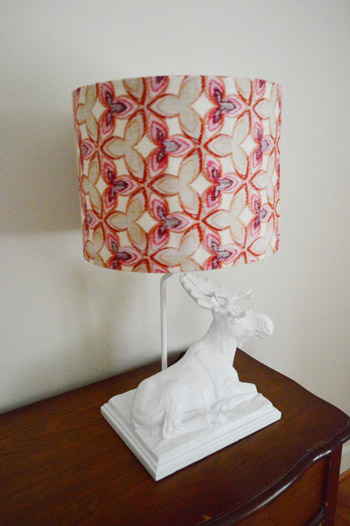 So now you've basically seen one wall of the room starting to come together. Can't wait to hang something over the dresser. Hint: it's not going to be frames or "traditional" art. We'll share pics as soon as we have it done! Hopefully Wednesday (we're on a plane all day today coming back from the West Coast, but we have a giant to-do list that we hope to tackle tomorrow and then shoot and share things as soon as we can).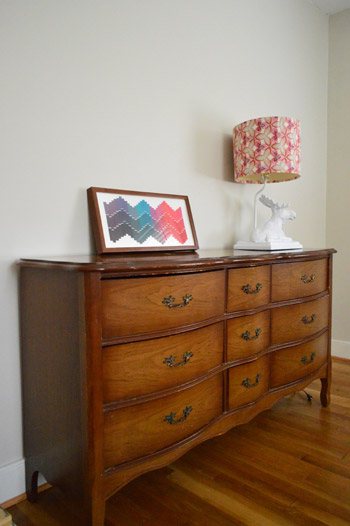 Oh and you've already seen the daybed on the other side of the room, but just for fun I thought I'd toss this picture in here too so you can see how the upholstered lamp shade "plays" with the pillows and blanket. It's looking pretty happy in there. And I can't wait to add some other colors like navy and teal and yellow. Soon I hope!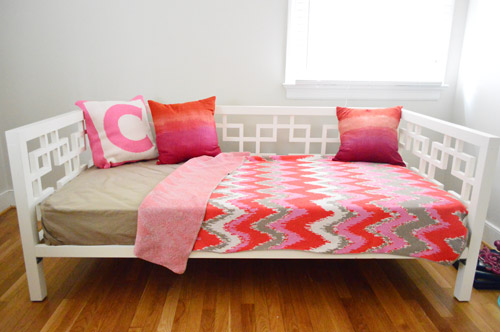 In the meantime, who's the cutest fake sleeper you know? Does her name start with a C and end with a lara?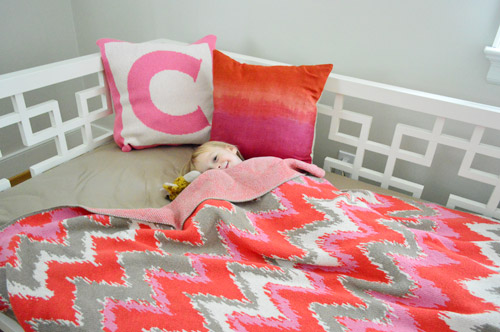 What are you guys searching/eying/buying on craigslist? Any other furniture sources that you love? Do you know any dove/moose related jokes? Did any of you guys go thrifting this weekend for the ol' Macklemore Challenge? Thanks so much for all the fun we had with that on Friday. Can't wait to see what you guys scored!