The following images make me wish I could carry a professional photographer around in my pocket at all times. But since I can't, at least we had the pleasure of having one over for the afternoon. Local-ish photographer Andrea Hubbell (she's from nearby Charlottesville, VA) is doing a series of "living spaces" photo shoots and asked if we wanted to participate for fun. Since we're (a) not too camera shy – at least when it comes to our house and (b) always excited to see our home through someone else's eyes (especially someone a lot better with a camera), we gave an enthusiastic yes.
And boy are we glad we did. Not only was Andrea super nice (and very stealthy too – we almost forgot she was here a couple of times) but her photos are beautiful: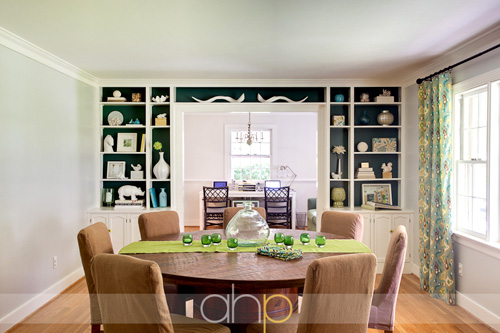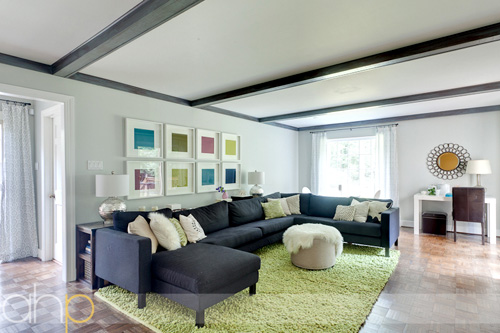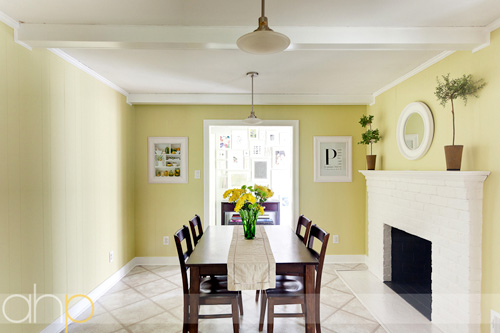 Of course we loved seeing the wider-angled full room shots, but what was most amusing for us was seeing all the little details that Andrea picked up along the way. You know, the things we hardly notice and never think to shoot and share. So we thought you guys might get a kick out of that too. What's a trip to the Petersiks without a shot of Sherry's pile o' paint chips after all?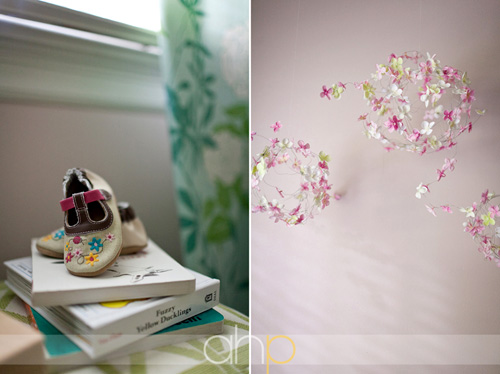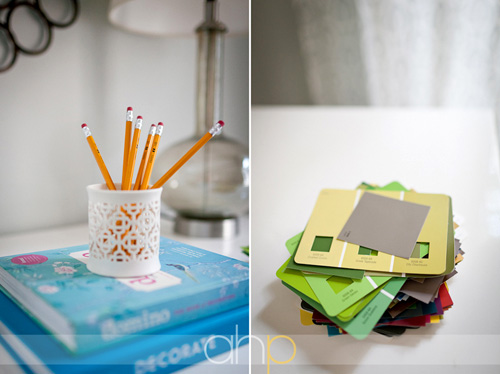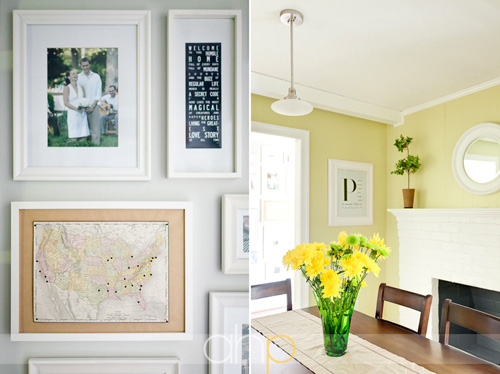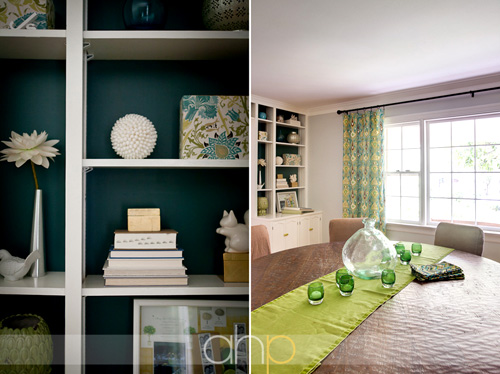 Be sure to hit up Andrea's blog to see the rest of her photos of our house (barely half of them are shown here). They were taken about three weeks ago, which is why some rooms (ahem, bedroom and living room) are already looking semi-out-of-date and others (this means you laundry room) aren't shown (since our little built-in shelves were just getting started when she arrived). Oh and here we are with Andrea. Most surprising thing ever? Sherry's not wearing a black shirt. Crazy, right? I hardly recognized her.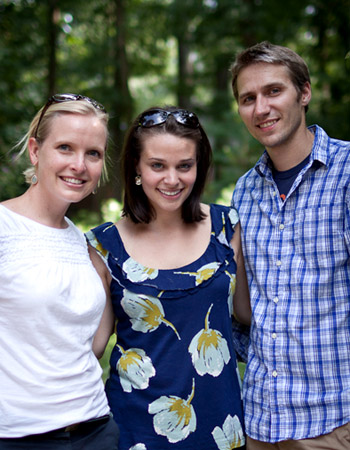 But wait – there's more. Andrea wasn't the only person to capture our house recently. We got a very sweet email the other day from a 16-year-old reader from the Netherlands named Karlijn. She's an avid fan of the video game The Sims, and thought it would be funny to use her Sims-ing skills to virtually recreate our house. And considering the limitations of the game (she said she would have added a Burger if she could have), we're pretty darn impressed by how close she got!
First we have our guest room with the teal walls, green headboard, and two slipper chairs that look almost exactly like the ones we have: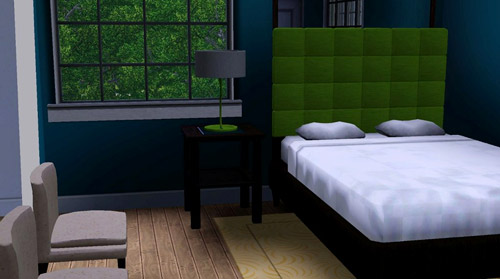 We chuckled at the accuracy of the "alley" on the left side of this screen capture of our living room (complete with a big gray sectional, a green rug, the bedroom door, and a giant paned window just like our house):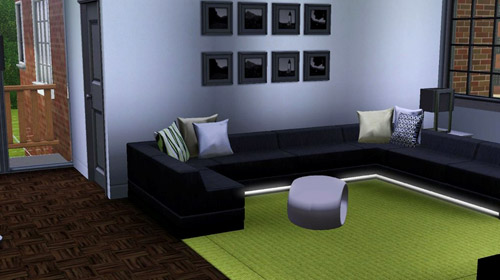 And how true-to-life it is that our windowless kitchen is pretty dark with the lights off? Maybe you don't know that so I'll answer for you: very true.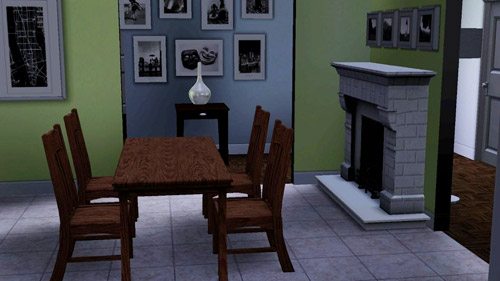 Our favorite is probably the Sims-ified space that is Clara's room (although the highway that leads into her window kind of cracked us up, since the view is a little different in real life- but we're sure Karlijn didn't have much control over that):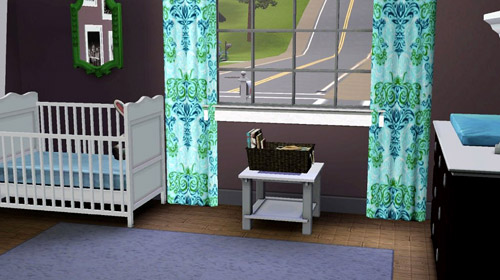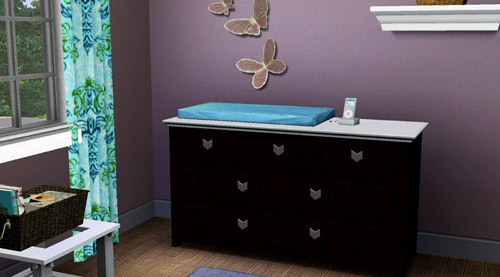 And perhaps Karlijn was dropping us some decorating "hints" along the way too. Like maybe we should add a zebra rug in the bedroom? Ooh la la.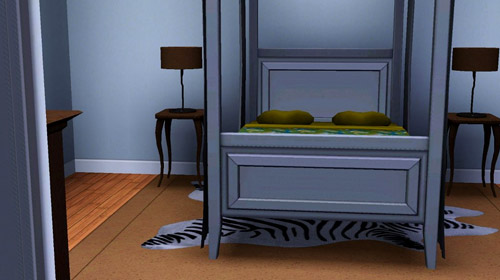 Or some outdoor lighting to the patio? (Totally agree with her on this one, btw – we're thinking about big bulb string lights).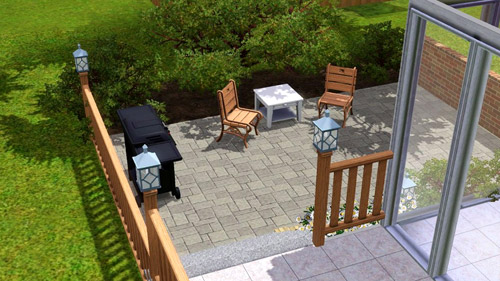 Maybe some Sims players out there can find Karlijn's place in that giant Sims universe to virtually drop in on on our house. Is that how it works? I'm so video game dumb it's not even funny. Last time I played The Sims it was called Sim City and I think I gave up after a tornado and a monster attack simultaneously took out all of my skyscrapers. Anyway, we're sending out a big thanks to both Andrea and Karlijn for taking the time to capture our home using their respective talents. It's always fun to see a familiar place through someone else's eyes. Have you guys ever tried to recreate your house in a video game or with online room-planning software or anything? Or seen photos that someone else took of your house that make you take notice of little things that you'd never really "see" on your own?
Psst- We announced this week's giveaway winners. Click here to see if you're one of them.