We finally hung stuff on the wall in the beanette's room. Earth shattering right? Except it's actually somewhat of a big deal considering we haven't hung a single thing in the entire house except for a wreath on the back of the fireplace in the living room for Christmas. That's right, for the last month we were card carrying picture hanging virgins in the new house. But now that we made about 34 holes (yes, I counted) in the walls of Clara's room, our v-card is long gone. So we snapped some pics of the nursery now that it has a little more flava.
The only real change from Clara's room in our last house so far is the soft pink wall color (it has great gray and purple undertones- more on that here). Otherwise, we have pretty much all of the same furnishings and accessories in there for now. You know, work with watcha got, blah blah blah. We think it'll definitely evolve as she grows, but we loved her nursery in our first house (it was the only room that was a bit hard to walk away from when we sold it) so we're cool with keeping things familiar for now and adding in some subtle tweaks as she grows. Anyway, here's what it's looking like in there now that we broke out the hammer and the level (34 times. did I mention we hung a ton of stuff in there? because we did):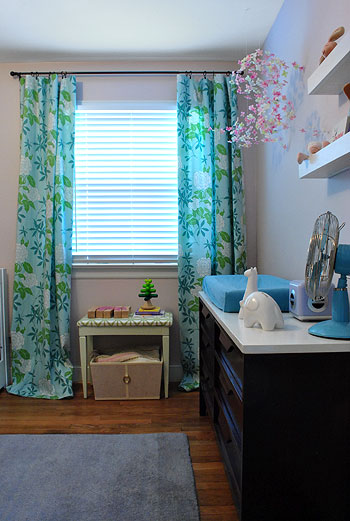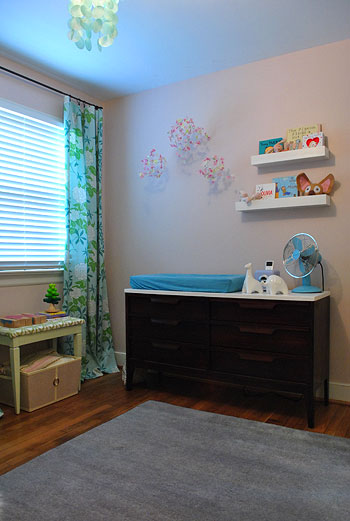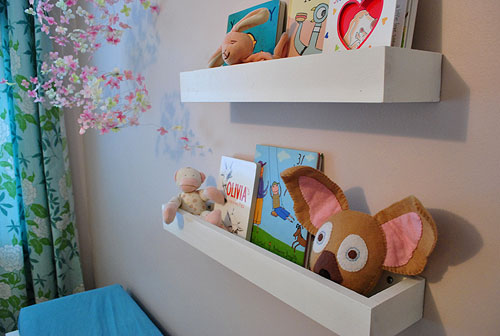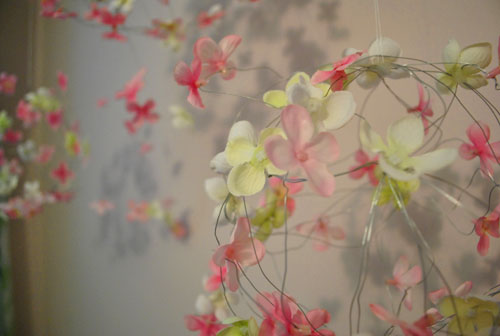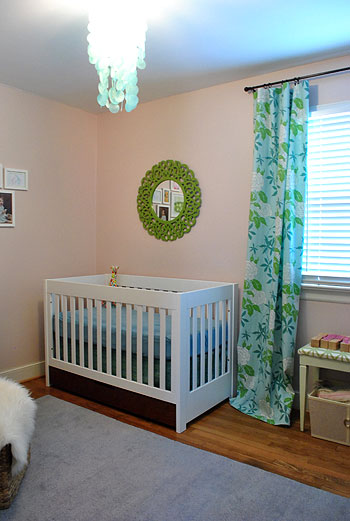 Oh and see this mirror. We baby-proofed it.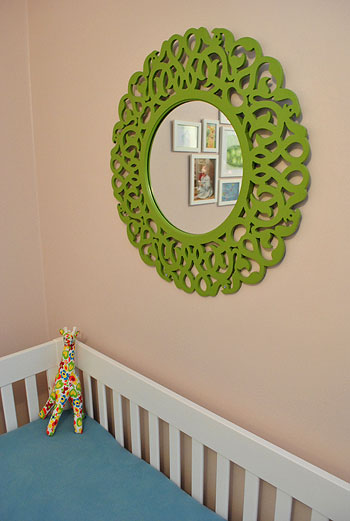 Although the mattress will drop down more than a foot when Clara starts pulling up, we still wanted to make sure she couldn't somehow climb the walls and pull that big green mirror down. So after hanging it on the wall with a nice heavy duty anchor, we went overboard and decided to drive two looong screws…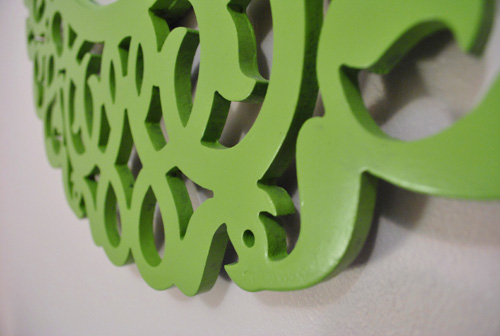 … through two holes on the bottom of the frame. Yes, we screwed that mirror right into the wall. See that little silver nail-head hidden among the ornate mirror frame in the foreground of the pic below (and the one that's kinda blurred on the other side)? We used heavy duty anchors to hold them nice and firm. That thing ain't going nowhere. And we even have the green paint that we used on the mirror to paint those screw heads so they're totally invisible among all that scrollwork around the frame of the mirror.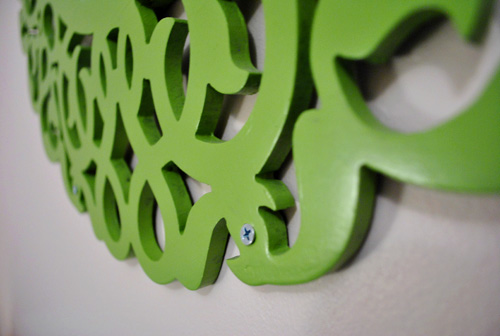 In other baby-proofing news, we also added outlet covers to nearly the entire house (still need to run out for a few more to complete the job) and of course we mentioned how our curtains are baby-proofed a while back in this post when we made them (they're held up with ring clips, so if Clara swings on them like a monkey the fabric will slip out but the rod and the ring hooks won't come crashing down. Because that would be bad. Anyway, on with the nursery pics.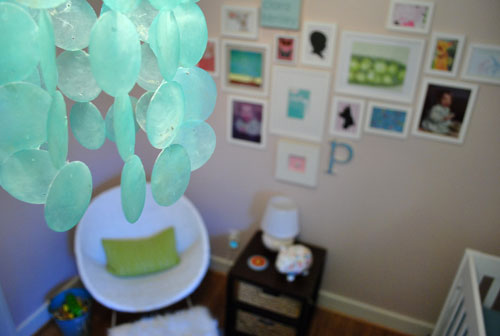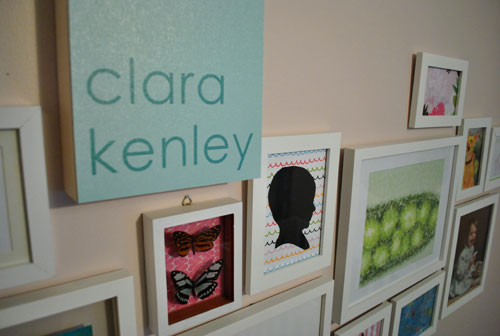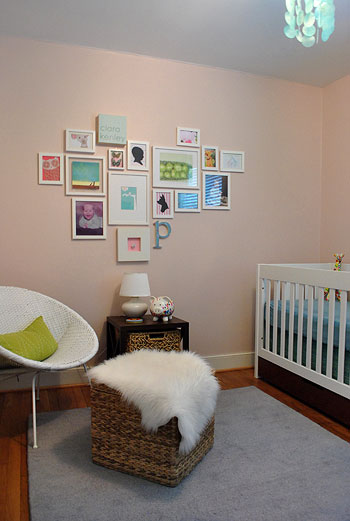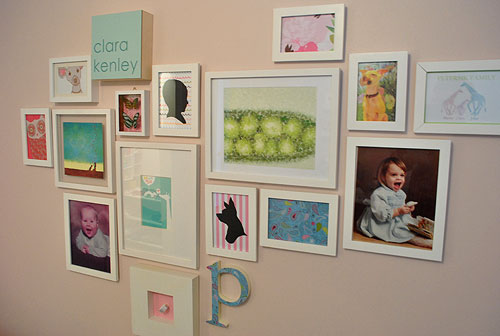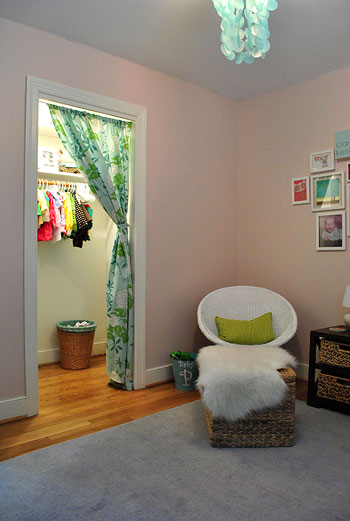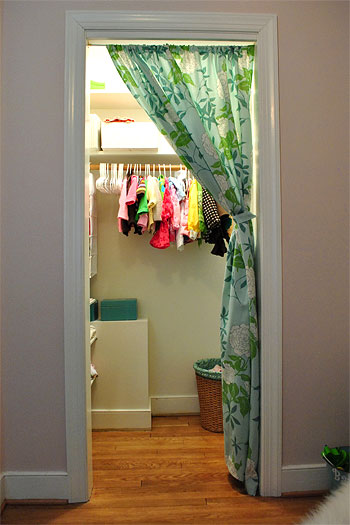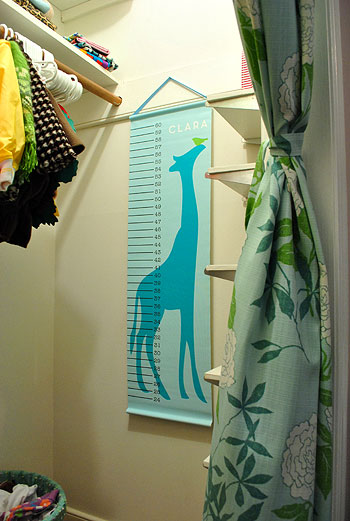 The closet is actually my favorite place in Clara's room. It's huge and I picture her in there relaxing on a beanbag and reading books when she's a little older. So there you have the current state of the nursery. It's funny to think that a little over a month ago it was completely babyless and looked like this: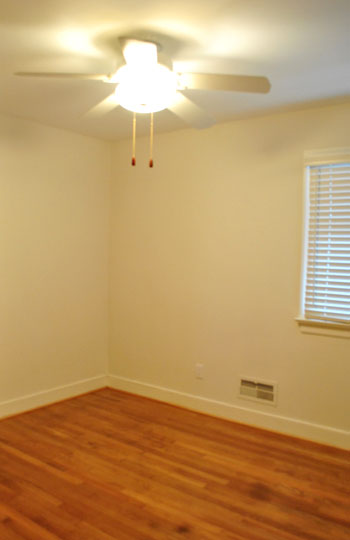 And speaking of my favorite girl, here she is now enjoying her room. This is the expression she gave me when I asked if she liked her block.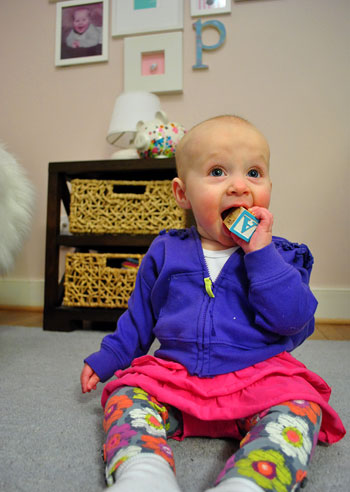 And this is what she did when I said "Now give me fierce! Work it girl!" while channeling Tyra.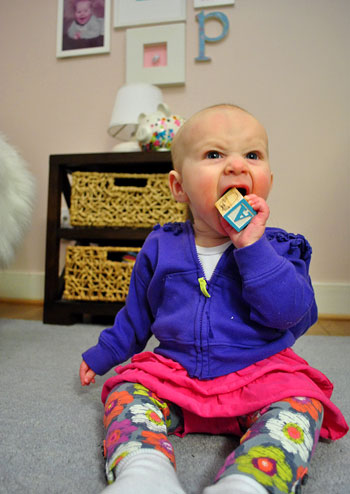 I think she understands more English than my sweet Italian grandma.
Psst- For more info on where we got something in Clara's room, click here for the full rundown.