Yup, after months of working on a little behind the scenes blog makeover (not kidding, this stuff literally takes us months) we've FINALLY let 'er rip. Like any project, there were unexpected delays: mysterious coding glitches, inexplicable site crashes (thanks for your patience on those, btw), an earthquake and even a hurricane to round things out. But before we let another excuse get in our way, we decided to just go for it. It's not 100% done. It may crash the site again. There could be a blizzard next week. Who knows.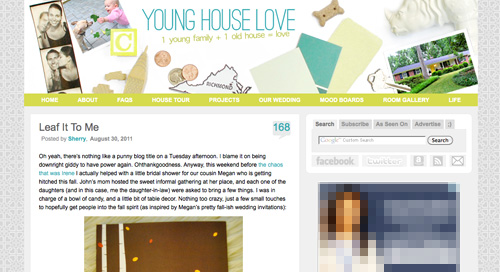 It's actually surprising to us that we haven't done this sooner. We've had the same exact blog look/background/layout since the spring of 2008 (if you can believe it). It seemed silly that we've been through so many room re-paintings, furniture re-arrangings, and even a move to a whole new house… but hadn't so much as changed the background pattern for three whole years. So it was definitely time. It just sort of felt like we were wearing old clothes that didn't quite fit anymore. So although we know there are probably folks out there who will miss the old look (we're sentimental creatures too) we're excited to finally put on a fresh new outfit.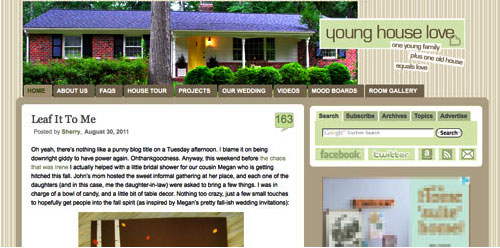 Here's a little bit of what we were hoping to accomplish with the new design:
Update the look (colors/patterns/typefaces) to be more reflective of our design choices in the new house
Make the header more inclusive of the things we blog about (folks kept saying it just represented the "house" part of our name)
Lighten up a bit, since the old color scheme was feeling a bit dull & heavy at moments
Improve navigation and help you guys discover content more easily
Overall just make the site feel fresher, more 2011 and less 2008
So this is what our amateur web designing skills came up with. So far we really love it, even though there are definitely things we're still trying to finesse. We've been tweaking it for the past several weeks, so we're kinda used to it by now – but we understand if some of you are still skeptical of the change. Think of it like rearranging a room or painting a wall – you might just need to give it a few days to get used to it.

When it comes to the actual header, we photographed a collection of objects that had special meaning to us on white cardstock outside (you know we love keeping things personal). In case you can't figure it all out on your own, here's the meaning behind each item:
Photostrips have always been something we've enjoyed, hence their appearance at our wedding
Clara and Burger are as much a part of this blog as any DIY project, so their picture was a must
A little wooden "C" block for Clara and a small bone-shaped dog treat (on the other side) were another way to tie them in
Sherry and I met in 2004 when we lived in NYC, so the little wooden skyscraper and taxi cabs remind us of those early days
We're cheap. So we save our pennies. Hence the change, which actually adds up to seven cents – which is a lucky number of ours (plus the dates on each of the pennies are 2007, which is when we started this little ol' blog)
We live in (and love) Richmond. So we tossed in a little Richmond magnet. Represent.
Paint swatches and fabric samples = our idea of a good time. So we picked a few that felt like our current house/style
There's not a much more sentimental object than the key to our house (although we altered the tip of it in Photoshop because we're paranoid)
Of course we also squeezed in a photo of our current house (had to have that happy yellow door in there somewhere)
A white ceramic rhino is kind of our mascot at this point (at least behind Burger and our dearly departed ceramic dog).
When it comes to the background, we actually created that as an homage to our previous logo (you know that little YHL heart? the background is actually just a gazillion of those laid out at all different angles to make an abstract-ish pattern). And as for the actual functional changes that we made, here they are:
1. We added a new side-deal called Young House Life (see the "Life" title under the header on the right?) to serve as sort of a "mundane everyday happenings area" where we mostly share Clara & Burger pics/videos along with behind the scenes blog stuff and other odds and ends that aren't beefy enough for a dedicated YHL post over here (you know we love to over-share). But don't worry, it doesn't mean Clara, Burger, and other life stuff (vacations, anniversaries, etc) will suddenly be gone from the main site. Those things have always been a huge part of who we are, so they stay. Just think of Young House Life is a little "bonus footage" spot. Oh and it has a separate feed address for you to subscribe to as well (if you'd like to get those updates on your reader).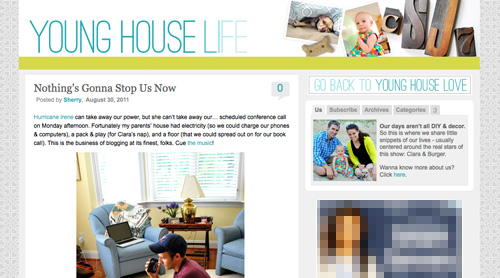 2. We finally made a paint color page about all of the ones we've used in this house and linked to it from our sidebar (like this one that we made for our first house).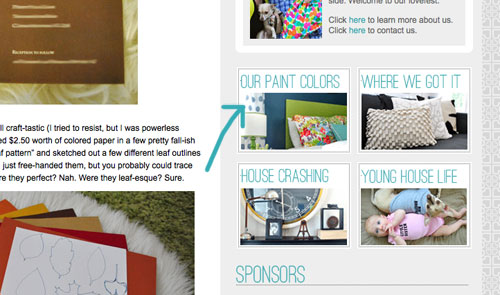 3. We also made a dedicated source list for where we got nearly everything in this house (like this one that we made for our first house) and also linked that up on the sidebar.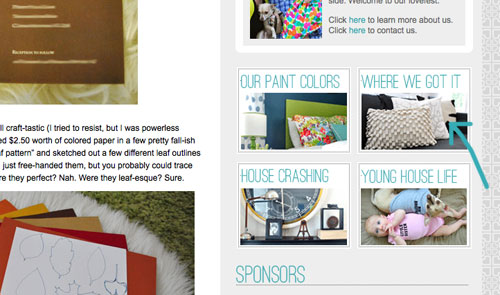 4. We tossed in a Fav. Posts button, also on the sidebar (with little thumbnails and links). We intend to update it every month or so with new faves (since we're fickle folks and because we've also heard from a bunch of readers who'd love to see more archive stuff, but aren't sure what's worth digging around for).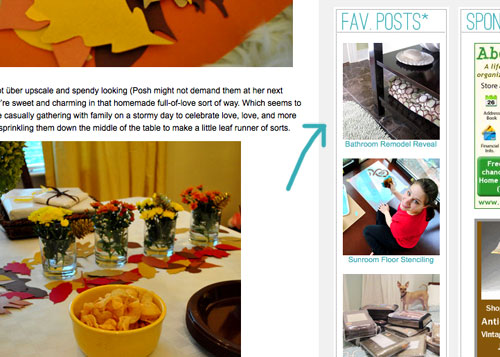 5. We also added a Videos button on the sidebar, which shows thumbnails of a few of them. All of our videos used to be accessible from the bar under the header, but we moved some other stuff up there and thought videos could breathe better down below – so now you can access them all by clicking the link at the bottom of this button.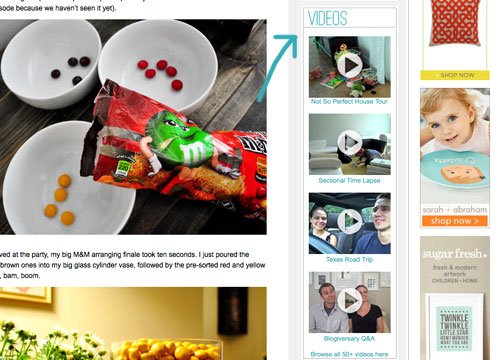 6. We added a Giving Back button to share the love for three charities that we're thrilled to support, each of which were chosen because they represent stuff we love (homes, kids, & dogs). We make an annual donation of $1,000 to the Richmond Habitat For Humanity along with $500 to St. Jude Children's Research Hospital and $500 to the Richmond SPCA (and we definitely encourage others to check them out – you can donate here, here, and here or find a local Habitat for Humanity or SPCA in your area here and here).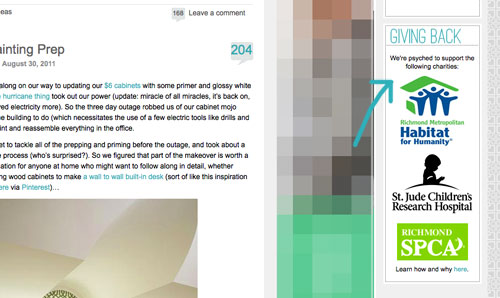 7. We retooled a lot of other buttons that have always been on our sidebar (like the House Crashing one) with some updated pics/type/colors. But that's more decorative slash fun than functional. As is the new Twitter button which now goes by the name of Tweetersiks. Oh yeah, we officially out-punned Mr. Tom Petersik (my dear old dad).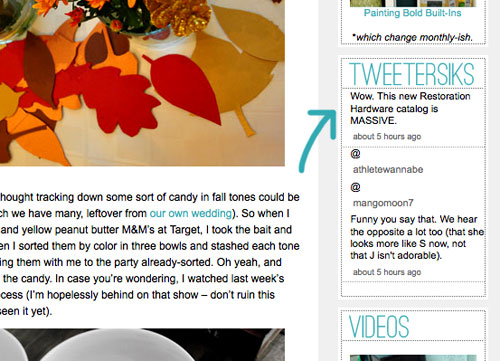 8. Oh and we were inspired (by Kate over at Centsational Girl) to add a nice thorough pagination capability (so you can click back to the very first post in our archives, you know in case you have a year to spare reading 2,000+ of them).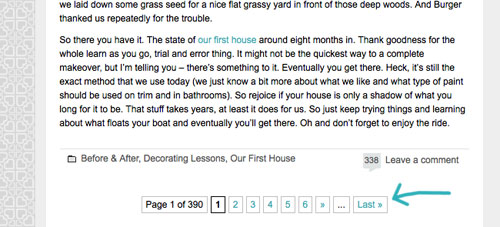 So there it is. Of course we still have a bunch of stuff on our blog-to-do list, so here are just a few things that we're hoping to roll out in the next few months (or years, you know how long these things can take us, haha):
Completely "renovate" our Projects page so it has some images instead of just a ton of crazy links (can you believe we've tackled over 500 projects?)
Update the designs/header on the Mood Boards and Room Gallery pages (since they're still rocking the old tan stripes)
Add about 100+ other makeovers to our Room Gallery (we have so many amazing Reader Redesigns in our archives to toss in)
Should keep us busy for a while. And we do have our $6 cabinets to finish. Might switch back over to DIY for at least a little bit. Web stuff is kind of fun (when you're in the zone), but there's nothing like paint under your nails and sawdust flying. Hope you guys like the new look. Has anyone else done a little site tweaking lately? Any new color schemes or functionality that makes you giddy in that "it's 2:52 am and we're still working on this post way?" Not that we are. That would be irresponsible parenting.