Duuude, let's go boarding. Clipboarding, that is. I'm not coordinated enough to tackle a surfboard, skateboard, or a snowboard, but this I can handle. And it can definitely be considered a Dude, Get On That Already project, because this old clipboard hails from the playroom, where I plopped it down among the ceramic animal chaos and said to myself: "I'll do something cute with this later." But soon I forgot all about it and fall turned into winter and now it's late spring and completely time to get on it. It was a favor from a bridal shower I attended last fall (it was what we all used to play bride-quiz-games, and since the host nor the bride-to-be wanted to end up with fifteen clipboards they just told us to take ours home).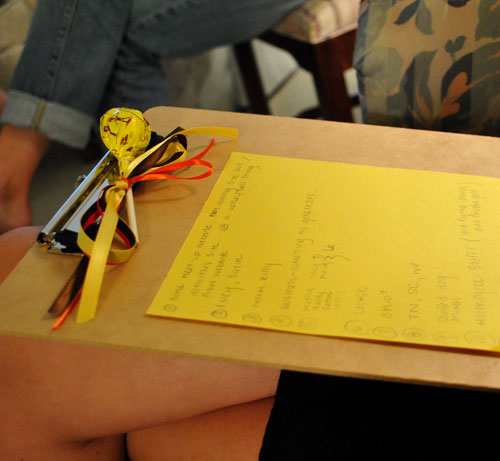 First I thought about covering it in a pretty paper and using it on the wall somehow (as a place to clip up new Clara art from week to week or notes that John and I write each other. But before doing anything hasty, I sidled up to John and asked him for his brain. And he came up with the best idea.
In our first house, we made an in-cabinet cork board where we pinned up shopping lists, recipes, articles about food we wanted to try, etc.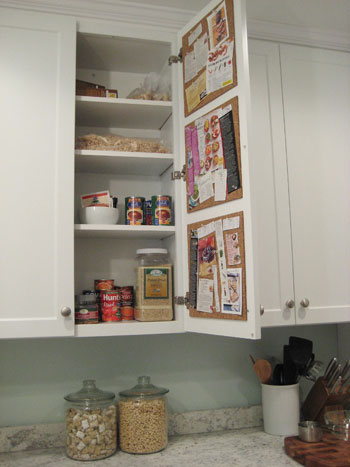 We loved it, but we didn't want to do the same thing here (we have since made a binder full of favorite recipes safely tucked behind plastic sleeves and usually make our shopping list on our phone) but we did have a stack of takeout menus that were shoved into our utensil drawer (we had to lift the whole tray out to get them in and out, since they barely fit in there). Why not hang our little clipboard in our kitchen cabinet for holding our takeout menus – along with a pad for jotting down a few groceries we need if we don't want to forget them and don't have our phone nearby, perhaps if we have a toddler on our hip? Sold.
I started by covering it with some happy teal paper. I actually debated other more patterned options, but I figured whatever we clipped up there might be brightly colored or patterned or just plain busy looking, so I didn't want the background to be too crazy. Don't mind the odd shape of the paper, it was an old remnant from a previous project (originally from Michael's for a buck or two).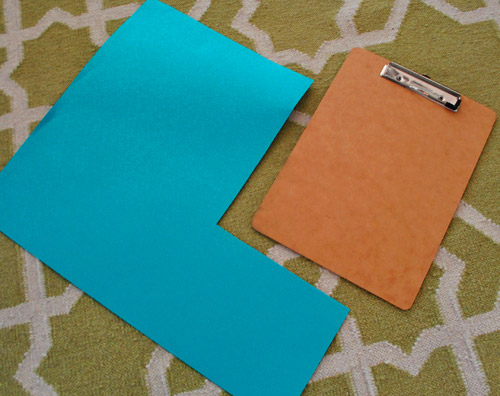 So I laid it under the clipboard and traced that shape onto the paper.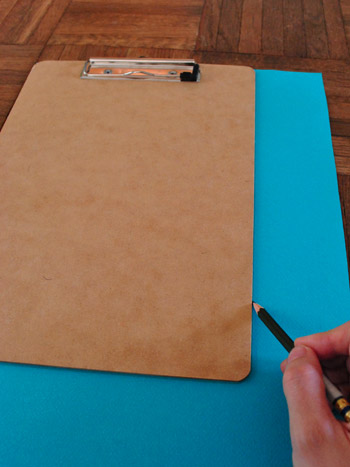 I figured the top part should go around the metal part, so I sort of guessed how deep and wide that was and cut that notch out when I cut out the rest of the perimeter. Then I placed it on top of the clipboard to make sure it fit.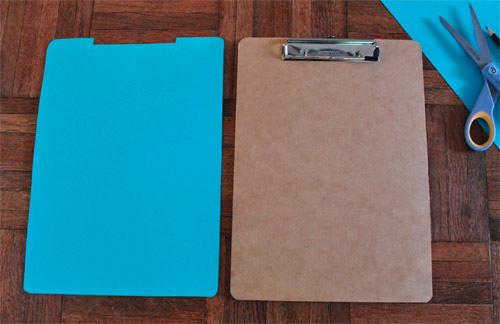 Next it was glue time. I used Aileen's Tacky Glue since I've had this same bottle on hand for at least five years. I channeled my first grade self and swirled it all around the board, and then used my finger to smear it (I didn't want lumpy swirls of glue to show through the paper and look bumpy).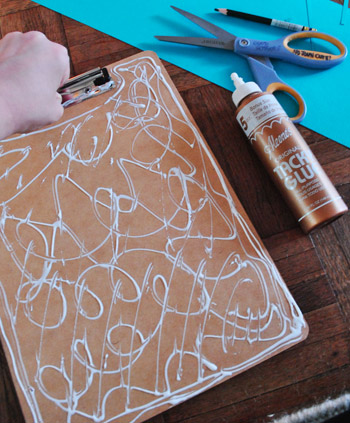 Then I stuck the paper on top and weighed it down with some books. Can you tell Clara's book basket was closer than all of our books in the dining room?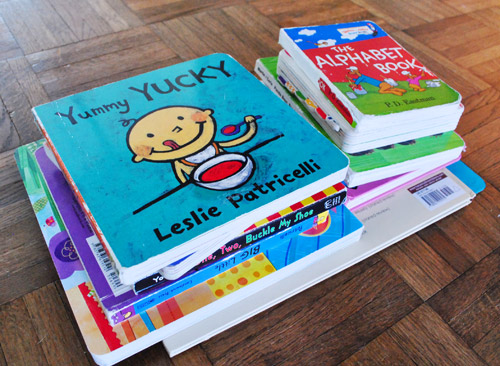 After it was dry, I used our only upper cabinet in the kitchen (the one with our built-in microwave) and hung it at a nice easy-to-access height.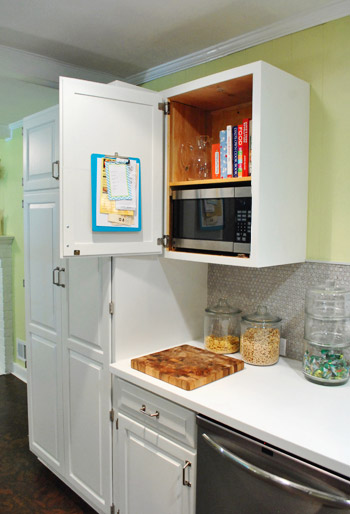 We might hang something above it someday to balance things out (maybe a framed pic, just for a fun little behind-the-door surprise), but for now we love that our clipboard is completely hidden when the door is shut.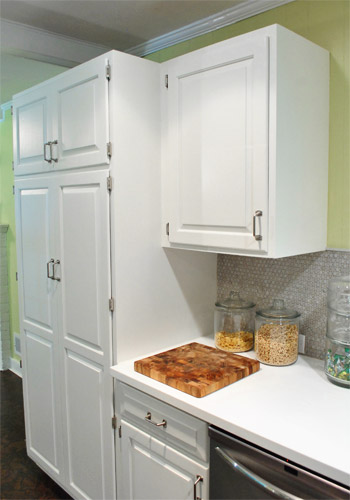 As for how we hung it, we didn't want to do anything permanent (making a hole in our freshly painted cabinets = heartburn) so we went the removable route…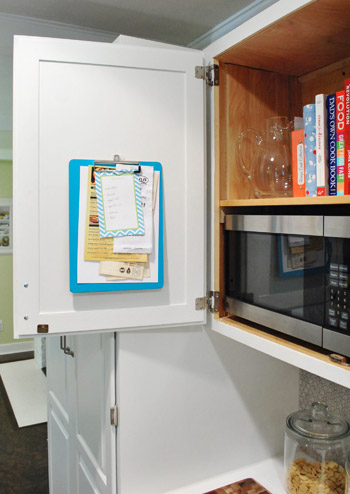 It's hard to make out in this picture, but the clipboard had a metal tab that came out of the top of the board, and we had a clear 3M Command hook on hand, so I just mounted the clear hook to the cabinet with the temporary adhesive (it'll come down without peeling any paint if I pull that curved white tab to the right of the metal part). Once the clear hook was up there firmly I just rested the metal clipboard tab over the hook. So I can lift the clipboard off the hook anytime I'd like and just put it back when I'm done.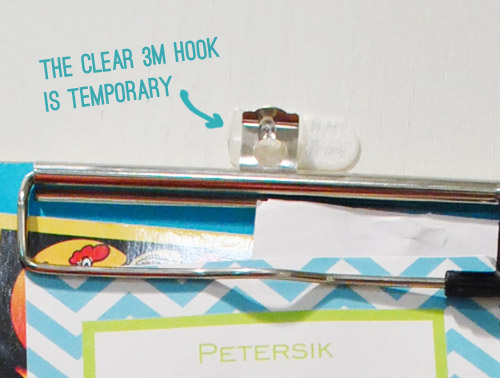 Here's a straight on shot for ya. I'm sure what we have clipped up there will change, but for now, we have takeout menus and a sheet of shopping stuff that I wrote out because my phone wasn't nearby.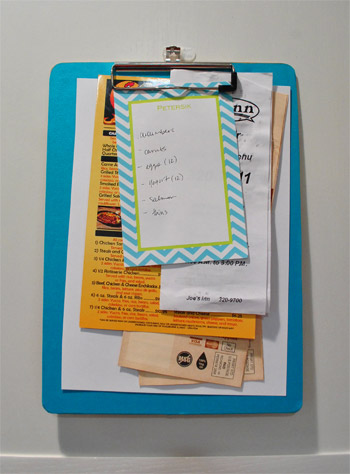 And yes, that really says "eggs (12)" because I'm that crazy. Sometimes I forget if I wanted a half dozen or two dozen or what.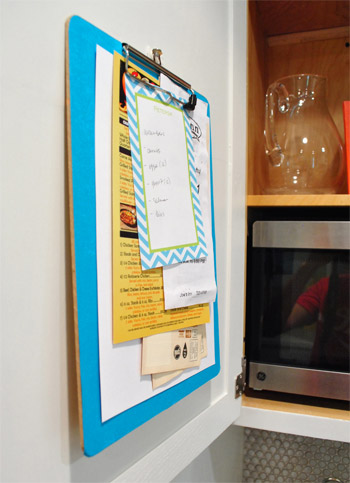 So there it is. An old clipboard that I finally got on – for zero dollars. Hootie hoo. And now our utensil tray doesn't have to hold our menus hostage anymore, so there's a little more function (and I feel a little happier when I see 'em all hanging out together).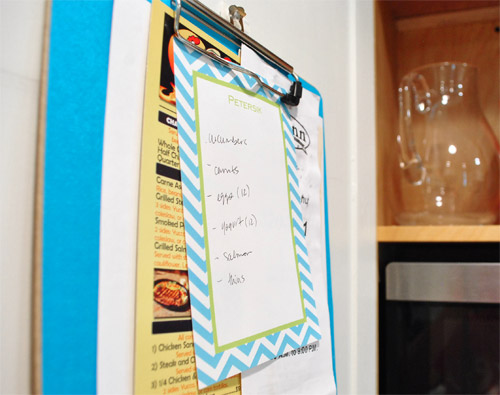 What have you guys gotten on that's well overdue? Any other clipboarding going on? I think it could be the next athletic endeavor for those too spastic to step on a skateboard, snowboard, or surfboard. You can even hang ten. And by that I mean you could hang ten menus.
Psst- Speaking of saying things like "hang ten" we hung out with our teenage niece and nephew this weekend and asked what the cool kid-catchphrases are these days (you know, like how we used to say "no diggety" and "word up") and apparently the new things are "swagg" (it's like having swagger, but shorter – and with an extra g) and "cool story bro, tell it again" (which you say sarcastically when someone says something lame). How hilarious is that? There's a whole new vocabulary that us old people know nothing about.