Ah, the "alley." The affectionate name we gave that weird void of space created between the original part of our house (on the left) and the addition (to the right). We appreciate that they left that space (so we wouldn't lose all those windows like we would have if they joined the structures instead of creating that alley), but it's kind of awkward.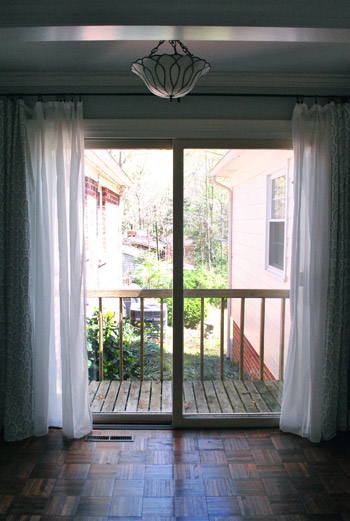 It's currently home to an extremely short (and extremely worn) balcony overlooking a bunch of liriope, our AC unit, our oil tank, and the neighbor's house.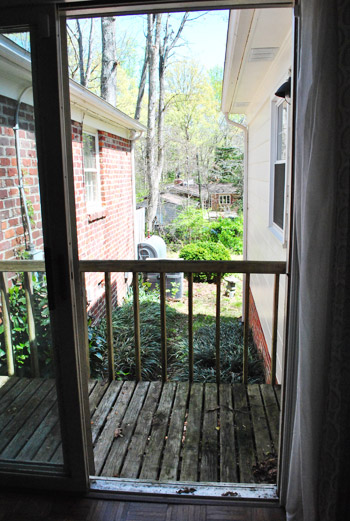 It's completely useless to us. Unless of course we like the thrill of wondering when / if the wood is going to disintegrate beneath our feet.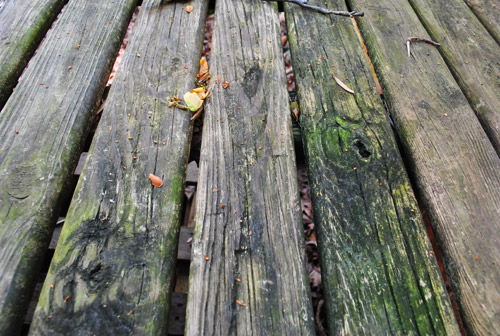 A while back we came up with the idea to make it a walk out path (with steps that led down to a pretty paver-ed area with potted plants, etc… but then we realized that wouldn't hold much function other than being a not-very-functional space to park bikes and walk back and forth on since we already have the patio that we built on the other side of the house, which works better for that. So we went back to the drawing board and really thought about function and something we'd actually use and… came up with a deck for dining alfresco. I know looking at this photo (taken from the other end of the alley) that this space probably doesn't scream "put a deck here!" but it's located off of the hallway right next to the kitchen. Which is a much closer walk than to the patio, which involves a bunch of stairs while carrying plates and utensils and glasses.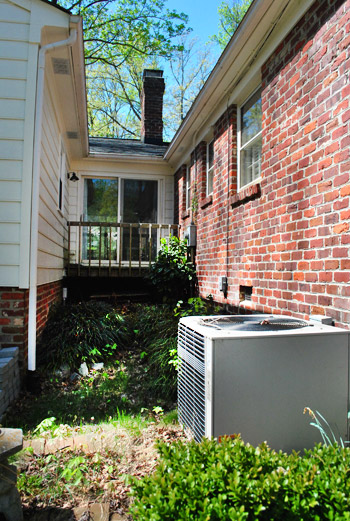 Don't get us wrong. We love using the patio, and we're out there almost every day for more casual stuff, but we've actually only eaten out there two times since it's not as convenient as using it for relaxing/reading/hanging out/rock-box-ing. So if we add a big deck with a dining table out here, and even someday build a pergola over it and hang some swagged string lights, we think we can turn a majorly odd negative into a nice charming and functional positive. Who wouldn't want an outdoor dining space right off the kitchen?
The space is actually wider than it looks at first (nearly 8 feet wide). Which makes it just a smidge narrower than the entire den in our last house! Can you believe this room was only 8.5′ wide?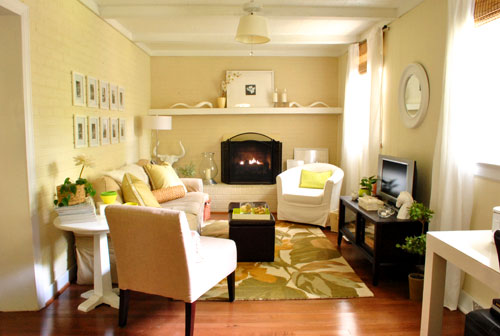 To help visualize it, we worked up this little drawing in Photoshop. While it certainly won't become one of those giant party decks where the whole neighborhood is invited, it will comfortably fit a medium-ish sized outdoor dining set for family dinners and small gatherings (it'll be much longer than most interior rooms at 17-21 feet long). This drawing is very rough, but it'll give you the idea: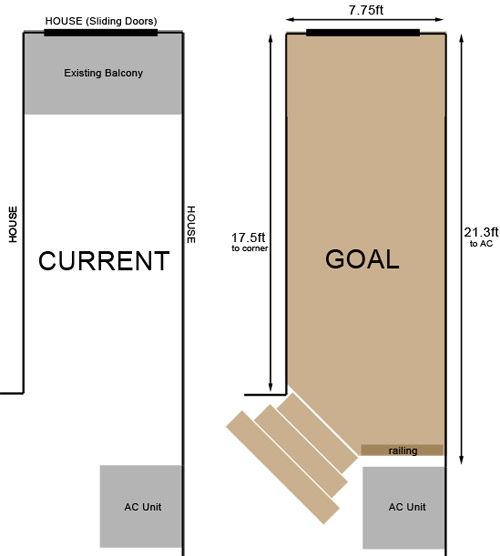 Oh and you know how ugly the view of the oil tank and AC unit is from the sliding door now? You might wonder why we wouldn't move those things to get them out of the view…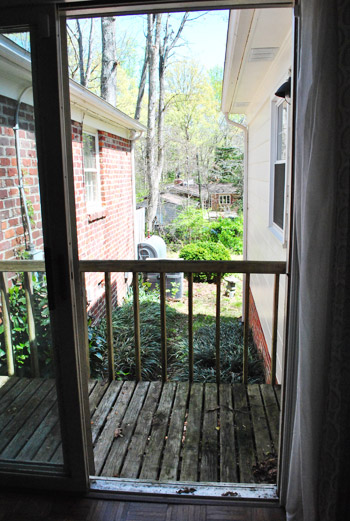 … but not only would that be a major pain (moving an oil-heat tank is a huge deal involving the county) an elevated deck will actually completely hide them from view since maintaining the height of the existing deck (which we'll do, so there aren't any major steps down since we prefer a seamless walk-out deck) means the deck floor (not the top of the railing, the actual floor) will be this high. Allow me to play the role of the deck.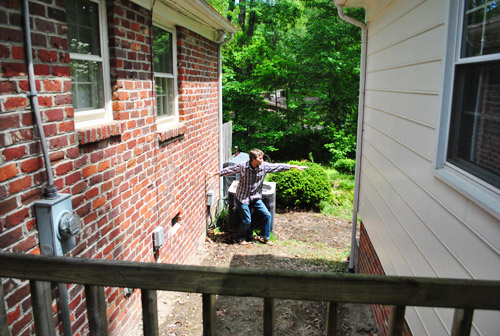 See how it'll block the ugly view even before we add the railing, which will further obscure that stuff? We're even toying with the idea of adding a built-in planter box instead of a traditional railing at the end of the deck- which will then be filled with greenery to further screen any unpleasant views (and provide some soft privacy from the neighbor's house that's slightly visible through the woods).
The other reason we're so excited about filling out that space with a new deck is because we think it'll help make sense of our home's shape. To see what we mean, here's a rough floor plan of our house before any work was done outside. I was trying to figure out how to best describe it's shape – it's like a very squat letter T with a doohickey hanging off the bottom side (our bedroom). Maybe it's like the number 4 flipped on its side?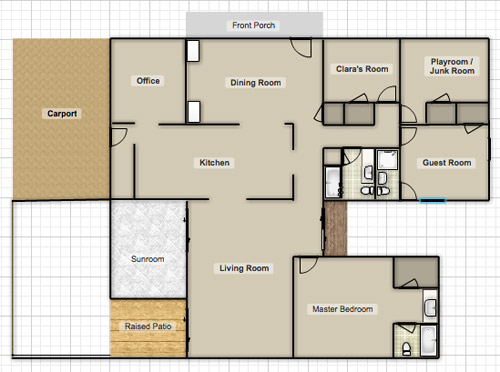 Whatever description works for you – the point is that there were two areas of odd negative space. We already helped fill one of them by adding our fenced in patio last year. And now this deck will take care of the other empty sliver, giving our home's footprint a bit more of a natural rectangular shape. See?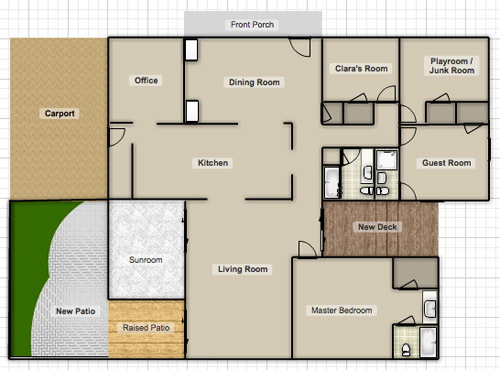 So now it's just a matter of making sketches become reality. And unfortunately that reality involves getting a permit from our county, which we hope won't be too rough, but this process might not move as quickly as we Petersiks usually like to since we'll have to get that permit and have (and pass) two inspections throughout the process. But we thought it would be a great little learning experience (we've never built a deck before!) and plan to share the entire step-by-step process with you guys in real time as we go. And of course we'll break down the cost, how many hours it takes, and all that good stuff for you guys as well. In the meantime, we've put a call in to Miss Utility (to make sure there's nothing underground that'll cause trouble if we start digging) and of course we have to clear the space of all those bushes/weeds/liriope while we work out a material list and a few sketches to apply for our permit. But we can't wait to get this deck train moving.
Anyone else have plans – or dreams – of adding a new outdoor space around their place? Is it a deck? A patio? A pool? A gazebo? Or does anyone have any words of decking wisdom to offer? We'd love to hear from anyone who has built a deck of their own (my dad has, and he said it's not too bad…).