Sometimes one big drawer of junk isn't nearly as easy to navigate as two smaller drawers full of half the junk each. So in that vein I decided to transfer all of the stuff out of our double-wide junk drawer, which has gotten increasingly "rowdy." Especially in comparison to the obedient glasses, mugs, and vases in the upper cabinet: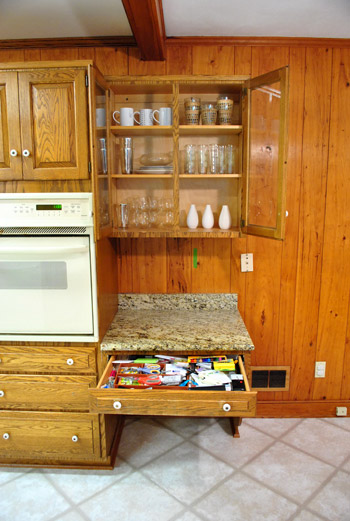 We have some completely empty smaller drawers on the other side of the kitchen near the office which should do the trick. We're blessed to have more storage than we know what to do with in this kitchen – and putting this stuff near the office is so much easier since we use 99% of it in the office anyway (but don't have the means to store it in there yet). And now – how exciting for you guys on this fun Thursday morning – you get to come along for the entire junk-drawer-transfer adventure. Fasten your seat belts. It's gonna get ca-ray-zay.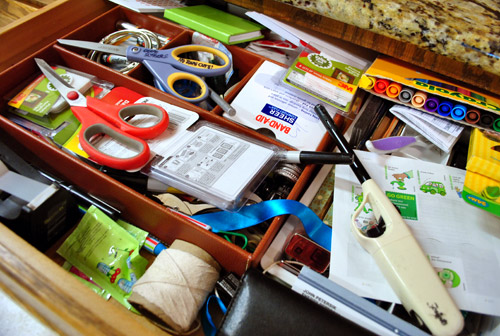 Here I am cheesily sorting stuff and trying to decide what should go where (I love taking drawers out and parking it on the floor to go through them- then I can spread everything out to see what I have – and then make "keep", "store somewhere else" and "donate/trash piles").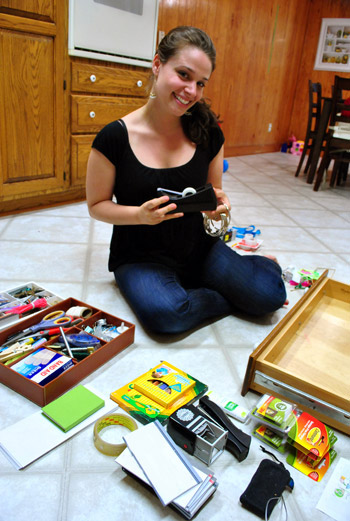 A few tips from an admittedly not-very-varsity organizer (I just dabble, so let's call me JV):
If you haven't used it in 6 months to a year, you might not need it at all (or may be able to store it somewhere out of the way, like in a small storage box in the closet as opposed to giving it real estate in the everyday-use junk drawer)
Try to group like items together so you can grab them all at once if you need to (ex: address book, postage stamps, and address return address stamp)
Nobody needs five hundred pens
Nobody needs five hundred paper clips
I realized that we moved a stack of Post It Notes and hadn't used one since the move. Or before the move. We're just not Post It people. Which is good to know since we've had that same unused pad for years (taking up space that something we do use could have been inhabiting).
Corralling the smaller items in little divided boxes is always nicer than having clips and pins and staples lying around without any structure around them to "contain" them
More shallow piles vs. fewer deep piles are easier to go through when you're looking for something (you can see more so you don't mess up the entire drawer searching for something at the bottom of a deep pile)
Snacks keep the organization effort moving (a handful of jelly beans = energy)
Here are those empty drawers located right off of the office in the corner of the kitchen: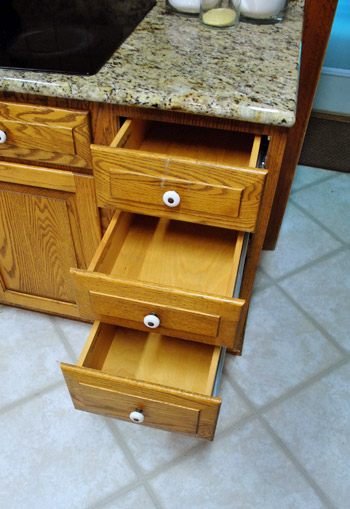 And here's the top drawer after packing in a ton of stuff in a slightly more organized manner (envelopes and stamps on the right side, our green address book with our address stamp and tape and stapler in the front, and a whole lotta pens, pencils, scissors, paper clips, binder rings, wire, band-aids, etc in the brown cubbied box).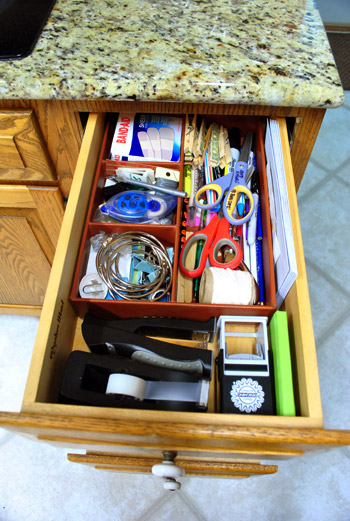 Here's the second drawer with batteries, rubber bands, safety pins, markers, crayons, 3M heavy duty velcro (great for keeping frames from getting pulled down by Clara) along with checkbooks and paper bank tubes for rolling change. Update: John didn't like the idea of everyone on the internweb knowing where our checkbooks are so they have since been relocated (even though I countered that our alarm could stymie Clooney and the rest of those Oceans Eleven guys – did he not read yesterday's post?).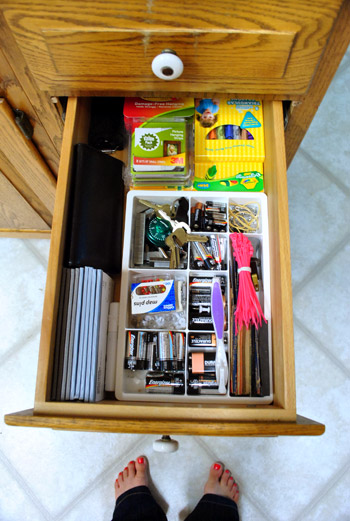 Update: When it comes to babyproofing, we're doing that as we go. Clara doesn't open kitchen drawers or cabinets yet (and is always supervised in the kitchen), but the second she shows any interest (aka: even touches them, let alone opens them) we'll babyproof and share a little update as things in our house evolve.
Oh and that third drawer got to house all of our cloth napkins, runners, and paper napkins: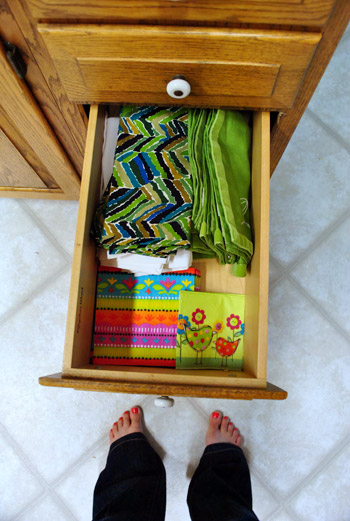 And check out what I found at the bottom of the old junk drawer. Nope, not a cute baby girl, a permanent red ink stain from an old floppy disk. How random and retro is that? Ha.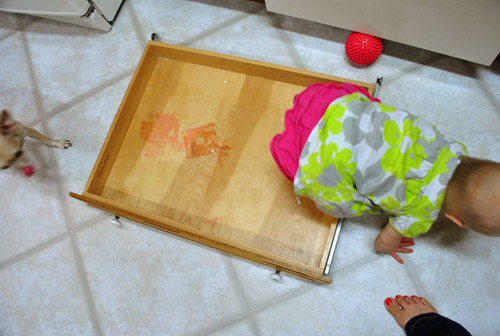 Another random occurance: how many times my feet made it into this post. They're in 33% of the pictures. That has to be an all time record.
But my best discovery was this old soccer button with little boy John on it. How cute was my hubby twenty years back? Of course he still is, but this is a whole new level of cuteness. And I see a whole lotta Clara in that sweet face. Note the eyeball cabinet knobs checking him out too.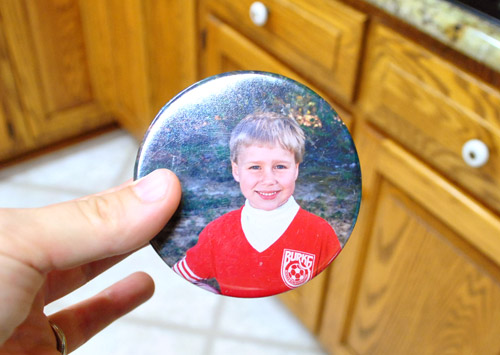 My takeaway from this project a three fold. 1) Organizing always feels like it's going to be a bigger/more annoying task than it actually is (this whole thing took me less than thirty minutes when I just parked it on the floor and got 'er done). 2) Taking those thirty minutes out to do this will probably save me an hour a month if I stay on top of these drawers and keep putting things back where they go (since it'll be much easier to find things that I search for regularly- thereby saving me time). 3) There's nothing like waking up to a freshly organized junk drawer on a sunny Thursday morning. Yeah, that's right. I know how to have a good time. It's the little things, right?
What little things are you guys up to these days? Any organization to be had? Hope you find at least one floppy disk (or evidence thereof) somewhere. Ah, those were the days. John and I were just reminiscing about dial up internet. I can still perfectly mimic the sound of connecting to the modem. Oh yeah- I'm that shrill. Once again $herdog proves she knows how to have a good time.