Happy Valentine's Day!
We hope you all have special, fun, quirky or otherwise lovey-dovey plans for the weekend to show your other half how much they mean to you. Sherry and I are just about ready to exchange gifts over breakfast (stay tuned for those details on Monday) and then we're off to enjoy our special occasion tradition: hitting up a photobooth at a local restaurant to mark the day (and enjoy some dessert while we're at it).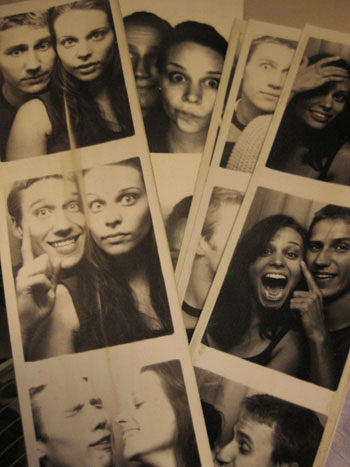 Even before we incorporated a photobooth into our wedding, we've been going to the New York Deli here in Richmond on anniversaries, birthdays, and any other momentous occasion to capture the moment in four black and white frames. We inevitably walk away with a mix of goofy expressions, sweet poses and (my personal favorite) the stunned "caught off guard" stare. We've got the photostrips displayed in random spots all over the house, including this little cup on the floating frames behind our dining table (and also in a white leatherbound book, which is a favorite among our guests since it also includes over 100 photstrips from our wedding).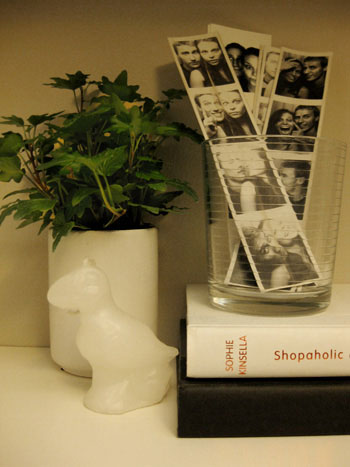 After our trip to the photobooth I've promised to take Sherry to see Confessions of a Shopaholic and then we're off to a group Valentine's party this evening. What do you guys have planned? Any special traditions to share? Whatever your day has in store for you, here's hoping that cupid's good to you!
And no that's not another ceramic animal in the picture above, it's a puffin candle from our Alaskan honeymoon. But Sherry has her eye on a certain ceramic mammal so stay tuned…