One unfortunate fact about our wedding is that it flew by so fast that we barely touched our food. Which means we never really got to stop and enjoy the DIY grub (perhaps our most daring feat was completely nixing the idea of a caterer in favor of taking on the entire wedding menu ourselves… well it was either daring or just plain crazy, you decide).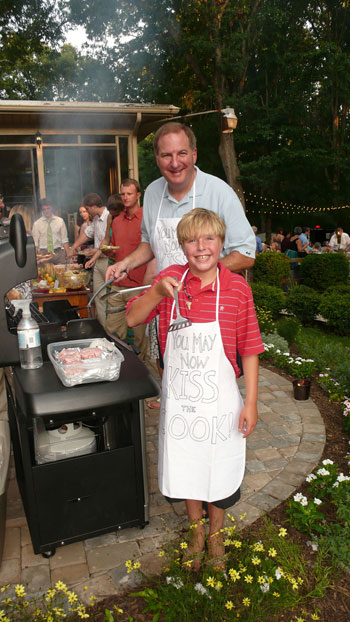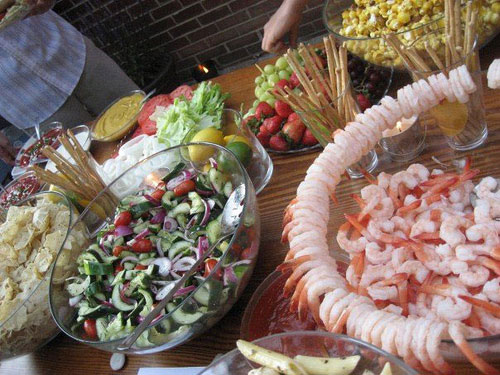 So when our one year anniversary approached last July, we initially thought we'd get dressed up and go out to a nice dinner (maybe I'd even wear my dyed wedding dress). Until my sweet hubs tossed out the lets-recreate-our-backyard-wedding-and-finally-enjoy-the-food-at-home idea. It seemed fitting since we got married in our backyard that we'd throw some food on the grill and pick up a few side dishes to recreate that special night a year later (we're lucky to own our wedding venue, so it's easier to relive the fun). First we snapped this corny little photo under the arch where we said our vows (which we moved from the middle of the yard to the entrance to the back woods after the big day):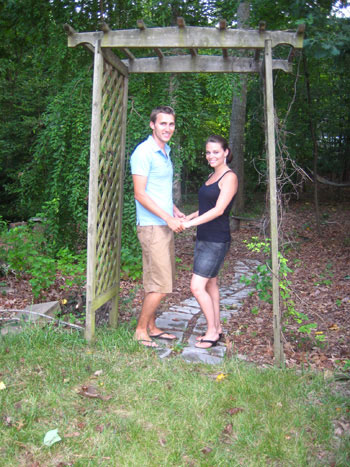 Then we got to work enjoying a dinner that very closely resembled the one our guests enjoyed in that very spot exactly a year ago. Of the three entrees that we offered up, we chose the blue cheese angus burgers with parmesan caesar dressing and added some other wedding-day fare (lemon pepper potato chips and rotini salad) to round things out: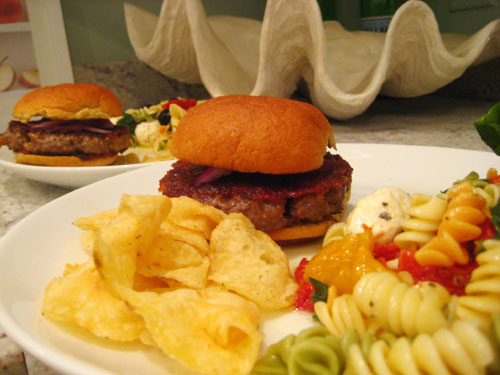 But what about a fitting drink to accompany our marital meal? Leading up to the wedding we saved up a bunch of wine and beverage bottles. Instead of big plastic pitchers, we wanted the chic look of glass so we asked a local wine retailer to save old bottles for us (leftover from their weekly wine tastings and totally f-r-e-e). Once at home we made sure they were squeaky clean and hand labeled 'em with a sharpie (which never rubbed off or faded in case you're wondering). We used all the green bottles to hold water, brown bottles for sweet tea and clear ones for homemade mint lemonade (fresh mint + lemonade= yum). Of course we also had many bottles of red and white wine on hand along with some of those cute vintage glass bottles of coca-cola. We really think making the effort to avoid cans and plastic kept things looking clean and classic…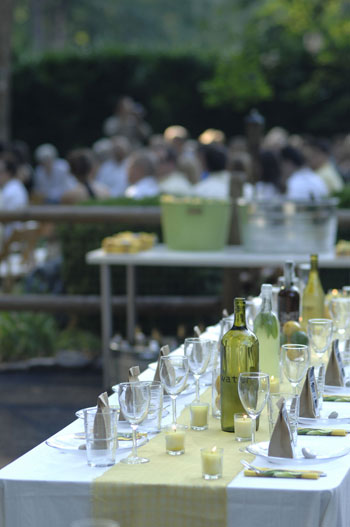 …but in our anniversary recreation we took a shortcut and enjoyed a refreshing can of Fresca instead: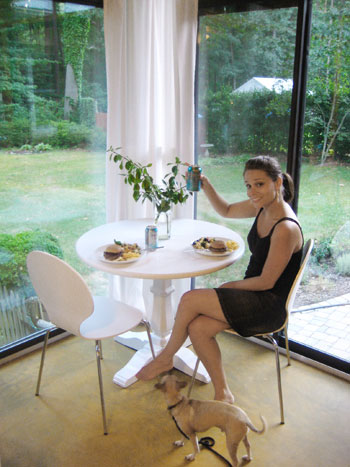 If this picture doesn't aptly demonstrate how deeelicious it was, I don't know what will: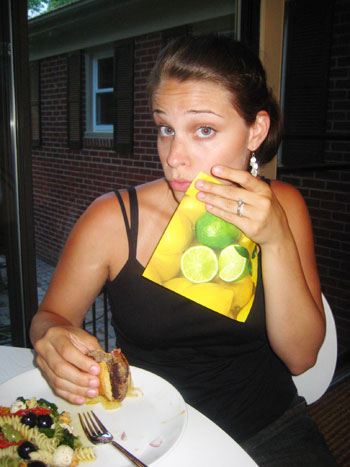 And you may notice the lemon-&-lime-riddled napkin that I'm using to delicately dab my lips. Well, a year later we still had leftover napkins laying around, so that part of the recreation was easy (here they are in place on the tables 365 days earlier):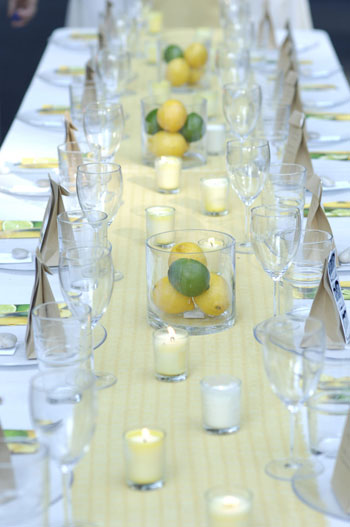 Then it was time to enjoy our wedding cupcakes. The night of our nuptials, we placed two of them in wax paper and then slipped them into a tupperware container which we stored in the freezer for the following year. And just like enjoying wedding cake on your first anniversary, those cupcakes were just as good (really, they took really well to bring frozen!).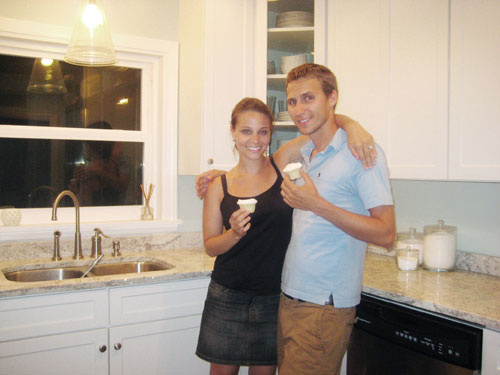 And our one-year anniversary night wouldn't have been complete without taking a ride to a nearby diner to recreate our wedding night photobooth experience in their booth for $3 (we like to snag a photostrip to commemorate lots of special days and store them in a cup on our open shelves in the dining room):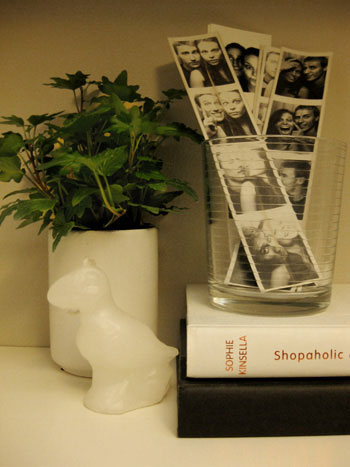 So that's our little first year anniversary tradition- but what did we do to celebrate our second one on Tuesday? Well, we considered making the at-home BBQ recreation an annual tradition, but then my sweet hubby suggested that we enjoy a tasty meal at Brio, the deeelicious Italian restaurant where we had a lovely little rehearsal dinner the night before our wedding.

Here's we are stuffed to the gills after our delicious anniversary meal: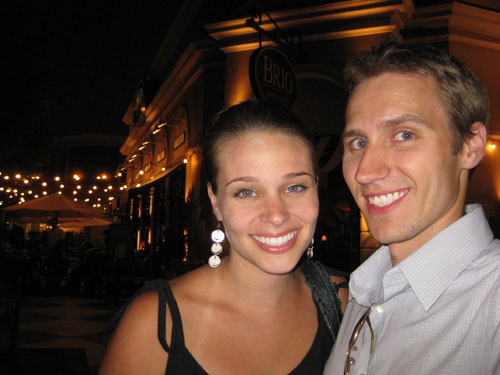 Of course before we left we remembered to snap a few photos in the backyard (this time we posed in front of the hedges where our family portraits took place):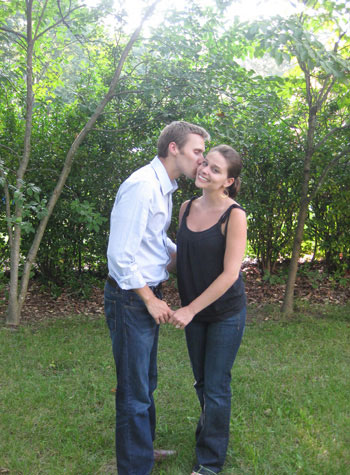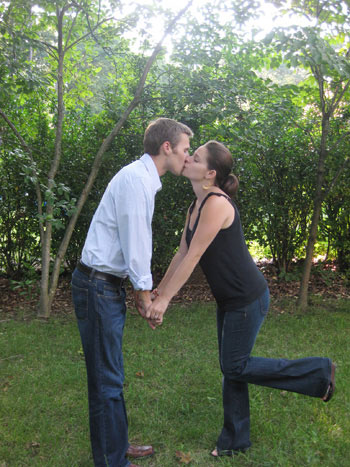 Then after dinner we capped things off with another photobooth pic at that diner downtown:

So that's how we spent our last two anniversaries. What about you guys? Do you do anything fun each year when it comes to celebrating yours?
To learn more about how we DIYed our wedding food for an upscale backyard experience, check out the details in our wedding album.
p.s. We have a HUUUUUUUUGE ANNOUNCEMENT coming in just a few days so stay tuned!