So now that we've spilled some pre-wedding details, we'll turn our attention to post-wedding: our ten day honeymoon in Alaska. Our goal was to share a glimpse of America's largest state through our eyes, but more than likely we're just highlighting the weird ways we Petersiks like to entertain ourselves when away from home (like this ring photo we snapped on an Alaskan hike during our one-week-of-being-married anniversary).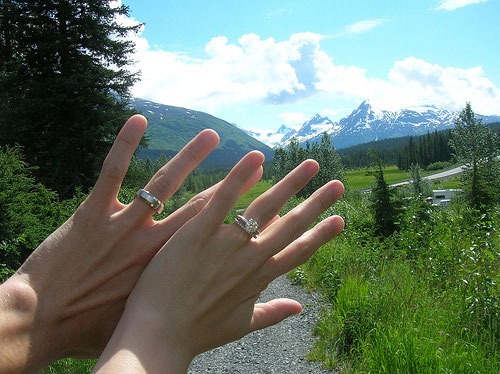 First, let's tackle the obvious question: why Alaska? After all, it doesn't really scream "dream honeymoon" to the majority of the population. We ended up in Palin-territory for two main reasons: we wanted to bring Burger along so domestic travel was much easier (he's such an easy travel companion and definitely a part of our little family) and we wanted to go someplace new to both of us (and I had vacationed in Hawaii with some college friends just months before beginning to date Sherry so that was out). With one not-contiguous-US-state crossed off, our attention immediately turned to the other. And we figured we were just adventurous & quirky enough for it to be the perfect destination for us. Plus those 19+ hours of daily sunshine meant comfortable July temps of 60 – 70 degrees with glaciers and ice caps just an uphill drive away (elevation completely changes the climate there- it's like two or three destinations in one). Here we are posing in front of an outdoor clock at 11pm to show how light it still is (we're yawning to demonstrate that it's the evening).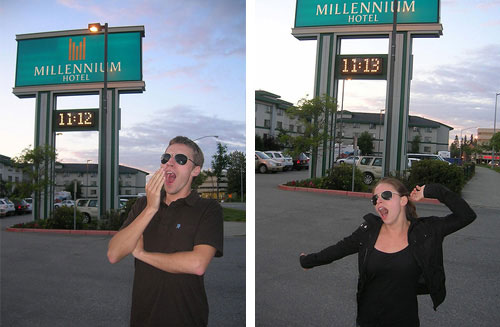 We're pretty low-key plan-as-you go travelers, so we landed in Anchorage with a hotel booked, a rental car reserved, a chihuahua in a bag and a wide open schedule. We quickly filled the first day exploring downtown and getting a sense of the city. But Alaska's all about the wilderness and the great outdoors, so we didn't stick around in the city center too long… but apparently long enough to let our newlywed giddiness get the best of us around some souvenirs. Don't I make a fetching moose? And isn't Sherry a ferocious polar bear?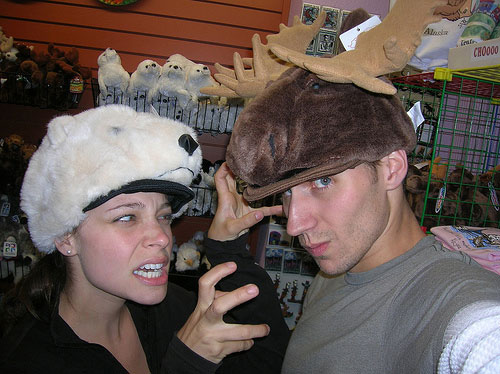 How about when we play the role of bear victims? We laughed at this photo for hours on the plane ride home.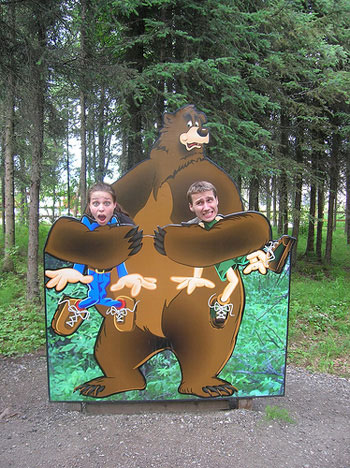 The next few days consisted of a road trip on the uber-scenic Highway 1 (we love a good road trip – and that's actually part of the reason that we opted out of seeing Alaska via cruiseship). It was possibly the most beautiful drive of our lives – the glacial waterfalls, snowcovered peaks, sunny skies and occasional wild animal-sightings caused us to stop constantly for photos (we saw dall sheep perched precariously on jagged cliffs just a few yards away from the road and even stopped to stick our toes in melting glacier water- yeah, it was cold).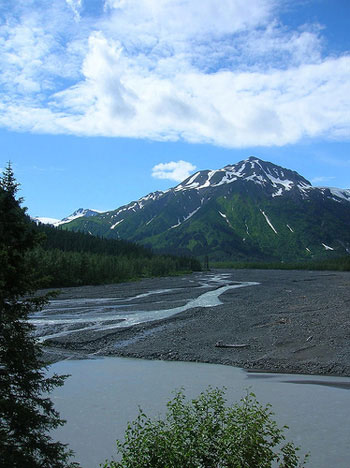 Our first road trip pit stop was the Alyeska Resort. This is the one day we got fancy, thanks to a couples hot stone massage someone had pre-booked for us as a wedding present. Alyeska is truly a ski resort by definition, but even in July it was beautiful. The resort actually sits in the middle of a rainforest (who knew Alaska had so many different climates- it's really amazing) so one minute we were hiking through damp and lush rainforest greenery…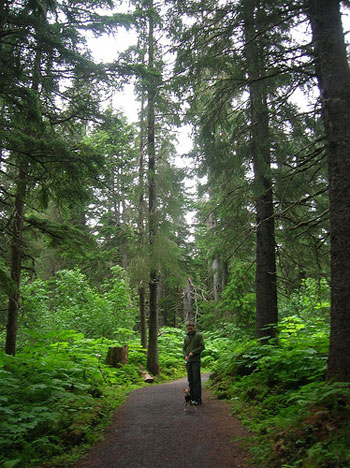 …and the next we were taking a tram through the clouds to the top of a mountain (where we ate lunch overlooking snow capped peaks).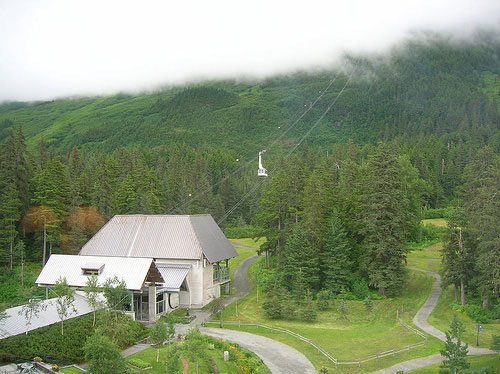 After a night spent in the lap of luxury (their hotel was the nicest one we've ever stayed at), we found ourselves back in the car on a scenic drive to Seward. Along the way we stopped several times to enjoy the scenery – including an up-close-and-personal look at a real live glacier and a hike that was narrowly thwarted by a recent bear sighting (on our wedding day, no less).
Once back in Anchorage we still did our best to enjoy the great outdoors. We rented bikes one day for a 14-mile ride along a coastal paved trail. And like true pet parents, we even rented a "kid caboose" so our fur baby could come along for the ride (I imagine many of your are giving us the strange look we got all too frequently that day – "you have what in there???"). Hey, at least we've got a funny story to tell two years later. And Burger loved it. Really, he got mad when we stopped pedaling.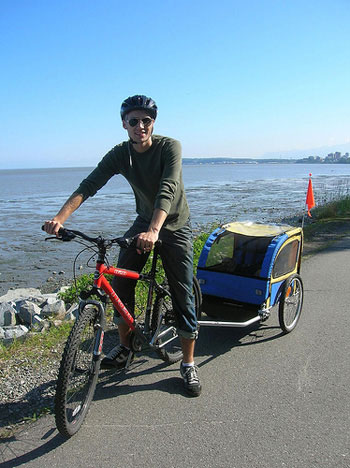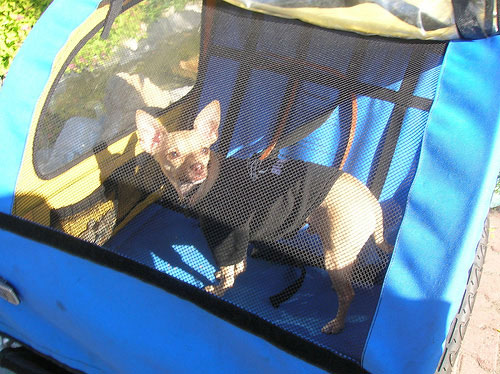 With our honeymoon soon coming to an end, we decided to go out with a bang by way of a private seaplane tour. Our hotel was right next to Lake Hood, the world's busiest seaplane base so it was only natural that we experience Alaska that way (taking off right from the lake and landing with a splash two unforgettable hours later). Don't worry, Burger stayed at the hotel as we flew over expanses of wilderness towards an active volcano. The trip gave us the chance to rock some stylish headphones, snap about a bazillion photos (one of which we once framed in our house) and spot a bunch of animals from above (moose, seals- even a momma bear and her cubs). It was amazing to watch all the green…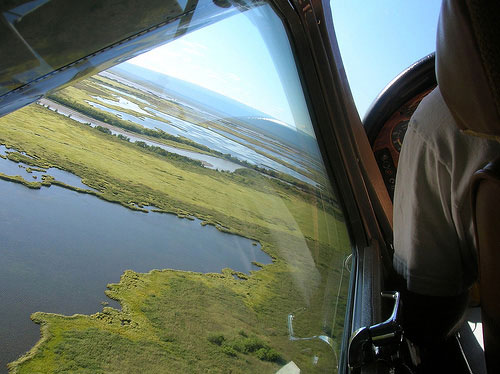 …turn into frozen glaciers and arctic ambiance as we went (check out the icy backdrop of this photo).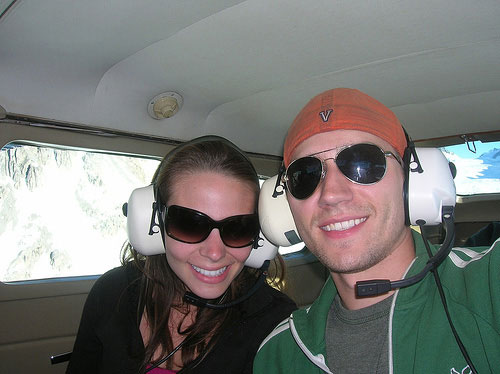 We even got to land in a secluded lake in the middle of nowhere and explore a tiny island full of wild flowers before heading back. Now that's rugged…ish.
So that's a look back at our first official vacation as a married couple. We'd love to hear more about where you guys have honeymooned (or where you dream of honeymooning someday…). And pipe up if you have any other great Alaska vacation stories (we know Mrs. Limestone recently posted some amazing pics from her trip).
Check out more photos from our Alaskan Honeymoon in our Flickr album (and try to view 'em with captions so you know what the heck is going on).