Since we're moving our work area into the new office / playroom / guest room (read more about that here and here) I figured I'd give my old work space one last hurrah in the form of a four-part makeover. Just for fun.
From a potted plant to a scented candle, many people have different preferences when it comes to their home office must-haves. And of course everyone has a different organizational needs as well, so it's always interesting to ponder what systems and approaches will work for people in both the form and the function department. So when I decided to have some fun adding different accessories to achieve a few different takes on my modestly sized home office- I brought in some just for looks and some for usability and organization. Of course the only person's needs I was trying to meet were my own (and I'm a pretty chill girl) but it was still a fun little adventure none the less. And there was one rule: no spending a dime. So I just played around with the items I already had. Because who doesn't love a free desk makeover?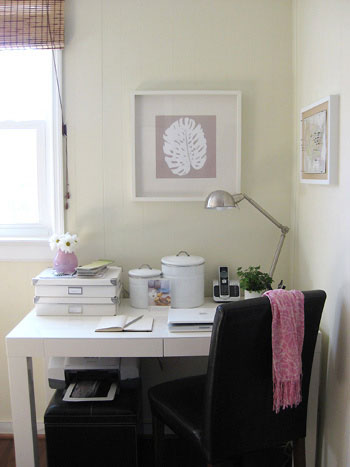 So now that you've seen what my desk looks like most of the time (above), let's get to the little tweaks I had fun playing around with for a few new takes on my basic parsons desk (and some new function as well).
When it came to arrangement number one I was all about fresh spring color: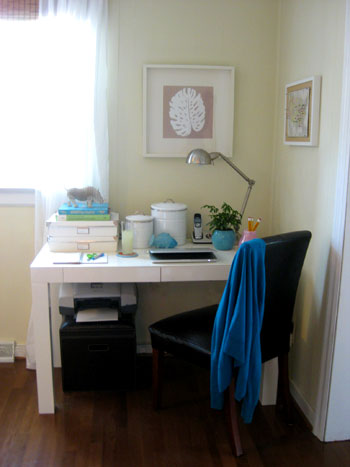 I added a cheerful little potted plant that I snagged a while back for $2 (including the chic turquoise ceramic pot!) along with a pretty pink vase full of pencils and a cute blue ceramic fish (purchased on clearance from Target two years ago). Brightly colored books stacked on top of our modem hiding boxes topped by a cardboard rhinoceros (10 points for a bit of office whimsy) completed the look. And we can't forget the colorful coaster and handy notebook paired with a brightly colored pen and green mini scissors.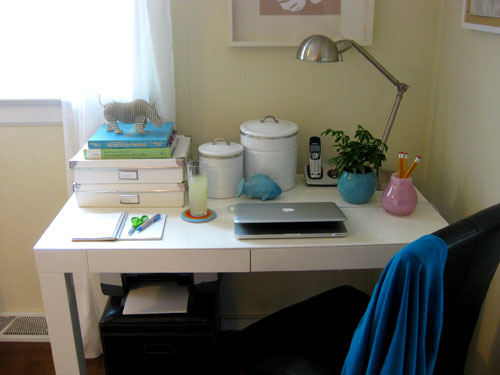 So the basic needs that this arrangement met were:
A place to put an ice cold beverage without worrying that it'll sweat all over my paperwork
A notebook, pen and small scissors at arm's reach
A ceramic fish and a cardboard rhino (ok, so these aren't needs as much as cheerful little smile-inducing desk pals)
A plant to provide fresh air and a bit of life (they're one of my favorite things to gaze at when I'm not staring at my computer screen)
A place to wrangle a bunch of pens or pencils (a colorful vase is a fun departure from hiding them away in a desk drawer)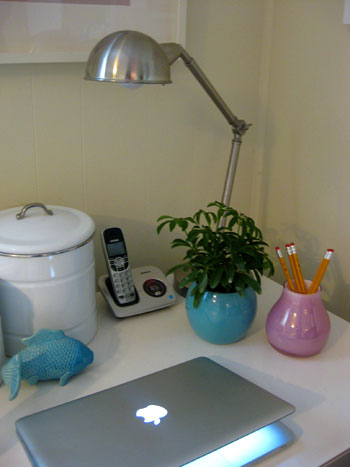 Then there was desk arrangement numero dos. And this time it was less about pops of spring color and more about chic and layered metallics.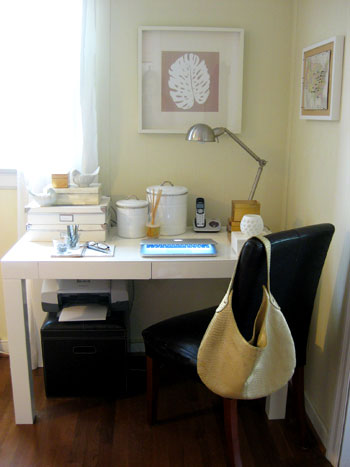 Storage was the name of the game here, so I added two pretty capiz boxes (along with some ceramic birds for good measure) and three gold cubes introduced even more concealed stash space. Two glass votive holders full of office supplies (one full of paperclips and one full of staples) were added along with my reading glasses and my trusty notebook. And a scented vanilla candle along with my homemade reed diffuser (which is actually just made from store-bought skewers in a vase full of watered down lemon verbena Mrs. Meyers soap- more DIY details here) upped the smells-so-good factor.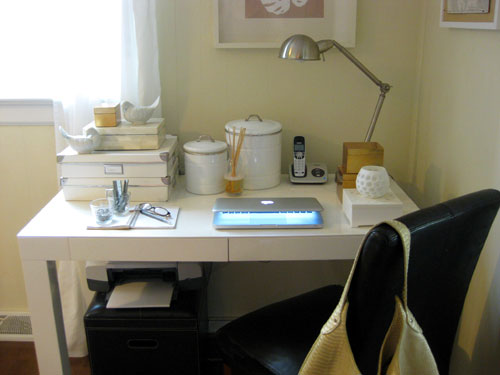 So the basic needs that this arrangement met were:
A ton of boxes to hide bills, notes, receipts, office supplies and other paper clutter
A notebook (along with some paperclips and staples) at arm's reach
A clean, all-natural, and flame free scent to enjoy while I work away thanks to the DIY reed diffuser
A scented soy candle for a bit of flickering ambiance if the mood strikes
Ceramic birds (what can I say? I just like having little faux friends at my desk in case I get lonely)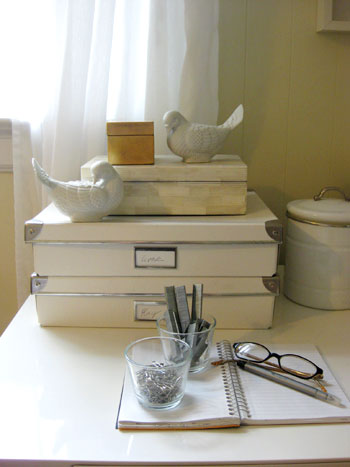 Set up number three was all about beachy accents (which tied right in with the homemade palm leaf botanical that we have framed above the desk).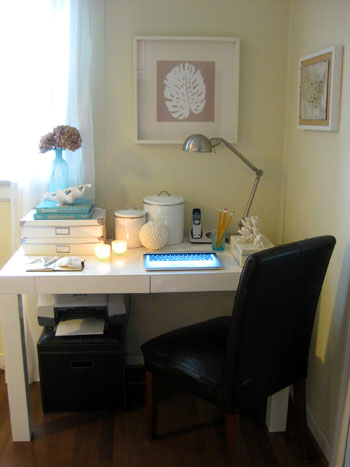 So a beachy blue vase full of dried hydrangeas along with a faux clam shell, a shell ball, a capiz storage box, some faux coral and some sea glass-looking votives injected a bit of ocean ambiance. And of course the blue books stacked on those Ikea storage boxes along with the blue glass cup full of pencils and my notebook topped with a faux urchin and starfish hammered home the whole beachy vibe.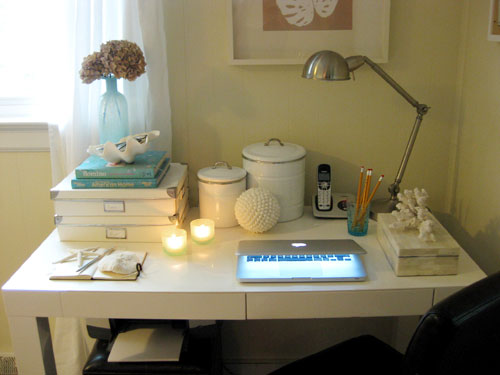 And what exactly did I decide to use the faux clam shell to contain?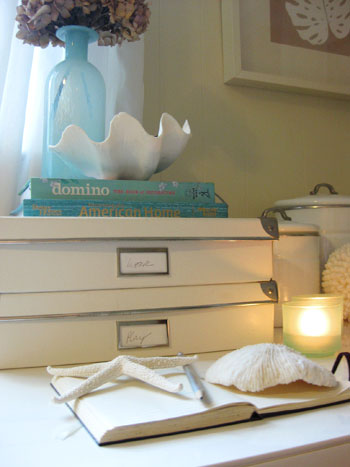 A slew of paperclips along with my reading glasses and a pen. Gotta love something so cute and practical (I like my faux clam shells like I like my men…).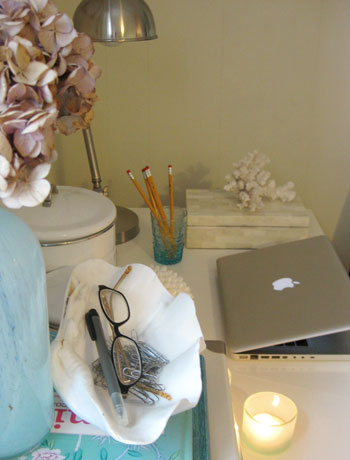 So the basic needs that this arrangement met were:
A large capiz box to hide bills, notes, receipts, etc
A notebook (along with some paperclips and my glasses) at arm's reach
Two sweet flickering candles for added chill-factor
A pretty glass cup to house pens or pencils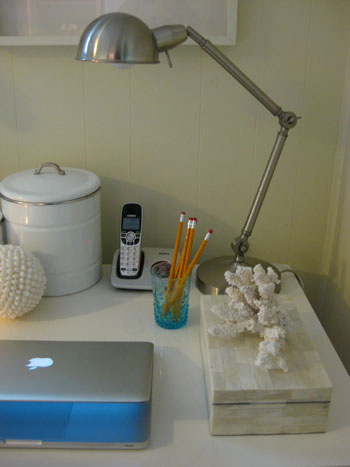 My fourth arrangement was all about natural accents with texture to spare.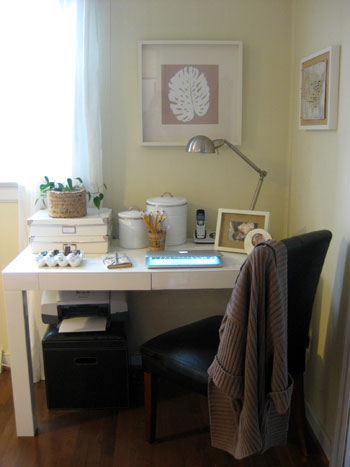 So I brought in an easy care plant in a textured Ikea planter along with a woven cup full of pencils and a frame with a big textured burlap mat (paired with a smaller round capiz one for a bit of layered interest). Then I just added my favorite leather journal (which also doubles as a great place to jot down notes in a pinch) and the ceramic egg crate that I snagged over five years ago back when I lived in NYC.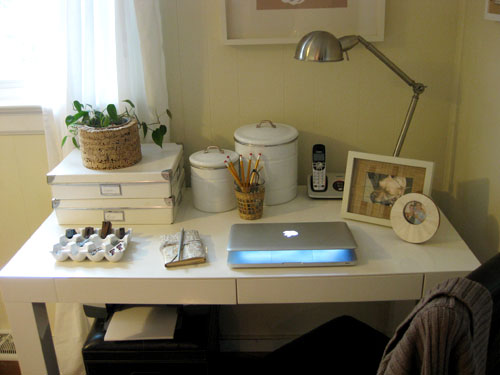 I really liked the layered woven cup and the cork-ish planter paired with the burlap-matted frame. And I think the egg crate was my favorite detail of all.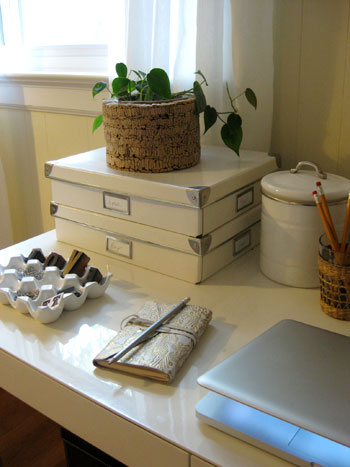 See, instead of using it to store my jewelry (which I've done since I grabbed it back in NYC at Crate & Barrel), I thought it would be fun to take it for a spin as a desk supply organizer of sorts. It easily contained paperclips, push pins, safety pins, staples and even stamps that are usually tucked away in a drawer. And it looked pretty charming while doing it. Especially since I added one more naturally inspired addition: four wood block letters that spell out the word love (we snagged those a while back at a DC flea market).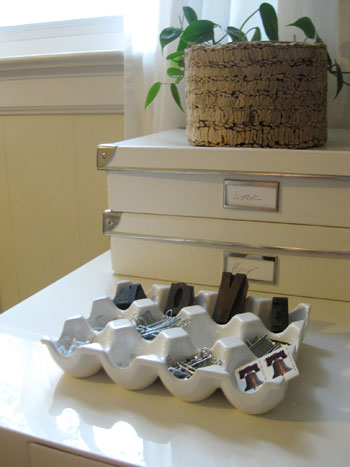 So the basic needs that this arrangement met were:
An easy on the eyes (and air purifying) house plant to add some freshness and life
A ceramic egg crate turned office supply caddy
A nearby notebook for jotting things down
A woven glass cup for holding pens or pencils at arm's reach
Two picture frames (featuring the "people" I love most) for a bit of morale boosting charm
And there you have it. One desk arranged in four different ways to meet my very basic blogging needs (and provide lots of not-real animal friends for my admittedly odd enjoyment). Of course set-ups like these might not work for an architect who needs space to spread out (or for anyone else who isn't accustomed to working in a tiny corner of their den) but they definitely made me want to sit down and get my bill-pay on.
I must admit that I don't even really know which one I like best, so I'd love to hear which setup you guys prefer. Does the punchy spring arrangement do it for you? Are you partial to the understated metallic setup? Is the beachy vibe your fave? Or do you prefer the natural and textural approach? And while we're on the subject of desks, what's your must-have home office item? Whether it's an über functional system or just a smile-inducing good luck charm we'd love to know what you gaze at when you sit down to pay bills or google yourself. Do tell.
Psst- Itching for more desk advice? Read more about how we hide our cords and how we stash and store everything from files to receipts.