We mentioned this cheap and easy DIY idea in our Holiday Gift Guide, but this specific project is so simple and fun that it bears repeating.
While browsing some fancy schmancy aroma diffuser kits (you know, the ones with oil, a vase and some reeds) we wondered if we could make our own on the cheap. So we did. One pack of $1 skewers from the grocery store plus a vase that we just happened to have laying around (picked up at Target for $3 a while ago) plus some yummy smelling liquid…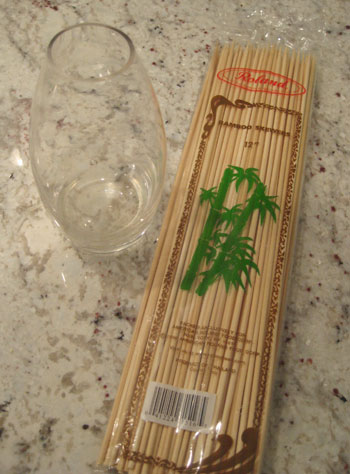 … magically became a chic little aroma diffuser: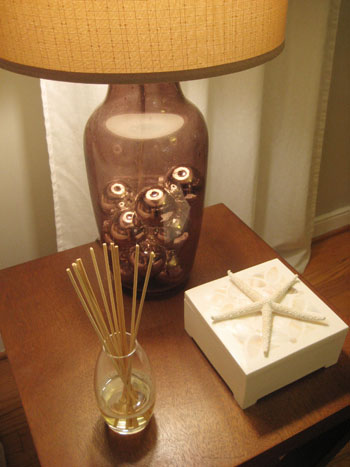 You can clip the skewers to the right length using a wire cutter if they seem a bit long. And you can find a big bottle of fragrance oil at any dollar store so this whole project (which also makes a great gift) can easily come in under $5. Score!
Due to our recent indoor air-pollution obsession, we decided to shy away from artificial fragrances (which can be irritating to some people) and use a smidge of our naturally scented Mrs. Meyers Clean Day All Purpose Cleaner in Lemon Verbena instead. It might sound weird to put soap in a vase and call it a room fragrance, but the naturally scented essential oils in the cleaning solution lightly scent the air for a refreshing grassy-lemon smell that's pretty close to intoxicating without having to worry about any toxins. And every so often we flip the sticks over in the vase for another burst of fragrance that lasts for weeks.
In fact we liked our little DIY diffuser so much that we made two of 'em, one for the windowsill in the kitchen, and one for the open shelves in our living room. And every time we walk by they smell tantalizingly clean and fresh. How about you guys… do you have any favorite ways to keep your home smelling delectable? Do tell.
Update: You can check out all of our favorite holiday decor finds here – many of which are under $15!