When Bethany sent her fantastically creative low cost kitchen makeover our way we had to share the eye candy. Here's her letter:
This spring my hubby and I got busy refreshing our tired kitchen. Our goal was to make changes that improved the look of the space without spending a million bucks. With a little paint, some new cabinet hardware, a new rug, and a light fixture and window treatment, our kitchen now has a whole new look! The best part was standing back at the end of the project and realizing that these small changes really made a big visual impact. I love my "new" kitchen, and the fact that we only spent around $400 is the icing on the cake. I detailed the entire process–from inspiration to completion–on my blog, for those who want the full story.
Here are the before shots of Bethany's ho-hum kitchen: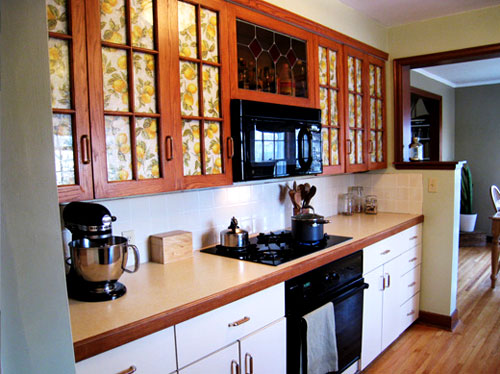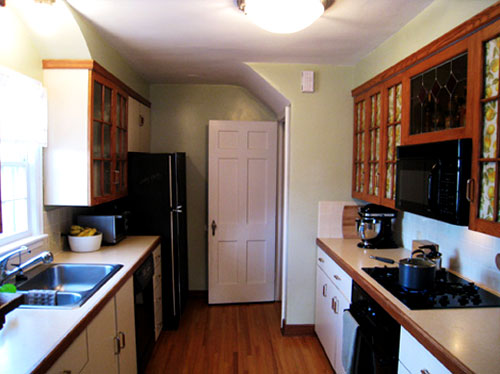 And here are the amazingly crisp and updated after photos: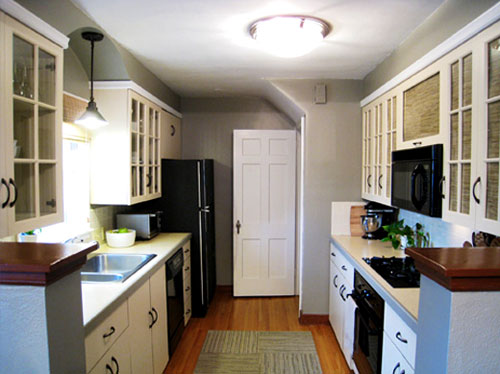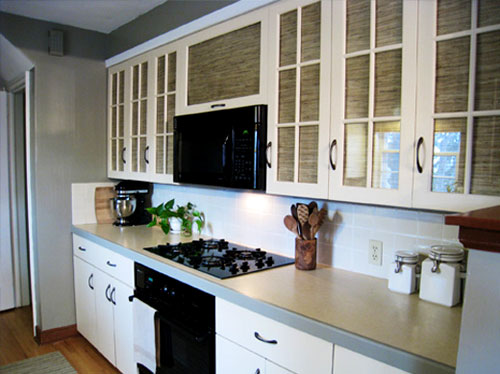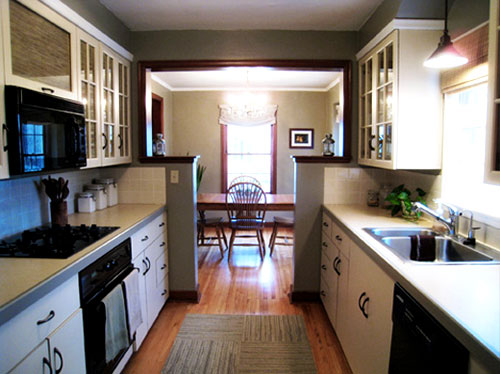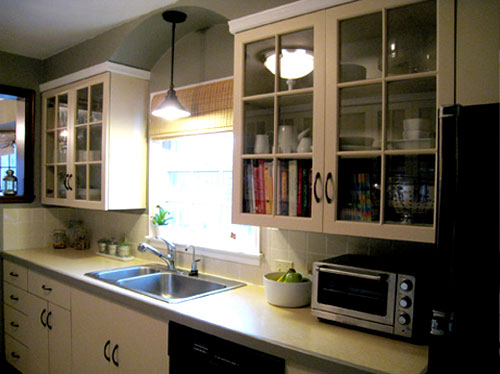 Here's the budget breakdown:
Cabinet glass: (clear, double-thick) from local hardware store, $130
Bamboo shade: from Menard's, $22
Grasscloth wallpaper: from Menard's, $18
Cabinet paint: (Behr Ultra, custom matched color) from Home Depot, $15
Trim paint: (Behr Ultra, Ultra White) from Home Depot, $15
Wall paint: (Behr Ultra, matched to M.Stewart 'Flagstone') from Home Depot, $33
Cabinet hardware: (by Amerock) from Home Depot, $116
Pendant lamp: from Home Depot, $35
Miscellaneous: screws, sand paper, paintbrushes, etc, $30
TOTAL: $414
And since the "after" pictures were taken, we replaced all of our beige switches and outlets with white ones, which really finishes off the room nicely, and only cost us an additional $15. So worth it. Anyway, I hope you guys enjoy it! -Bethany
Didn't Bethany do a great job working with what she has? We love the creative uses of the grasscloth wallpaper in those cabinets and the gorgeous paint colors that she chose. Even the hardware, the window treatment and the pendant lamp polish things off without breaking the budget, and it's amazing how the same space feels like an entirely new room after so many small and affordable changes. It all adds up.
So what do you guys think? Didn't Bethany stretch the heck out of her 400 beans to create a space that's both serene and functional? What's your favorite part? We're torn between the use of the texture-rich grasscloth behind those gleaming glass cabinet doors and the perfectly serene color scheme that Bethany landed on (which really makes the space feel a lot less closed in). Delicious.