***This giveaway is no longer accepting entries***
This may be my favorite freebie title of all time. Is it the name of a band? Is it the newest Pixar film? Nope, it's just the two words that describe the options that this week's SIX winners will get to choose from thanks to Cardboard Safari. They're the makers of cool, quirky animal trophies that are formed entirely out of intersecting pieces of laser-cut cardboard. So if you ever wanted that big moose head on your wall but didn't have the heart to bust out your inner-Palin, they've got you covered.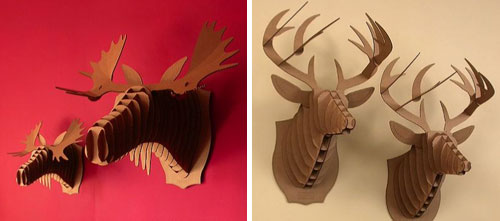 In fact, Cardboard Safari is so environmentally friendly that their cardboard is all recycled, non-toxic and made locally. They're actually based in nearby Charlottesville, VA and we've bumped into their quirky, cool products all over town lately (our friend Noah even helped design their skull-themed products) so we figured it was about time we did a giveaway with them.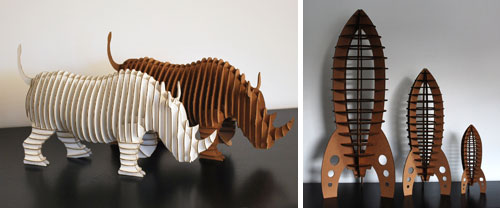 And just as the post title suggests, we're giving away two of their newer products as they continue to expand beyond their signature trophies. This week's winners will get to choose from their new Full-Body Rhino OR Astro Rocket (shown above). Each comes in three sizes in either brown or white cardboard (though they're entirely paintable if you'd prefer, say, a pink rhino). They're shipped flat and assembly is easy (kinda like a fun puzzle).
In fact, you can check out the video below of us putting together the – prepared to be shocked – small white rhino that we snagged for our very own home. You know how Sherry is about white animal accessories. You can also watch the video here on YouTube if the video isn't working for you below. The whole thing took us about 15 minutes, not including a bathroom break for a certain four-legged family member.
Here are your giveaway details for this week:
PRIZE: Full-Body Rhino or Astro Rocket of any size and color from Cardboard Safari (each valued up to $58)
TO ENTER: Comment on this post with the words "RHINO ME" or "ROCKET ME" based on your preferred prize and…
BONUS QUESTION: Tell us what your dream adventure vacation is. Would you love to go on a real life wild safari? Or maybe someday take a trip into space? Feel free to stretch the bounds of reality here – we're dreaming after all!
GIVEAWAY CLOSES: Wednesday, August 5th at 8pm EST
NUMBER OF WINNERS: Six!
PRIZE SHIPS: Within the US of A only this time
USUAL STUFF: One entry per e-mail address is permitted. The winner(s) will be selected using random.org and announced on Thursday. Good luck!
Oh, and here's Robbie's new home on the shelf above his ceramic cousin: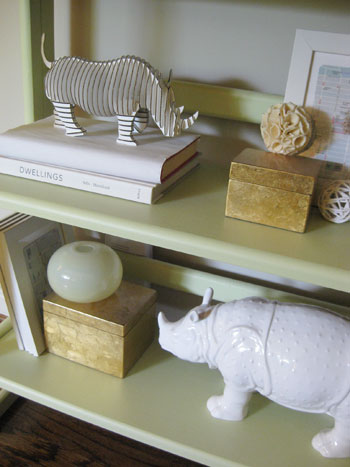 You know what they say. Happy wife, happy life.
Get more info on our freebies at our Giveaway FAQs page. Images courtesy of Cardboard Safari.