Amanda's bathroom makeover is a huge reminder that paint can not only transform the walls of a boring old bathroom, it can also spiff up a seen-better-days wood vanity. And decorative drawer liners can be the icing on the cake. Here's her letter:
I just wanted to share the before and after we just completed in Brian's bathroom. You guys have been very inspirational and have become quite the household name- "Brian, you should see over on YHL, they have such and such in their house and it looks awesome!" or "You should see what they just did over at YHL- we could do that!!" So, thank YOU for opening your home to us and the many, many others to share your thoughts, ideas, and successful projects. I know that I specifically thought about what I loved so much about your house when we started on this project. The cool colors, natural elements that you bring in with decor, and all of the bright white! I also love how you heightened your bathroom with the shower curtain being raised to 95″, so I'm sure we'll be tackling that project sometime in the near future. Thanks for helping to empower and inspire us to really tackle something that wasn't so great and turn it into something that we think is just awesome. We love that we did it on a budget and in just a short period of time, probably less than 20 total hours I would estimate. Thanks again- keep on posting because I'll certainly keep on reading! -Amanda
Here's the bland builder before bathroom shot: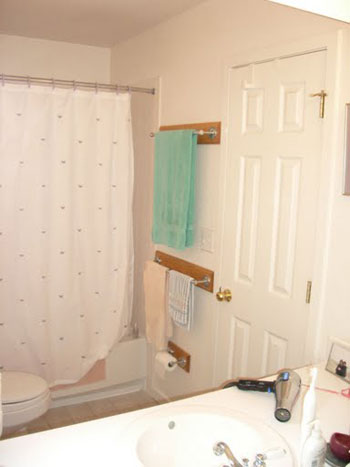 And here's the chic and classic after thanks to a little Amanda and Brian elbow grease: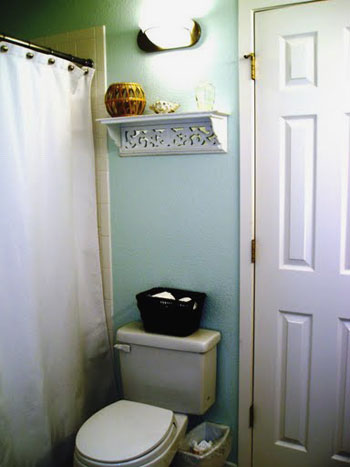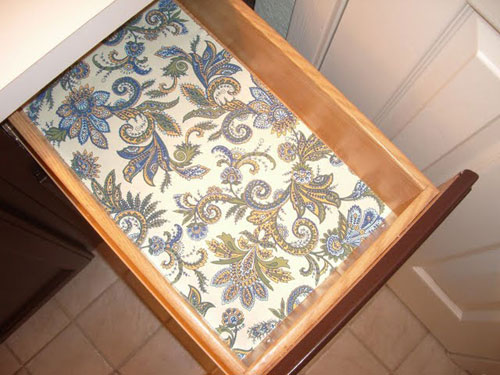 Isn't this a great reminder that paint is the number one way to cheaply tranfrorm almost anything? Just don't paint the dog! And isn't that fresh chocolate vanity even lovelier with those gorgeous patterned shelf liners? Yummy. What do you guys think of Amanda's stunning bathroom update? Oh and be sure to drop in on her blog for more photos and info. Thanks so much for sending your awesome makeover our way Amanda!