First of all, thanks so much to everyone for sharing in our baby-bomb excitement and wishing us well on our little "project." You guys are the best! This new-ish development (actually it began in August, which feels like eons ago) certainly means that we'll be working away harder than ever on our house and we promise to share every dirty home improvement detail with you. And speaking of details, we're interrupting our regularly scheduled programming to field a bunch of the questions you guys asked on Wednesday in this as-promised Petersik Baby Q&A.
Q: How far along are you? When are you due? Baby Petersik (or "the bean" as he or she is affectionately known around here) is almost 15 weeks old (second trimester- wahooo!- now if only my morning sickness would recognize that fact…) so I'm embarking on my fourth month of being "with child." Our little one is officially due on May 19th (but we just know he or she will be late- it's a family thing).
Q: When did you find out? I took a test in early September at which point I was already five weeks along (dizziness and nausea had me pretty certain, and that double line popped up before I could even say "how do you read this thing?"). Ironically, the afternoon that we shot this blogiversary Q&A video was actually the day that we found out, so when we answer the "When will you have kids for crying out loud?" question (skip to 3:48 in the video below) you can see us squirm and search for ambiguous statements that weren't outright lies. Forgive us, but we weren't quite ready to announce it to the universe just hours after finding out ourselves.
It's so funny to watch this again knowing it was filmed on such a big day. And when we hinted about expanding our family for year three of blogging in this blogiversary post I was actually already pregnant- so that's why we seemed fairly confident that it might be in the cards for us this coming year (since the cards has already been dealt so to speak).
Q: How did you tell John? It was 5am on a Saturday when I got my positive result so I giddily snuck into the kitchen and made a card for John from Burger (homemade cards from Burger are kind of our thing, they're always misspelled and we exchange them for big events like Father's Day, Mother's Day, b-days and anniversaries). The front of the card said: Harfy Fafers Day (translation: Happy Father's Day)…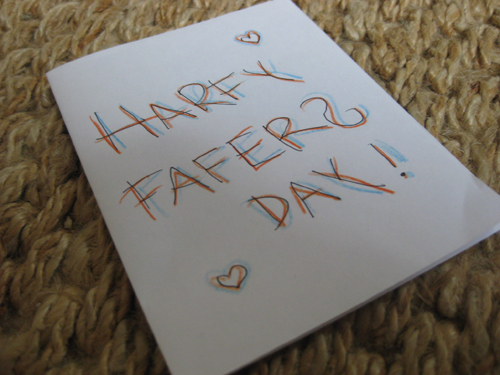 … and the inside said "I wanted to get you bons but mommy has something else…" (Burger can never spell bones correctly).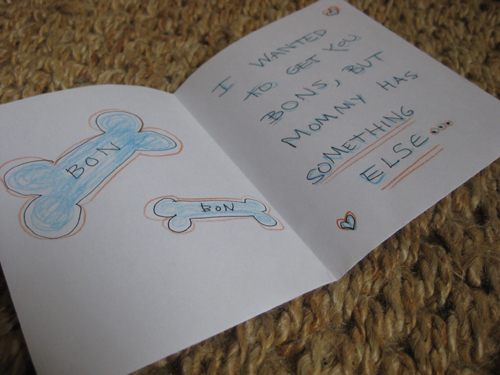 Armed with my little DIY card and positive test I padded back to bed and attempted to let John sleep for a few more hours. About ten seconds later I realized this was an impossibility so I intentionally woke Burger up so he would rouse John. His happy little wiggling and tail-wagging did the trick, so I quickly shoved the card in Burger's collar (that's how he delivers them) and John groggily read the front and then flipped to the inside as I pulled out my positive test and beamed. "Seriously?!" was his response and we were pretty much saying non-words and hugging and squealing or a while after that. The funniest thing is that about two minutes later John was jumping to his feet and hurriedly getting dressed saying we had to go to the farmer's market to get lots of organic fruits and veggies so he could cook healthy things for me and the baby. Yeah, I pretty much melted. He's destined to be the world's best dad.
Q: How long did you keep the secret from your family? It was grueling but we waited until I was over 3 months along (14 weeks) to tell our parents and the rest of the family. One because it was fun to have "our little secret" and two because we wanted to tell all of our parents in person (and we weren't due for a trip to NY to see my mom and dad until last weekend).
Q: And how did you tell them? Sunday was John's birthday so all of our parents were going to be in NY at my mom's house to "surprise" him with a b-day breakfast. He wasn't supposed to know that his mom, dad, sister, brother-in-law, and baby nephew were going to show up (but he had a vague idea since I had to convince him that it would be the perfect morning for the reveal). That morning they all showed up as planned along with my brother, Almost-Dr-Dan, and his fiance (a surprise to even me). John acted mock-shocked, we ate a big Italian breakfast (including chocolate birthday cake) and then turned to opening presents. The last gift was one from me that we had both planted in the bunch. When he got to it he looked around the room chock full of unsuspecting family members and said: "It was so great for you guys to surprise me… but Sherry and I actually have a little surprise for you in return" and pulled out a little onesie labeled "freshly baked":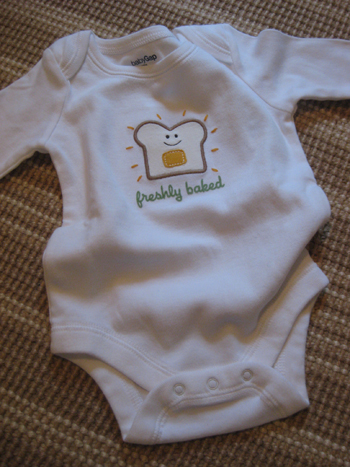 And there it was. Immediate recognition. Screaming. Disbelief. Jumping. Clapping. Belly rubbing (once I removed the giant jacket I had been wearing to hide my obvious baby bump). After months of waiting (and dressing like a blob to hide my "secret") it was finally out. Euphoric doesn't even begin to describe it.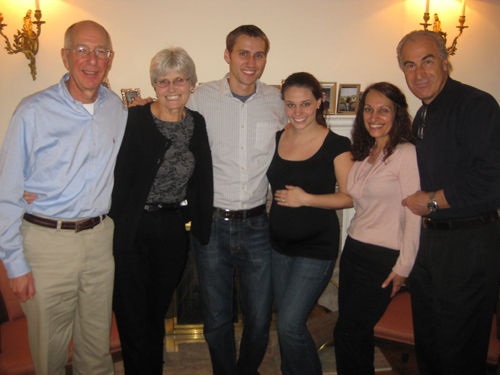 Q: We know Katie Bower told you she was expecting before she even told her husband, so how and when did you tell her? Were you pregnant in Nashville together? Nope, I had yet to be prego-fied when we giddily met up in Nashville but it was so exciting to hang out with Katie when she was so early on. I called her and spilled the beans a few days after telling John which was really nice because keeping the secret from our friends and family for an entire trimester was hard work (so it was awesome to have a confidante)! And yes, Katie squealed just as loudly for my big reveal as I did for hers. Love that girl.
Q: Will you find out the sex (and tell us)? Are you longing for a boy or a girl in particular? We've decided after much consideration that we're just too excited not to find out, but we'll probably have the doctor write it down for us and go on a little dinner date and ceremoniously open the envelope then. And of course we'll share the news on the blog pretty quickly thereafter. As for a boy/girl preference, we're just hoping for a healthy little guy or gal (although we have said that it would be funny of it turned out to be a chihuahua).
Q: Did finding out make you cry? Did John? Ooh that's a good one. We both got misty-eyed a few times (when I told John, sharing the news with our parents, etc) but the only time tears actually left our eyeballs and dribbled down our cheeks was at the first ultrasound. As soon as we saw our little bean and heard the heartbeat we were both in awe. And furiously swatting at our cheeks. Big moment. So much to be thankful for.
Q: Will you poll blog readers when it comes to name ideas? How do you feel about names in general- unconventional? conventional? We tend to like names with personal meaning – whether they honor a family member or reference something special to us. So sorry folks, but our bean's moniker won't be up for public debate here. In fact, while we plan to have some top picks by May, we'd like to meet the little lad or lady before making a final choice just to be sure we pick a name that "fits." Of course, we'll obviously share our wee one's full name after we bring him or her into the world (along with the obligatory Burger-sniffs-baby photo).
Q: Are you showing? Will you show us baby bump photos and ultrasounds? I actually "popped" about two weeks ago so I'm showing like you wouldn't believe (yes strangers congratulate me at the grocery store- and I eat it up!). It's early, I know, but I've always been a small girl (5'2″ around 115lbs) so it's pretty hard for me to hide a grapefruit sized uterus- and my 4'11" mom said it runs in the family since she showed pretty much immediately too (she also had a two hour labor with me and a one hour labor with my brother so I'm hoping that runs in the family too). And my early bump onset might explain the avoidance of full body photos for the last few weeks (belly-obscuring shots like this one became the norm for a while there):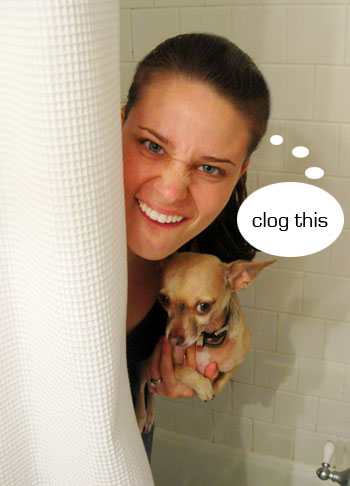 And while I'm sure my belly-full-of-baby will make it into some video tutorials and home-related posts along the way, we're going to spare you from any gratuitous shots of my midsection. We're bound to have so many projects going on around here in the coming months that we're happy to keep the focus where its always been: decorating and home improvement. Plus we gotta keep a few things off the internet, right? Why not start with images of my uterus?
Q: Does this mean you guys will be moving? If not, which room will be the nursery? Definitely not moving. We've love our house too much to give up on it now. And since we're certain there's only one on the way, the third bedroom will definitely become the nursery. In fact, we already have no-VOC paint swatches up on the walls and have begun brainstorming ideas for the big makeover (but we still have to finish the basement and a full bathroom reno… yeah, we're gonna be busy!).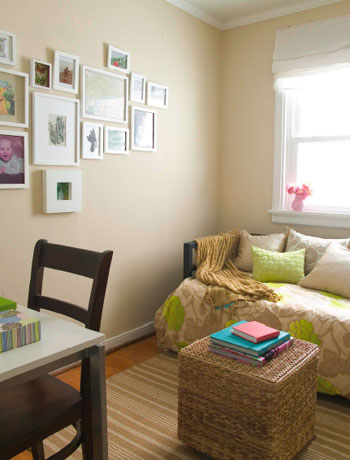 Oh and for the extremely observant folks who noticed that we moved the white table that used to be our stationery and gift wrapping table from the third bedroom…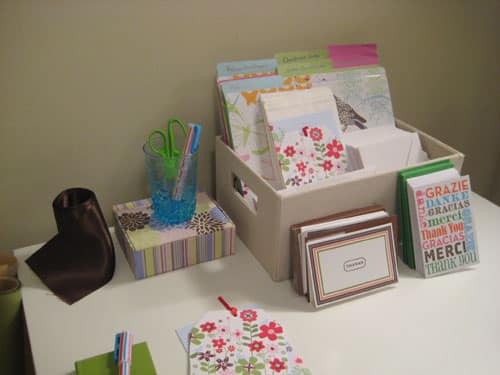 … down to the basement, now you know why! Since we knew we wouldn't have room for it in the soon-to-be nursery we wanted to work it into our in-progress basement makeover. Gotta work with what ya have!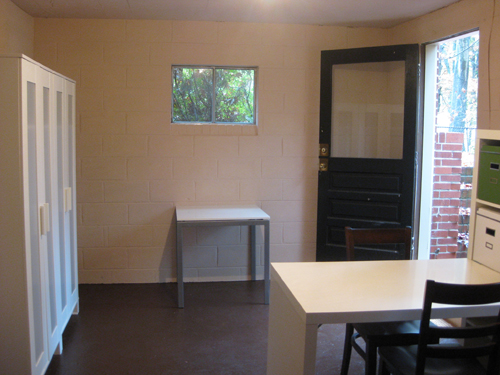 Q: What will you do about childcare? Hire a nanny? Will John be a stay at home dad? We still have six months to iron things out but John plans to take a generous paternity leave when our newborn arrives. We're also extremely lucky to have friends & family already offering a hand (and more than a few casseroles). Oh and we plan to write a ton of posts beforehand, so we'll have stockpiled content at the ready, which should buy us a bit of adjustment time without robbing you guys of the frequent projects and eye-candy that you're used to. It'll take a village but we'll figure it out. We like to learn as we go (and who needs sleep anyway?)…
Q: But seriously, when you're a new parent, projects that used to take an hour take a week. We know it'll be a challenge. We do. We've welcomed three newborns into the family already this year. We've snuck away for week-long vacations while no reader is the wiser thanks to stockpiling posts and approving comments on the go, but we know that bringing home a baby will be a whole new ballgame. Let's just say we're cautiously optimistic, not to mention pros at working round the clock, squeezing things in and getting 'er done.
In short: we'll work as a team and switch off with each other (I'll nurse while John hammers, he'll read bedtime stories while I frame something) and of course we'll make sure there's plenty of family time in there too. And we'll rely heavily on friends, relatives, passion, caffeine, each other and anything else that keeps us going. Plus it helps to see other full time bloggers with babies who make it work (like Heather at Dooce and Abby at Style Me Pretty). And the amazing undertakings of this mom of four (!) inspire me to no end. We've put two years, countless hours, weekends, and vacations into raising this blog baby of ours, so we're dedicated to nurturing right along with baby P.
Q: Is Burger excited to be a big brother? He is! The prospect of jam-covered fingers and extra crumbs on the floor has his little tail wagging. We think he'll be a great little helper (as long as he doesn't try to give his little brother or sister a tongue bath) since he loves all of his pint sized nieces and nephews.
Q: Where did you get that cute shirt for Burger? We snagged it from the T-Shirt Deli. It's just about the coolest concept ever. You can personalize and pick the font, color, and style of tee and then it arrives wrapped up in paper like a sub sandwich with "made fresh" stickers on it and a real bag of potato chips in the box. And we think it hugs Burger in all the right places.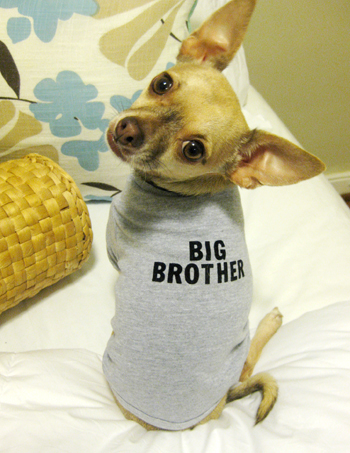 Q: Sherry, do you have any weird cravings? Baked potatoes. All the time. It's crazy but I guess my body needs vitamin C or B6 or potassium. Or I just like the taste of warm melty carbs. At least it's nothing too weird. Yet…
Q: How have you been feeling? Did your first trimester have you down for the count? Other than morning sickness that only lasts from 8-10am I've felt like a million bucks! I was waiting for extra tiredness or splitting headaches to kick in, but I'm into my second trimester so it seems I've dodged those bullets. At least for now. And that's a good thing because we've been crazy busy with the basement project (don't worry John did all the Dryloking and floor painting so I didn't have to get near those gross fumes- and even he wore his mask). As for the whole morning sickness thing, after 90 days or so of tossing my cookies each AM and going on to have a completely normal day afterwards, it's almost become a hobby of mine. I affectionately call it being lovesick instead of morning sick since it reminds me that my little bean is doing his or her thing in there which always makes me smile- even over the bowl. And the good news is that my doctor thinks it'll end any day now (something about week 16 being magical?). Nice.
Q: Will you green your baby and use cloth diapers? We're definitely going to do the eco thing where we can (use no-VOC paints, organic materials, and repurposed items, etc). We also do plan to use cloth diapers since they've come a long way from big squares of fabric with safety pins in the corners. We've heard a lot of great things about BumGenius (they even come in one-size-fits-all snap varieties) so our fingers are crossed that we can hack it. We've seen firsthand from family members how quickly disposable diapers can pile up (while emptying wallets) and we actually read that people save an average of $2000+ by choosing reusable diapers- which means more money for home improvements and nursery upgrades!

Q: Is this blog going to turn into baby central with symptom rundowns and constant baby chatter? Nope. Decorating and home improvement have always been our passion, and although there's a bun in the oven that doesn't change our insatiable hunger for amazing before and afters, steals and deals, cheap DIY projects, step by step tutorials and all the other things we've happily whipped up for the past 2+ years. Heck you can even call them a craving. Our house and our lives are inherently changed by this little "development," but although there will be some posts devoted to a nursery makeover and other house-related changes (like restructuring a closet to make room for new items, babyproofing Casa Petersik, and cutting down on clutter) the focus will still be on decorating, DIYing up a storm, and making spaces work hard on the cheap. We actually like to think that we'll learn more home-related tips and tricks as our family expands, since we'll encounter different design challenges and need to sort and store even more in our tiny house.
Q: I hope this means you'll be putting up all of those white ceramic animals of yours! Ok, so that's not technically a question, but it's a good reminder that our house definitely isn't babyproofed yet. We know there's definitely going to be a learning curve when it comes to making our house safe for little hands (ceramic animals on a high shelf, perhaps? or in a non-kid room like the guest bedroom?) but we're eager to take on the challenge of maintaining a stylish yet kid-friendly home… while blogging about it along the way of course.
Q: Besides the nursery, what other home improvement projects are you rushing to complete by May? Good question. We still have a slew of basement projects to take on (obscuring the windows, building a screen, hanging art, etc) and then we have a full bathroom gut job on the agenda that we plan to start in a few short weeks. Yikes! It's gonna get a little crazy around here, but we'll be sure to keep you posted every step of the way. Oh and did we mention that we already found some amazing mocha colored marble tile for the bathroom floor on clearance for $2.50 a square foot? Stay tuned for more details…
So there you have it. Consider yourself up-to-speed on the Petersik pregnancy. And if you are eager for little updates and periodic baby news, be sure to follow us on Twitter or fan us on Facebook. We're known to veer off into the random and personal tidbits much more over there. And one more BIG THANK YOU for all the well wishes and encouragement. Feels so good to have you sharing in our excitement.