***This giveaway is no longer accepting entries***
So you saw me install this puppy earlier today, and just as we promised we're back to give you a shot at winning one of your own. The Delta Pilar kitchen faucet with Touch 2O Technology is pretty much any DIY-lover or enthusiastic chef's best friend because, just as the commercial below demonstrates, you can wash paint, dirt, eggs, chicken goo or any other home-improvement or cooking related mess off of your hands without ever getting it on your purdy fixture.
We've actually had ours installed for a week now and I've found it extremely helpful even when doing simple tasks like the dishes (yes, I'm usually in charge of the dishes, but Sherry vacuums so it's pretty fair around here). Rather than having to reach over to turn the handle on and off, I can interrupt the water by just quickly tapping the spout anywhere, and the technology's even smart enough to know when you're gripping the faucet to move it (as we do from basin to basin in our double sink) so it doesn't interpret that maneuver as an on/off trigger. Consider us impressed.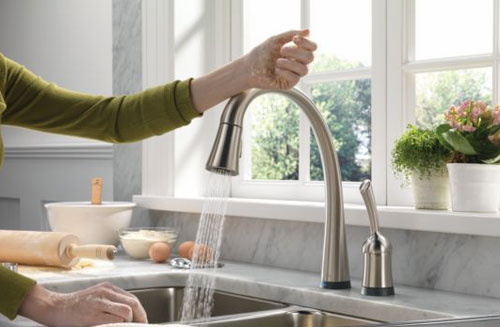 For more info about how this baby works and how we got it installed, check out this morning's post (and don't forget to read through the comments where we address pretty much every detail that you can think of). And if you're dying to get your grubby mitts on one of them, here's how:
PRIZE: A Delta Pilar Pull-Down faucet with Touch 2O Technology in the finish of your choice (chrome or stainless)
TO ENTER: Comment on this post with the words "TOUCH ME" and…
BONUS QUESTION: …spill the beans about some of your personal turn offs when it comes to the opposite sex. Poor hygiene? Too full of themselves? Obsessed with his or her chihuahua? Spill it – but let's try to keep things PG-ish if we can.
GIVEAWAY CLOSES: Wednesday, February 10th at 8pm EST
NUMBER OF WINNERS: One
PRIZE SHIPS: Anywhere in North America
USUAL STUFF: One entry per e-mail address is permitted. The winner will be selected using random.org and announced on Thursday. Good luck!
Find more freebie info on our Giveaway FAQs page. Pics courtesy of Delta Faucet.