When one of our favorite super busy DIY moms (she gives me hope!) sent over some photos of her kitchen's recent door makeover we couldn't wait to share the goods. Here's her letter:
Hi, guys! Sam and I just finished up our kitchen door project and I was wondering if you thought it might make a fun Reader Redesign. We only spent $35 on it, so I thought it was right up the YHL alley. Everyone can check out the step by step process here and here on my blog. Basically we just applied black chalkboard paint to our flat metal kitchen door and trimmed it out with some lightweight boards (which we had to screw into the door to hold them securely and keep them from buckling). We love that it mimics the look of an expensive solid wood paneled door. Hope you and the bean are feeling well, Sherry! -Jacci

Here's what the basic metal door looked like before Jacci worked her magic: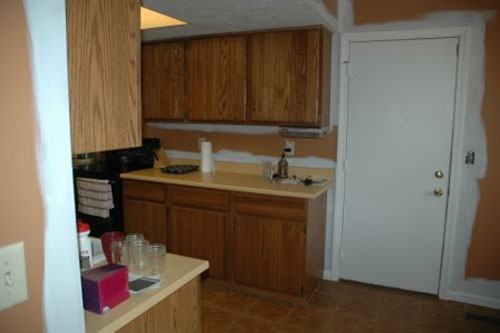 Here it is in progress: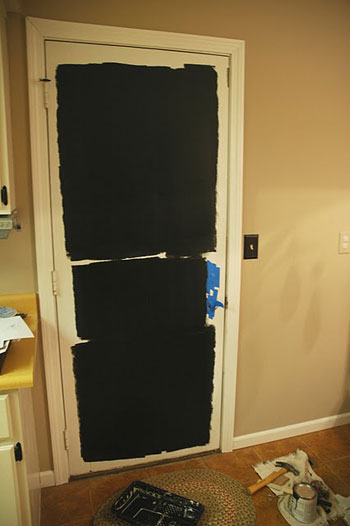 And here's the very same door after spending just $35 to give it a whole new life: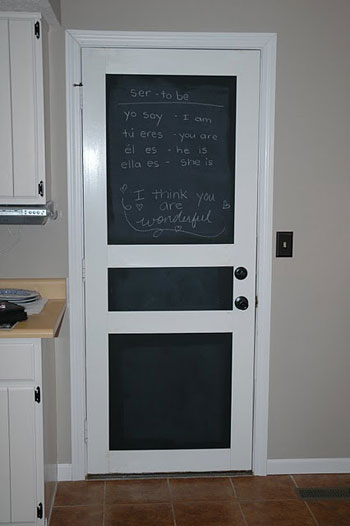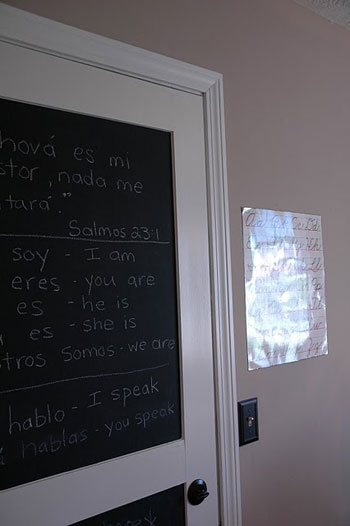 Isn't that amazingly industrious of Jacci and her husband Sam? Don't forget to head over to her blog for more details (you can find those links in her letter above). We just love that she was inspired by the look of a solid wood paneled door and was able to work with what she had to totally transform it (and add lots of charm and function to her entire kitchen while she was at it). Thanks so much for sending the eye candy our way guys! Is anyone else out there thinking of tackling this little project now that they've seen Sam and Jacci's brilliant door makeover?