Alternate post title: Look how domestic my wife is.
I don't know why I'm writing this post since Sherry is the mastermind/executor of this project. Maybe just to brag about her mad ironing skillz? I just watched the baby and approved comments while she did her thang for the better part of the day yesterday. The first step was cutting our 12.5 yards of our on-sale $8.49/yard yellowy green fabric (more info on that here) into perfectly sized panels for each side of the two bedroom windows (leaving enough leftover for one closet panel). Lucky for us, the living room rug made a great guide for keeping our cuts straight and our corners square. Especially since it's 8′ long – so it was easy to lay a tape measure next to it so Sherry could cut five 90″ panels without breaking a sweat. As for the width, we left them the same width as the bolt itself, which was around 61″ wide. This means two panels can easily be drawn to cover each of our 39″ windows without feeling too taut or stretched.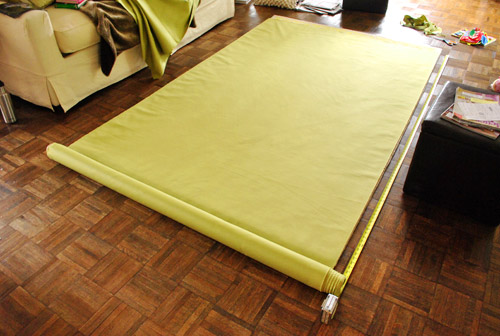 Within about fifteen minutes she had cut all five 90″ x 61″ panels (two for each window and one for the closet) and we realized that we apparently cut it very close when buying those 12.5 yards (pun intended). This is all that we had leftover: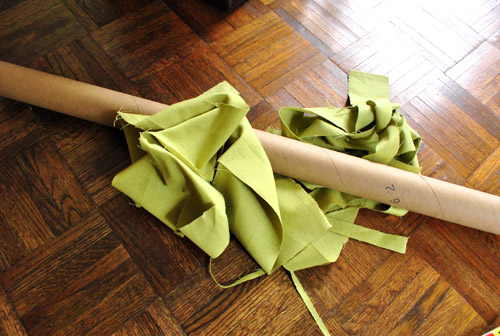 Not necessarily a bad thing (since we'd hate to dole out cash for more yardage than we needed).
Then came hemming, which Sherry tackled using her favorite trick: heavy duty no-sew hem tape. Read more about that process and learn how to make DIY curtains in general right here (for even more iron-on hem tape info, we made a video of the process here and we have even more in-depth pics of its use here). It basically involves ironing, peeling, folding, ironing, and moving onto the next seam.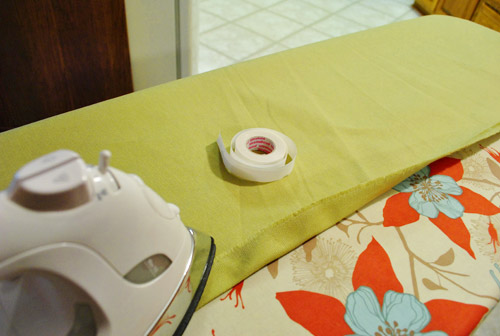 It wasn't exactly a quick task to hem all four edges of all five panels (Sherry kept yelling out "1 down, 19 to go" which got old by about "3 down, 17 to go") but getting that nice finished edge is certainly worth it. Plus, Clara and I kept the ol' ball and chain company in the kitchen by singing, approving blog comments, and, um, eating while she ironed the day away. Quick, everyone freak out, Sherry's hair is down: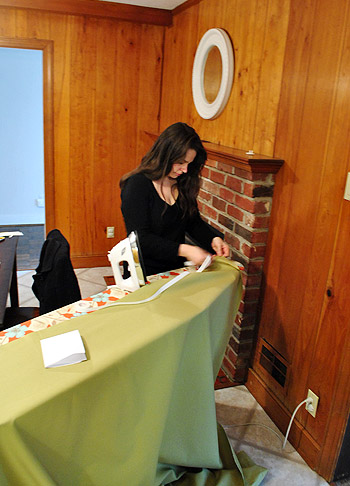 But let's fast-forward through all of the tedious stuff (the ironing, the clipping of curtain rings to each panel, and the hanging of all three curtain rods, which you can learn more about in this post of yore) and get to the fun stuff: the finished product.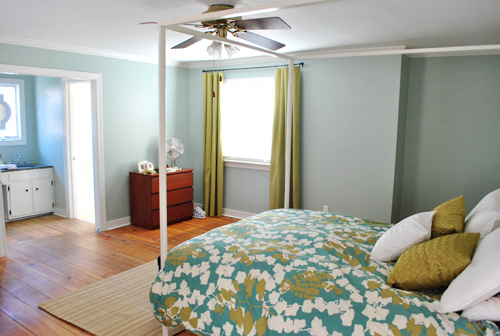 Oh and don't mind the dresser or the fan or the lack of wall art and everything else that's amiss. This room is definitely one of those works-in-progress that we're taking one day at a time.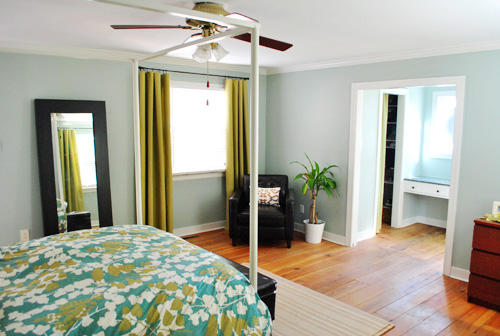 We're really happy with how our DIY curtains turned out. And it should be no surprise that we chose to hang them higher and wider than the window itself to give the whole thing a bit more height and presence. We've actually had a reader tell us that she dreamed about us and Sherry mentioned something about hanging curtains "high & wide" in the dream. How crazy/hysterical/awesome is that? Nice catch phrase, babe. Who wants a "high & wide" bumper sticker?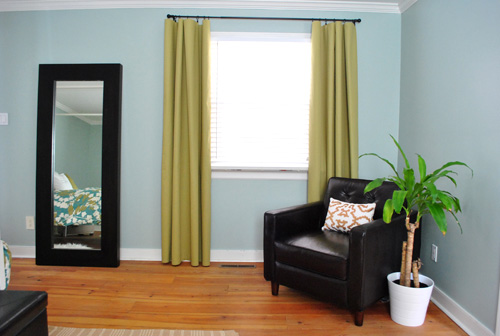 Sometimes we like curtain fabric to "pool" a bit on the floor, but after looking at it both ways we decided to let these babies barely graze the floor boards. It kept them looking crisp and modern (and created that cool loopy draping effect, which didn't happen as much when I held the rod lower and they bunched up on the floor). So that would be our tip. Clip your panels to the rod and then move the rod around on the wall to pin down the perfect placement. That way you can raise it and lower it by hand and eye everything until you find the perfect height. Then just mark your curtain brackets and hang them right where you like them best – so your panels graze or pool to your heart's content. It definitely beats hanging the rod and then clipping up the curtains only to find out they look all dorky and short.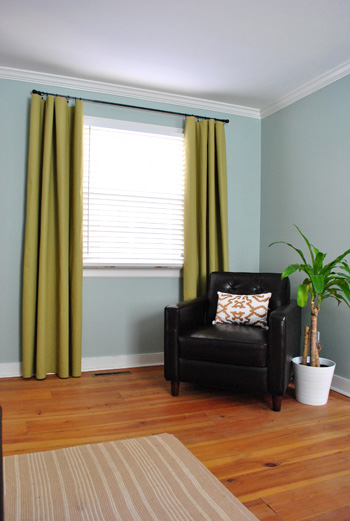 We also hung one panel on the inside of our closet to act as a less-intrusive alternative to the bi-fold door that used to be there. Most of the time it'll sit pulled to the side like this: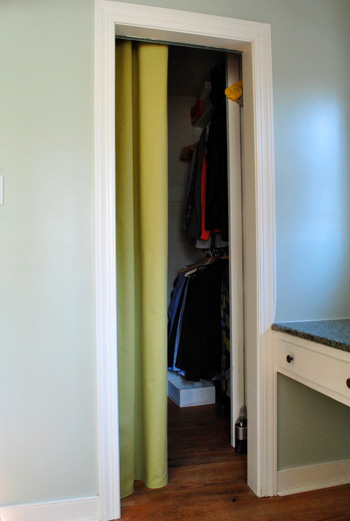 But if we ever need to conceal our mess (or duck in there for privacy if someone's over but we need to make a quick change) we can pull it closed like this: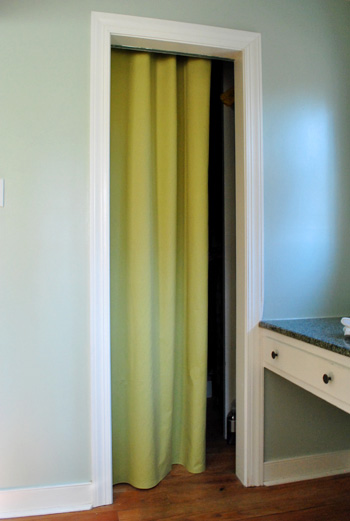 It's kinda like a mini dressing room in there now- there's even a light. And Sherry gets a kick out of picturing Clara doing puppet shows and other stage-related things from within the closet when she gets bigger and has that amazing imagination that only kids have.
Oh and if you're wondering, here's how it's hung from the inside. We placed the rod high enough so that it's not seen from the outside, and wide enough so the curtain can be completely closed (for privacy) or fully opened (so it's not in the way of anyone walking in or out). It's kinda the best of both worlds.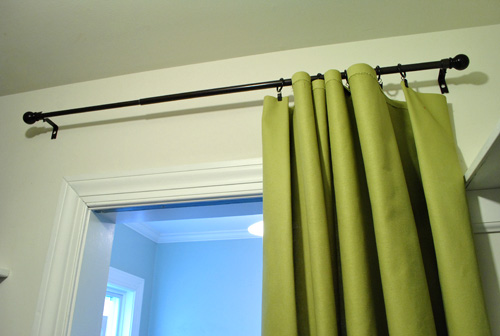 Oh and we got our oil-rubbed bronze curtain rods and ring clips from Target (aka Tar-hay) for cheap. It was around $40 for all three rods and all five packs of ring clips thanks to a few sales going on in the curtain aisle (and the 5% off we get for using our Target card). We love ring clips because they make curtain-creating a lot easier (no grommets or sleeves or pleated details to deal with, so you can literally clip up bedsheets or tablecloths as curtains if you'd like, or just hem fabric on four sides like we did). We also like ring clips because they're particularly kid-safe. Should Clara decide to go crazy and try to swing on them like a monkey, the clip will release the fabric, which will fall to the floor while the rod and the rings will remain on the wall. Gotta love a safety feature that looks this good.
As for the finish, Sherry prefers oil-rubbed bronze rods (even in a nursery) because she says they're "like eyeliner for the window." And I have to agree that I like the look too- especially with the deep wood furnishings that we gravitate towards (along with some white things and even some painted pieces). But again I ask, why am I the one writing this post? Makeup references & hemming aren't exactly my forte.
Anyway when it comes to the panels, beyond the function, height, and softness they add, we're really happy with the color. Which means those three days of fabric hunting were all worth it. The yellowy green tone does exactly what we wanted it to do – it brings out the golden-green color of the bedding without matching it exactly (Sherry has this song she likes to sing called "Matchy-Matchy, Tackly-Tacky" which came about when she was imitating her sweet Italian mom, which is always amusing). But getting back to the curtain color, we're glad we went a bit greener (instead of browner or yellower) than the bedding, because it looks nice and fresh against the Caroline Went Clubbin' Aqua Carolina Inn Club Aqua wall color (get that joke here) while still obviously relating to the color in the duvet.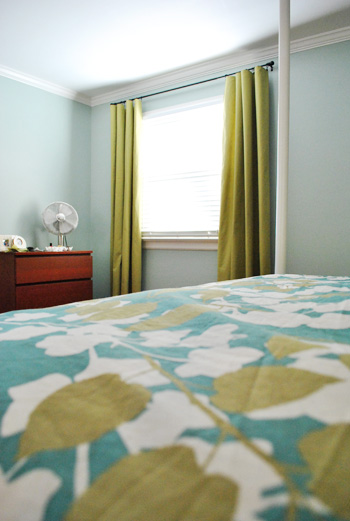 The curtain color also goes nicely with the new pillows that we snagged purloined for the bed too. So between them, the curtains, and the bedding we feel like we've got that golden green color sufficiently injected into the room. Now we can start layering in some other colors and textures for a little dimension and interest. Eggplant? Navy? Charcoal? Inky blue? Who knows where we'll end up. But let the fun begin. Oh yeah, and pardon the missing nightstands, bedside lamps, etc. They're also on the ol' to-do list.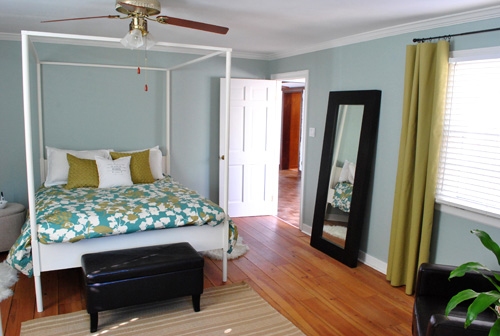 We definitely still have a lot more things to do in here (and we're happy to take our time), but it really has come a long way in the past seven weeks or so. We almost don't recognize this bedroom shot taken right after we moved in: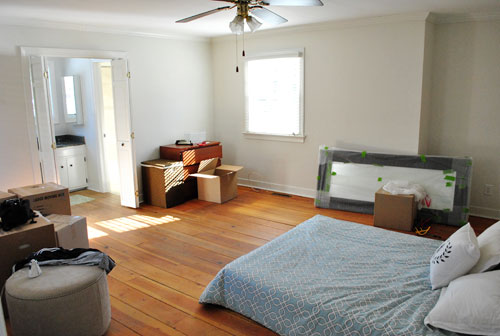 Oh, and last but not least, we thought you might appreciate a little "behind the scenes" tidbit. Sometimes we have to work around a sleepy chihuahua who refuses to get out of bed. Such a diva. But at least Burger doesn't mind when I make the bed right over him. And our new fluffier duvet makes him nearly invisible. Yup, he was hiding in bed the entire time we shot these after pics.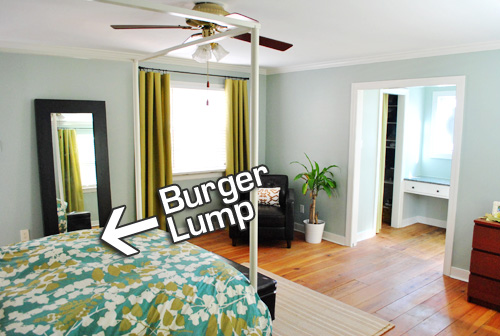 And so ends the curtain diatribe that is this post. The whole process – as long as it was – has given us a bit of curtain fever. At least that's what Sherry's calling it when we drive by fabric stores and she presses her nose against the car window and says things like "I'll never let go" in her best Rose-from-Titanic voice. We need them in a bunch of other rooms and we're determined to choose bold and patterned textiles to add some serious interest. Because we definitely don't want to end up with white Ikea curtains everywhere again (not that we don't love 'em, but we're just ready to have some fun and take some risks). So don't be surprised to find us posting about our fabric store adventures again sometime soon. A guy can only listen to those Rose-from-Titanic impressions for so long before parking just to make it stop.
Psst- Burger's totally letting fame get to his head. Check out his big DogMilk interview here.
Psssst- We just announced this week's giveaway winner, click here to see if it's you.