Curtains. We need 'em for our bedroom. After all, we've got some good momentum going in this room and we can't wait to get more color in there (excuse this pic taken before the mirror went white):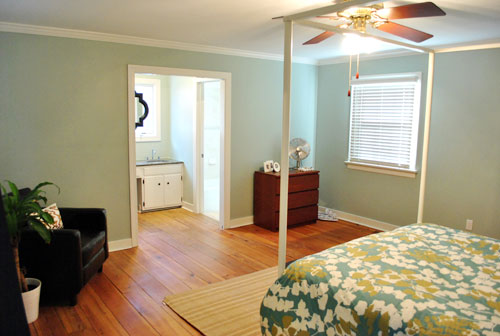 After debating things like a deep blue or a shimmery silver color, we agreed that we wanted to DIY some curtains (using this method) that brought out the golden green leaves on our new duvet. We also agreed that we didn't want to do something too patterned because it would just compete with the large-scale print on the bed (and it is a bedroom so we want it to feel somewhat restful instead of energetic/cray-zay). So with a color in our heads (and a few similar paint swatches for reference in Sherry's purse) we began the hunt for a plain or subtly patterned curtain option in that greeny-gold hue.
And boy was it a hunt (lots of hunting references today, apparently).
I'll spare you a store-by-store play-by-play, but basically if it sold fabric and it was in Richmond, we went there. Probably twice. It was partially our fault for being naively hopeful the first day of hunting (yes, it was a multi-day mission). After bypassing lots of options for fear of not being "interesting enough," – or not being "the perfect color" or "the right price" – we snagged one measly fabric sample as the last store closed that we hit up that evening (U-Fab for any locals wondering where it came from). That way at least we wouldn't be coming home empty handed.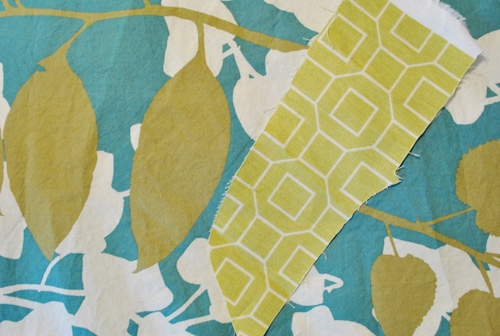 Verdict: it was too lime and not gold enough in person. Not that we wanted it to be a perfect match (we actually prefer a bit of subtle variation so it doesn't look too Stepford Wives perfect), but this fella didn't even feel like he belonged in the family. We also realized that even a small pattern was probably too much for our duvet to handle (as soon as we laid our scrap of fabric down on the bed we felt all jittery and scrambled- not exactly the calm smooth vibe we're going for). Which was kinda sad, because you know we love a good geometric print. And we don't mind mixing and matching prints and patterns when they can coexist a bit more easily.
So on Day Two we overcompensated and took home samples of everything that had even a remote chance of working. You never really know until you get things in your own space anyway (store lighting is so different than real house lighting).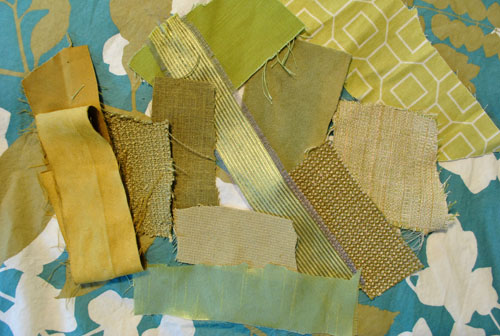 From this bunch we pulled out our two strongest contenders. One was a heavy linen-looking swatch (left) and the other was a rich feeling suede-ish dude (right).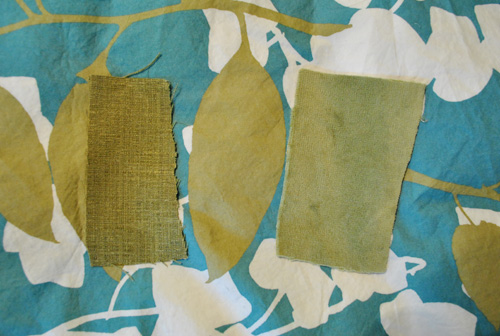 We were torn between the two… until we taped them on the wall. That was a game changer. We figured judging them on the wall and in the lighting they'd get everyday was the only true way to make a decision (since light bounces off things that are flat on a bed differently than things that are hanging vertically on the wall). And look what happened: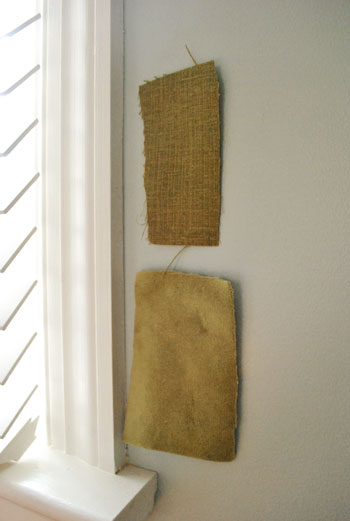 They totally turned brown on us! Boy was the whole wall-taping thing a good call. Suddenly both of them looked much darker and much less greeny gold than they did when they were basking directly under the overhead light on the bed. We quickly realized both would weigh the room down more than we wanted, which is how we found ourselves embarking on Day Three of the hunt – which would include going to a store that we mindlessly missed on Day One: Hancock Fabrics. Sometimes we skip the chains in favor of the fun local guys, but we're glad we gave Hancock a chance. It's where we found this happy little swatch: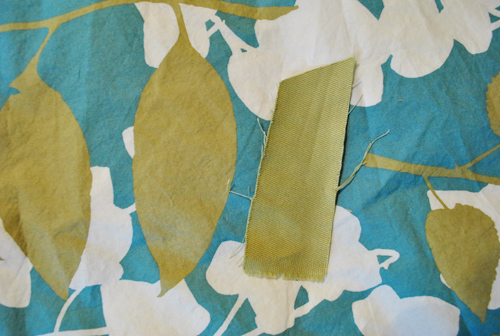 I know, big whoop. But since we were on the verge of giving up completely, it was a huge whoop for us. He was close to the duvet cover, but a bit greener and cheerier – just a tad more avocado than golden. No pattern, just a subtle rib – but the semi heavy feel of the fabric (which my wife describes as "cotton duck-esque" for those who know what that means and don't think it sounds like a cartoon character or a dish on Top Chef). Oh and we forget to mention the best news yet, since Hancock was having a 50% off sale (cha-ching) it was actually the cheapest swatch that we had seen in all three days of our little fabric hoarding expedition, ringing in at just $8.49/yard. So even though it took going to two Hancock Fabric locations to find enough yardage (12.5 yards total – which should cover both windows and a closet panel), we were thrilled to come home with it. And excited to regain feeling in our butts after all of that driving around. Seriously, three cheers to Clara for being such an amazing car-seat-lovin' fool baby. Here are our spoils after that last fabric run: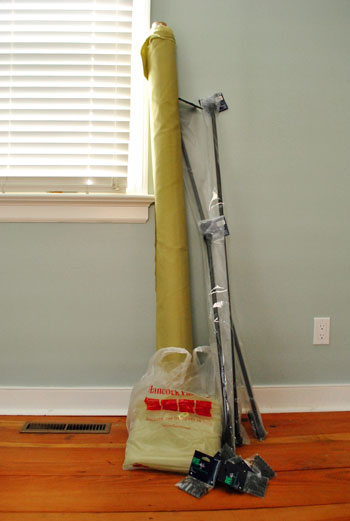 Now we just have to get around to cutting, hemming, and hanging them (notice we grabbed rods and ring clips for about $40 total from Target – I think that was sometime on Day Two). From the looks of things so far, these curtains and our duvet are going to be fast friends.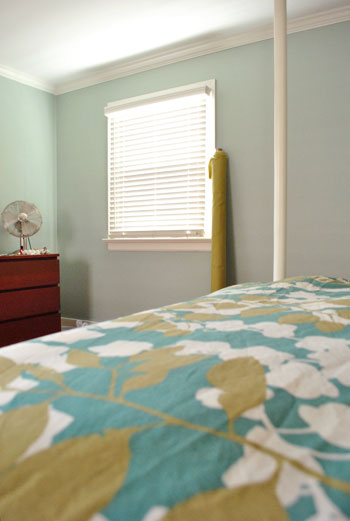 And don't mind those wrinkles in the duvet. It just means it's well loved.
Psst- Check out our cute niece and nephews (at least their profiles) and see how we made John's parents all misty eyed here on Babycenter.