We promised a post about the project that kept us busy yesterday, so we'll be sharing that as soon as we can get the pics uploaded and sized (we had to wait until this morning to shoot afters in the daylight). Until then, here's another pillow post (notice a theme lately?) that we've owed you for the past week.
We mentioned during our failed shower curtain attempt that our trip to HomeGoods wasn't entirely fruitless. But we just realized we never elaborated about the, er, fruit. So here we go: we found this bold pair of greeny-gold pillows that practically screamed "I want to date your duvet." So we introduced them: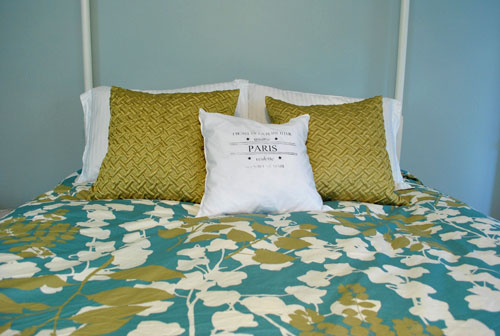 They were just $24 for the pair (12 bucks a pop), and we thought they'd complement our bedding perfectly – especially with that subtle lattice pattern and the shiny fabric to add some texture and interest. And we like the idea of a white pillow in front of them for contrast, so we're thinking we'll try to hunt down something similar to the ruffled pillow in the West Elm picture below on the cheap from TJ Maxx or World Market instead. Or maybe we'll just go crazy and pick up a bright randomly colored pillow (eggplant? navy?) and work it in with art and other accessories that'll be introduced to the room as we go. For now our white Paris pillow above works as a placeholder of sorts. No rush.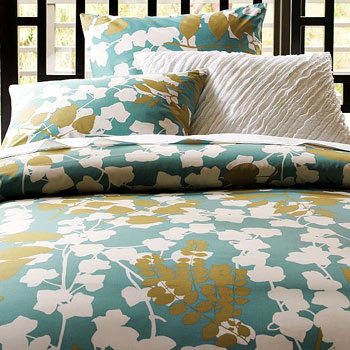 We're enjoying the extra dose of color among our formerly-all-white pillow collection on the new bed. And that "we" includes Clara (who likes to play hide and seek behind them)…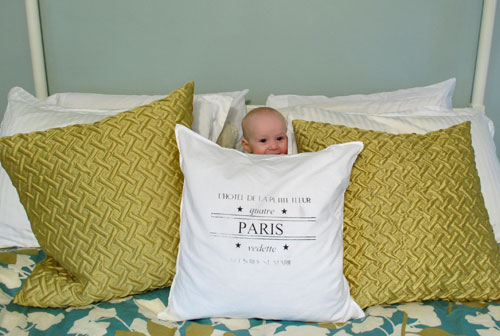 …and her big brother (who likes to go crazy in general, on and around them). Watch his antics below or over here on YouTube:
Ah dogs and pillows. Gotta love them.
Beefier post to come when we're done uploading and sizing pics!