That's the name of the new bedroom color. It doesn't exactly roll off the tongue, but it does look pretty good rolled on the walls. We finally made a decision to go with the middle band on the Valspar swatch at the top of this photo (though we got it color matched to Olympic's No-VOC paint in a satin finish). We liked that it was green and a bit more saturated than a color we'd choose for our last house.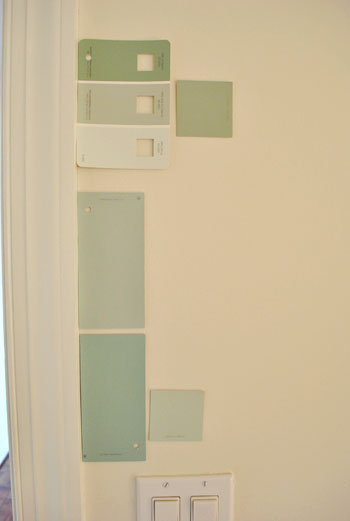 Here's one last look at the room paint-less (and mostly furniture-less). Oh yeah and look at poor semi-disassembled Ed the Bed. We had to remove one slat on the top so that he could slide forward into the middle of the room without hitting the fan while we painted around him.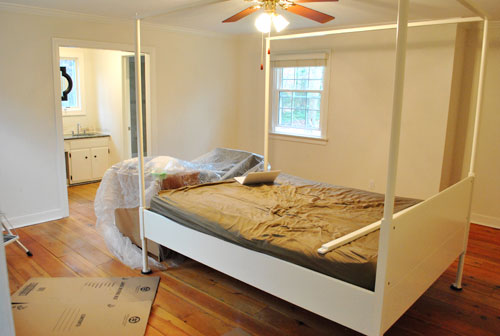 And thanks to the magic of the internet, here's what the room looked like around five hours later after two coats of Sweet Caroline Club Carolina Inn Club Aqua (we never got the name right a single time that we tried to remember it) on the walls. Amazingly we only needed one gallon (we're not used to rooms this big so we totally expected to run out and have to do that annoying go-back-to-get-more thing in the middle of the project).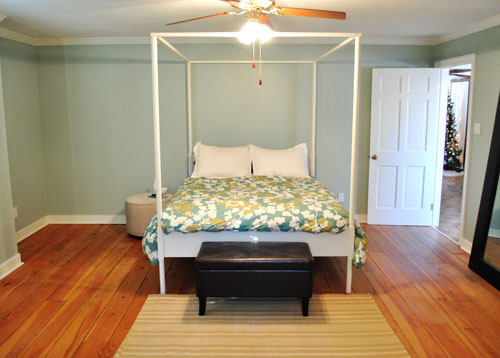 It's definitely somewhat reminiscent of our last bedroom color (Glidden's Gentle Tide) but it reads a good deal darker and greener in person, so it's definitely a step towards our vision of a bolder color scheme when it comes to this house. We debated going a lot darker or brighter when it came to the walls, but ultimately decided that we didn't want the wall color to be the star of this room. So keeping it somewhat subdued leaves room for colorful curtains, art, and even some painted secondhand furniture if we decide to go that route.
We actually hesitated before painting Carolina Country Club Inn Carolina Inn Club Aqua in the bathroom nook because we thought we might want to go darker, lighter, or bring some other accent idea in there (decorative wallpaper? a tone on tone stencil?).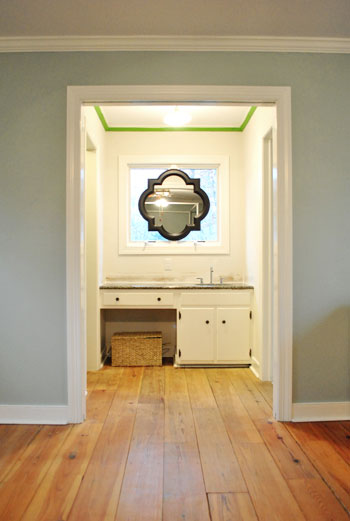 But since our goal has been to de-emphasize the bathroom-ness of this space and help to better connect it to the main room (so that it visually makes sense instead of sticking out like a sore thumb) we went for the cohesive look and used the same color on the walls in there. Good old Caroline County Aqua Carolina Inn Club Aqua. Oh but we used a semi-gloss finish for extra wipeability since it's near a sink. Don't mind the fact that it looks lighter in the pics (it doesn't in real life- must just be the lighting).
And yes, we're still talking about painting the mirror everything from gray to white. We go back and forth between leaving it and letting the room evolve a little more before doing a thing and whipping out the paint brush and getting 'er done later today. Whatever we do, we'll share pics when we do it.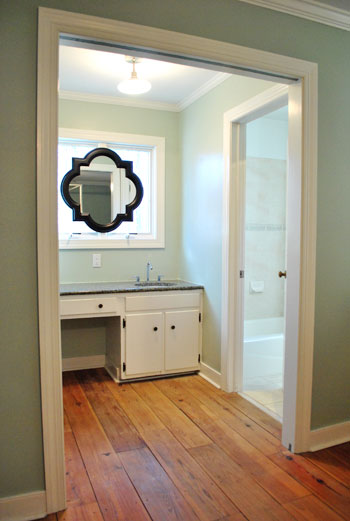 The color on the wall is also reading a bit light in these pics. We'd definitely describe it as something in the "mid-range" (not light but definitely not dark). You can see from the swatch in that top pic that it's definitely not super subtle, but it's also not ultra saturated. We actually really love that we landed in that middle-ground area. Everything from the crown molding to the trim and even Ed the Bed really pops, but it's not too much that it would compete with bold curtains, art, and other stuff that we can't wait to mix in. Oh and Ed's poppage is a bit more evident in the first pic of the painted walls above though. Scroll scroll scroll.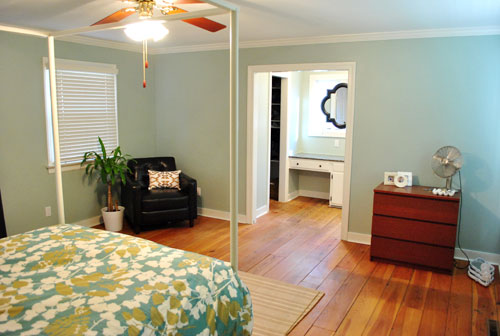 None of the furniture placement is permanent (heck some of the furniture itself may soon be replaced, like that old ikea dresser from our guest room above). But at least it's starting to feel like a our bedroom. Sherry has this big idea to get two secondhand dressers that "go but don't match" and refinish them (or paint them a bold color) and then place them on the walls on either side of the bathroom doorway for some nice balance – and some his & hers sock and pj storage. Then the chair will probably go live in the corner to the left of the bed as you face it.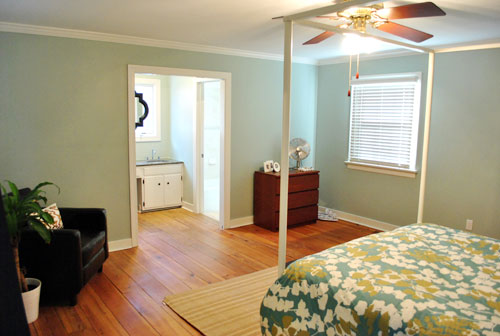 Oh and speaking of going but not matching, we like how Cape Carolina Canaveral Carolina Inn Club Aqua picks up the color of the duvet nicely too, without being perfectly plucked directly from the fabric itself (which we think could have been waaaaaay too much).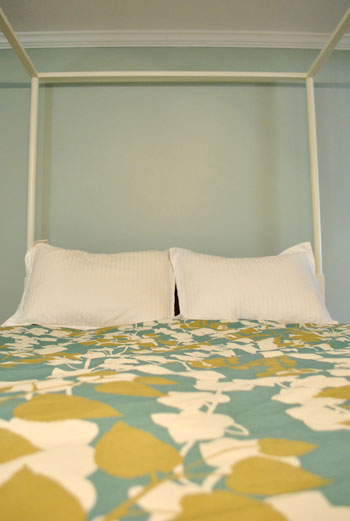 Actually, you can better see how saturated the walls are in this shot with the lights off (so it doesn't read as yellow on camera). Oh and the walls/duvet look a bit more true to life here (see how they kind of work with each other without competing or looking too flat?).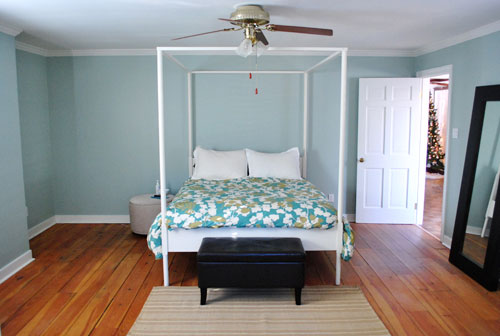 And yes, that's still our Christmas tree in the background. It's on the list.
Anyway, it feels GREAT to have this room painted because it was a big leap towards making "the new house" feel like "our new house." And consider us as having officially caught the painting bug. We're thinking one of the big living spaces might be next. If only we could settle on a color…
Psst- We're spilling one of our favorite money and space saving baby secrets over on BabyCenter. Oh yeah and there's a video of Clara screaming over there too. Good times.