This past week has been full of showhouse meetings and Children's Hospital projects, but we also managed to knock three more bullets off our kitchen to-do list. We (1) patched, primed, and painted the old yellowed ceiling, (2) replaced the two fluorescent lights in the kitchen area, and (3) replaced the light over the breakfast table. So let's kick things off with our favorite new view: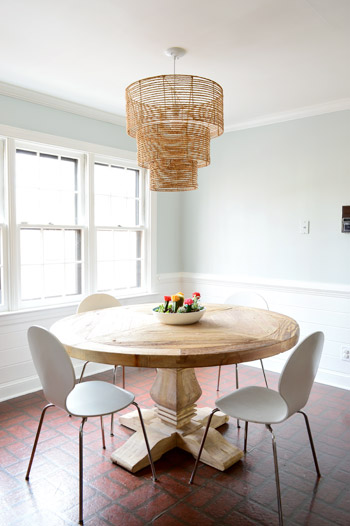 Each light installation had its own little peculiarities, so I'll dive into those before detailing the work that went into the ceiling. When it came to replacing the big fluorescent light, many of you asked for a step-by-step rundown (so you can tackle one of these beasts at home) and the good news is that it was actually pretty simple. First, I snapped off the plastic cover and twisted out the two tube bulbs.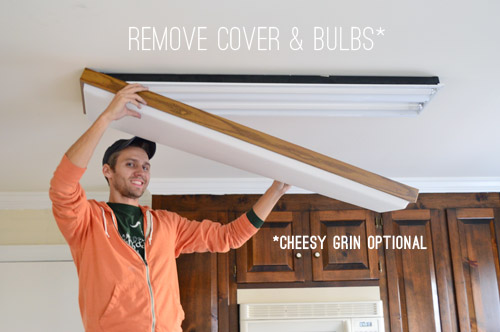 You can see these two steps were actually done before we painted the walls because we wanted to be sure that the fixture box was centered. In our last kitchen, the wires came through the ceiling at one end of the fluorescent light, which could've meant problems here (moving the box to be centered). But after snapping out the metal cover (that ran between the two bulbs) we could see that we were in luck this time around.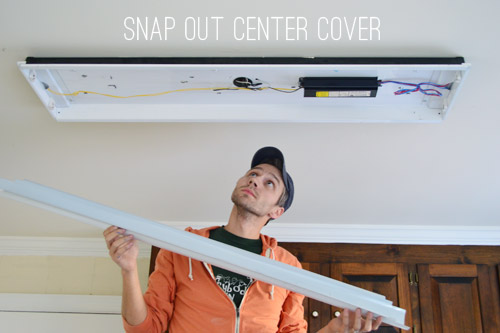 Then, with the power turned off (at the breaker, not at the switch), I unscrewed the wire caps so that we could detach the wiring.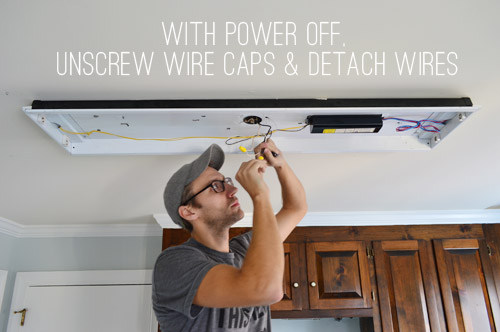 Now the only thing holding up the fluorescent fixture were two big screws on either end. Once I unscrewed those…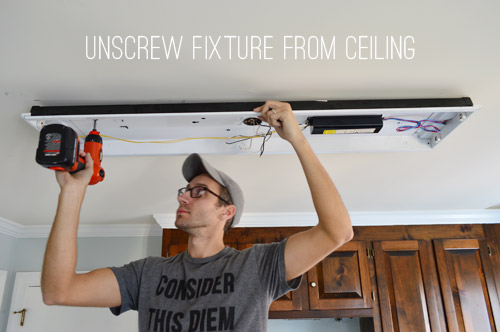 …I could finally remove it entirely. Apparently I was so excited to have it gone, I blurred my face.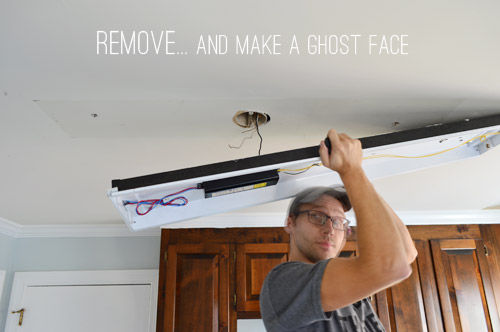 The fixture that was going in its place (the burlap quatrefoil shade from our local Decorating Outlet that we mentioned here) hung from a dual-bulb pendant. We wanted it to sit nearly flush to the ceiling so we had to cut off a lot of excess wire before hanging it. This can be done to shorten any pendant fixture, or even to convert a plug-in light to a hard-wired one.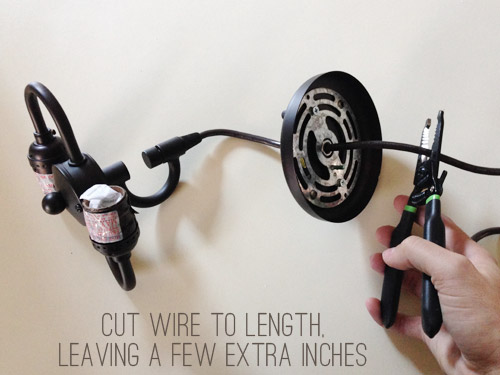 Then I just had to re-strip the cord (to expose the three wires) and strip off the tip of each individual wire to create a place for them to connect to the wires in the ceiling. PS: this wire stripper I bought a while back (similar to this $17 one) has been a great purchase, in case you're planning to hang any light fixtures soon. That's not an affiliate link or anything, it's just a helpful tool that I took years too long to buy, and now that I have one I'm kind of a nerd for it.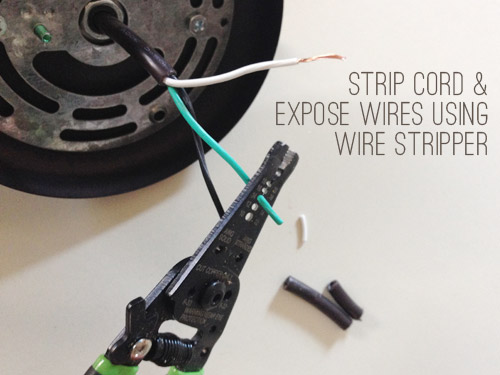 With my cord shortened and my wires ready, I could complete the installation per usual, by attaching the mounting bracket to the ceiling, connecting the matching wires together with wire caps, and then tightening on the ceiling cover with the two small screws that came with it.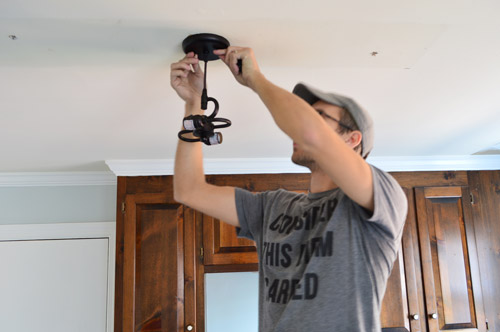 Here it is once the shade was installed – and after we'd painted and patched the ceiling too (notice how the holes and discoloration are gone from the photo above?). The light doesn't have a diffuser, but we could have one cut from acrylic by a local glass company if it bothers us. I think we're used to pendants without them (we had a basket pendant in our last kitchen without one) and we have soft white frosted bulb LEDs in the shade, which don't feel too blinding (clear bulbs are typically brighter that the frosted types).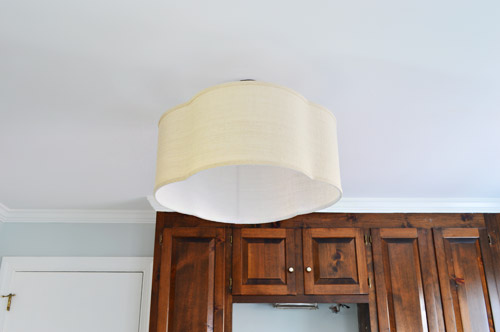 Now onto the light switch over the kitchen table. We originally talked about having to move it about a foot to be more centered in the room, but we realized for the short term we could just shift our table over a little bit and it'd be just fine for now. We'll probably have to shimmy both the table and the light around 10″ once we convert the triple windows to doors, but that's down the line quite a bit, so we're happy to live with this for now and save the major ceiling work for the real kitchen reno down the line.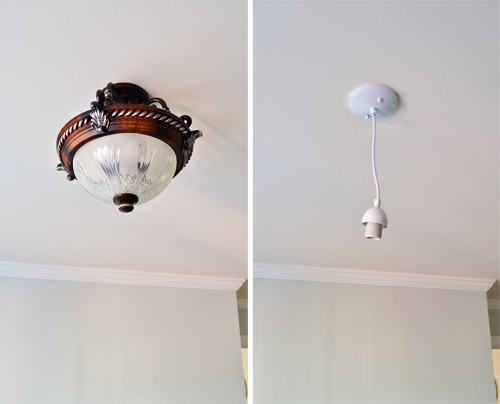 We hung the shade directly from the pendant as it's meant to be installed. It did come with some extra chain up top (which you can see pictured here) but that would've made ours hang way too low (practically touching the tabletop), so we cut it off with some metal snips. As for how we knew what height to hang it, we just googled and read that around 30-32″ is standard for a large pendant over a table, so we went with 31″.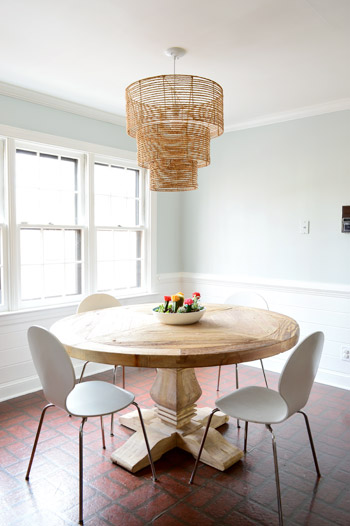 Oh and a few people asked why we didn't try making a DIY version of this woven chandelier when we shared it last week (since it just looks like a few hoops and some twine) but the whole thing is actually metal (to give it structure) wrapped in natural fibers that's then fused together with chain and a bunch of vertical spines to hold its shape. Sherry actually did try to "skin" an old shade to see if she could make something similar before we ordered this one, but without tons of metal hoops (around 20 per shade) and then soldering on a bunch of vertical spines to hold it all together, it would just be floppy and the twine wouldn't hold that round shape (more on that here). So that's why we were happy to spring for the real deal this time.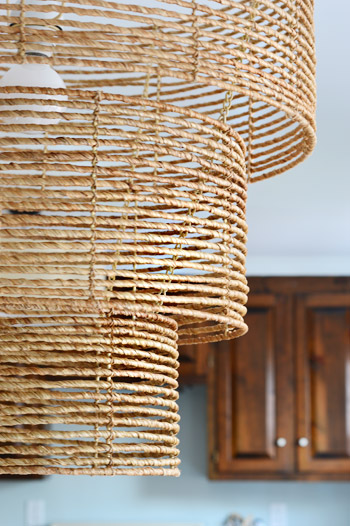 Last but not least was the little baby fluorescent over the sink. It had been hidden behind the cabinetry on that side, but now that we removed it (in favor of some open shelving that we can't wait to add) – well, it's super obvious.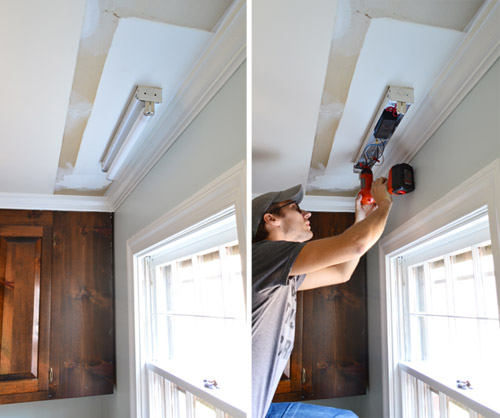 While it was a relief that the wires were centered over the window (again, this wasn't the case in our last kitchen) it was kind of a bummer to take down the old light and discover that there was no fixture box in the ceiling. Just a big hole where the wires poked out.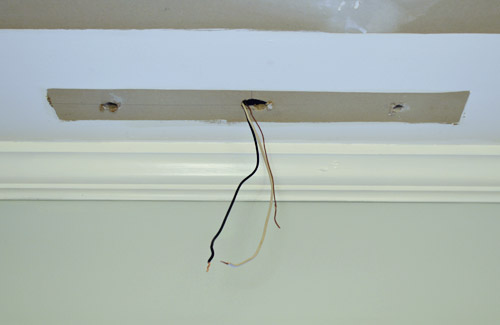 We'd need a fixture box to install the new glass funnel pendant that we'd planned for the space. I felt around near the wires to see if there was a beam that I could attach a fixture box to, but came up with nothing. So it meant installing one of these "old work" ceiling boxes. They're designed to slide into existing spaces (not "new work", aka new construction) and they're held in place by three little wings on the side. Once you've placed the box in your drywall, you tighten the screws on the face which swing the wings out and pull them forward – eventually hitting the back of the drywall and pinching the box in place.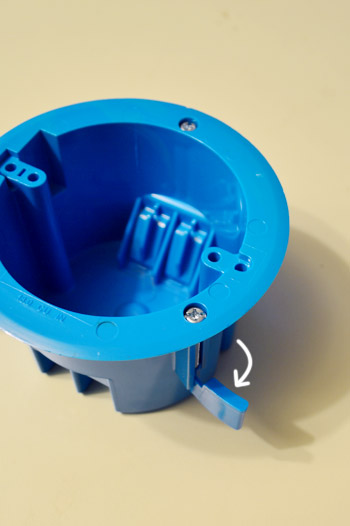 My research revealed that these aren't technically meant to support light fixtures (something that nails or screws into the frame of the house is recommended), but plenty of reviewers on the Home Depot site reported using them to hang lightweight fixtures like ours, so we felt comfortable giving it a try. It turned out to be really secure (we got it up at the end of last week and it has held strong without even a slight loosening) but we definitely wouldn't rely on a fix like this for a heavier chandelier and certainly not a ceiling fan.
To install the box I first had to cut a hole for it in the ceiling. It had come with a template, but somewhere between checkout and home we lost the sheet. So Sherry made me one of my own – making sure it was a little bit smaller than the largest part of the box (since that's a lip that needs to rest on the drywall)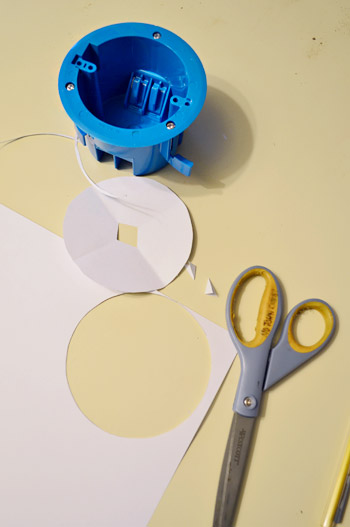 Then I just needed to trace that onto the ceiling and cut the hole out using a jab saw. I kinda felt like I was in the middle of an old school cartoon where one character cuts the floor out from underneath another.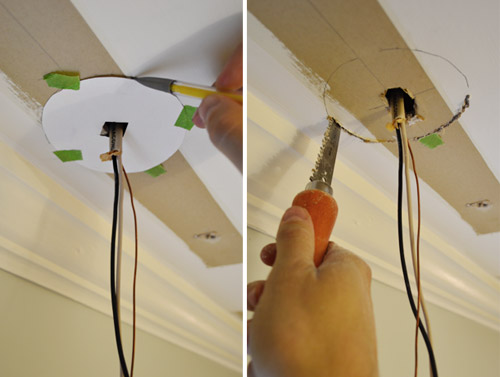 With my hole cut, I could feed my wires through the back of the box and trim them to size (they had been surprisingly long!)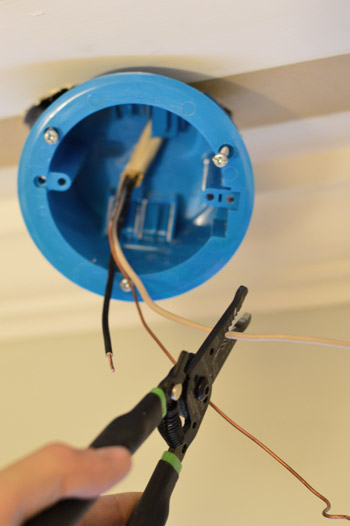 Then I tightened the screws on the face of the box to secure it in place with those wings.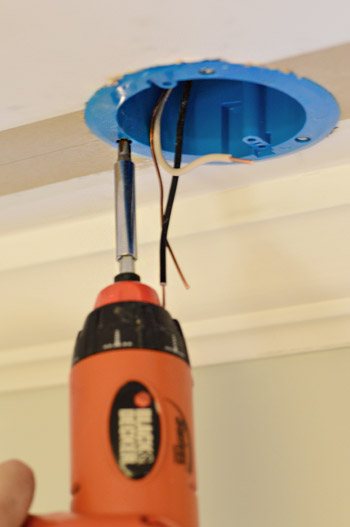 From there, the actual fixture install itself was straightforward (connect the right wires, secure the canopy, turn on the power, and watch it glow). We like that it's simple and doesn't command too much attention visually (since the other two lights in the room do) and that the view out the window isn't obscured by a big heavy shade.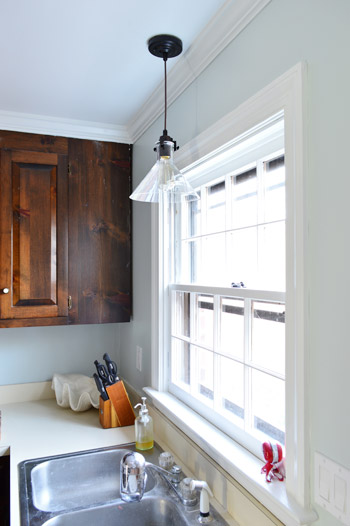 In addition to all of this lighting work, we also had to patch a bunch of holes – some where the fluorescent lights were attached and some where collateral damage from cabinet removal had occurred. In some places it took us three rounds of spackling, letting it dry, and sanding it to get a smooth finish, so it was a more drawn out (and messy) process than we would've liked – but the results are totally worth it. You'd never know there were fist-sized holes in a few places.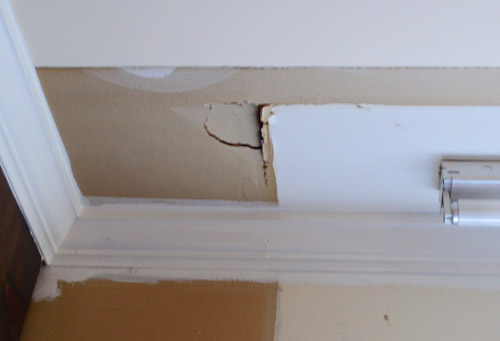 UPDATE! We've finally transitioned our entire house to LED lights (they save tons of energy & money, and they're a lazy person's best friend because you never have to change them). For anyone wondering, these are our favorite interior LEDs. Their glow is warm & natural (not weird/blue like some of the others we've tried) and they use around 90% less energy.
By Friday night we could finally break out the primer and paint. We just primed the areas that were raw drywall, then we painted the whole thing in Simply White (same color as the trim) in a flat finish. As is our usual MO, Sherry did all the cutting in around the crown molding, and I was the resident roller man.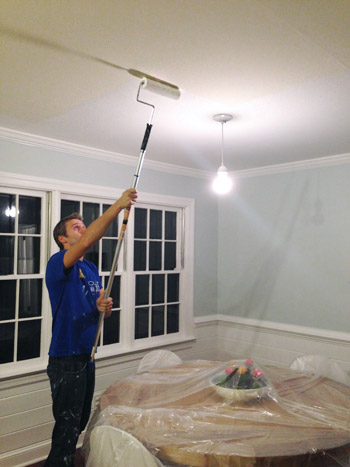 The difference of the painted ceiling is somewhat subtle in pictures, but in real life it makes the whole room look a lot fresher (the glossy white painted crown next to the old yellowed ceiling was no bueno in person, so we're glad that's gone for good). Oh and the two larger fixtures are sporting different colored cords at the moment, but we might spray the white one ORB like we did with this pendant in our previous kitchen if it bothers us after we paint the cabinets. We generally like an oil-rubbed-bronze cord for some visual contrast, but in this case we appreciate how the white one becomes kind of invisible over the dining area, so we'll have to keep you posted if we alter anything as the room comes together more.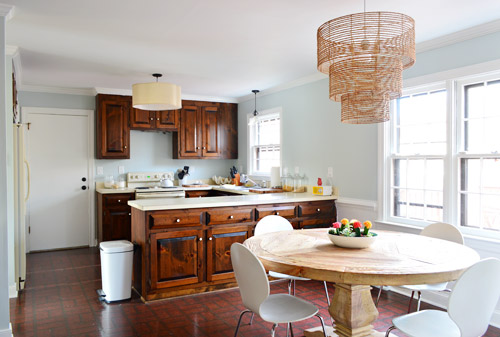 It's nice to have three more items checked off the list, but it means we're dangerously close to the task that we're simultaneously psyched about and dreading: painting the cabinets. But man oh man, what a difference that will make (especially when they look like this up close).
Remove wallpaper
Move fridge cabinet forward
Remove upper cabinets on window wall to prep for open shelves
Reinstall crown molding (you can read about how we did those first four things here)
Prime & paint the pantry and the door to the garage
Prime & paint the trim, crown molding, & baseboards
Prime & paint the paneling (you can read about how we did those last three things here)
Prime and paint the walls 
Remove the existing microwave (craigslist it?) and get a countertop one we can eventually install in the pantry (here's the post on those last two bullets)

Install a cheap range hood (we found one for $25 on craigslist that we can't wait to hang) to lighten up that wall
Patch, prime, and paint the ceiling
Replace the florescent light in the cooking area and the pendant over the sink
Replace and center the light over the dining table
Hang floating shelves on the window wall
Paint the cabinets (you can see the colors we're leaning towards here)
Update the old cabinet hinges and knobs
Get a rug for eat-in area? Possibly install peel and stick tiles everywhere?
Curtains for windows?
Has anyone else checked off a few things on their to-do list? We know it was an interesting weather week for lots of you, so maybe you were able to accomplish your "drink hot cocoa" and "go sledding" to-dos? We'd be a bit jealous of that, considering that all that we got was ice and freezing rain.
Update – Wanna know where we got something in our house or what paint colors we used? Just click on this button: 


*This post contains an affiliate link