Lights, camera, action! Ok, more like lights, wrapping presents, teacher gifts, action. Doesn't have the same ring to it, does it? But I have lots to tell you. Warning: this post is all over the place. A holiday smorgasbord if you will. We'll cover:
our somewhat non-traditional holiday tradition
what we'll be doing for Christmas dinner
how we decorated the outside of our house for Christmas this year
what we used to wrap all of our gifts (for zero point zero zero dollars)
what we gave as teacher gifts for Clara's preschool teachers
Representing the "action" part of this post's title, this year was going to be the very first year that we weren't scurrying around like crazy with some giant house project going on over Christmas. You think I'm joking, but this is a deep seated "tradition" of ours. Waaay back in 2007 when we started this blog we were in the middle of a giant kitchen renovation over Christmas. We had already lived sans kitchen for two months and our new cabinets were installed, but we were still waiting on our counters to arrive and officially make the room functional again…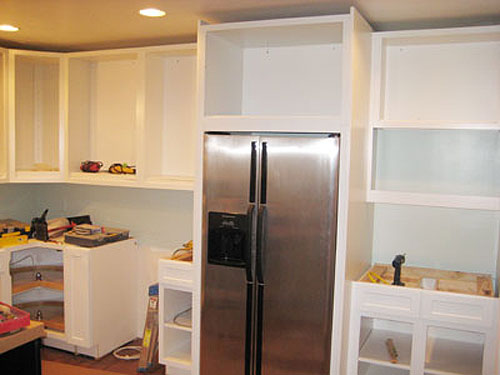 In 2008 over Christmas we decided to refinish the floors, so we had to move nearly all of the furniture in the entire house into the sunroom, den, and kitchen to free up the original hardwoods throughout the rest of the house…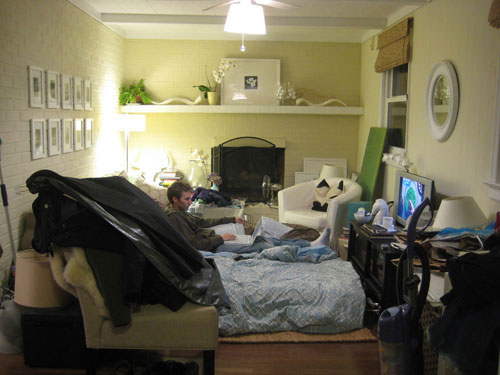 In 2009 we gutted our only full bathroom, which commenced the weekend after Thanksgiving. So by New Year's we found ourselves in the midst of tiling. Which meant that our only shower was still a few weeks away from being functional again. Yup, that meant getting creative and showering at the gym, John's sister's house, and even with the hose in the yard if we just needed to rinse off (brrr).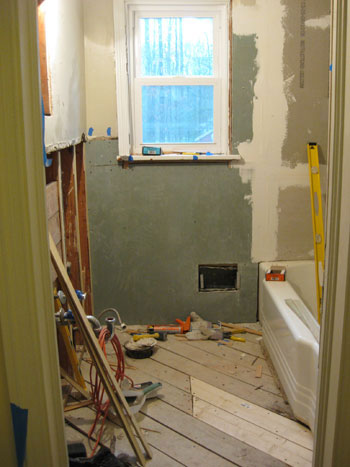 In 2010 we moved, which was our biggest project to date that occurred right in time for the holidays. We had more than a few adventures, which involved packing up every last possession and loading it into a UHaul… which then slipped into a ditch about .05 minutes after beginning the journey to our new house… which ended up looking a lot like this while we unpacked: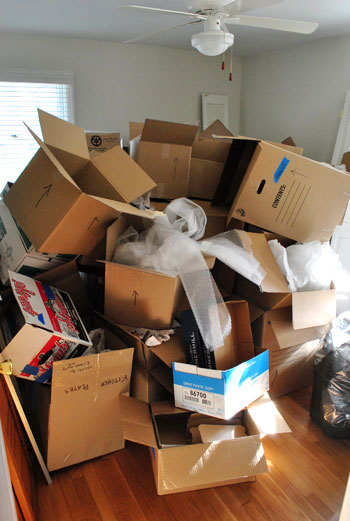 In 2011 we were knee-deep in the middle of our current house's kitchen reno (we were painting cabinets on Christmas Eve)…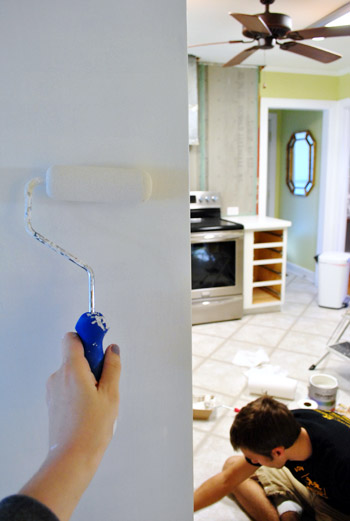 And in 2012, well, we're in the middle of a sunroom upgrade along with planning Clara's big-girl room (which we'll probably tackle after we wrap up the sunroom) and we built Clara's present again this year, but that hardly counts as a major the-house-is-sheer chaos project. Until about a week ago when we were nominated (and excitedly accepted the baton while I jumped up & down and sang "we get to use our cloth napkins!") to host Christmas dinner for 15 family members – four who are under the age of 4. It should be a whole lotta crazy, so it looks like we have a little holiday project after all, eh?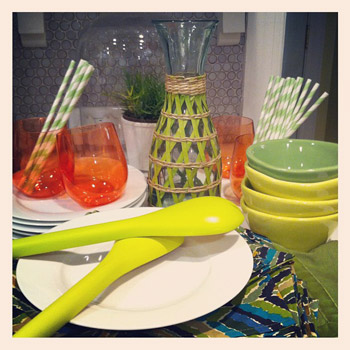 So far I've just been breaking out the table runners and planning where everyone will sit (it involves some rearranging of furniture) along with figuring out the menu with John (our family always does pot luck, so we'll provide a few main staples but everyone coming will bring a special dish or dessert to fill things out). It doesn't feel too crazy yet, but I imagine in the middle of Christmas we'll look around and our house will be just as chaotic as it ever was during a little ol' kitchen or bathroom renovation. Haha. We'll definitely share the details with you guys afterwards. You know momma can't wait to set that table. And for anyone out there who has hosted Christmas dinner, we'd love any and all tips that you have! For reals, spill it.
Oh but on the subject of the "lights" part of the title, we've been getting lots of requests for photos of the lights that we hung outside, so here they are. We did a more detailed post dedicated just to the outdoor decorations last year, so you can get a lot more info on them here, but this year's synopsis is that it only took us about an hour to dress up the porch and put plug-in candles in all of the windows.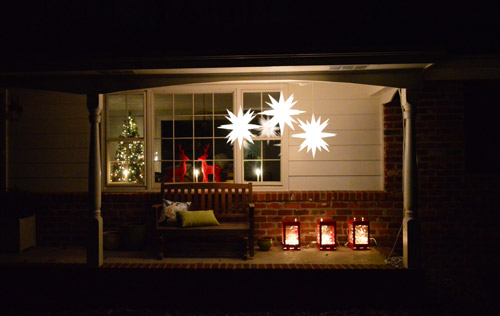 As for our giant red Ikea lanterns from last year (scored for $11 a pop), we just ran an extension cord to get power over to them, and shoved a string of white lights inside of each one (so there are three total that are joined together in a chain and powered by the extension cord).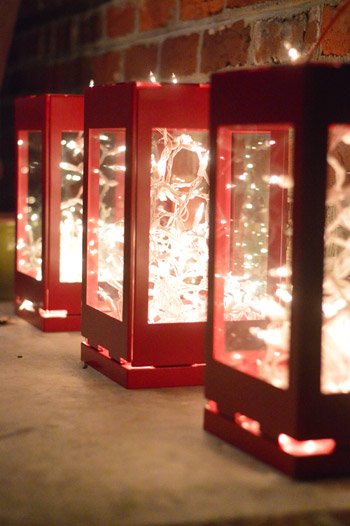 My favorite part is always adding these three large Moravian stars (which we've had since last year, purchased on sale from amazon.com). We love hanging them at different heights from the porch (they're just held up with plant hooks from the inside of the porch's header).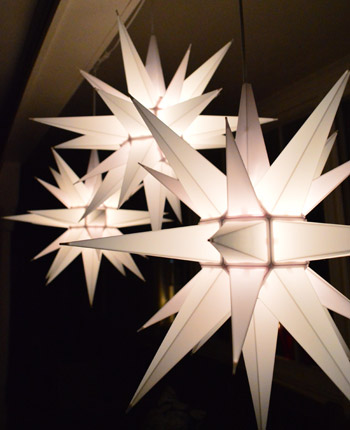 We didn't think to get a good shot of my other favorite part – the glossy red reindeer who are hanging out in the window again this year. So here's a pic from last year (aw, look at the ol' ribbon and paint chip tree, which were kid friendly choices for a then very-grabby Clara).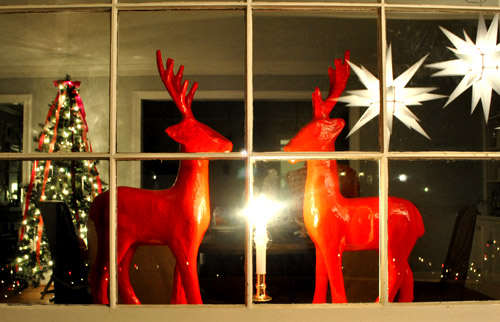 These guys are such an easy holiday project if anyone out there is still looking for one. I grabbed them at Ben Franklin for $4 a pop (they're giant – maybe two feet tall each). They were sort of a flat brown bag color when I got them and looked to be made of paper mache, so I thought making them super shiny and bright could be fun.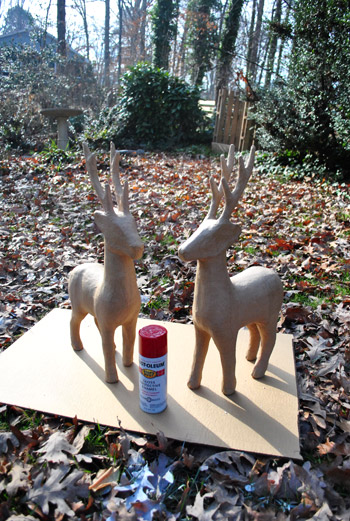 One $3.50 can of high-glossy "Sunrise Red" spray paint later and those babies were glossy and ceramic-animal-esque (and still look good a year later). The best news is that Clara is still obsessed and likes to gently pet them in the window while keeping an eye out for Santa.
Checking another thing off the ol' list involved getting all of our Christmas presents squared away and wrapping them all. And something magical happened this year.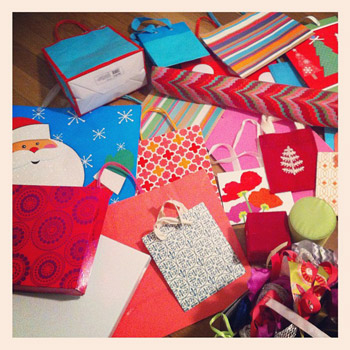 For those who follow us on Instagram/Facebook/Twitter you may have already seen this pic, but it was truly a holiday unicorn (it was that rare of an occurrence). After years of hoarding holiday bags from gifts we've received, I didn't have to buy any bags/wrap/ribbon/tissue paper at all this year. Not even gift tags. Dude, that makes my spare-closet-full-of-bags-and-ribbon-and-all-things-gifty feel downright warranted.
Even that cute lunch box in the front of the picture below was something that I found shoved on the top shelf of Clara's closet (it came with some onesies for her two Christmases ago, and has been sitting up there empty ever since).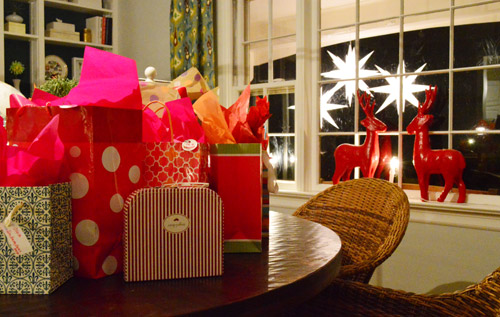 And finally, we have our little teacher gifts. A few folks asked us what we were giving/making for Clara's three preschool teachers, and although they had a room-mom who was happy to collect $5 from each kid per teacher and grab a gift card for each teacher to their favorite restaurant, she encouraged anyone who wanted to do something else to go for it. So we thought some homemade cookies would be a nice supplement to the gift cards they each would be getting, and I grabbed three tera cotta pots for 40 cents each (thanks to coupons at Michael's) and we wrapped each stack of freshly baked cookies in plastic wrap and then surrounded them with gift wrap (still all from my leftover gift wrap closet! woot!). Some leftover ribbon to tie them at the top was the final step. They took all of three minutes to put together, but I think they look like cute little carrots growing out of our book. Haha.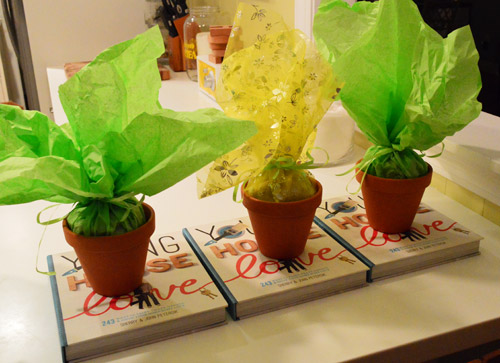 Oh yeah, and our book was the other part of the present. Our teachers have all been so sweet and supportive about it, so we wanted to give them each signed copies so they knew what the heck had been keeping us so busy (some days John's parents would pick Clara up since we were touring, so there were lots of emails going back and forth between us and them to share where we'd be and who would be coming to get her). They were all so sweet and thankfully kept the transition nice and smooth for Clara – so we really wanted to thank them for all that they do.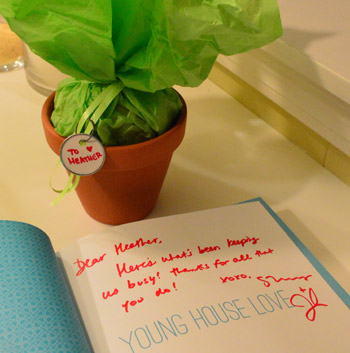 So that sums up this smorgasbord of a post about a slew of holiday-related goings-on at our house.
What's going on at yours? Are all of your outdoor lights strung up? Did you make/give any teacher gifts this year? Are you hosting Christmas dinner and prepping for that? Do you save gift bags and ribbons like a madwoman (a la $herdog)? I draw the line at saving wrapping paper (I like to tear into that for the most part) but bags full of paper and ribbons, bows, and boxes are all fair game to me…
Update: You can check out all of our favorite holiday decor finds here – many of which are under $15!