We're about 90% packed, which is a good thing with moving day looming around the corner (we're packing the truck on Sunday and officially moving on Monday afternoon if all goes well and our closing doesn't get bumped to Tuesday). Cross your fingers for us!
Here's how we're doing on our little to do list that we shared on Wednesday:
remove every single item from the wall and patch/paint every nail hole in the house (this was actually about 500 times easier than I expected- just remove all the nails at once, spackle everything at once, and then paint room by room. It's a lot faster than doing those three things in each room before moving onto the next one since you'd be opening and closing the spackle and cleaning the putty knife about a million times).

transfer all of our utilities so they start over at the new place on move-in day

pack the entire bathroom (except for travel sized shampoo & conditioner, our toothbrushes, and the shower curtain)

pack all of our frames, mirrors, books, ceramic animals, and 80% of the breakables (still need to do our dishware – yikes!)

rake the yard so the new owners don't think they're moving into a giant leaf pile

oversee the completion of a few random inspection items (some flue work is being done by a pro)

get our oil measured for closing (new buyers pay for the oil that's left in the tank, isn't that a nice fair way to do it?)

wave goodbye to our tan slipcovered Pottery Barn sofa in the den (someone from craigslist is supposed to be picking it up)

pack the rest of the kitchen along with about 10% of the other rooms that still need to be done
clean the oven and the fridge (can't really do this until right before we go)
vacuum/sweep before locking the door with a tear in my eye
Not bad right? Just that last 10% of packing along with some cleaning is left and we're on to the new place with a spring in our step (ok, maybe no spring if we're carrying heavy boxes). After a long and stressful day yesterday – all the last minute closing details and papers are keeping us on our toes! – we went for a drive over to the new house and just gazed at it through the car windows. Even Clara and Burger looked. It definitely got us back into the excited state of mind that we're trying to live in for the next crazy few days. Ah new house, how do we love you. Let us count the ways…
And for those who love to see our house tore up from the floor up, here's how things are looking right this moment: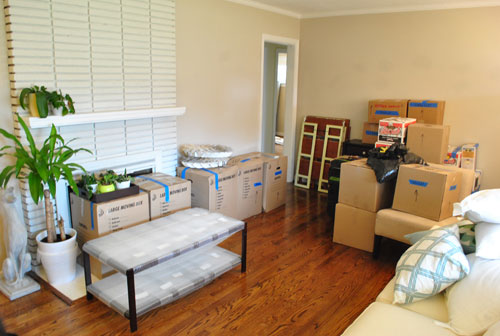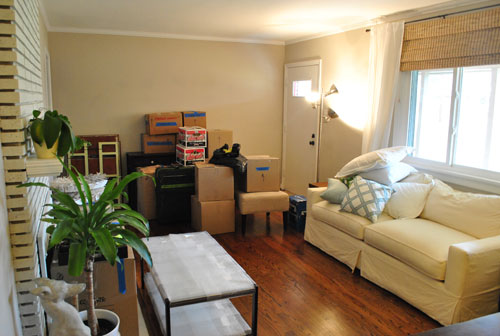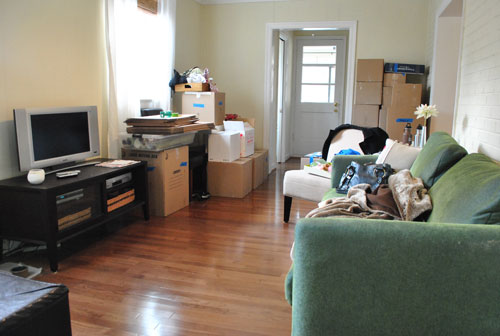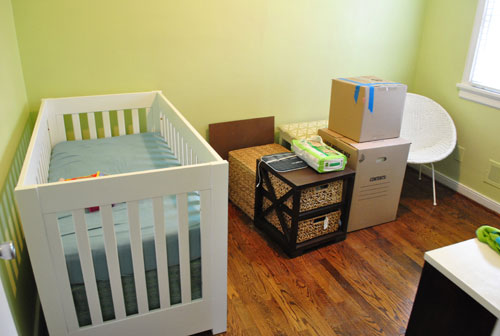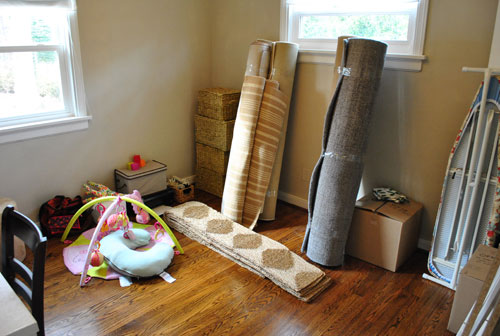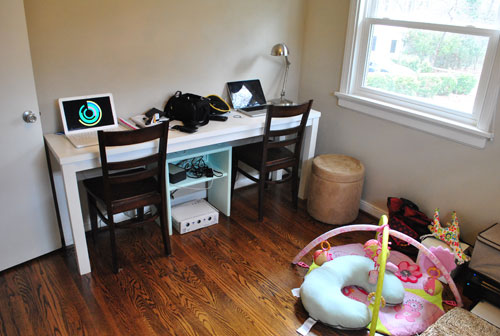 Oh and since a few people have been wondering, here's what is conveying (staying) with the sale of our house:
all the appliances both in the kitchen and the laundry nook
the storage pieces and cabinetry in the basement
the built-in wardrobes on either side of our bed & the bed frame itself
the floating shelves in the dining room
all hardwired light fixtures and the plug in swing-arm lamps in the bedroom (except for the chandy from Clara's room, which we replaced with a standard light)
all of the blinds, shades, curtain rods, and curtains in the house (except for the curtains in Clara's room- I'm just too sentimental to walk away from those)
a folder of manuals and house info along with all the exterior & interior paint (labeled by room)
We're actually really happy to leave those things behind (they added up to a nice quick sale and an offer above our asking price). Now for another bulleted list (I'm on a roll here). These are a few packing things we're doing that seem to work well for an obsessive type-a gal like me:
John came up with the genius idea to use blue painters tape to mark boxes that are breakable so we can easily identify the ones that we should be extra careful with
He also decided to put a piece of painters tape on the cabinets in the kitchen that aren't empty yet (so we don't keep opening all the doors to see which ones are done and which ones still have to be packed)
We're using a sharpie to write what's in nearly every box (so if we have to find Clara's bath stuff in a snap, we know where it is).
Thanks to lots of recommendations, we hit up our local wine store for a few more boxes (they're free, sturdy, and some even have handles).
We've packed a "vacation stash" of clothes, toiletries, baby stuff, etc that we'll rely on for the next few days here and the first few days at the new place (so there's no rush to dig through boxes for the essentials).
We also packed a "good to have around" box for the new house that we're keeping in the car (with toilet paper, paper towels, hand soap, cleaning supplies, cups for water, and a few other things we're sure we'll appreciate having right away for our friends & family members who are helping us move – and also for ourselves once they leave).
So far so good. Eye on the prize (aka: the new house). Eye on the prize…