So gorgeous it's unfair.
The cabinets came a long way today. In fact our installer is done with everything except for that reversed corner cabinet which is in the process of being reordered (and the baseboard, which he'll put in once that cabinet arrives). He hung the microwave, put up all the doors and the brushed nickel hardware, and added all the crown molding- which really was the icing on the cake. Bellisimo. But enough chatter. Here are the pics.
This is the view of the kitchen from the doorway that we widened in the living/dining room: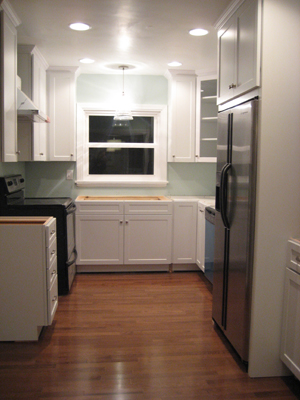 And here's the right side. We especially love that glass door in the corner- it keeps things open and will house all of our pretty plates and glasses. Oh and the blue stuff you see on the dishwasher and microwave is also that protective plastic that we have yet to remove: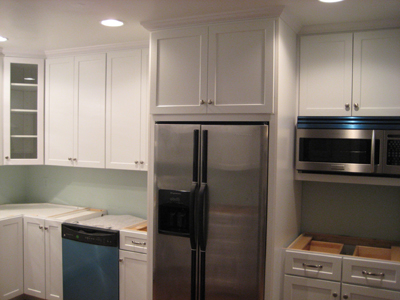 Now if only that reordered cabinet would hurry up and arrive so we can get our countertops going. It's supposed to be here by the 17th, but I'm not holding my breath. Fortunately I'm pretty sure the finished kitchen will be worth the wait. And speaking of the wait, I'll just go back to counting down the hours, minutes, and seconds until the 17th.