OK, it's day two of our organizing week and we're currently working on our crazy sink drawer that we shared yesterday. In the meantime, this isn't one of those organizing play by plays with before, during, and after pics (that's this afternoon's post) it's more a full breakdown of a system that works for us when it comes to taming the Clara-phernalia that threatens to take over our house. Around twice a week we get a question like: "can you do a post about how your organize Clara's stuff? I could really use some ideas on how to control the chaos!" So here's the rundown.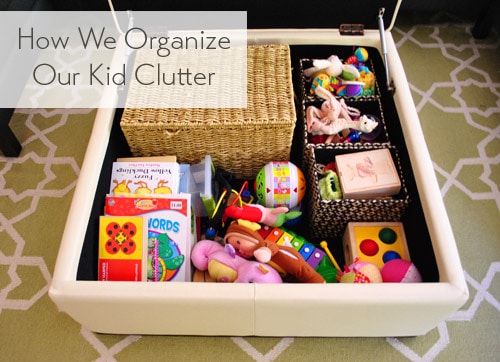 In the beginning it was pretty simple. She was little so we had a small ottoman and a basket with rattles and balls, and a swing and a few little blankets on the floor for tummy time. You can actually read a post all about that stage of kid clutter here.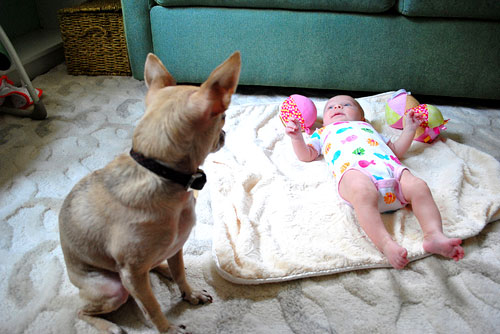 Well, that was child's play compared to toddlerdom. Why? Those were the days before she had A MILLION AND ONE THINGS. Ok, I'm exaggerating. But really, the girl has books, crayons, bowls, drums, stuffed toys, faux food for her kitchen, buckets, balls, blocks, toy cars, and dolls galore. As much as we said we'd try to keep it simple and not buy more things than one toddler can play with, well, we got hand-me-downs and birthday/holiday gifts, and it all added up.
And I was not good very very bad at devising or maintaining any sort of system for nearly 10 months (pretty much since she got mobile it got crazier). I just crammed the growing piles of kid clutter into various baskets and ottomans (seven of them!), never taking the time to group things so that I knew where to find them later. It just all got piled in, and some nights it just stayed on the floor because I was too tired. And remember our new ottoman which started out looking like this?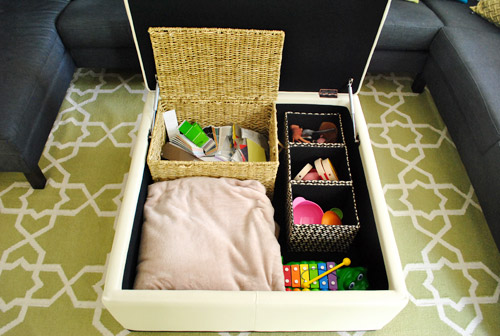 Well, that actually became the key to my organizational epiphany. And now it looks like this (don't mind the pink tint, I forgot to white balance):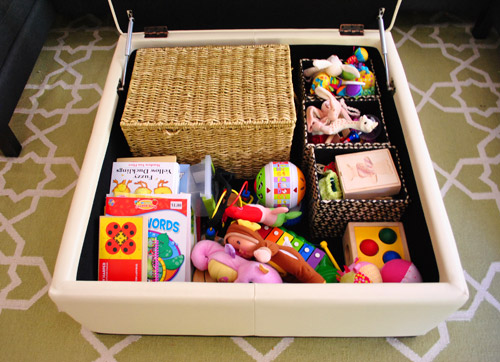 But that more cluttered "after" above is a good thing. It brings me immense joy that so many toys can be crammed in there. Why? I finally decided not to leave every last toy that Clara might play with out at all times. So many friends of mine said their kids were happier/more stimulated if their toys were switched out, instead of just giving them free rein of a million things at once. And when I read this quote in The Happiness Project (remember John got me that for my b-day?), it sealed the deal:
The head of Eliza's school told a story about a four-year-old who had a blue toy car he loved. He took it everywhere, played with it constantly. Then when his grandmother came to visit, she bought him ten toy cars, and he stopped playing with cars altogether. "Why don't you play with your cars?" she asked. "You loved your blue car so much." "I can't love lots of cars," he answered.
So right then and there I decided my big white ottoman would become my "toy store." It would be the place I stashed every last toy that wasn't Clara's current favorite. I literally combed through everything and pulled out only the "best-of" toys that she plays with all the time – the rest got piled into the bit white ottoman. Would you believe I was left with one basket?!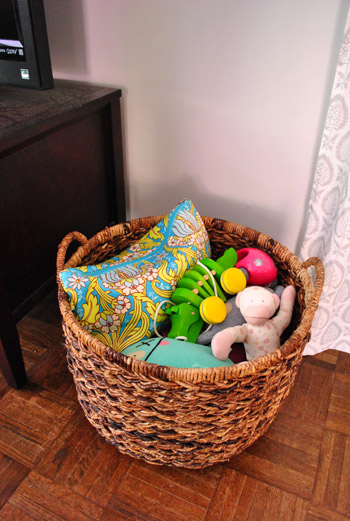 One glorious, manageable basket (from Target by the way). The kicker? It could be a developmental coincidence, but Clara started playing independently for longer stretches pretty much as soon as I made this switch. I'm not sure if she was getting bored or overwhelmed with her old bounty of everything, but she definitely spent time with many of the things in her basket for longer periods than she used to when she had an explosion of too many toys to really focus on anything for more than a minute. It was like Clara's Greatest Hits: The Basket.
It takes way less time than you think to ruthlessly yank out anything your kid doesn't currently play with (no maybes, just leave favorite toys only) and stash the rest in a big plastic bin in the closet or an under-bed storage container. Maybe it took me half an hour total? And now I can clean up her basket in two minutes when she goes to bed – and quickly rotate other toys in and out whenever the mood strikes. But I always keep it to one basketful. That's the key. She loves when new things show up, since it seems to keep her interested. Here's what's in there now: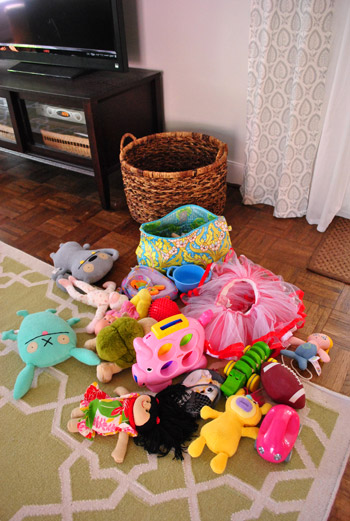 A few favorite stuffed animals, a wooden pull toy, balls, a purse from Grammy, a few baby dolls, a dress up skirt that she wakes up and demands to wear, and a pot that she loves taking small items in and out of. But the favorite items are actually in that fabric pouch (remember we got that for her as her Easter basket?). She likes the fabric pouch itself for the fun she has opening and closing the zipper…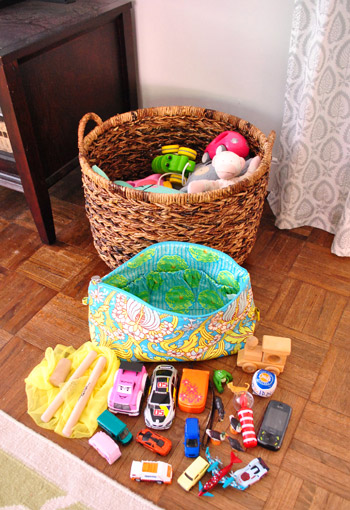 … and as for what's in there: few favorite cars, a fake cell phone and John's old disconnected real one, a wood train, a small ball, some plastic animals, a plane that we got her for our Hawaii trip, and a shaker, two sticks, and a scarf from music class.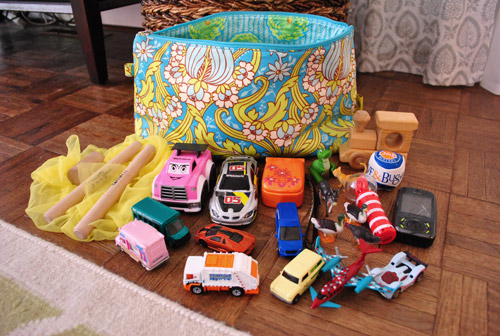 This small pouch full of favorite toys probably comes into play at least four times a day – she loves it. And I love that it all can get shoved into one basket every evening. Still haven't gotten around to dusting the media cabinet though- haha. Someday…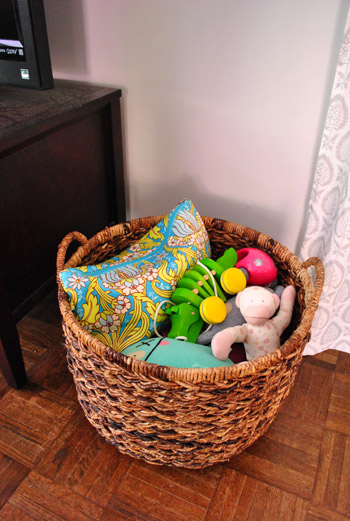 In my new system, we also have two baskets of books. One in the office (which she likes to look at on the rug on her own or read in the chair with us)…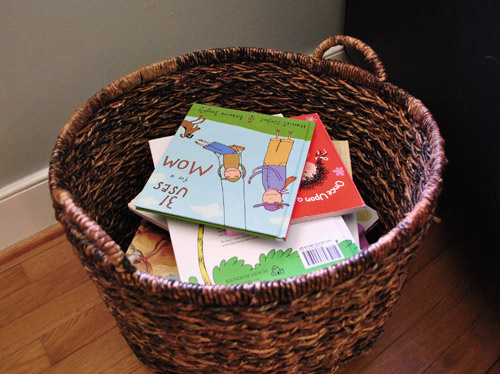 … and one in the living room.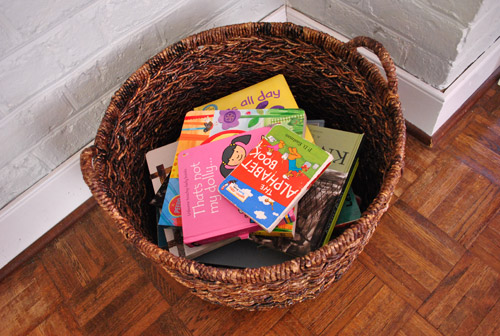 Sure, she'll bring a few books into other rooms throughout the day, but now that we have two designated book baskets, we know where they go. Books used to be mixed in with toys and balls and stuffed into ottomans in a bunch of places. Now it's nice and streamlined without any thinking necessary. Toys go in the toy basket and books go in the book baskets. Someday we'll get her a bookcase but we're convinced she'll just take everything out of it every time we fill it up, so baskets work for now.
Recognizing how many Clara zones there are for her to enjoy really helped me not get all down on myself for "limiting" the stuff that's at her disposal by stashing un-favorites in the ottoman. For example, she has her coloring desk (which used to be our desk that we made from a door in our first house's office):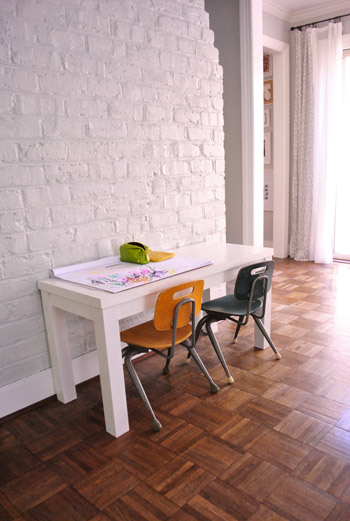 I love that you can tell she's a leftie from her scribble. Awww. That's marker scribble, so it's something we do with her (those things can get messy, so we supervise markers, play dough, and chalk). But her crayons are just stashed in that small zippered green pouch and her stickers are in the yellow pouch (both of which came from TJ Maxx for a few bucks, and offer her unlimited entertainment when it comes to taking things in and out and zipping and unzipping them).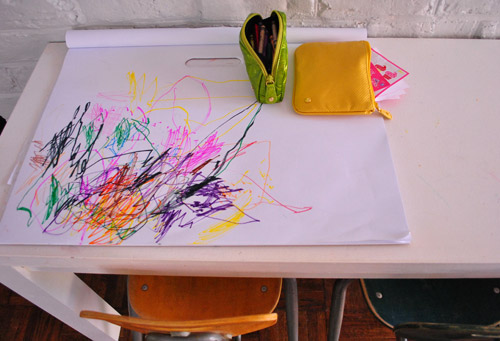 Then in the hallway we have her rocker (a sweet gift from the grandparents a while back). She'll randomly hop up from paging through a book or playing with her cars and just walk into the hallway to rock for a little while (see how we kid-proofed the frames at the bottom of the wall here).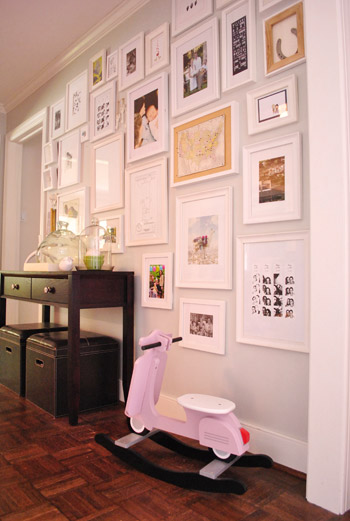 Then she has her Christmas play kitchen (that we Santa made for her here).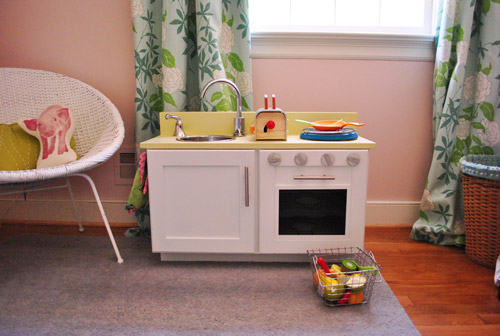 It thankfully stores all of her kitchen-stuff in the cabinet under the sink and that small metal shopping basket I found for 20 cents at a thrift store. So those things have a spot too. If I see one in the kitchen, I bring it back into her room and put it away instead of tossing it into a random jumbled basket.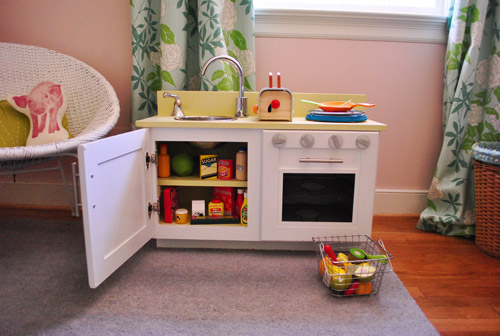 We also have two baskets (from Linens N Things about five years ago) under her dresser, one that's full of blocks and one that's full of puzzles.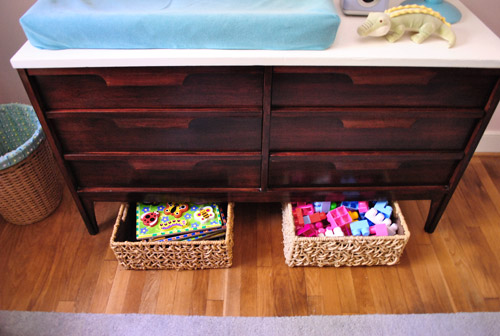 One of my biggest annoyances was that Clara couldn't do any puzzles since her puzzle board might be in one basket in the office and four of the pieces would be in the basket in the living room. So I organized them once and for all by giving them their own basket. Of course I still find pieces in the living room or the kitchen, but now I know where they go. So each night I usually make one trip back to her room as we're putting her to bed (with any puzzle pieces or play kitchen items that need to be dropped off). It's much faster than desperately searching for missing puzzle pieces and realizing they're all over the house and I'm about to lose an hour of my life trying to find them.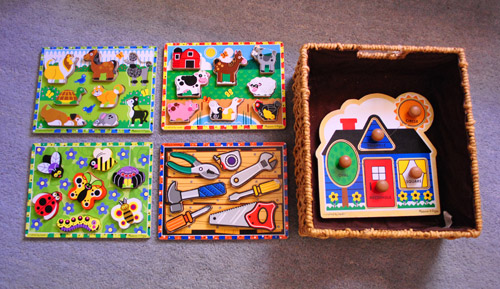 I actually got the puzzles-in-a-shallow-basket idea from my neighbor (she has a daughter about a year older than Clara). It might be obvious to some people, but after trying to shove them into big round baskets and ottomans (and hearing all the pieces clatter out and fall to the bottom), I saw shallow baskets next door and realized they were a great way to keep the boards and pieces stacked together.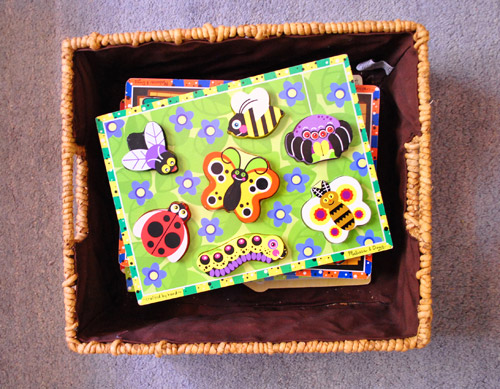 There's also a book basket in Clara's room with a bucket of wood blocks next to it. They usually don't leave Clara's room, but if they do the books can go into either of the other two book baskets, and the blocks get brought back at night when we bring play kitchen and puzzle pieces back. This might sound complicated, but it's one walk down the hall with stuff that goes into Clara's room each night since we know what goes in there now. It's novel. And we're also starting to ask Clara to help us clean up (she even sings the clean up song!) so sometimes she brings things back where they belong instead of us. That rocks too. It's nice that even Clara's picking up that certain things have "a home" to be returned to.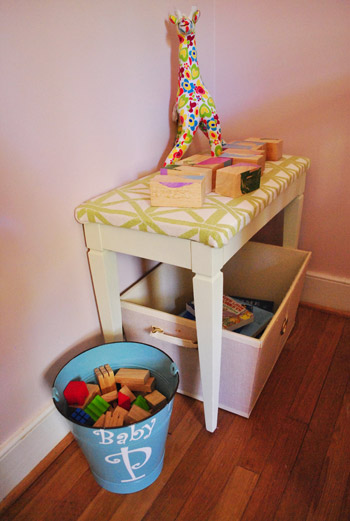 Oh and here are those "supervised" activities that we do with Clara (they all get tucked into a drawer in the kitchen so they're special things we'll whip out if she's ever having a restless moment and we want to change things up. Since they're not always out at her disposal, they're always met with excitement.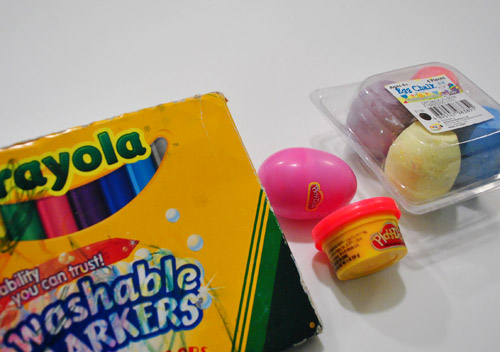 And when it comes to outdoor activities, the rock box has continued to be a hit among toddlers. Our three year old neighbor actually joined Clara in a little Sunday afternoon rock romp, so it's nice to know that it's another "zone" where Clara can have some fun and dig around.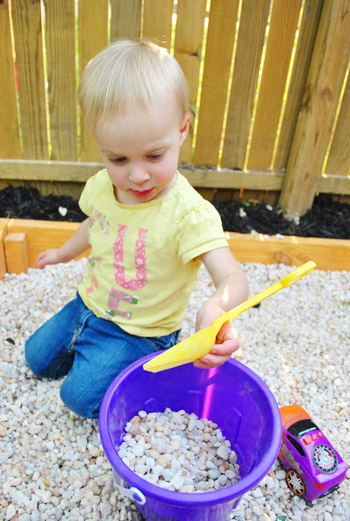 One organizational thing that we do need to tackle is an outdoor storage bin (we're thinking of grabbing something like this) for the buckets and trucks that don't fit inside her rock box when it's covered. So we'll keep you posted! In the meantime, that's our kid-clutter rundown. We have no idea if this system will work for us when Clara and her toys get bigger – in fact I'd bet that it'll keep changing and evolving – but you know we'll blog all about it as we go.
What do you guys swear by when it comes to organizing kid stuff? I'm sure there are a million ways to skin this cat (gross expression, sorry) so we'd love to hear what works for you. My BFF has a giant playroom packed to the gills with stuff and her kiddos love that room, so there are definitely lots of ways to go!
Psst- Wanna know where we got something in our house or what paint color we used? Just click on this button: