Since the day that we announced there was a bun in my oven, we've been getting comments and emails to request details about how our house is changing thanks to our growing family. And now that Clara is two months old (time flies!) we decided that it was high time we took some candid photos to show exactly how our home has changed thanks to all of the baby gear that we've accumulated thus far (and yes, we know it'll only grow from here, so stay tuned to see how we deal with everything else as we go).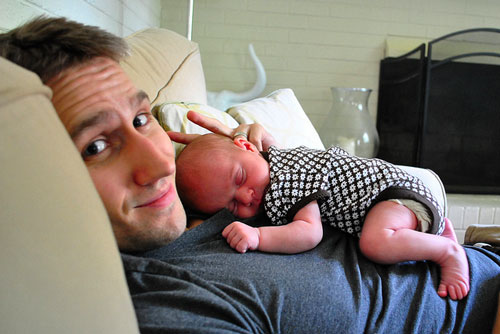 The following photos weren't edited or cleaned up in any way- they're actual snapshots. And you know what? We really like our house this way. It's lived-in and casual and convenient and functional- all the things that we strive for when it comes to home decor. And the best thing about every single item is that we have a place for it when it's not in use. And we're thinking this is the key. So although all of these photos show you how things look when they're out and about, they could all be tucked away if we felt the need to de-babify the house for company (although all of our visitors these days are here to see Clara, so they love observing her in her natural habitat).
So without further ado… the baby-tastic-keeping-it-real-a-day-in-the-life reveal.
This is what the bedroom looks like on the regular. We don't make the bed anymore, ever. Well, except maybe if we're having company (even then we sometimes skip it since we somehow have this "get out of jail free" card thanks to the whole you-have-a-newborn concept). And yes, Burger sleeps in until about noon so he can usually be found in bed next to some books that we've read to Clara earlier that morning. The cutest thing is that when Burger does finally drag his lazy butt out of bed he immediately seeks out his little sister…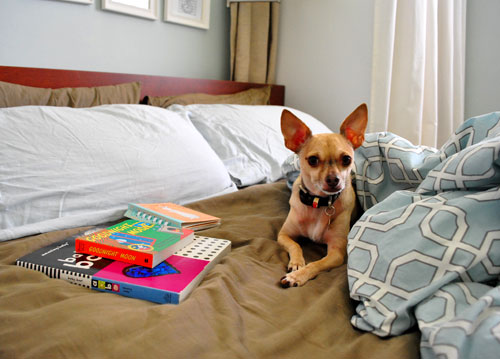 … as demonstrated by this photo of Burger hunting down Clara, only to find her in her swing in the den (it actually gets moved back and forth between the den and the office, depending where we are).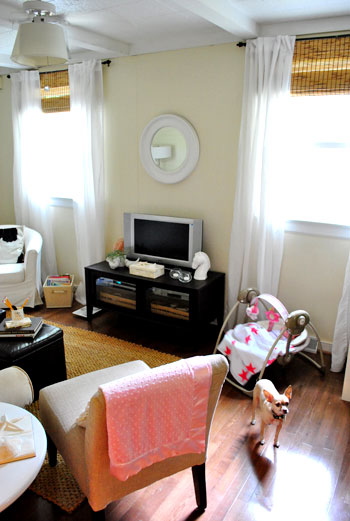 See, Clara loves her Boppy Travel swing. It's definitely her favorite "baby item" and it's worth its weight in gold to us. We opted for a smaller and less expensive "travel swing" (which we use all the time, not just when we're traveling). Thankfully, it has a smaller footprint. And amazingly, it comes in a very neutral color scheme that actually goes with a ton of the items in our house. That's definitely not a necessity, but it's always a welcome bonus. We actually hoped this swing could multitask as a bouncy seat of sorts, since you know we'd rather buy one item that can serve a few purposes. So while it doesn't have a vibrating setting like most bouncers, it's low to the ground and when the swing isn't on it serves as a convenient non-vibrating bouncy seat-ish device (which is handy to set Clara in when we eat for example). Of course every baby is different – Clara's cousin hates his swing and loves his bouncie seat – but we're so happy that we didn't bring in two items when we found one that does the job of two.
Oh and see that pink blanket folded over the back of the chair in the photo above? That's for playtime/tummy time in the den. We've learned that it's easier to keep two plush floor blankets around (one in the den and one in the office) so they're always on hand wherever we are for some floor playing, neck exercising, rolling over, and ceiling staring. It's amazing what babies like to do in their spare time.
Next we have the laundry…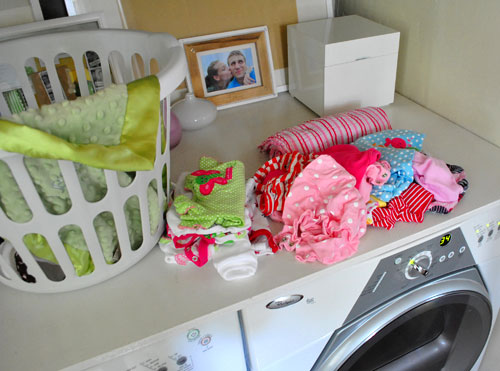 The arrival of Clara has definitely meant that there's more to wash and dry, but thankfully her clothes are all so small that we can cram about a million onesies into one energy efficient load. Of course we can't wait to break out our cloth diapers (Clara is still a smidge too small for them) which will add even more to our laundry pile, but will make buying the Seventh Generation disposable dipes that we've been using a thing of the past. Wahoo!
The bathroom doesn't always look like this, but every other day it does thanks to bath time. Clara LOVES bath time, and thanks to a tip from John's sister (an expert mother of three) we don't have to struggle to store a big hulking plastic baby tub since she recommended this yellow foam version from Target (which is so easy to squeeze out and store in one of the baskets in our open linen closet). It's super cushy and comfy, amazingly inexpensive, and it'll work for at least a year or so (when babies get bigger they can sit on them, which is how John's sister washes her nine month old). Gotta love a $10 solution like that.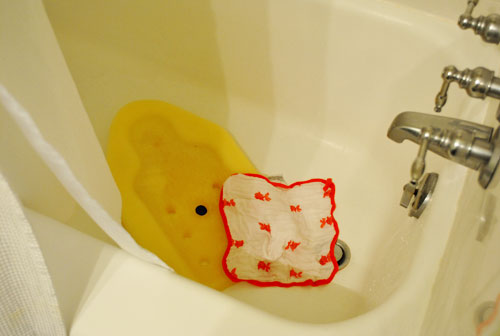 Here's the other blanket that we always have on hand. This one lives in the office, but instead of being folded over the back of a chair when it's not in use (like the one in the den) this one is pretty much always on the floor with some toys on it. It's a great little station for Clara to play, put in some tummy time, and even sleep on occasion (sometimes with Burger curled up next to her).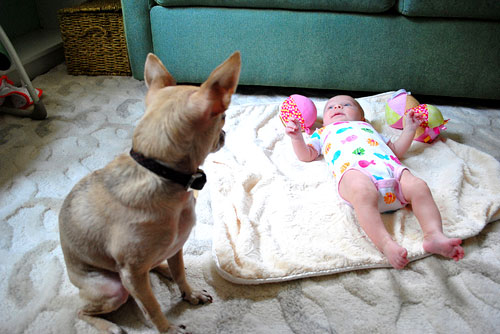 And since one of us is always on Clara-duty while the other one is on blog-duty it's also nice to have so much rug space for one of us to get down there with her and hold up a few toys while she smiles adoringly and tracks them with her big blue eyes.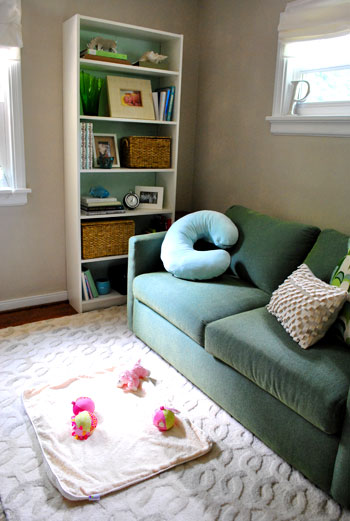 The other thing to note in here is the Boppy on the sofa (we think it's cute that it kind of looks like a C shaped pillow for Clara). Since I nurse anywhere and everywhere (the bedroom, the office, the den, the living room, the nursery, the sunroom, even the car…) I like to have it on hand, so it usually travels from room to room. But thanks to the soft blue color it pretty much fits into most of our spaces without looking too crazy. It's certainly not a designer pillow but it doesn't stick out like a sore thumb (like some of that primary-colored kid gear would in our more subdued casa).
Next we have our much-loved Joovy Kooper stroller (we opted for one stroller that does it all from newborn to big kid age instead of having to purchase and store a number of different varieties). Thanks to daily walks around the neighborhood with Burger and Clara this thing gets a ton of action. And as we mentioned, all the items that you see in this post usually look just like this, but they do have a designated "stash spot" just in case we want to clean things up. And the stroller's stash spot is actually the trunk of the car (we love that it's pretty much always with us that way, but when we're feeling lazy we don't bother folding it up and just pop it in the sunroom instead). It definitely doesn't blend in with the beachy white daybed, but it's convenient and we have a two month old- so again, we're happy to give ourselves a pass. Update: We later invested in a jogging stroller since our do-it-all-stroller couldn't fill that function, but never bought/needed a snap n' go stroller or an umbrella stroller, so it's helpful to really consider what you'll use before buying them all.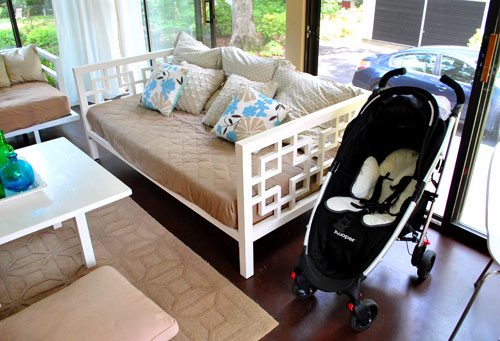 In the nursery it's usually not too messy thanks to the big bin o' toys under the bench (it's so easy to pull things out and pop them right back in) but Clara has been LOVING her Bumbo so that has been making regular appearances in there. It was actually a hand-me-down from a friend, so we're shocked/thrilled that it works so well with the colors in the room. And although it might look staged, that book in front of it was right there when we walked by to snap a pic. No funny business. If my memory serves me correctly, we were just in the middle of reading it when there was a spit-up incident that had to be tended to. Hence the half-read book…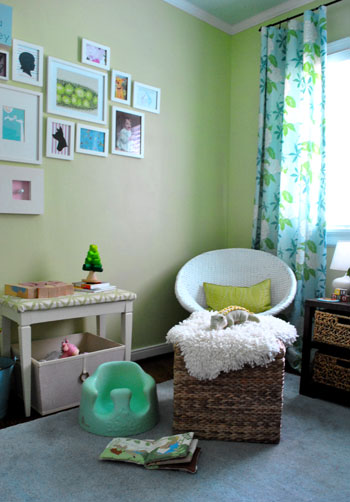 We actually feared that the kitchen would explode once Clara joined the pack, but so far (since she's not yet on solid food) we've just added three fun glass bottles by Weego and a small bottle drying rack from Target (she's on an 100% momma's milk diet, but on rare occasions I do pump just to be sure she'll take a bottle). Many friends and family members warned us not to go crazy buying tons of bottles so we heeded their advice, and these three bottles have been all we've needed (actually we've probably only needed one so far). Oh and the reason we picked orange, blue, and yellow for the bottle colors were because we plan to use as much of our baby gear as possible for future bambinos, so gender neutral color choices seem to be more practical for the long haul.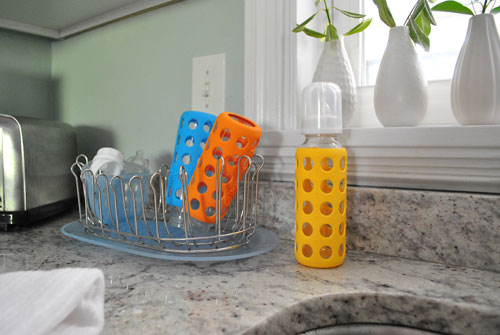 So that's how Casa Petersik has evolved thus far. And in case anyone's wondering about our "stash spot" method, it was probably an extension of our "if everything has a place it's easier to clean up and maintain the house on autopilot" theory. Therefore we devoted the small skinny cabinet right above the drying rack to bottles (and future spoons, sippy cups, and snack holders) while the Bumbo has a spot on the top shelf of Clara's closet in the nursery. And just as the stroller can be folded up and tossed in the trunk of the car, the Boppy and the blanket on the floor of the office can easily be tossed into the closet in there on a moment's notice. The foam bath mat gets wrung out and slipped into one of the baskets in the open linen closet while laundry can get folded and put away if we're trying to tidy up. And since the swing is actually a travel swing it can be folded up and stashed in a closet (we've also been known to tuck it up on the shelves above the laundry behind the bamboo blinds so no one's the wiser).
And of course we could make the bed if we felt the pressure. But lately we must admit that we've been loving the distinct lack of pressure around here. We've always been cool with imperfection (which is why we paint paneling instead of removing it and make our own DIY art instead of springing for the good stuff by the pros) but having a baby has been pretty great for hammering home the fact that a happy home is a lived-in and loved home… especially when it's so functional that it buys you more time to hang out as a family.
Note: None of the makers of the baby gear that we've mentioned above have paid or perk'd us in any way- they're just items that Clara has grown to love, so we're happy to share the goods.