You Down With O-R-G? Yeah You Know Me.
Yes, that's a Naughty By Nature reference. But why O-R-G? That's $herdog's abbreviation for organizing. I've gotta be honest. Our house hasn't been this trashed/chaotic/messy since we moved in 16 months ago. Seriously, I'm not talking about a little dist around the baseboards or some streaks on the windows, I'm talking about serious stuff like not being able to locate anything in our completely ridiculous sink drawer: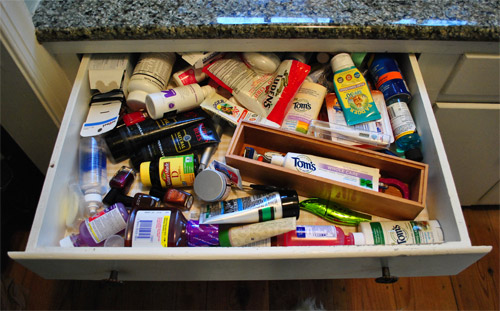 So although we have two entire sections of our Projects page dedicated to cleaning and organizing posts of yore, there hasn't been much of that going on lately. At all. It all started to fall apart back in Jan/Feb during three weeks of book shoots in our house (with a crew of people, and a ton of moving/painting/general insanity) that left our house looking like this…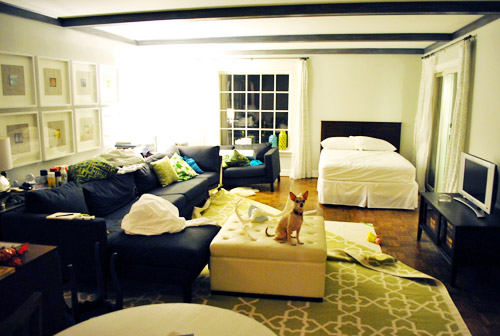 Why would other things like our sink drawer go downhill too? The only way I can explain it is that it's a slippery slope. When you're juggling secret book projects, regular blog projects/posts, and baby care while a bunch of folks are in your house shooting over 150 different book photos that you're DIYing and styling yourself, you just don't have a minute to breathe during the day. And once the baby goes to sleep and the crew leaves, you think you'll tackle stuff at night, but since they're all coming back in the morning (and you have 20 more projects to finish, style, and walls to paint before they arrive in the am) it feels like you're working two shifts and you don't even remember what day it is let alone where the deodorant should go.
And between writing posts, doing projects, raising a toddler, and birthing this book baby of ours (we're still proofing 200 page stacks of layouts, completing the resources section, and finalizing the cover) it feels like we'll never have time to put our house back together. Unless we officially declare whipping our insanely unorganized casa back into shape as Project Numero Uno in a week-long bootcamp of sorts. So we're doing it!!! Hang on to your hats. It's gonna get messy. And then hopefully clean (with a giant yard sale pile at the end of the rainbow). And we'd love for you guys to hop on the spring cleaning train with us! Speaking of which, we got a head-start this weekend (forgive us) since we needed a Monday post to kick things off. First, I decided to make the cabinets under our dining room built-ins say my name. That's right, I literally whispered "Say my name" to my cabinets. Winner.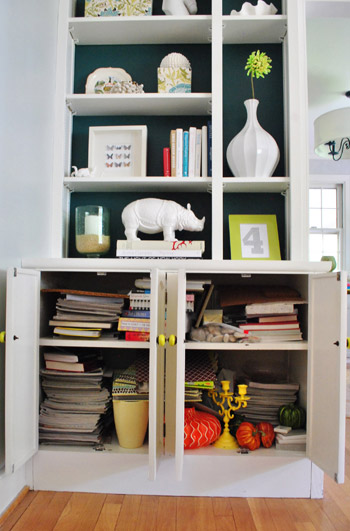 Then I took everything out. Well, I took about three things out and was already over it, so I padded over to the computer and put on some tunes (Nicki Minaj then Eminem then a little vintage Britney). And I did some mild to moderate head bopping (but zero freestyle rapping) as I removed every last book, magazine, and other random object that found its way in there (many books and mags are stored in there since the built-ins aren't deep enough for them).
I made piles. Piles of each magazine (Domino, Cottage Living, House Beautiful, Blueprint, and BHG & other Meredith mags like DIY). I also tried to stack my books by subject (pregnancy/health/green, chick lit, decor/design, and teen fiction like Hunger Games & Twilight – haha). I'll say it again. Winner.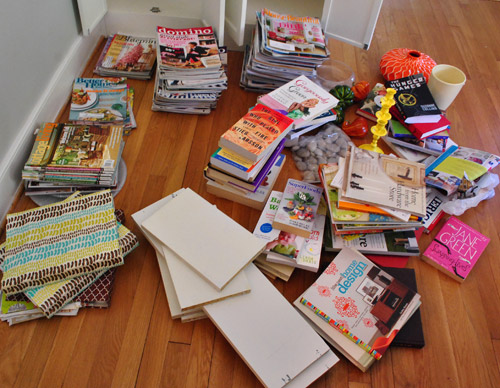 Oh and see those white things on the bottom of the pic above? They're actually old shelves from the built-ins that we removed since it was way too crowded up there (more on that here), so we shoved them into the cabinet in case we changed our mind and wanted to crowd the cabinets with too many shelves again (why????). It was a bad call. Over a year later they've just collected dust and wasted space, so off to John's scrap wood pile in the basement they went.
Then I wiped down the shelves (they were grosser than I'd like to admit) with good ol' white vinegar. It cleans things and kills odors at the same time (they sort of smelled like an old storage room). Wiping the entire cabinet only took about half of Hit Me Baby One More Time. So worth it.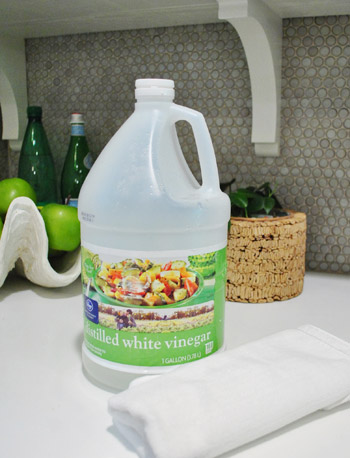 Then I slowly put things back in, grouping stuff that made the most sense, and stacking them in a way that I thought would be easiest to maintain while allowing me to store everything and see almost all of it. Instead of standing everything up (knowing I'd pull something out and everything would topple) I made small stacks of things that I can see beyond and can easily remove each stack to reach something in the back row.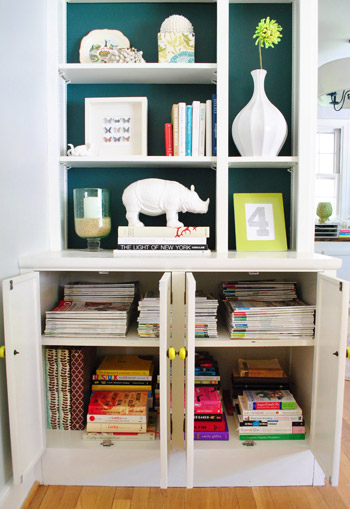 Ahhh, order. How I love thee. Let me count the ways Domino magazines.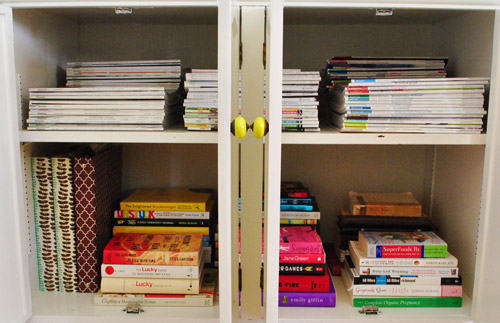 Of course about 10% of the books and mags that came out ended up in a yard sale pile I've started in the guest room closet. It's nice to admit that I'm not going to read something again and give someone else a chance.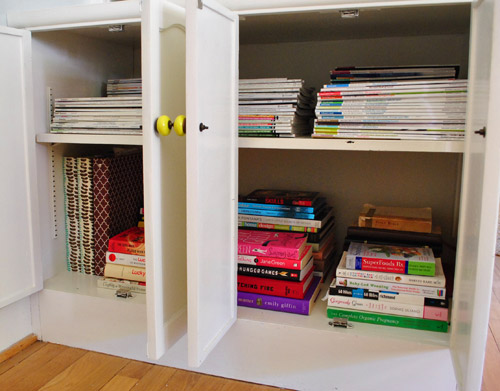 Oh and you might be wondering where all my hard cover decorating books are (other than stacked in plain sight on the console, on the built-in shelves, and on the top of our office file cabinet). Well, the two ottomans in the hallway under the console (you know, that sits in our hallway o' frames) are filled with them. But they don't runneth over so I don't think I have a decorating book problem. Yet.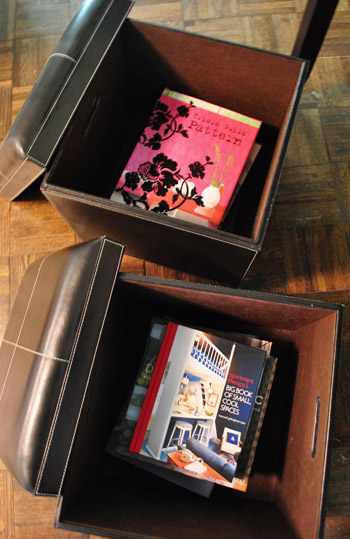 At this point my brain hurt from thinking too hard about what to group with what, what to put in the yard sale pile, etc. But I still had a bunch of random decor related items sitting around looking for a home (remember in the before pic there were faux gourds, vases, and candlesticks shoved in there too?). So it was time to deal with the cabinet under the built-ins on the other side, which is where I keep all of my candlesticks, vases, and various decor-related-items. That side had gone to h-e-double-hockey-sticks too.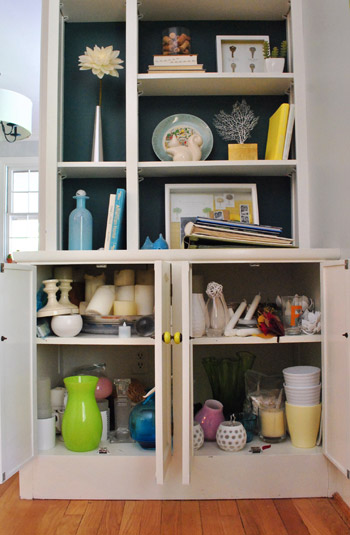 It was so bad that I started stashing overflow items in the book/magazine cabinet on the other side. Not good. Time to pare things down, group them so they make sense again, add stuff to the yard sale pile, and generally get my stuff together under there. But wait, there's more…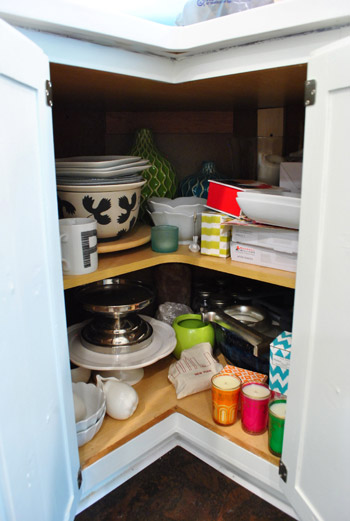 Yup, I also overflowed stuff into the new corner cabinet in our kitchen. But about half of the things in there actually belonged there since they were kitchen/food/serving related (like a cake stand or a salad bowl). So I decided to turn the corner cabinet in the kitchen into only serving/food related storage and pare down my decor stuff so it would hopefully all fit in the single cabinet under the built-ins in the dining room.
Once again, the first step was taking everything out. This time I listened to various Glee versions of songs, more Nicki Minaj, and old school Snoop & Dre. Picture me singing "Ain't nothing but a clean thing bay-bay. I got so many candles it's cray-zay."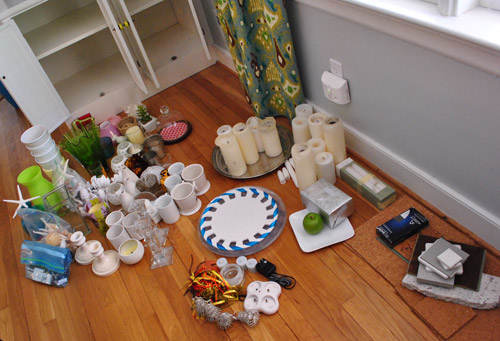 I also emptied the corner cabinet in the kitchen. For reference that peninsula counter is five feet long by three feet wide. Blort.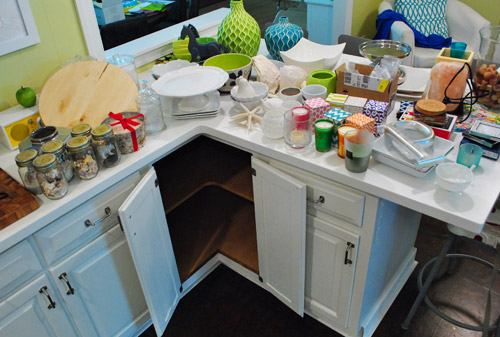 Then I pulled out every last item I didn't use/need/want for my growing yard sale pile and grouped everything else by item (ex: all vases in one spot, all candlesticks in one spot). Then back in it went after a quick vinegar wipe-down.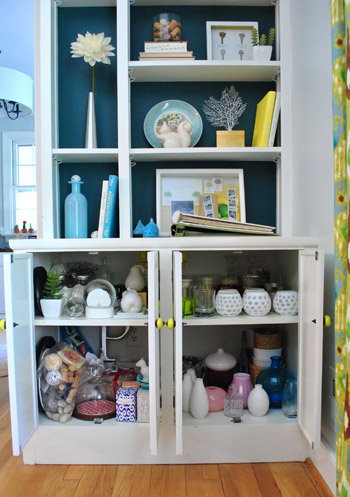 It juuuuuuust fit. A loose description of what's going on in here now is that the top right quadrant has candle holding devices, the bottom right quadrant has vases and planters, the bottom left quadrant has various vase filler and a few other random decorative items, and the top left quadrant has all of my tabletop decor that gets rotated in and out pretty much all the time.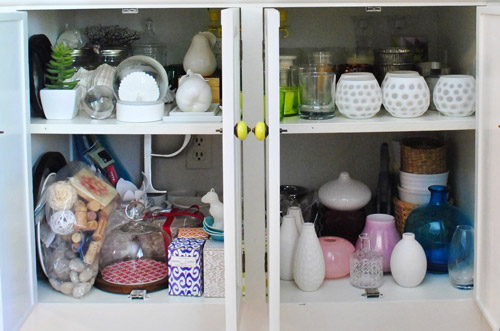 But where did all those crazy candles go? Well, many of them used to live in our first house's living room fireplace (on a big silver platter) but since we now have a toddler who gets into everything, I just saved a few of the better looking ones and put them in a candle drawer of their own. How novel! This small cabinet in the dining room was empty (it's actually a night table, but we thought it worked nicely in here), so I commandeered one drawer for candle storage. And the rest of my too-large candle collection went into the yard sale pile. Update: I've added two plastic place mats to the bottom of the drawer to protect it from any potential waxiness.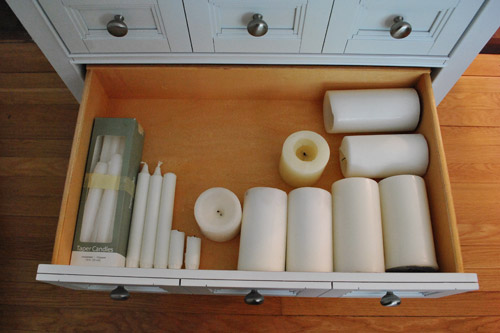 Huzzah! Now the corner cabinet in the kitchen only has kitchen-related items, like serving dishes, bowls, plates, trays, a cake stand, etc.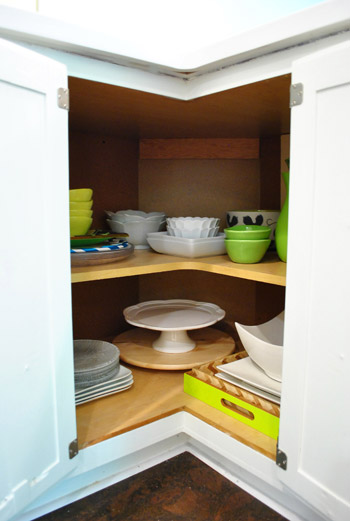 And there's room to spare in there. Lookout John. Momma feels a shopping spree coming on. Just kidding, I'm way too tired. But I better buck up, because there's still lots to do this week. And we'd love for you guys to join our bootcamp and clean/organize/pare down along with us! Here's our schedule:
Monday: Since we shared how we organized a few cabinets, feel free to tackle one or two of your own (you could also just dive into books and decorative accessories, wherever you keep them)
Tuesday: Taming kid clutter is on our agenda (if you don't have kiddos, any clutter-wrangling works)
Wednesday: We'll cover how we pare down our grooming & cleaning products (feel free to tackle yours and share your tips too)
Thursday: Let's get on some paper/tech org (we're aiming for some blog streamlining, but you can take on anything from digital photos or cleaning up your desktop to filing paperwork or receipts)
Friday: Ahhh, we miiiight let you see our basement. Gotta work up the courage. So maybe plan a little basement or garage cleanup on your end?
Bonus: We also hope to tackle clothes (make sense of our dresser and maybe do some slight closet shifting) and our clutter-fied night tables at some point – here's hoping!
Of course that's tentative since we're blogging in real time, but we can't wait to report back and hear how you guys are doing. Have you already been doing some spring cleaning/organizing or any general house streamlining? Are you down to do it with us? What music keeps you from going out of your mind while cleaning and organizing? Or do you favor an audio book/TV/NPR? That sounds like a good time too.