*** This giveaway is now closed. See who won below! ***
An early Christmas present (in the form of this $500 Visa gift card) has randomly chosen to come to the hands of… Mary (whose dream house would be a "big cozy log cabin out in the woods" complete with fishing pond, swimming pool, hot tub, huge whirlpool tub in her bathroom and a giant walk in closet. Her fantasy list doesn't end there, so check out her comment for the rest). Congrats Mary!
With a URL as broad as Homes.com, there are a lot of topics you might think they cover. Because people buy homes. They decorate homes. They do home improvements. You get the idea. Well, Homes.com does cover all of those things – from all stages of the home buying process to decor and DIY. We especially enjoyed their home values and city profiles (because we're nerds for stuff like that). But what you'll probably enjoy the most is the chance to win a $500 Visa gift card from Homes.com this week. Yup, five hundred dolla dolla bills (in plastic form) to spend wherever you'd like for whatever stage of home ownership you're currently enjoying. Oh yeah, and they're also giving away a signed copy of our book over on their blog.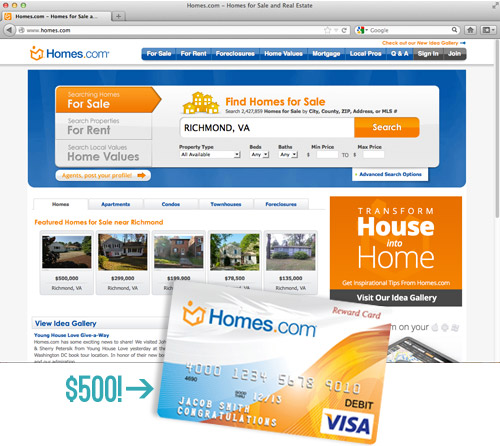 PRIZE: A $500 Visa gift card courtesy of Homes.com
TO ENTER: Comment on this post with the words "HOMES ME!" and tell us…
BONUS QUESTION: …if you were to buy a new house today, what "must have" would be at the top of your list? A neighborhood closer to work? More square footage? A bigger yard? Maybe something with a pool… or a helipad?
GIVEAWAY CLOSES: Wednesday, Dec 5th at 8pm EST or at 10,000 entries (whichever comes first)
NUMBER OF WINNERS: One
PRIZE SHIPS: We always beg every vendor to ship internationally but some companies are not legally able to vend things beyond the US (more on that here). This giveaway is open to The United States & Canada.
USUAL STUFF: One entry per e-mail address is permitted. The winner will be selected using random.org and announced on Thursday as an update to this post. That's right, come right back here on Thursday for the announcement of our winner. Good luck…
***COMMENT ISSUES? If you're trying to enter but keep getting a "duplicate comment" warning, click here to see how to solve it!
Note: We aren't paid or perked for hosting these giveaways, we just do 'em to thank you awesome folks for stopping in. See our Giveaway FAQ page for more info. Pics courtesy of Homes.com