We have a new friend hanging out in our kitchen. I found this guy at Hobby Lobby during one of their all-the-time 50% off sales for $12. You know me and faux animals. Faux sho they're mine.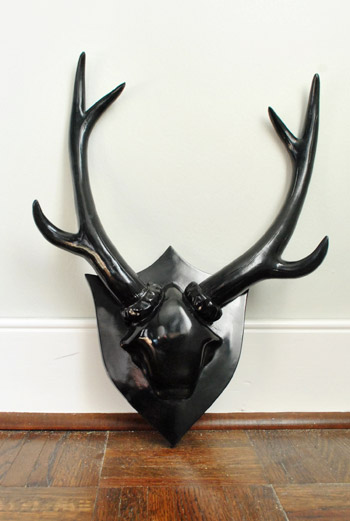 Then he sat in our playroom for a while (a while = 6+ months) and I recently walked in there and had this moment where I said to myself "Self: you have got to stop hoarding things in this room. Use them or lose them." Which led to an initiative I like to call "Dude, Get On That Already." The dude being me. Naturally. So I'll probably revisit this initiative over the next few weeks and months (at least I hope I will) as I systematically pare down the hoarded playroom clutter and decide whether I'm going to keep things and actually use/hang/enjoy them or craigslist/donate/yard sale 'em. A lot of things end up in there for one of two reasons:
I'm not quite sure where to hang them (so I stick them there and say "I'll get to it later" and later turns into never)
I plan to somehow alter things by painting or staining them (so I stick them there and say "I'll get to it later" and later turns into never)
Well not anymore, folks. I dug in and grabbed my horny little friend and marched his antlers all around the house, trying to find a spot to hang him up and actually enjoy him instead of hiding him away in The Room Of Chaos (yes, that's its formal name these days, so it gets capital letters and everything). Anyway, after walking around for a while I decided it'd be fun in the kitchen next to the fridge, but the original black color (although very cool in its own right) wasn't working there. So I dragged my buns outside with a piece of cardboard and some leftover white primer + spray paint.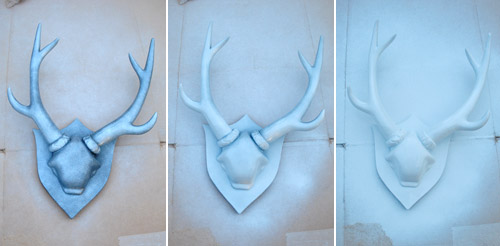 You know my "thin thin thin and even coats" catchphrase when it comes to spray paint, so I snapped these three in-progress spraying shots to show you how each coat is a nice thin mist. You definitely don't get full coverage with one thin coat of spray paint – which is a good thing. You're doing it right if it takes about three of them to slowly accumulate. And always keep your hand moving and hold it 8-10″ away. No thank you drippies. Not on my watch.
Speaking of spray painting tips, this guy's antlers were still looking dark on the underside, which I knew would be seen when we hung him up, so I waited a full day for his front to cure and then flipped him over to give him a nice deep tissue massage with spray paint on the back.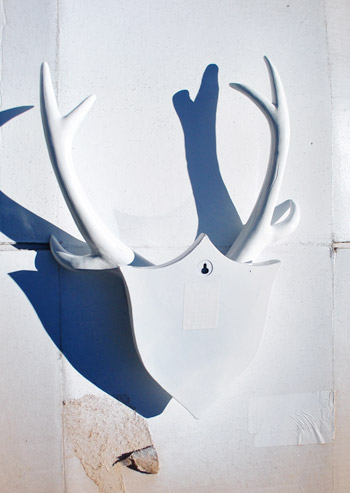 John and I actually considered a few crazier colors (plum, navy, yellow) but thought that the white would look nice on our grellow walls- especially with the gold mirror in the laundry room so close by (it's on the other side of the doorway, so we didn't want it to have to fight for attention). But I have big plans for some of the other things lurking in the playroom. Oh yes, plum, navy, and beyond…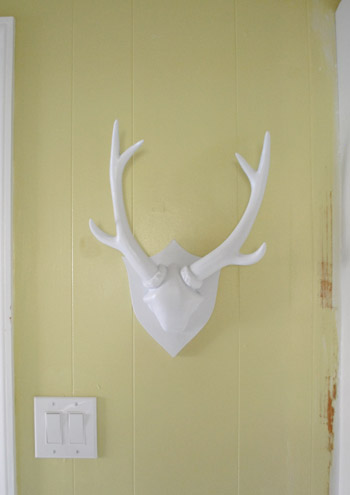 Don't mind the paint touch ups we have been meaning to do for over a month. I'll get to it sometime. Unless I'm too busy spray painting various faux animals.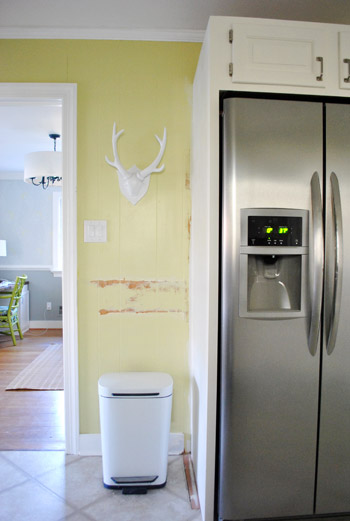 Work it, antlers. Work it.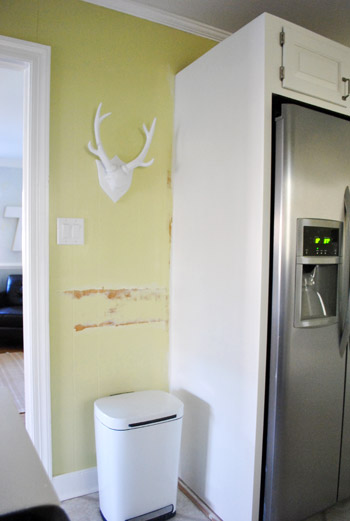 As for how I hung it on our paneled walls, anchors are a gal's best friend.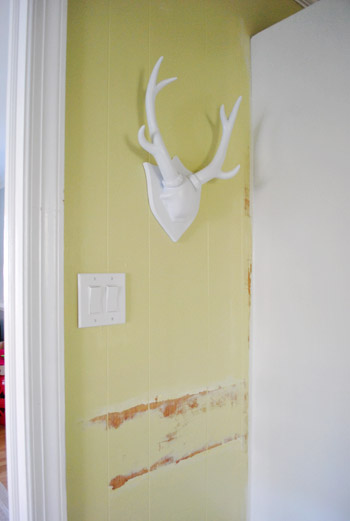 Here's the box we've had… oh… maybe a year?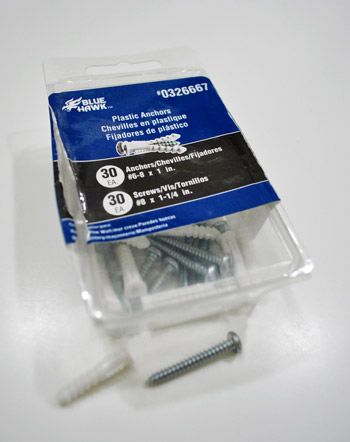 They seem to last, which is nice because it's so annoying to run to the store for little hanging stuff. Boo to that. Anyway, for those who might not know how they work, this might sound like "health class" in 5th grade, but the anchor is the white thing and the screw is the silver thing you know what a screw looks like. So you drill a tiny pilot hole into the wall, hammer (or push) the anchor into the hole, and then screw the screw into the anchor.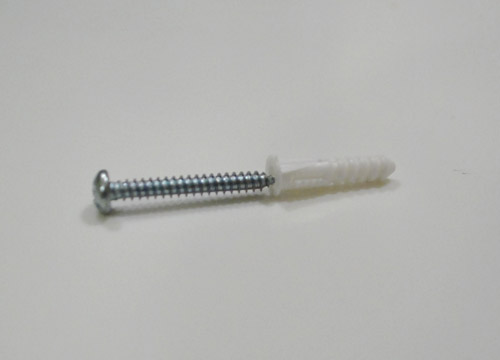 A into B, baby. Oh but just leave a little bit of the screw sticking out for hanging whatever it is you're hanging on it (the anchor should be flush with the wall, but the screw might stick out half an inch). Das it.
I gotta tell ya, it took less than an hour of actual time (drying time doesn't count because you don't have to stand there and watch it). And that not only includes my little spraying trips in and out for those thin coats but also the whole hanging shebang after he was fully dry. So I have high hopes for my little "Dude, Get On That Already" project. I might just keep this up! And if I ever want to pop it off the wall for a fabulous royal wedding, it makes for a great fascinator.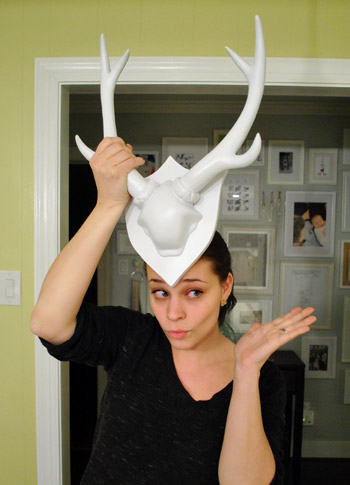 So are you guys with me on this weird little self-imposed challenge? Any items (or an entire room full of stuff) that you've been putting off? Wanna tackle it with me as I go? I'd love to get to at least one thing a week but with kitchen/kid/book stuff I'm not sure if I can stick to that, but it's definitely the goal! Oh and what should I name this guy? Or is naming white faux animals weird when they don't have faces? Malcolm? I keep getting Malcolm.
And speaking of projects… surprise!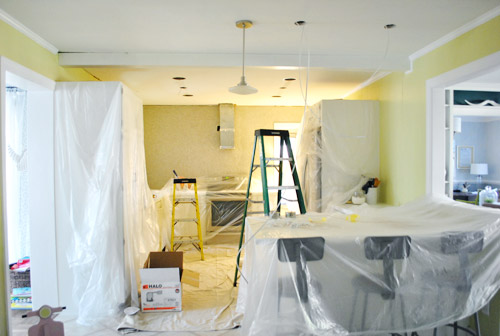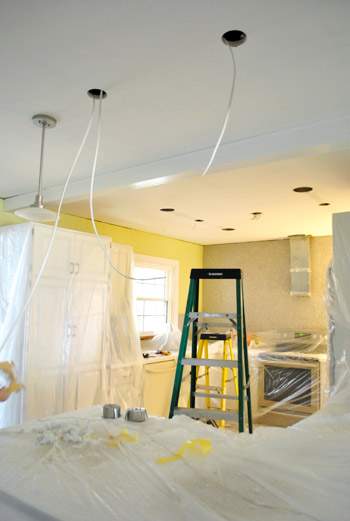 My apologies for the crazy lighting (oh yeah and the ladders and the dropcloths) but we're in the midst of getting new lighting! Hah. So there's just one floor lamp illuminating the back corner of our windowless interior room. Which explains why it looks like a glowing Katy Perry alien is hiding back there or something. But as crazy as it looks… wahoo, it's progress! More details about the whole process as soon as it's a wrap (and it's all cleaned up, photographed, and written out) on Monday!