Remember we mentioned on Monday that we were taking it easy and enjoying some family time? Well we were actually at the beach! We snuck away to John's parents' beach house in Rehoboth, Delaware for a nice long weekend of R&R (while the guest bedroom took care of itself- just kidding it was just as messy when we returned, darn). We had lots of fun going on long walks, eating seafood, getting our thrift on, and bringing Clara down to the beach on a particularly warm day (it was 65+ degrees on Monday!). So we thought we'd share some of our adventures with you guys. First, we hit up our favorite secondhand shop in Bethany, Beach Plum Antiques (also seen in this post of yore).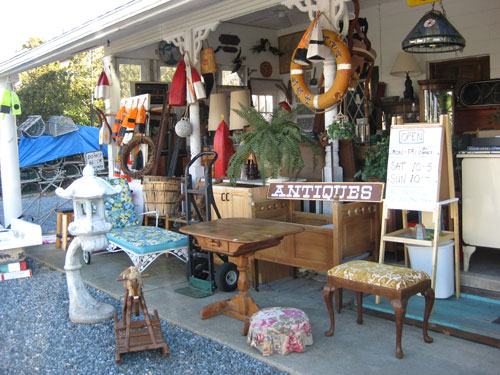 A few things that caught my eye were these $10 woven lamps (I think I would have spray painted them bright canary yellow or emerald green to take them from beachy and rustic to bright and ca-razy).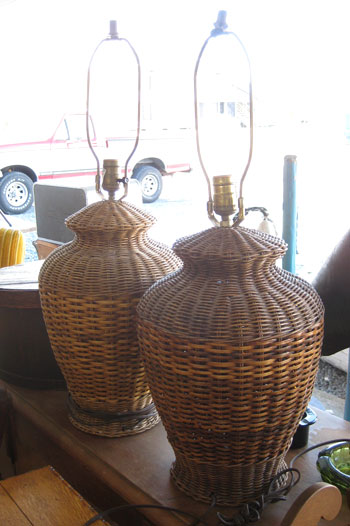 I also loved this huge woven ottoman.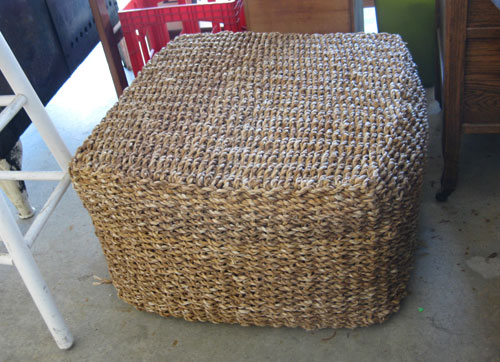 Oh and this cute $20 bench reminded us of our $7 thrift store bench makeover a while back.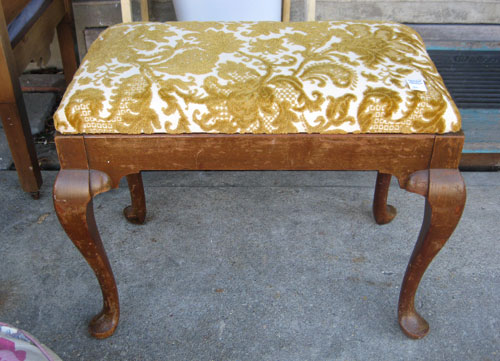 This side table was just $5. I would have grabbed it and tossed a fiver at the owner had there been another one to match for our bedroom (or even one that looked mildly similar). But alas. There was just one.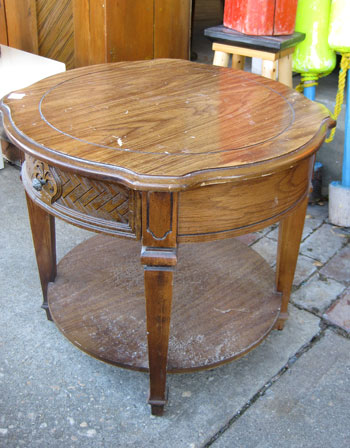 Here's what I did grab after tossing a fiver at the owner. Yup, this geometric eight sided mirror was just five beans. Mine. I was so enamored I didn't even remember to haggle him down to $4. Hah. Can't wait to paint it something glossy and fun (lime? plum? I guess time will tell).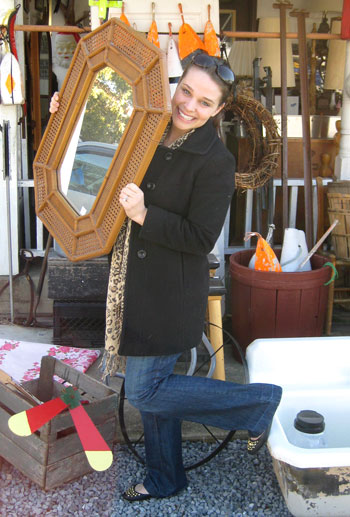 We also did a bit of non-thrift shopping along the boardwalk in Rehoboth.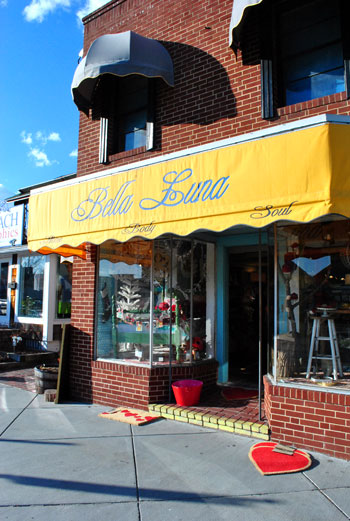 At first glance this extra large calendar full of vintage map prints still seemed pricey at $20, but after flipping through it and adoring every page, we realized it was just $1.60 per print. And we can't wait to frame them all and display them en masse. Seriously, there was a happy dance associated with this find. And it went on for hours.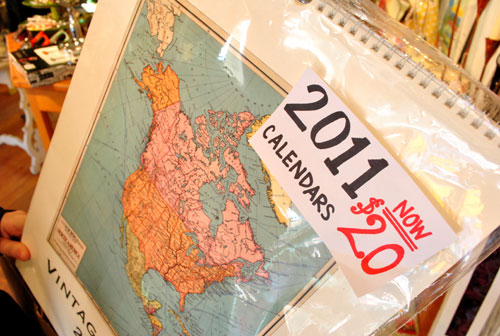 We I also skipped to the cash register with one of these adorable $18 paper lantern pendants for the playroom. We knew I probably could have picked up a white paper lantern for around $5 and attempted to DIY my own painted hearts, but we reasoned that eighteen bones wasn't too bad for such a smile inducing lantern that would probably surpass anything crafty that I could attempt. Especially since Ikea sells light kits for $5, so we'll end up with an entirely new playroom light fixture for just $24 total.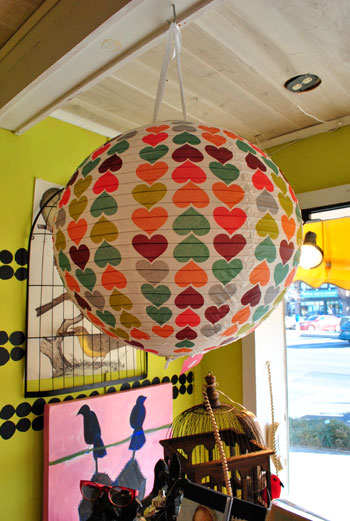 Then it was back to the thrift stores & antique shops that abound. We stopped at this cute place called Millsboro Basaar Antiques…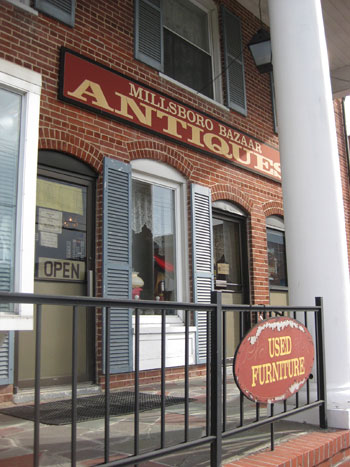 … where I found these two crazy ceramic horse book ends for $2.50 a pop. No doubt the price break was thanks to their zany orange and black glaze, but I'm thinking I might just spray paint these babies for a whole new look. Maybe white. Maybe something bolder like navy or yellow.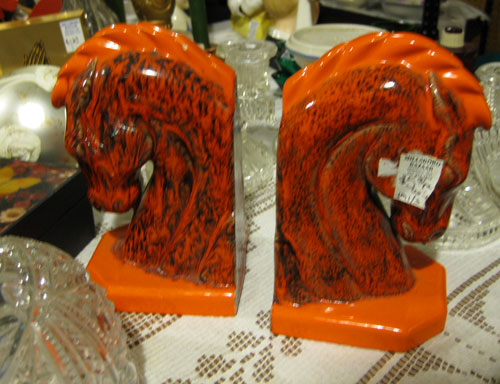 This frog butler was just insane so I had to snap a pic. It reminded us of that funny Modern Family episode where Jay gets the life-sized dog butler and Gloria hates it.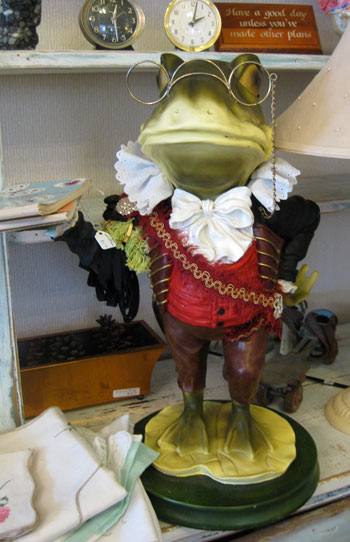 This $15 guy was kinda fun, but I passed. Let's just say John wasn't as enamored as I was.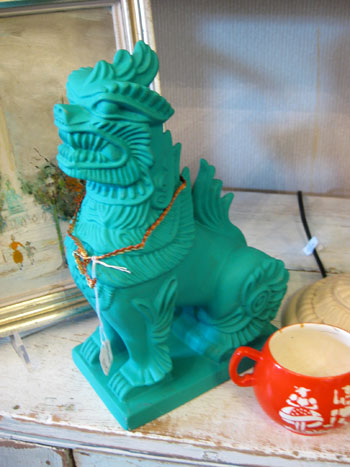 Oh and this $22 stuffed bear head was wall-mountable. So funny! We briefly considered it for the playroom but decided it was better left behind for someone with a woodland themed nursery (like Clara's boyfriend Will– although word on the street is that his nursery might have a new inspiration when he moves).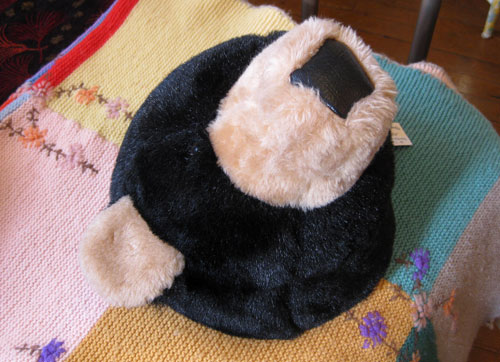 Oh and this little $12 luggage rack was kinda perfect for the guest room makeover. So I snatched it up (and haggled them down to ten bones). We're definitely planning to replace the ribbon that stretches across it, and the jury's still out about the color, but it's fun for now.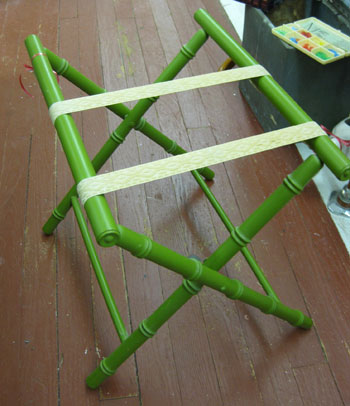 We slipped through Goodwill, just for kicks, but didn't leave with anything. We did see some cute things stuff though, like this $2 bowl, which would be sweet for storing jewelry (I picture stacks of bracelets) on a dresser.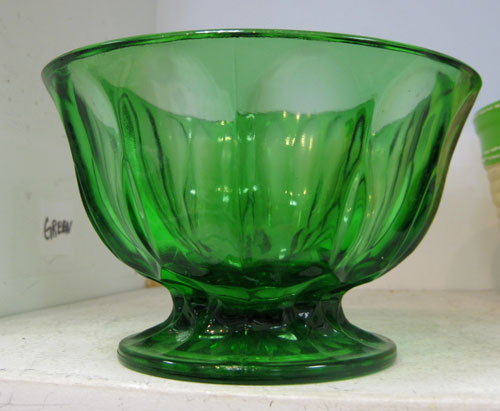 The funny thing about this $1 find is that it's the exact same glass container that we bought a while back and used to create our T-giving "Thanks" jar.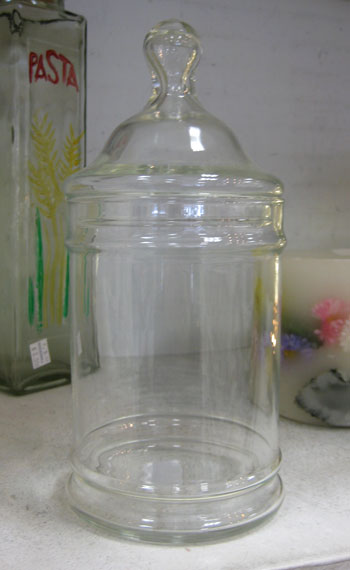 Here's another $2 bowl that could look charming holding anything from keys to jewelry or even all those extra buttons you get with shirts and coats. You save them out of fear like I do, don't you? What if you need them someday? I never seem to, but you never know…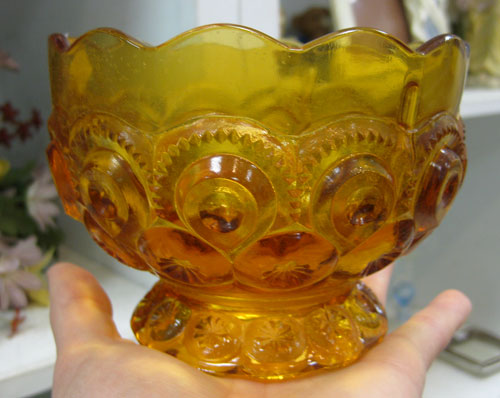 And here we are having some good old fashioned beach fun. First there's beanarina and daddy looking pretty darn happy.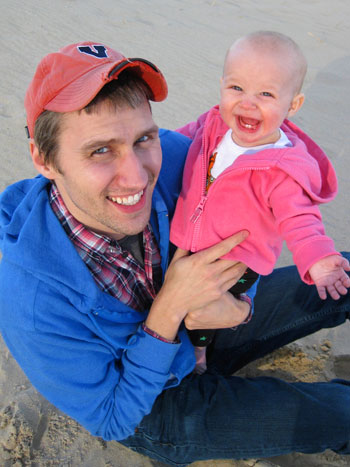 Next we have Clara showing off her two adorable front teeth. What an accomplishment! So proud.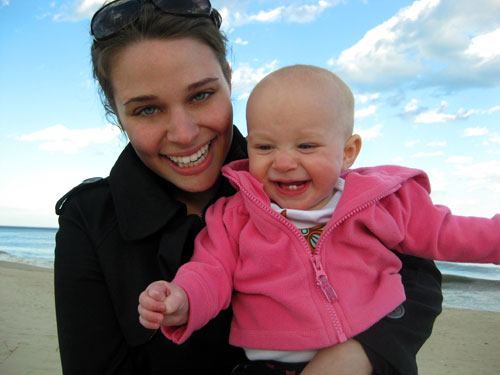 Oh and here she is playing in the sand. Trepidatiously. But still sort of playing none the less.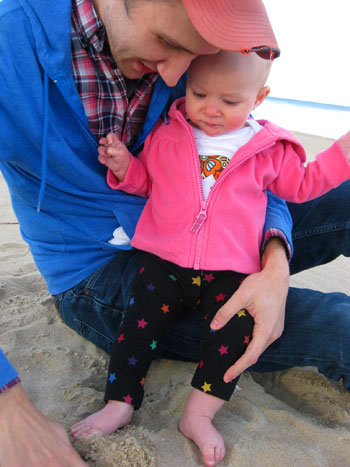 Good times! I'll be back later with a breakdown of everything we actually bought home with us (we gave ourselves an $100 thrifting & shopping budget and we came home with 12 items – well, 23 if you count our calendar as 12 prints, since we'll be framing 'em individually). Wahoo. More on that in a few hours…