And let's just say I'm an eternal, unapologetic, and annoyingly chipper optimist. Anyway, we're back to share the homely group of odd items that we picked up with our $100 shopping budget on our little end-of-winter beach vacay in Rehoboth. Since we were staying at John's parents' beach house for free (I have the best inlaws ever), we figured that a hundred dollars to put towards light fixtures and wall decor and other new house items sounded about right to two cheapskates like us who were happy to have saved at least three times that amount by avoiding hotel fees and driving to the beach in the winter instead. Hah. They're not exactly a group of lookers yet, but we have plans to paint, frame, hang, retrofit, and generally revive a bunch of them. Here's the spread: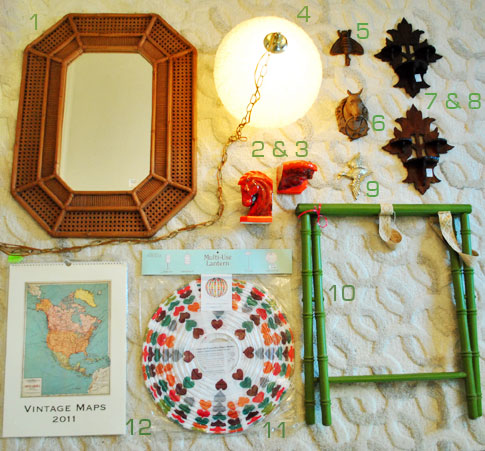 1. You already saw me gleefully clutching our $5 thrift store mirror here. Love it. Plans for that guy involve a major splash of color. Not sure which one, or where he'll live. Yet…
2 & 3. You also already met our crazy orange horse head book end friends (scored for $2.50 each). I'm thinking of spraying them white or maybe even a bold color like navy or yellow. They might live up on the built ins with the bulk of my other ceramic animal buddies.
4. This light fixture was hanging in an antique shop's booth all plugged in and glowing. And I was instantly drawn to it like a moth to a flame. It was just $19 and John was outside in the car with the sleeping bean so I was taking a chance by getting it without dragging him and sleeping Clara inside so he could see it for himself. Thankfully he loved it. Of course we're planning to paint the brass cap and chain. And we're thinking about hanging it in the little sink alcove in our bedroom. Not sure though.
5. You can read more about the bee significance in our relationship here, but I fell in love with this $5 iron bee hook from the moment I saw it. I have visions of painting it glossy yellow and hanging it in the mudroom/laundry room for Burger's leash.
6. I'm 99% sure that I'll paint this $7 wall mountable iron horse white and hang him in our bright blue hall bathroom with a white hand towel in his mouth ring (more deets on that room's plan here).
7 & 8. These two wood plaques were $3 a pop and John and I both thought they might look good hanging above our bed with our ram friend in the center. Not sure if we'll paint them or leave 'em au naturale.
9. This tiny (he's around 5″ wide) wall-mountable gold duck (goose?) was just three bucks. So we both agreed that he had to come home and meet his older brother. Not sure if we'll hang them together. Probably not. Maybe we'll hang this little one among all the frames in the hallway.
10. We already shared this $10 green luggage rack for the guest room this morning, and mentioned that we may or may not paint it (but definitely plan to switch out the straps – one is missing anyway). Should be interesting…
11. You've also seen this $18 paper lantern this morning, so you know we're planning to hang it in the playroom with a $5 light kit from Ikea. Love those hearts.
12 (or 12-23 if you count each print as a thing). Perhaps our favorite find, we have plans to disassemble this $20 vintage map calendar and frame and hang them all en masse somewhere. Maybe in the guest room. Maybe in the playroom. Or maybe even in the much-mentioned frame-filled hallway that we're planning.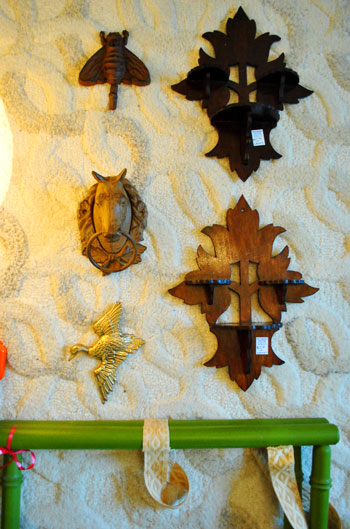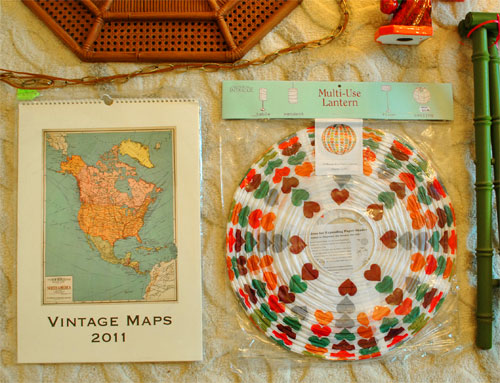 So that's what we got for $98. Thanks to shopping in Delaware (where there's no sales tax) that was actually the total amount spent. And because I'm a dork, I like to calculate the average cost per item, which comes in right around $8 (when you count the calendar as one thing) and $4.26 (when each print is counted separately). Not bad average prices for things like two light fixtures, a luggage rack, a mirror, two bookends, and 6 pieces of wall decor (or 17 if you count all the vintage maps in the calendar). Woot! More details and pics when we frame/hang/paint/install each thing. But now it's back to the guest room. There are things to clean and paint swatches to consider…
Psst- We announced this weeks giveaway winners. Click here to see if one of them is you.