Did you get that candy conversation heart reference in the title? Those things crack me up – especially the new-aged ones that say things like "Text Me" and "Tweet Me." Hah. Anyway, the point of this post is just to wish everyone a Happy Valentine's Day. And to share some gratuitous Clara pics. These are actually the same photos that we sent to our family & friends along with a funny little V-day card with a Burger-esque chihuahua on the front (gotta represent for both kids, you know). Heck you guys are friends too, so just pretend these showed up in your mailbox: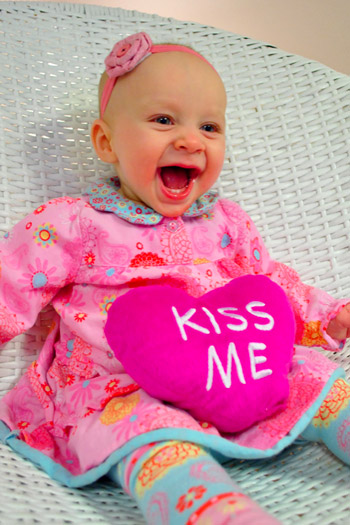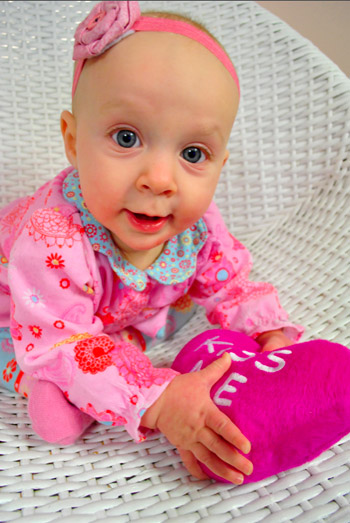 Gotta love that $1 stuffed candy heart from Target's dollar spot. Quite the perfect V-day prop when you have a baby who loves sucking on her fingers in photos if they're too idle. And yes, there was lots of high pitched singing and frenetic dancing by mom & dad to capture these pics. No shame in that. You gotta do what you gotta do when there are three sets of expectant grandparents waiting by the mailbox for their cards.
And on the subject of Valentine's photoshoots, of course we took Clara's weekly photo with some heart-y fabric. John even worked some photoshop magic on the week number (which is usually in a circle). Check out the other 38 pics and project deets here.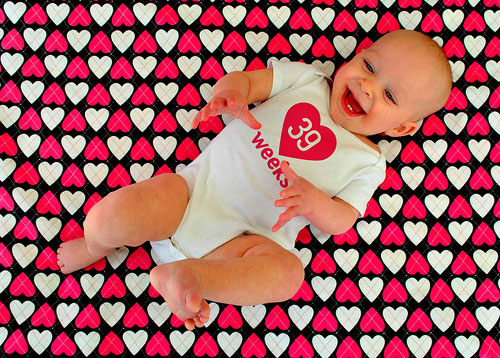 Ok, enough baby-pics. I'm like an old lady at the mall shoving a wallet insert full of kids photos at anyone she passes. Anyway, whether you're celebrating V-day with your pet, spouse, neighbor, friend, whole fam, favorite magazine, ceramic animals, or even throwing an anti-v-day party, we hope it's a day to remember. And speaking of remembering – in an effort to find more balance (one of our resolutions) we've decided to take it easy today and just enjoy each others company and celebrate V-day as a family of four (chihuahua included). Especially since it's also Clara's 9 month birthday. We can't believe she's been "out" longer than she was "in." Baking her felt like it took forever, but time has just flown since she was born.
We're not abandoning you guys for reals though. You know we're nothing if not blog obsessed. We'll still be dropping by this afternoon with a love-filled giveaway, and tomorrow we'll be back to our regularly scheduled programming. We might even have some dining table pics to share. Woot. Until then, big wet kisses are coming atcha from the whole Petersik clan. Don't worry, we don't have mono.