Surprise! John and I actually snuck off to the beach in Rehoboth Delaware (where John's parents have a lovely beach house) around the 4th of July. And yes, John did take this photo to document our trip with his freakishly long arm: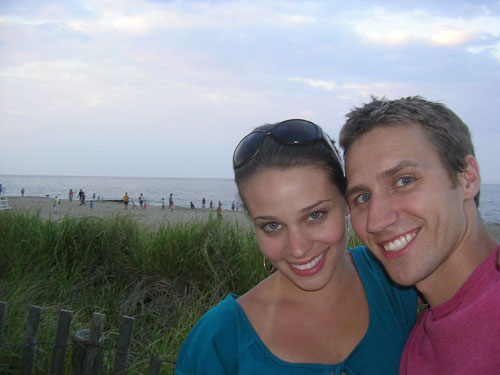 We didn't do much except for veg on the beach, publish posts so you guys wouldn't think we went missing, and whip up this watermelon project. Oh and of course we did a little deal hunting by swinging through our favorite secondhand store while we were there: Beach Plum Antiques.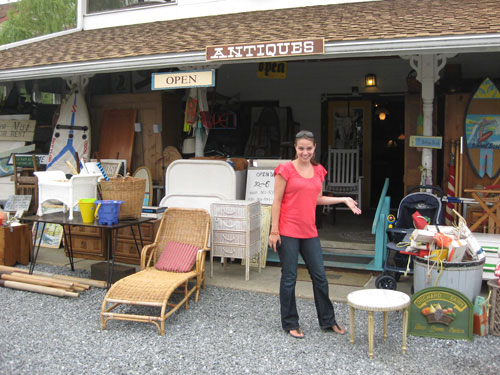 You'll notice me getting my Vanna White on above (look, second picture in a row where I'm not wearing black!). The reason for the big smile and the gameshow pose? I'm standing next to the cutest little carrera marble topped table that I dug out from under a pile of stuff. It's as if the universe hid it until I could show up and unearth it. Let me loose in a thrift store and I'm like an archeologist hot on the trail of a T-Rex femur.
We'd been looking for a small table for the sunroom for a while and this baby fit the bill. Plus we've never had anything marble in our house so the idea admittedly felt very swanky. But how much would the fancy pants table set us back?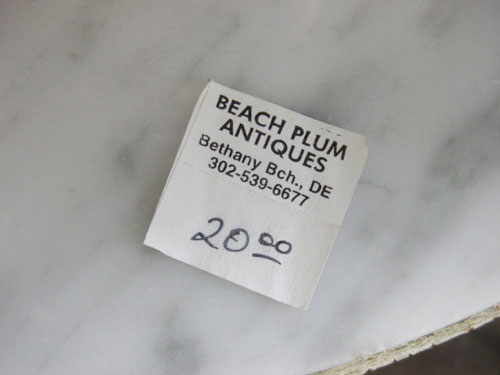 What? Does that price tag really say $20? You betcha. And do you know how much we actually paid? $19 (because they only accept cash and that's all we had on us). Again, the universe wanted us to have this table. The owner actually laughed when we approached him to buy it saying he had just marked it down from $45 the day before (and sure enough, when we peeled off the stickers after we got it home we saw that it had originally been $75, then $45, and finally $20 after sitting around for a while without getting much attention).
How this little gem of a table could go unnoticed for so long is beyond me. I mean she's almost as cheap as an Ikea lack table and SHE'S MADE WITH CARRERA MARBLE. In mint condition no less. Just for comparison's sake, here's a marble table from CB2. It's $149! And here's a Knoll one on sale for $607! Doesn't that make $19 sound even better? Plus our sunroom could totally use a little side table. So we brought her home.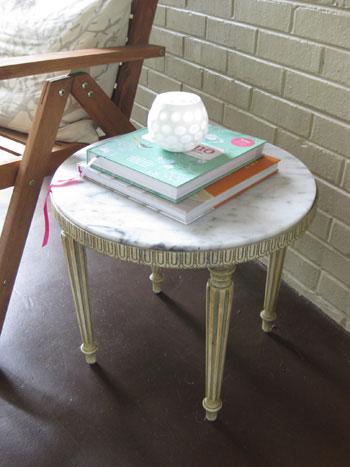 Here's a close-up for you marble loving fools (present company included- as in, me). Isn't she a beaut? We love the ornate carved detailing around the perimeter and the legs. And although we originally toyed with the idea of painting them white (or even a soft celery green), we actually fell hard for the existing patina of the wood as soon as we put it down next to the teak chair and saw that it still worked.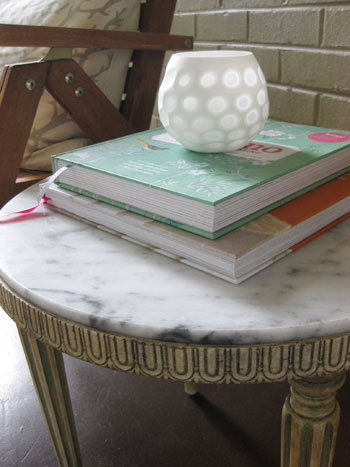 By now you guys probably know that we're much more about complementary tones, subtle texture and varied materials than anyting formulaic or overly matchy-matchy. And our new $19 side table introduced so much more interest to the whole room thanks to the marble top (yeah, we're officially fancy), antiqued carved detailing (for luxe texture to spare), and the coordinating but not matching weathered wood tone (see how the teak chair and the bookcase on the other side of that wall are the same color but somehow this lighter piece still looks right at home between them?).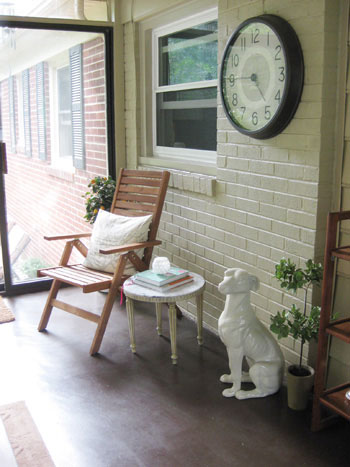 The key to achieving a mixed and layered effect that feels collected over time instead of "garage sale dorm room" is just to keep certain commonalities between the items in the space so it doesn't look completely chaotic and unrelated. The ceramic dog (who was also quite a steal, check out that story here) and the pillow both boast the same crisp white tone, as does the top of the table (which instantly ties them together in the space). And the cream colored wall behind everything adds warmth and creates an even more layered and soft effect.
So there it is. The tale of an under-twenty-dollar-table that crossed state lines to come home with us and live next to a life-sized ceramic pooch. Have you guys found anything good at secondhand stores lately? What about garage sales? Now that it's summer they're popping up everywhere, so we're wondering what you're snagging on the cheap.
p.s. Speaking of secondhand shopping, we feel really good about our recently purchased refurbished Flip video camera (snagged on woot.com for $70 off) and our newly refurbished MacBook (from apple.com for $350 off). "Recycling" never felt so good- and they'll both help us serve up more fun around these parts for years to come- so stay tuned…