Karin is a pet photographer from Minneapolis and apparently when she's not snapping pretty pictures of pooches, she's busy creating a pretty darned awesome kitchen. We know you guys like to a see non-white kitchens when those come in, and this one is actually an all wood one. Check out her letter below, which I've peppered with some of Karin's awesome before & afters. Well, and one demo-tastic during shot.
Hi Sherry and John! You've been an inspiration for my husband and I as we purchased our first home last summer and immediately started tearing it apart. After years of renting, we finally took the plunge and purchased our first home. We wanted something open and modern with lots of natural light. Thanks to our HGTV-watching experience, we had a good handle on what to look for versus things we could change ourselves. When we came across a semi-neglected house, it had all the "must-haves" for us and we went for it. This house was actually by far the least expensive of the ones we saw, allowing us to make some pretty big changes.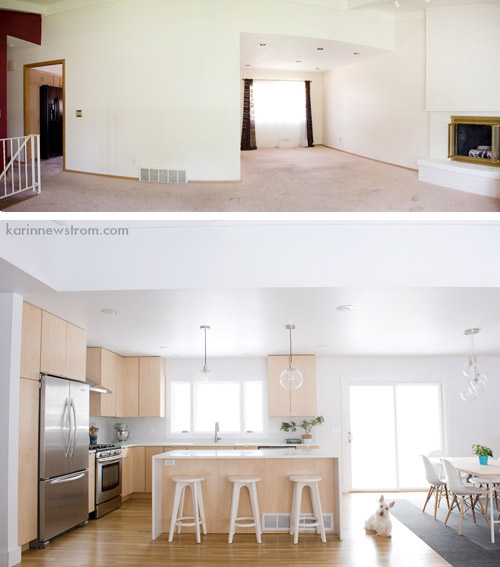 Although the before images don't convey this too well, the kitchen/dining area was dirty, tired, and needed a lot of help. Cola (I think?) was spattered on the walls, the carpet was had a minor flea infestation, and most of the tiles in the kitchen were cracked.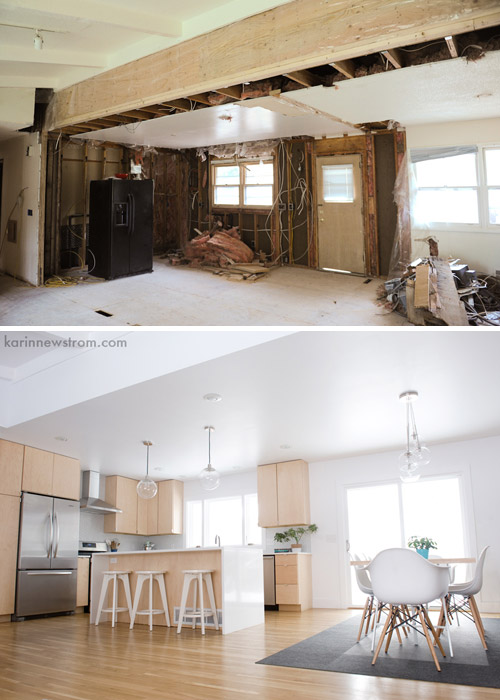 Jeff and I salvaged and donated what we could and took a sledgehammer to the rest. We did as much as we could ourselves (and with the help of family) and called in the pros when it was truly necessary (installing 600 pounds of structural beams, running a gas line to the stove, etc.). We have learned so much… and more! And to save some money we shopped around for discounts (the dining chairs are from Overstock and we actually DIYed the dining table with legs from Ikea).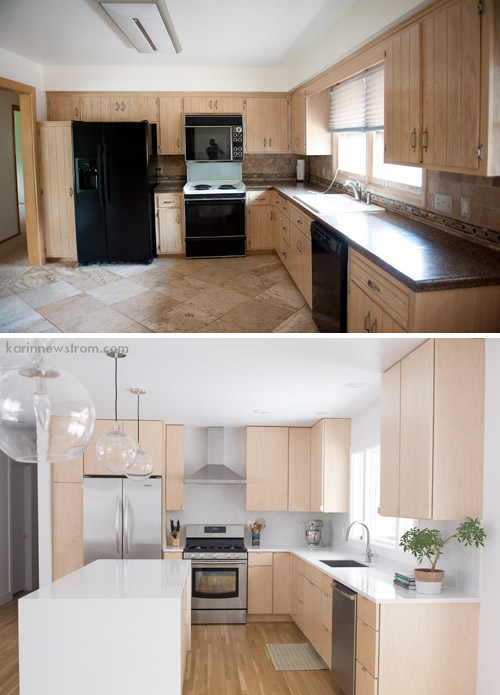 I frequently referenced many how-to's on YHL (hello backsplash!) and you two helped instill a sense of fearlessness to tackle many "scary" projects with no previous experience. Thank you and take care! – Karin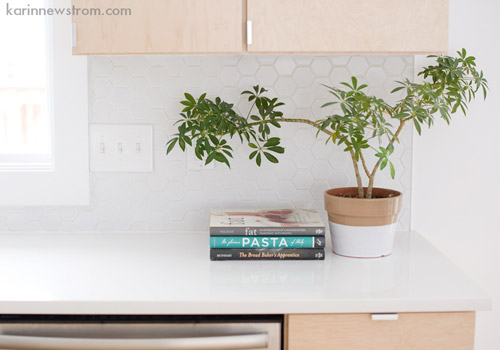 We love how light and airy this kitchen feels (proving that wood cabinets can still add up to a nice bright kitchen). Karin has tons of extra pictures on her photography blog along with a source list. Oh, and since we'd be remiss not to end with a shot with dogs in it – here goes nothing!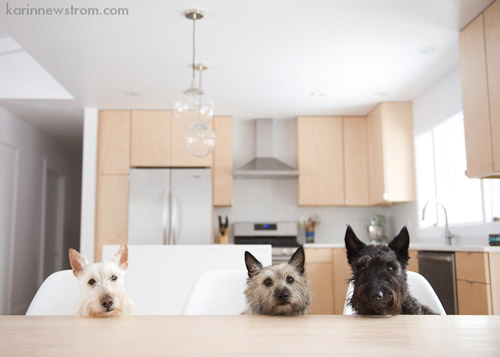 What's your favorite part? The dogs? Me too. Although those dining chairs, stools, and pretty island lights have Sherry oohing and ahhing, and I love the sleek cabinet hardware and that cool waterfall edge on the island's countertop.