It's a stick up – er, down! This step by step tutorial is a real blast from the past. We're breaking down the simple process of laying peel & stick vinyl tiles. They're available everywhere from Lowe's to Home Depot for around a buck a tile, and we actually laid 'em down right over our plaid-esque linoleum kitchen floors of the past (back before we could afford our full-fledged remodel, we painted the cabinets and spruced up the floor to tide us over). Here's the country blue & white striped single-sheet of linoleum that we inherited with the house. Sure those lines are meant to look like tiles, but it certainly wasn't very convincing:
The advantages of single self-stick vinyl tiles as opposed to a wall to wall sheet of linoleum is that the effect is a lot more believable. Each tile comes with darkened faux-grout around the edges, so the effect is quite tile-like when you lay them down one by one, and the finished product can really add a lot of dimension and texture to a space. We especially appreciate that every tile has some color and pattern variations (some are darker or rougher looking than others) just like real stone tiles, so the overall effect is a lot more realistic. And the fact that you can completely overhaul an old dated floor for about $100 in one Saturday is nothing short of amazing. Here's our kitchen after about 4 hours of peel and sticking (we laid our tiles on a diagonal for a more spacious effect):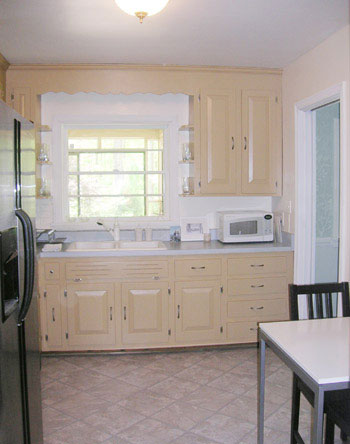 And now for the step by step breakdown:
Step 1: Be Picky. Selecting the right peel and stick tile is extremely important. You don't want anything that matches the cabinet or wall color exactly or the room will feel eerily coordinated. And you don't want something that clashes with your wall or cabinet colors since that will look totally off as well. The best way to choose the right tile is to purchase a few $1 sample tiles and bring them home to see how they look in the space (remember, the lighting in Home Depot or Lowe's is extremely different than the lighting at home, so you might find yourself returning 100 floor tiles if you skip this step).
Step 2: On The Level. You only want to apply self stick tiles to floors that are adequately level and even, so fill any gaps or holes to ensure that your tiles have a nice solid foundation to adhere to. If you're missing an old tile, try sticking a new tile in the hole to fill the gap (this only works if they're the same depth, but it's a super quick fix if they are).
Step 3: Get Centered. Take the time to measure and locate the center point of your room, and temporarily lay a tile (without peeling off the backing to expose the adhesive) in the exact center. Then use other tiles to build out from the center tile to the right, left, top and bottom of the room so you have a cross on the floor of unstuck tiles that fully reach from wall to wall (you're just doing a little test at this point- no sticking!). This is an important step so you can see if centering your tiles is indeed the way to go. Unless you have any weird slivers of a tile on any of your edges, you can stick the center tile to the ground for good. But if, for example, you have a quarter of an inch of tile in a doorway based on the placement of the center tile, you might want to shift things up, down, left or right to make the tile slivers fall under the cabinets or laundry appliances as opposed to in the doorways and other more obvious areas.
Step 3: Press On. Once you stick your center tile, you'll make pretty quick work of the rest of the room until you hit the edges. The key after sticking the center tile is to work out from that tile being certain to squeeze each tile firmly down and against the last tile you laid while accurately aligning each new tile by eye (even a sliver of space between the tiles won't look nearly as seamless and convincing as a tight fit without any gaps, so take the time to push every tile against the last one you stuck down and take care to keep things lined up). Continue sticking each square and working away from the center of the room in every direction until you reach the edges of the space which will call for customized cuts.
Step 4: Get Edgy. The toughest part of this job is by far laying the perimeter tiles which call for special cuts to keep them flush with the walls, doorways, and cabinet bases for a clean and finished look. But not to worry, it's still totally doable. Many people prefer to remove their shoe molding (which can easily be popped off with a flat-head screwdriver or a mini crowbar) so they have a bit more wiggle room (when you pop off the shoe molding, the fit to the edge of the room doesn't need to be as exact because once the shoe molding gets reinstalled over the tile, the fit will look perfect and flush because it'll hide any small gaps between the tile and the wall). You can also opt to leave your molding in place, you'll just need to be more meticulous with your tile cuts (which is actually what we did to avoid having to reinstall the shoe molding later).
Step 5: Template Time. We used a box cutter to cut our vinyl tiles (it takes a few slices to get all the way through, so we slowly and steadily made cut on top of cut until we got through cleanly and accurately). And of course you want to remember to cut your tiles on scrap tile or a piece of plywood so you aren't cutting into your freshly laid flooring beneath- that would be bad). But how did we know where to cut 'em? We actually used paper to make templates and then just traced those paper templates onto our tiles for the perfect fit every time. It can be mind-numbing to look at a strange corner shape and try to duplicate it by eye on a tile, so paper templates really can be a lifesaver (as well as a huge time saver even though they can sometimes feel a bit tedious).
Step 6: Dance It Out. When you're done with the perimeter of the room you'll wanna do the happy dance to celebrate your peel & stick victory (your sticktory?). Dancing is actually a great idea, since tapping each tile down with your body weight can help to firmly secure them in place for the long haul. Go ahead, boogie down.
So there you have it. Everything you need to know to tackle that dated or grungy floor in your bathroom, laundry room, playroom, back hallway or beyond. Happy sticking!