Press
As some of you guys have already discovered, we had the great pleasure of having our house photographed for the latest issue of HGTV Magazine. Well, our last house (we'd probably bat someone away with a stick if they tried to snap pictures of our new place just yet). And since a bunch of you have been asking for the behind the scenes scoop, here it is.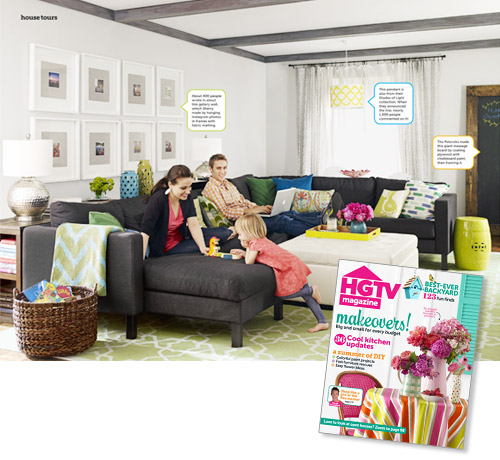 That day was such a blur that we weren't even sure that we had any behind the scenes photos to share, but when we looked back in iPhoto, it turns out we remembered to snap a few photos. This is Clara the editor. She's telling us what we need to fix for the shot to work better ("you need to see more of my toys").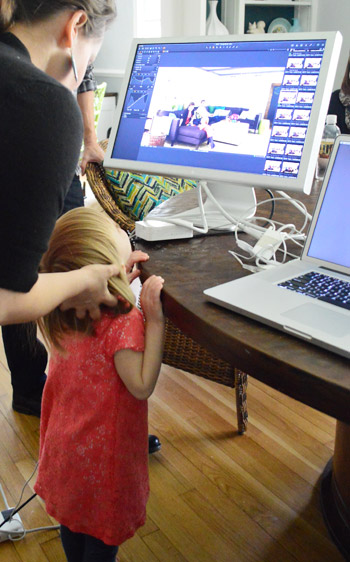 The HGTV Magazine crew (which included a photographer, his assistant, a stylist, and an editor from the mag) spent two days in our house. They were lots of fun and very gracious guests… even as our dining room became a makeshift office for 48 hours.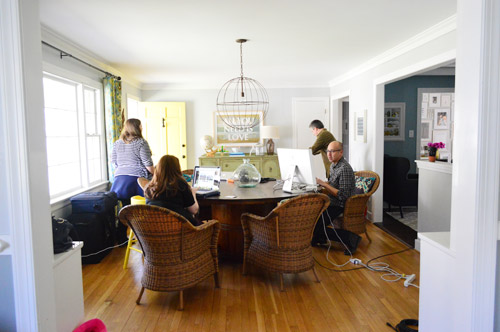 Well, except for when it had to be tidied up and photographed. Notice how there are only 4 chairs instead of 6? It was their trick to make it feel open and show off the pedestal a bit more. All part of the fun of seeing your house through someone else's eyes.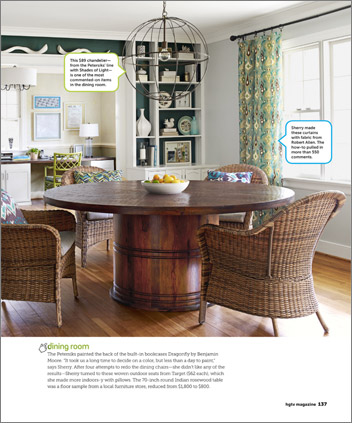 And of course there were moments when the room had to be almost entirely cleared to get the perfect angle. This was the set up they used to photograph us in our office for the opening spread.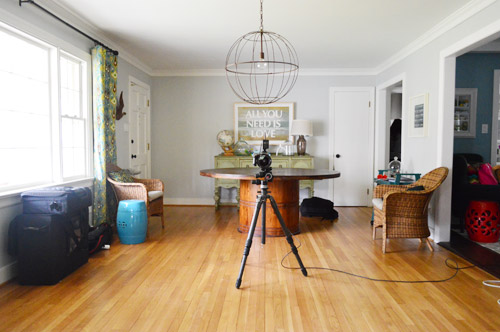 Sherry and I are quite comfortable with the chaos that comes along with a whole-house photo session (nothing can compare to the three straight weeks of book shoots). And by now I'd say our kids are getting pretty cool with it too.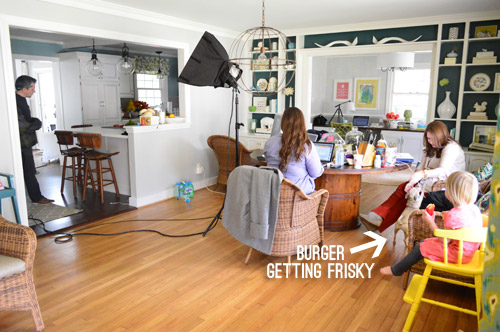 Rachael, the photo stylist, was awesome with flower arrangements, pillow fluffing, and Clara. They even developed a secret handshake to help her feel at ease with all of the strangers around. Although I fear this photo gives away the whole secret (it was just pressing their thumbs together). Simple or not, we love Rachel for thinking of that.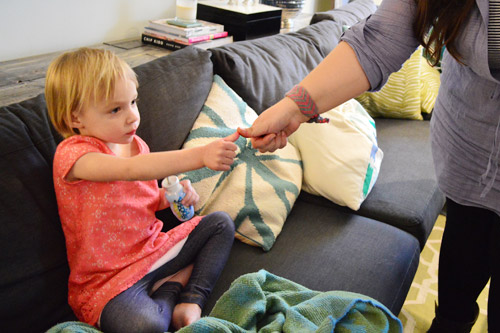 We also love that she and Jen (the editor) brought some fun props with them. You may have caught this Instagram shot of our kitchen doused with pretty food and accessories. It was eye candy and literal candy all at once.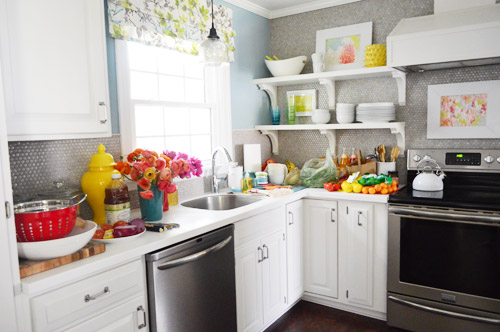 You can see some of those styling props hard at work in this picture of our kitchen, which we think is just about the prettiest shot of it ever taken. But even as photo-styling goes, we loved the balance the HGTV Magazine crew struck. In our opinion, it wasn't too over-styled (it still looked like our kitchen) but it was fluffed enough to make it look interesting on the page and to give us some new ideas about what we might want to tweak ourselves (more on that later).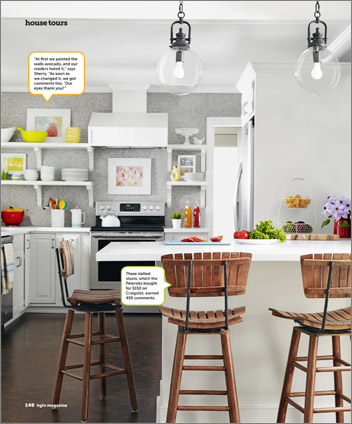 Perhaps the only bummer about the feature was that some of our favorite shots didn't make the cut. We knew they were taking more pictures than they'd have room for, but we saw some along the way that we had our fingers crossed for – like this one of the recently-completed fireplace.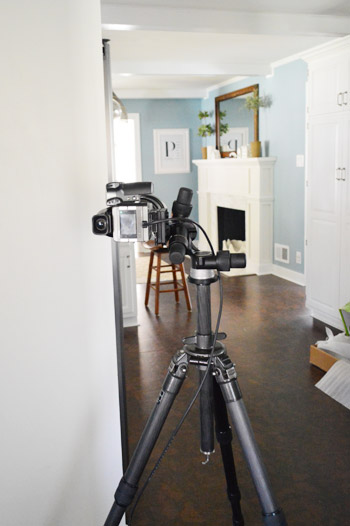 That shot also featured our new favorite term: "an aggressive sandwich." Someone deemed the prop sandwich too big at one point, dubbing it too "aggressive" for the shot. I think they eventually tamed it by removing a tomato slice. We all had a good laugh about what goes into these shoots, and Sherry still trades emails with our new HGTV friends by signing them with "xoxo, Aggressive Sandwich"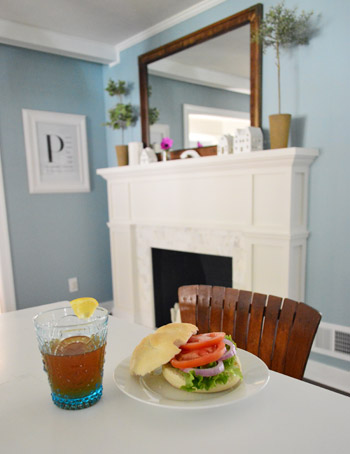 Here's a peek at what could've been, had these shots ended up in the spread.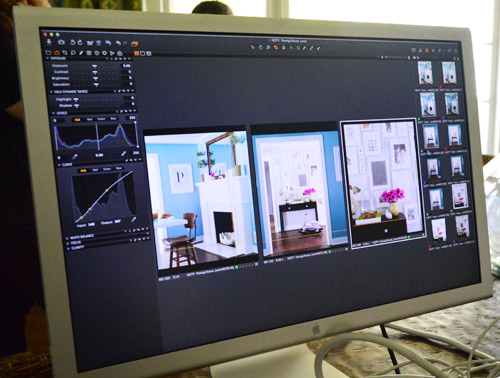 The frame wall never looked better. Here's one of our over-their-shoulder shots of the hallway styled up with some pretty flowers by Rachael.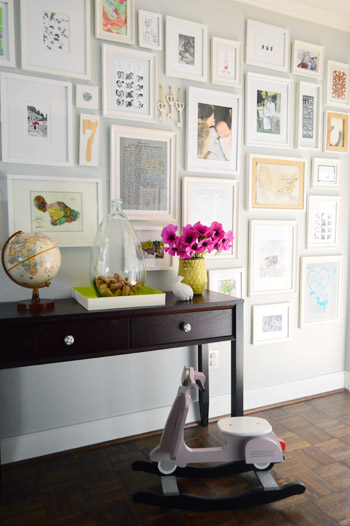 I wonder if the photographer feels a little sad when certain shots don't make it. He took a ton of time setting each one up, but he's probably used to it. Oh and you'll notice that we had to take down the basket light in the kitchen because it was casting weird shadows during the fireplace shot, so down it came.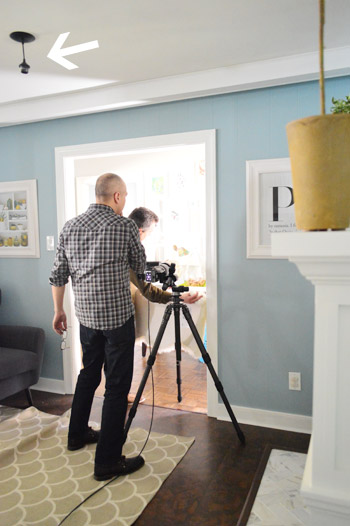 Fortunately, we got to enjoy the fresh flowers, even if the photos didn't make the final cut.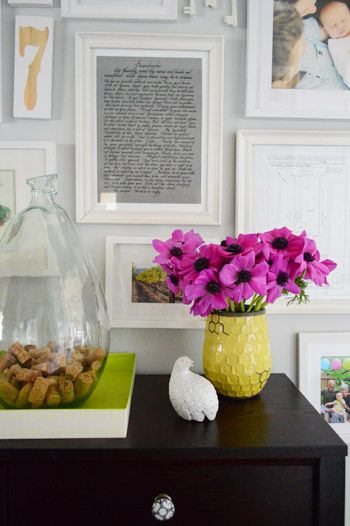 Oh, and they also cut a shot of the two of us prepping food in the kitchen (when we took this Instagram picture). But we're 100% sure that we looked far from natural in it, so we're forever grateful (us + cameras aimed at us = especially awkward). The funny thing is that we thought this might be a 2-3 page spread and it ended up being 10 pages long! Completely mind-blowing, and way more than we expected.
Speaking of abundance, there were lots of flowers. Which of course means that Sherry was in some state of flower-induced euphoria the whole time. They had a box shipped directly from the flower market in New York City and, thanks to our cooler, the sunroom became a makeshift florist shop for the two days they spent with us. Seriously, the room smelled like one giant flower for like two weeks afterwards. Sherry loved it. I thought it was kind of spooky once the flowers were gone ("where is that smell coming from?!").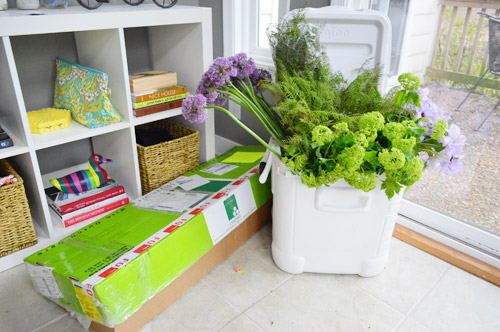 You should have seen Sherry creeping around the house whispering "If only they would last foreverrrrrrr."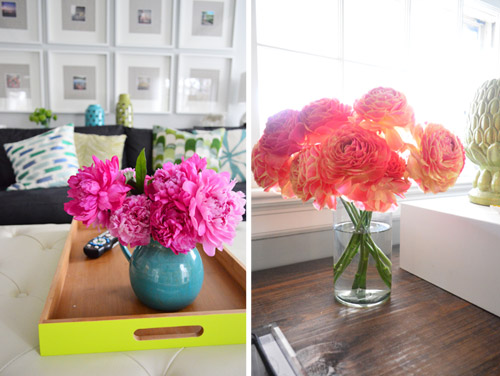 At least we have pictures to remember them by.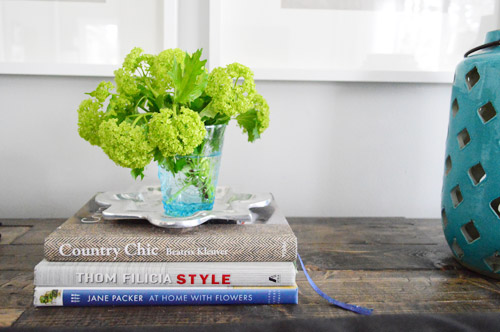 Besides tempting us to blow our life savings on fresh flowers (don't worry, I'll rein Sherry back in), one tip that we picked up and were inspired to put into action by watching the pros involved the pillows on our sectional. Rachel loaded it up with a bunch more pillows than we'd ever used… and Sherry was in heaven. Picture her doing one of Oprah's over-the-top "a-ha moment" faces. You can't really see them in the final magazine shot, since they used a picture of the living room with us in it, but Sherry may or may not have bought some of the pillows directly from Rachel when they were done (they were $20 from HomeGoods) to fill out her already robust pillow collection. Just picture me rolling my eyes in the background.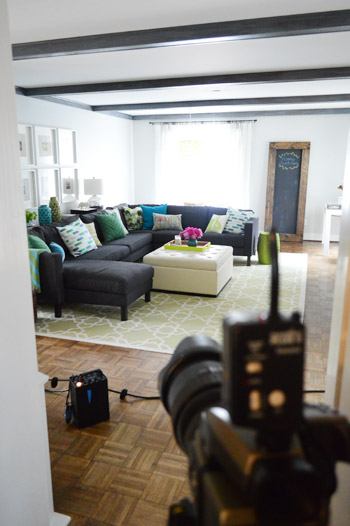 Oh, and you can't tell from our picture above, but this little table was deemed too short for their shot so they borrowed some scrap wood from the basement to give it a lift. Also note how our usual desk and mirror got the boot so that our chalkboard could take its spot (see the picture above).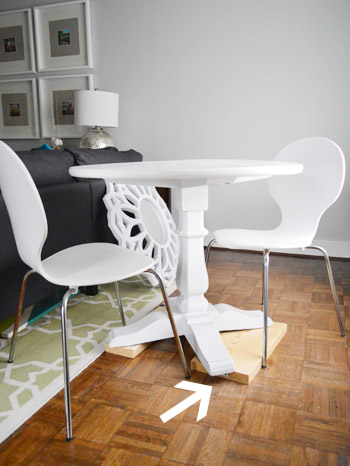 Wardrobe tricks were also employed – namely for one of Sherry's loose shirts that was deemed "too maternity looking" for the way it draped in the shot of us in the office. She ultimately swapped this outfit out for something less breezy (which is why she's in a different shirt in the other shots) but lo and behold, the original test photo with the pre-clipped shirt ended up in the magazine on the first page of the spread.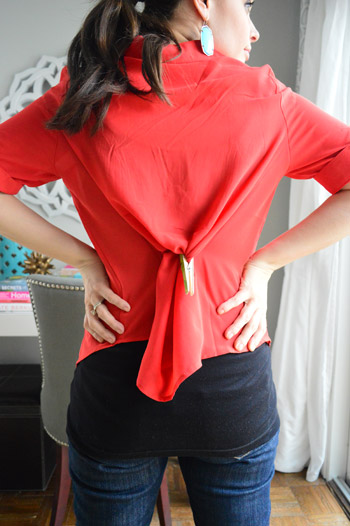 As for some literal "behind" the scenes dirt, when they took the picture of Clara playing in her big girl room, I hid behind the wall in the closet so that one of us was nearby while they snapped away. The toughest challenge was getting her not to run in there with me.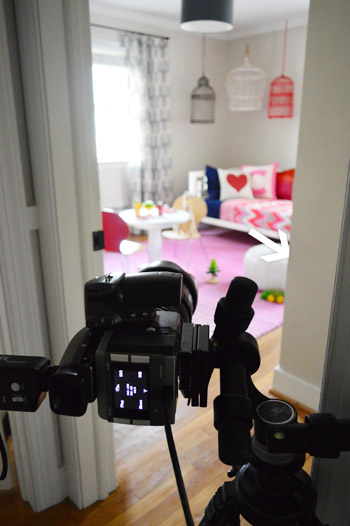 Perhaps the biggest obstacle for them was shooting the outside of our house, since late March in Richmond wasn't looking as spring-y this year as it usually does. Not to mention we had yet to begin lots of our recent improvements out there…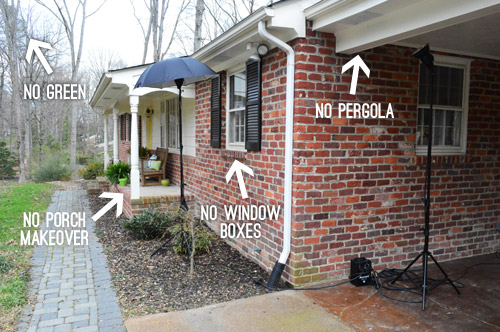 So now you know why the pictures of our outside are pretty small or just limited to close-ups of us on the porch. Although they did a great job of cheering things up by moving our red adirondack chairs (swiped from the patio) to bring in some semblance of color.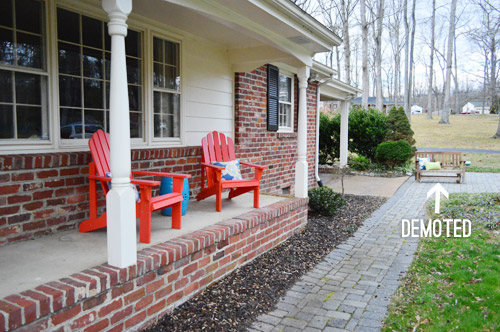 Oh and although the article mentions our moving plans, we actually didn't share them with HGTV until we shared them with you guys on April 30th (via an email that Sherry most likely signed "Aggressive Sandwich") – so they added that right at the end before the issue shipped. It really was locked deep in our brains until our alarm system was in and we were ready to tell the world at large, so I think only our parents, siblings, best friends, and the realtor knew before that. It was especially fun to finally tell the HGTV crew though, because we were able to explain how meaningful it was to us to see our house captured in such a major way before we said goodbye. It was a nice last hurrah, and they were psyched to have been the ones to document it all.
So we're incredibly grateful that they thought our home was worthy of their magazine, and we'll end this little behind the scenes spiel by sending out a big thanks to all of you who have stumbled upon it and said such kind things via Facebook, Twitter, Instagram, blog comments, email, and carrier pigeon. Just kidding about the carrier pigeon – you guys know we only accept ravens.
&nbsp&nbsp&nbsp
Picture me miming the act of getting out the ol' Bucket List and crossing off one of the most major "pipe dream" things on there. As we quickly mentioned here, three Wednesdays ago The Nate Berkus Show contacted us and asked if we'd be interested in being on their show… which was taping just two short days later in NYC. If so they'd fly us out the very next day.
Uh, yes please.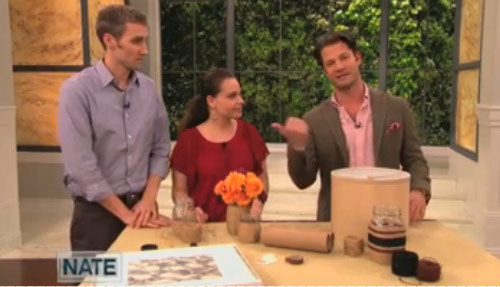 See, I've been obsessed with Nate for years. And not just mildly obsessed, we're talking can't-mention-him-without-my-voice-going-up-an-octave status. The man just does something to me (check out a few I-love-Nate posts of yore here and here). But what the heck would we be doing on the show anyway? They explained that they were introducing a new feature: Nate's Crate Design Challenge. It would involve two real-people contestants competing for his affection design kudos using a mystery crate full of basic household items (craft paper, blankets, a feather duster, push pins, burlap, staple guns). Basically Nate would be challenging them to a design duel on two identical white rooms for the hour-long duration of the episode using only those unconventional decorating items to alter their spaces and score the win. Here's a pic of those lucky ladies with their finished rooms behind them: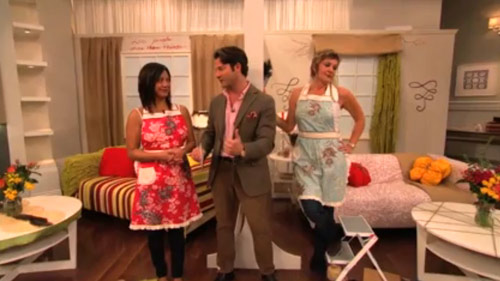 But where did we fit in? They actually wanted us to be the judges a la Paula and Simon (or soon-to-be J-Lo and Steven) since we're big on the whole DIY thing and working with everyday household items is our idea of a good time. No words, people. We had no words.
They even gave us a little American Idol-ish desk: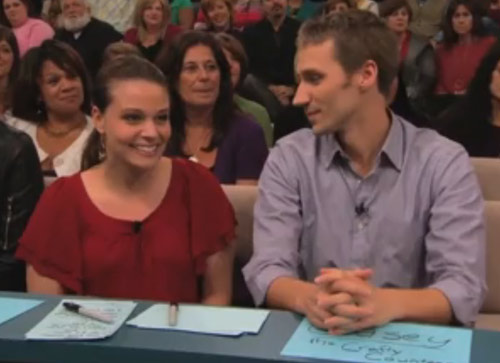 And added this blush-inducing subtitle below our names. Insanity.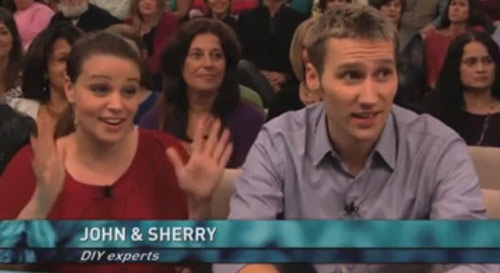 Nate even invited us on stage to demo of a few fun DIY projects using items from the crate.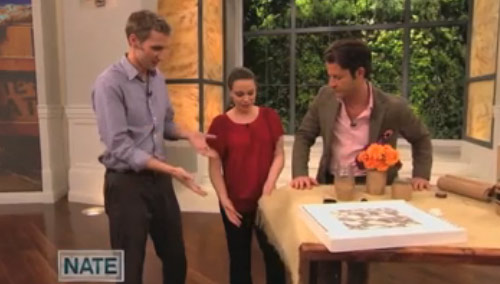 But back to how we found ourselves standing on stage with Nate. The day after we received that unbelievable invitation to be on the show, we were on a plane to NYC. Yes, it really does move that fast. It was Clara's first flight ever, and thankfully she slept like a champ (we intentionally timed our departure after her bedtime in the hope that she'd lay low- and hallelujah it worked).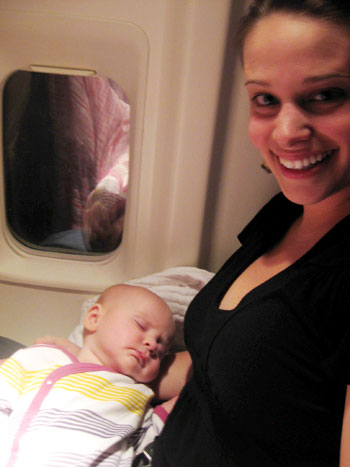 We arrived at LaGuardia and got picked up by a fancy limo service. Yeah, we're those dorks who took a picture of the sign with our names on it. Guilty as charged (or GAC as they say on Cougar Town).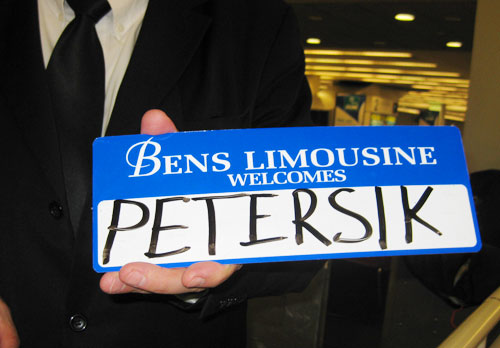 It was around 11:30pm when we finally got to our hotel. They generously put us up at the Flatotel- where the contestants have lived on shows like Project Runway and America's Next Top Model (holy Tyra Banks, Batman). And look how cute the beanette looks in a big girl bed (though she actually slept in the crib they sweetly provided).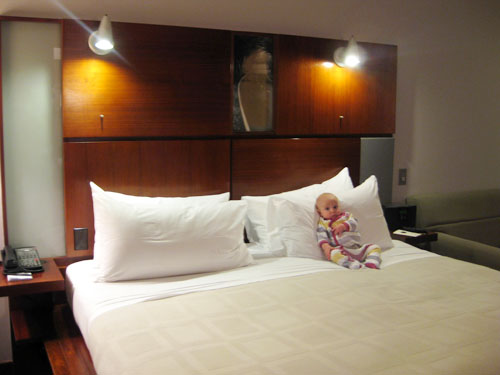 In the morning we were up at 5:30-ish. We had to be at the studio by 7:15 and we could hardly sleep due to nerves, excitement, and I-get-to-meet-Nate mania. But we did take a moment to enjoy the view (we were in an awesome corner room with two amazing city views) before we headed off to our morning taping.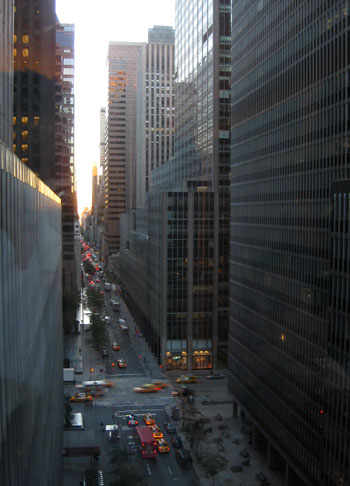 By around 7:30 we were settled in the green room, where my mom (who lives in NY) met us to play babysitter while we got our Nate Berkus on. It was actually the first time we had an official "babysitter" since Clara's birth five months ago. So even though we would only be gone for a few hours of rehearsing and taping I was totally that person. You know, the nutjob mom who spouts off info like "if she seems tired she likes to be held like this, and she likes when you rub her back like this, and then she might want to stand so hold her like this, and then she might want to read a book but only for a few minutes…" Of course everything was fine and my mom didn't need the ridiculous Clara crash course at all. And look how cute our offspring looks on the almost baby-sized settee in our private green room (complete with fresh eats and flowers). Seriously, who did they think we were? We would have been happy to hang out in a cardboard box.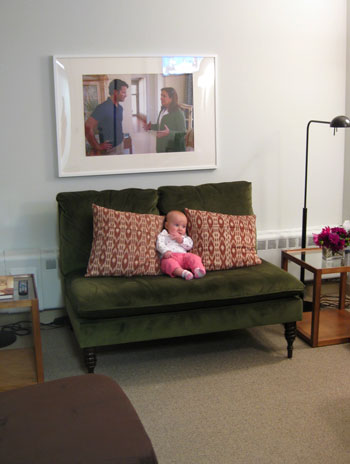 Then it was time to get our faces on. Yep, even John got powdered up. And look how much makeup it takes to make me TV ready. See all that stuff in the foreground? I needed it all. The two makeup & hair gals were awesome (there was even one named Sherry, spelled my way) and they regaled us with tales of making people beautiful on soap opera sets and movie lots.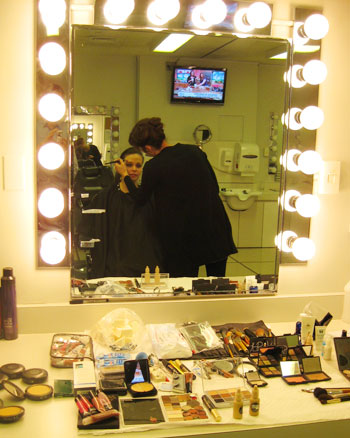 And as if the day weren't awesome enough, then we ran into Mrs. Limestone who was also scheduled to be featured in the same show (read more about how she ended up on another episode here). It was so amazing to meet her after years of being virtual blog buddies. And she was just as beautiful and sweet in person. Her hubby was awesome too. And of course they killed it on the show, eliciting tons of well deserved oohs and aahs when they showed a few of their jaw-dropping before and after house pics.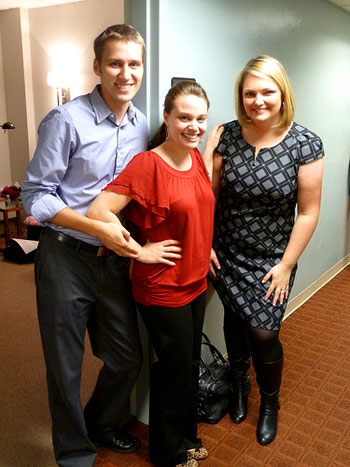 We don't have any first-hand pictures beyond this because we weren't allowed to take photos in the studio. But after a quick rehearsal, a speedy make-up touch-up, a last minute Clara feeding, and some mic-age we walked out there and taped the show. They don't post full episodes online, but here's a clip of us doing our little ditty about using unconventional items for quick home makeovers (yes, I do scream "pickle jars"):
And here's a clip of the design challengers revealing their final rooms (and us judging the results):
Here's where I'll go off on a vain rant. I also learned that when on TV I should follow the FIB rule (FIB= fitted is better). I don't know why I thought a bright red flowy shirt was the way to go, but after I caught a glimpse of myself in the monitor I knew I made a mistake. I giant red lollypop-esque mistake. So to any other self-conscious not-quite-back-to-your-pre-baby-body moms out there I offer this advice: flowy isn't good. Unless the body shape you're going for is round (and you want your aunt to call and ask if Clara is getting a brother or sister). So now I know. But on the bright side, in the looking-crazy department, I felt like I did my creepy perma-smile thing and clapped a little too enthusiastically, but overall it wasn't as bad as I thought. Most times I could be found just gazing at Nate…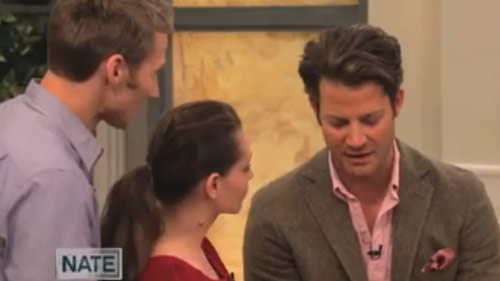 … and waving my hands around wildly (it looks like I'm yelling at one of the contestants here but I promise I was nice).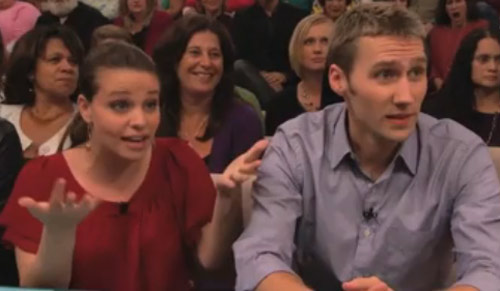 But enough self-dissection. Back to the story. It was an out of body experience. Words can't describe how funny, gracious, and amazing Nate was. Not only did he personally compliment our house and our design sense on and off camera (at one point I felt like I was melting into a happy little puddle on the floor) but he gave us a whole new respect for how hard the whole TV thing is. He didn't just have to master basics like how to read a teleprompter, think on his feet, and keep the audience engaged, he also had to memorize which camera to look at while delivering each segment (and there were at least 6 cameras in different locations and positions). Sometimes it felt more like a choreographed dance than a show. Mad props to Nate Dog.
And did I mention we got pretty chummy onstage? I mean, check out how close our hands got in this shot of us discussing the merits of burlap.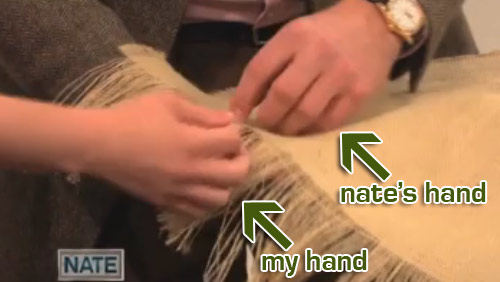 We had barely finished recording our last segment when a producer whisked us off set and told us we had to run to catch our flight (they graciously booked us on the earliest one possible so we could make it back to Richmond just in time to entertain Katie, Jeremy, and Will Bower who were spending the weekend with us. We ran out so quickly we barely had time to geekily snag the paper placard from our green room door. And it's only a coincidence that we snapped this photo with it in front of NYC's very own Home Depot as we sped sat in traffic on the way to the airport.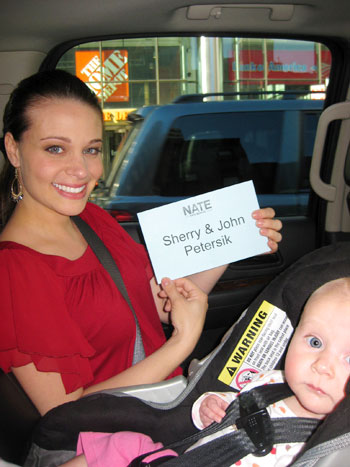 Despite all the traffic we had plenty of time to kill at the gate, which was quite entertaining for Clara since she was more awake for this trip to the airport than the one the night before. Look at that TV ready smile. Too bad she didn't get to be the third judge (although I doubt her squeals and dribbles would be as adorable to everyone else as they are to us).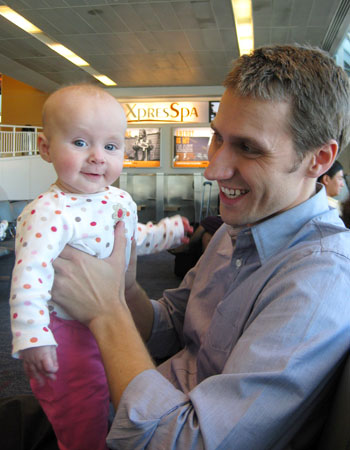 And since we were traveling during the day this time, she not only squeezed in a nice quick nap on the plane, but also enjoyed some alert time to look out the window and soak up the view. We are SO GRATEFUL that Clara's first two plane trips were so smooth. We feared the zip-in-zip-out plan might throw her off and result in a very sad baby indeed, but she's such a great little travel buddy. Just happy to go with the flow and see new things.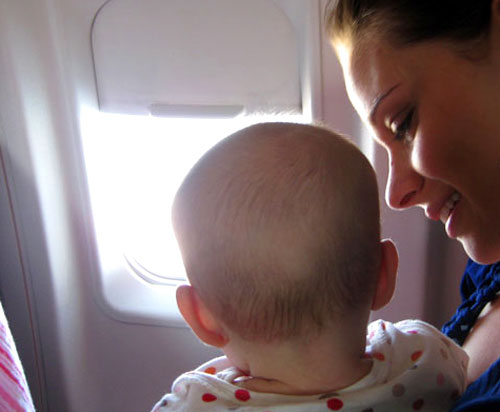 Anyway, happily our little family of three made it home just in time for the arrival of the Bowers. And boy was Burger happy to see us (thankfully John's sister Emily fed, snuggled, and pottied him while we were gone, just like she did when we were in the hospital with Clara).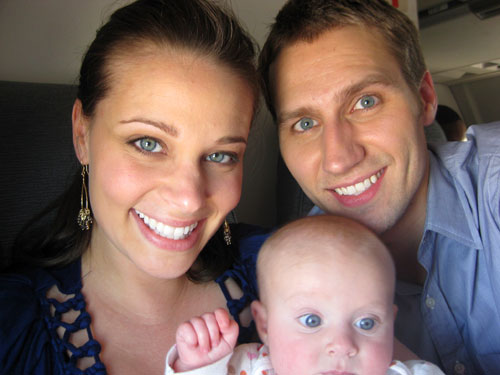 So that's the story of flying to NYC on a day's notice and returning within 22 hours of leaving. In fact we both woke up on Saturday morning and had the same though: was that all a dream? Were we really in NYC the morning before? We didn't really believe it until we saw the episode yesterday. Turns out it really happened. Somebody pinch slap me.
All images and video clips of the show, courtesy of thenateshow.com.

&nbsp&nbsp&nbsp