This post actually has two parts, the first of which is referenced in the pre-ellipses part of the title above. Our latest "He Said, She Said" column in Do It Yourself Magazine is out! Which means we're permasmiling and pinching each other over here. Dorky? Yes. We admit it. But we still can't believe we somehow tricked the editors into giving us our own little advice column.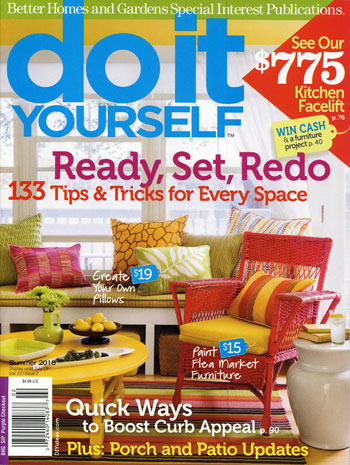 Like our previous two installments (check out Winter '09 and Spring '10 here) we've once again rounded up reader questions from both sides of the gender line. And this time we helped Amanda come to terms with her husband's request for a recliner and brainstormed an approach for Janelle to get the striped bathroom walls that she wants (but her husband doesn't). Click the image below to enlarge it.
This issue of Do It Yourself has actually been on newsstands for a little while already, so you might want to grab a copy before it makes like Burger when it's bath time (and disappears). As usual it has lots of other fun and useful content – including a great "Summer School" section with dozens of projects that are clearly illustrated and outlined for you to tackle. We're always amazed at how much they can squeeze into each issue. And speaking of squeezed in, next time they've promised to devote at least two full pages to our column (and even plan to work in some large and in charge photos) so we can't wait for that.
Of course you can always opt to peruse it at your local Barnes & Noble instead of shelling out loot to take it home (we love flipping through stacks of magazines there in an attempt to absorb as much inspiration as possible on a lazy weekend). But when it comes to this next magazine, you probably won't see it at your local bookstore (that's my segue to the post-ellipses part of the title). Heck, I can't even tell you what the magazine is called – just that it has lots of pretty homes in it.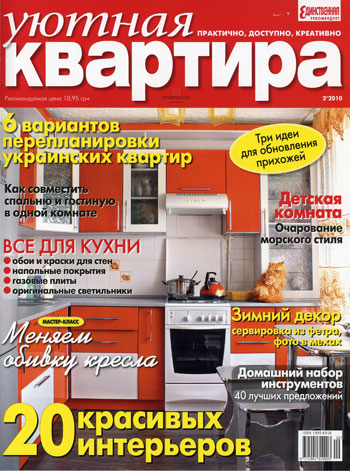 However it's pronounced, this Ukrainian publication showed up in our PO Box a few weeks ago with pictures of our very own house inside! And those photos were surrounded by a lot of text that we've been too intimidated to even attempt to translate. But feel free to click the image below to see it larger and take a stab at it.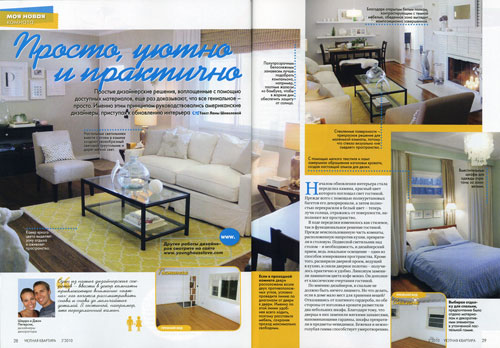 Sherry actually corresponded with the magazine's editor a while back to provide the photos, but it was still a surprise to see all of those unfamiliar characters telling our home makeover story (well, at least we assume that's what it's about). And we learned our lesson with this Greek website that we shouldn't trust online translators. So we're not going to even go there (even though we did get a few good laughs last time).
So now that you know what's on our coffee table these days, what magazines are you guys loving right now? Are there any that stand out to you as particularly helpful or especially beautiful as of late? Are you into the online magazines that are popping up these days (like Lonny and Southern Flourish)? Let's talk about deliciously glossy magazines (as Sherry would say, with a gleam in her eye).