Is that really our name listed over on Apartment Therapy as the winners of this year's Homies? Wow. We're simultaneously flattered and flabbergasted. Just call us flattergasted. Wait, maybe you shouldn't. It kinda sounds like a euphemism for flatulence. But it's safe to say that we're shocked and are definitely feeling all "aw shucks" about it.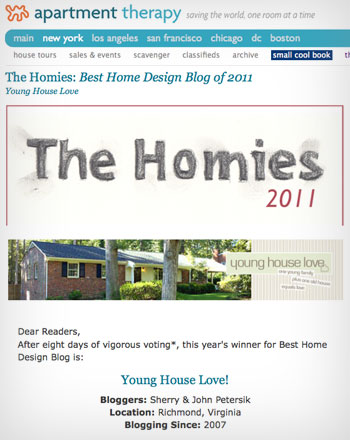 A big thanks to everyone who nominated and/or voted for us. There are so many awesome home blogs out there and it's such an honor to think that anyone believes that we belong anywhere near the top. We were just happy to be nominated among so many fantastic fellow bloggers. Really. And a big thanks to Apartment Therapy for playing host to this annual celebration of reader selected shelter blogs. It's always cool whenever sites like AT share some link love and spread the word about other design & DIY enthusiasts. Sidenote: We met Maxwell a couple of months ago at a book signing event here in Richmond and he's even more nice, genuine, and passionate than we imagined. Just a great all around guy. And I don't mean that in a creepy way.

Our favorite part of this whole Homie thing is the list of must-read home blogs that AT compiled as part of the reader submitted nomination process. Our Google Readers better throw on some elastic waist pants, cause we're gorging on a ton of new RSS subscriptions. So if you're looking to join in, might we suggest our fellow finalists to start?
7th House on the Left
Table Tonic
And don't forget to check out the amazing full list of nominations here (scroll down a bit for the whole mack daddy list). Oh and along with the title of the 2011 winner, the Homies also include a sweet $50 prize. And rather than blowing it on ceramic animals something for the new house, we decided to channel Maxwell and pay it forward to one of his favorite charities: Donor's Choose.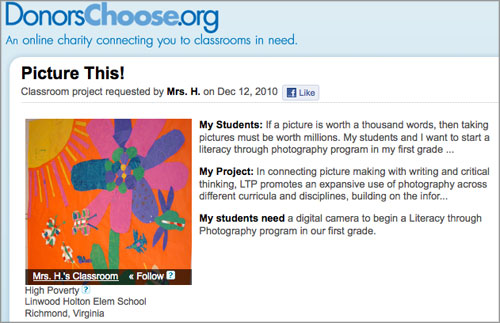 You can click the image above to learn more about that specific project. And as for more info about Donors Choose in general, it's a really cool organization where teachers can log on and request specific items that they need for their classroom, and you can pick whichever request hits home with you and donate directly to that cause (we're going to choose a local Richmond classroom that's looking for something that has to do with the arts or building – you know, since painting and hammering are two things that we still enjoy to this day).
So thanks again to Apartment Therapy for the inspiration and the fun! And to you awesome people who clicked the box next to our name. Holy bananas. We still can't believe it.