It's a crazy-but-we-wouldn't-have-it-any-other-way day here at Casa Petersik. We actually have a photography crew from BHG here (!) to shoot our newly transformed nursery and our recently renovated bathroom for two different publications: Kitchen + Bath Makeovers and Do It Yourself magazine. Fun, right? We're all geeked out about it.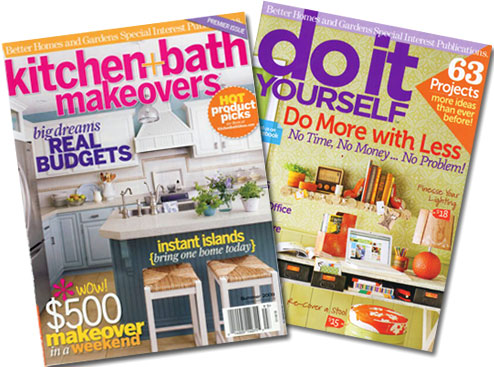 We're super excited to watch the stylists work their propping magic (how do they make bottles of soap look so good?) and we actually know the photographer Erik Johnson since he shot the rest of our house a while back for a three-issue article in Do It Yourself (see them here, here, and here). In fact here we are with Erik and the crew from that shoot of yore. Note to self: so THAT'S what my thighs look like- I haven't seen them in months. Although they might not quite look like that anymore…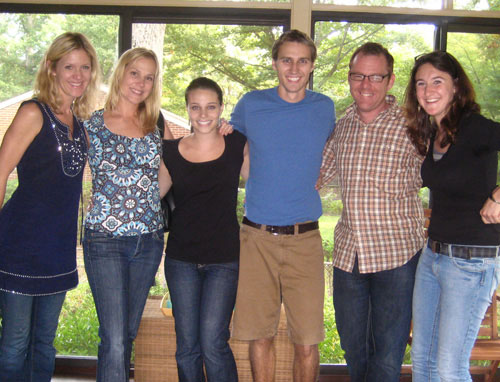 And speaking of the baby bump, my mantra of the day is "don't go into labor yet, don't go into labor yet." Of course with over two weeks til my due date there's no reason that I would (in fact we're betting I'll be late), but you know how you have some deadline in your brain that you just have to get past because of something important that you committed to? Well, this is it.
Plus I don't want to miss a moment of photo shoot magic. Look, in magazine world even dogs need to sign releases:
And fresh flowers are par for the course- even when the rooms to be captured are a bathroom and a nursery: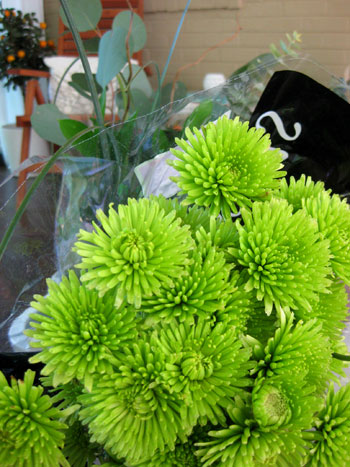 It's always fun to see how they tweak our rooms to give them a bit of glossy I'm-ready-for-my-close-up attitude. In fact, check out this old post full of behind the scenes tricks from our last Do It Yourself shoot and this writeup full of dirty details from our big photo shoot with The Nest magazine last year. And we promise to share some more backstage secrets about this adventure when we can. Until then the name of the game is keeping my belly out of the shot. And when you have a 43″ circumference that's actually quite a feat…
But enough about the goings on here. What's up in your neck of the woods? Anyone have any fun Friday plans or big weekend projects on the agenda?