When we heard from the editors of this up and coming online mag that's geared towards living it up in style in the south (think Lonny meets Southern Living) we couldn't wait to see the premier issue. And when they actually explained that they wanted us to BE in the premier issue… well, let's just say lots of dorky high-fiving ensued.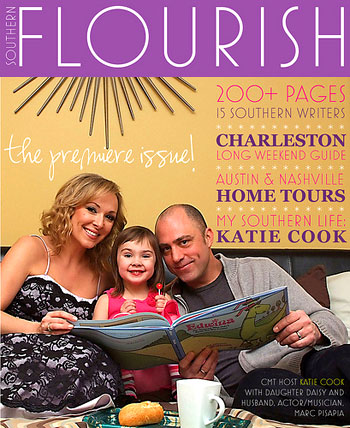 They went on to tell us that Southern Flourish will have a reoccurring column called "Our Favorite Room" and they wanted us to introduce that feature by dishing about which room in our house is our absolute fave and why. How did they know that's totally our idea of a good time? Seriously, we had so much fun contributing to the inaugural issue and we love the entire finished product (we clicked through it voraciously from cover to cover).
You can read our article which is embedded below (just click the little arrow on the right to turn the page, and click on the mag to enlarge it):
We definitely love their goal to keep things fresh and young and fun (which aren't always words that people associate with the good ol' south) and we can't wait to see how their mag grows and, well, flourishes.
So we're sending out a giant virtual thank you to everyone over at Southern Flourish for the amazing opportunity to be a part of their very first issue. And it's only going to get better (they plan to add more links to things right in the copy, so you can see the price and even purchase more items that you like as you flip through). With lots of great printed publications disappearing left and right it's always encouraging to see online content popping up. Plus they're gloriously and amazingly F-R-E-E! Which makes them candy for a magazine loving girl like me. Seriously, I can pop them like M&Ms.
Oh and while we're on the subject of our favorite room, we'd love to hear what space in your home is your fave. Is it your bedroom because it's so peaceful and clutter free? Your kitchen because it's where everyone gathers? Your family room because it's casual and cozy? Spill it.