Our First House
After yesterdays first house vs. current house comparison, this comment from Jess definitely got our wheels turning: "I think its an unfair comparison to put 8 months of work at the current place up against 4 + years at the old. You should have compared current photos from this house to what your old house looked like 8 months after you moved in there!!" Well, that's probably not quite fair either, since we've definitely learned a ton in the last five years of homeownership (and also spend a lot more time doing house stuff these days since this DIY diary of ours is our job)… but we're game! It's Friday. But oh boy is this walk down memory lane going to amuse you. Just picture us quietly cringing over here as we bare all.
See, eight months into owning our first house, we still didn't even know how to properly paint trim (I painted all of it in the entire house with flat paint only to learn it should be semi-gloss and then had to redo it all – and yes, it was torture). But the beauty of this post is that it's a good reminder that houses take time. And sometimes they look crazy. Which is probably why some of the completely unfinished rooms in this house don't make us want to cry as much as they did in our first house (back when we thought homes were supposed to be done the week after you moved in). Now we know better. So just for fun, here's how our first house looked around eight months in (which was only about eight months before we started this ol' blog to track the progress of our big kitchen renovation for friends & family members). Oh and you can scroll back to yesterday's post if you want to peep the final first house pics (or compare this roundup to our current house's eight-months-in progress). Just didn't want to bog this post down with 50 more pics and crash the site like I did yesterday. Oops.
Front Yard, First House (8 Months In):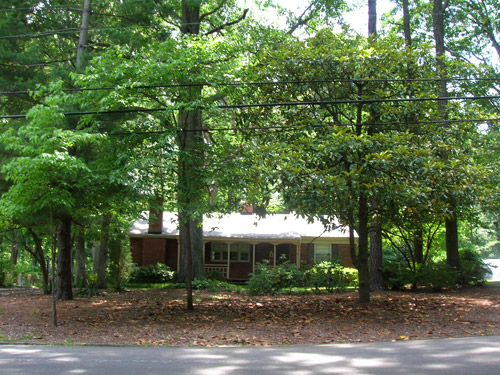 Our front yard was kind of just a forest when we moved in. But in eight months I did manage to clip all the trees that completely blocked the view of the house from the curb so neighbors could sneak a peek (yes, there really was a house back there). Project Tree Trimming was one of those let's-surprise-John-when-he-comes-home-from-work projects that I did with a lawn chair and a branch cutter. And yes, the mister was shocked to actually see the front porch from the street.
Front Porch, First House (8 Months In):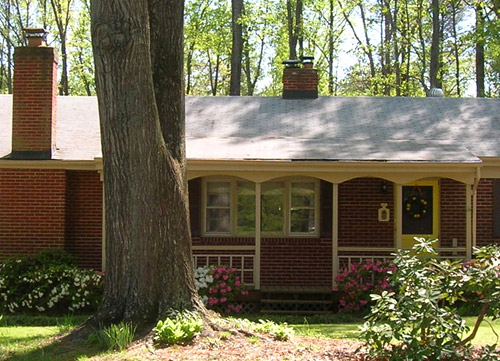 This was a few weeks after I clipped up the branches. I took a saw to the fully slatted wood screen door and cut a big "window" in it just to break things up. Then I painted it yellow and hung an embarrassingly lame twig and faux lemon wreath from Target. Oh yeah and that thing hanging next to the door was left by the previous owner. It was a wood plaque that looked like a cutting board with a pineapple and the word "Welcome" painted on it. Very country cottage-y. But I loved that thing for a good year.
Living Room, First House (8 Months In):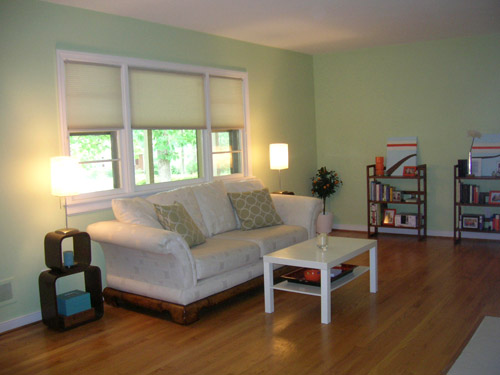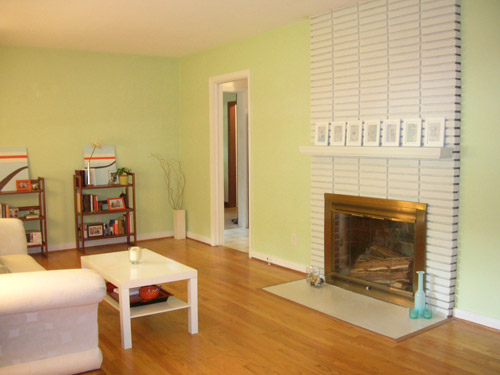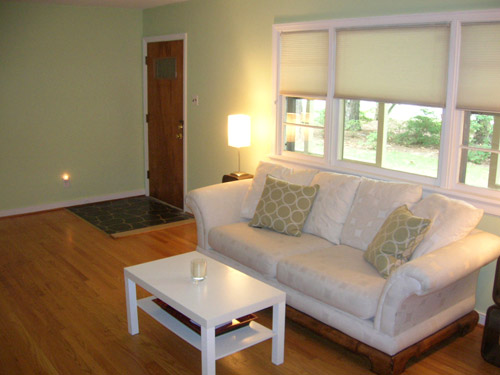 Oy. That's really all I can say. The sofa was a hand me down from a family member. The iconic college dorm coffee table was an Ikea find. Everything is way too small and way too far apart. There's a square of faux-stone linoleum in front of the door. It's all sorts of horrible. Living with this room for a few years taught us that creating two zones in the long-ish space (a dining area and a living area along with a console by the entryway) filled the space in a more functional and not-crazy-sparse way.
Kitchen, First House (8 Months In):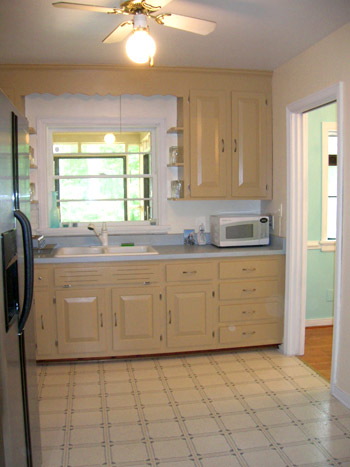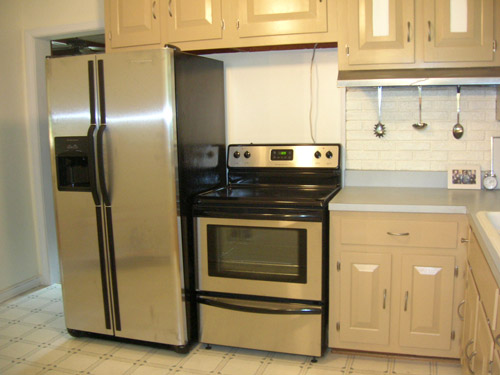 We were pretty active in the kitchen within eight months of moving in. We got all new appliances (Frigidaire from Lowe's, which we carried over into our big remodel about eight months later) and painted the cabinets (Brown Bag by Glidden), replaced the hardware (with cheap Ikea stuff) and painted the faux brick backplash (Wishes by Glidden). It still looked like a hot mess in there, but it was our mess. Come on, you know you like those awkward serving spoons hanging from the metal range hood that's not actually over the stove.
Dining Room (Future Bedroom/Nursery), First House (8 Months In):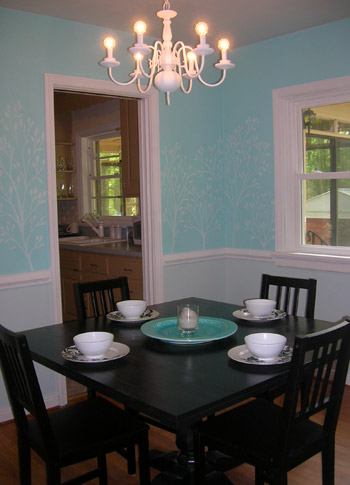 We had lots of fun with this room, even though it wasn't very functional (a room that barely accommodates four people does not a dining space make). We actually built that table ourselves (using a thrift store pedestal base and a giant piece of wood screwed in from below and then painted glossy black). I also spray primed and painted the old chandelier white (it used to be brass) and replaced the long pointy fire-shaped bulbs with modern round ones. But my favorite little adventure in there was painting the area over the chair rail with tiffany-box blue paint, and then using chalk to draw subtle leafy branches on the wall. Crazy yes, but lots of fun (I even used a spray fixative from the craft store to keep it from rubbing off). More on that project here.
Master Bedroom, First House (8 Months In):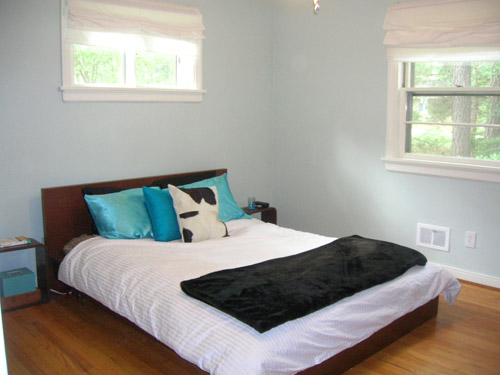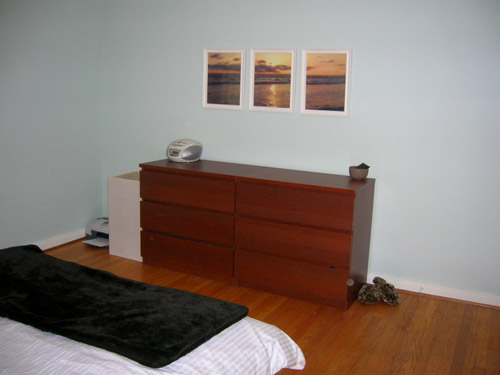 Yikes, this room was baaad. Much like the living room everything looked really sparse. And yes, that's a printer/fax machine hiding on the floor in the corner. Freelance copywriter from home = actually faxing things pretty regularly. But there's no excuse for having it on the floor in the bedroom. And the too small art and too low bed with nothing else going on to fill things in around them kind of kills me. Thank goodness for living and learning.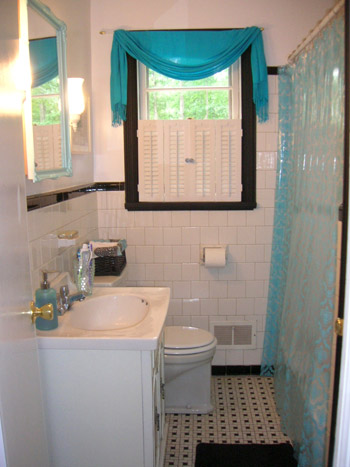 Oh yeah, this bathroom phase is like looking back at photos of a really bad haircut in ninth grade. I thought painting the trim black around the window could look really cool and Domino-ish… but no. Not happening. So I painted it white again and removed the swag (which was actually a pashmina that I still wear to this day – and giggle when I remember its past life). Ah, much better.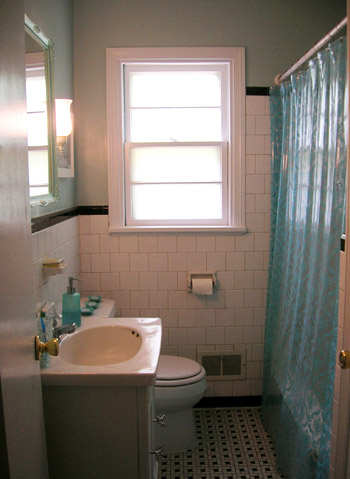 Guest Room, First House (8 Months In):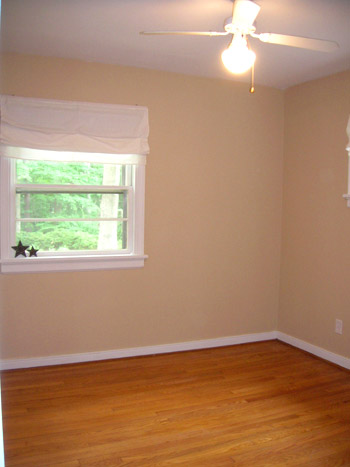 So… eight months in meant we painted the room but that's it. Still no bed for guests. We were saving our pennies and focusing on other areas, but we eventually got a full sized bed as a hand-me-down a few months later. Hooray for sleepovers.
Den, First House (8 Months In):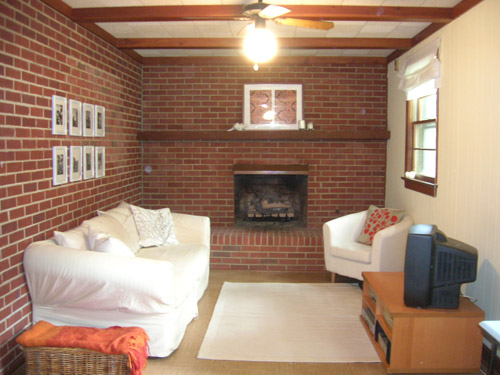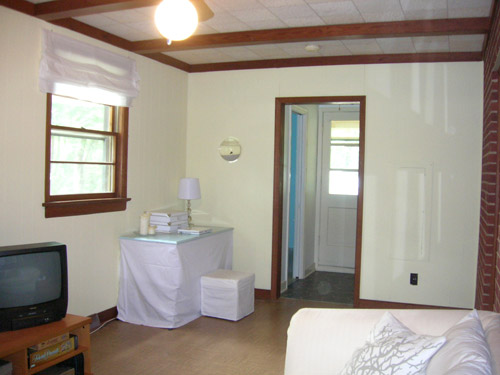 Bad news bears. Seriously, everything from the white bedsheet that I actually stapled to the underside of the desk in the corner to the crooked-looking painted paneling but unpainted brick makes me cringe. About a month later we painted the two brick walls the same color as the two paneled ones and it started to move towards the room that we know and love (but it still took a while to work up the energy to tackle those beams).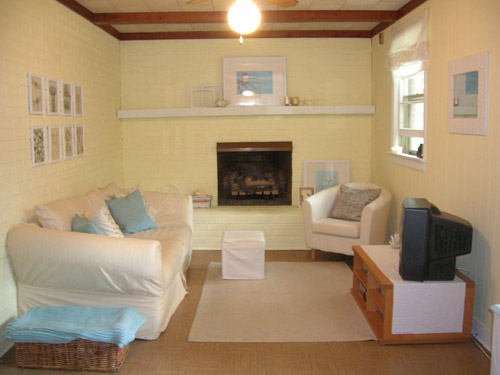 Laundry Nook, First House (8 Months In):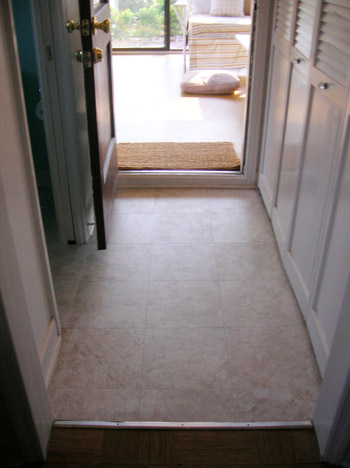 This is a terrible shot of the space that would someday become the laundry nook because it's aimed at the floor, but I was terribly proud of the peel & stick vinyl tile that I laid down over grody old yellow sheet linoleum (that always looked dirty no matter how hard I scrubbed). Of course about a year later we'd remove those bifold doors to open the laundry area up (and to avoid door wars between the bifolds and the door to the sunroom) and add wood flooring throughout the entire hall, half bath, den, and kitchen. Oh but you might notice that I put little glass knobs on the bifolds to make them more palatable until those later phases. It's the little things.
Half Bathroom, First House (8 Months In):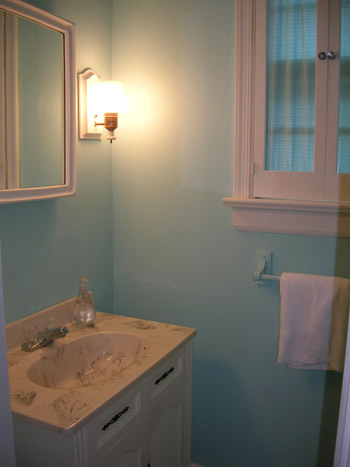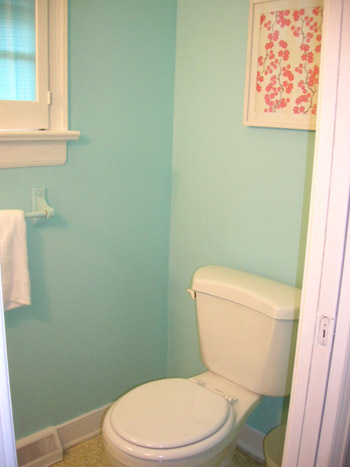 We knew that giant boxy sink vanity needed to be switched out for a smaller pedestal sink to make the tiny room feel a lot less crowded, but eight months in we were pretty scared to take that on (a little googling revealed that we had to cut into drywall to find studs to secure the back of the sink basin) so we put it off a few months longer. But we did paint the walls the same tiffany box blue that we had in the dining room (with flat paint, which was a bad call, btw- now I always use semi-gloss in bathrooms & kitchens) and replaced the toilet (it was avocado green when we moved in). And I replaced the knobs and the grungy old fabric on the window shutters (but later removed them entirely because natural light was much needed).
Sunroom, First House (8 Months In):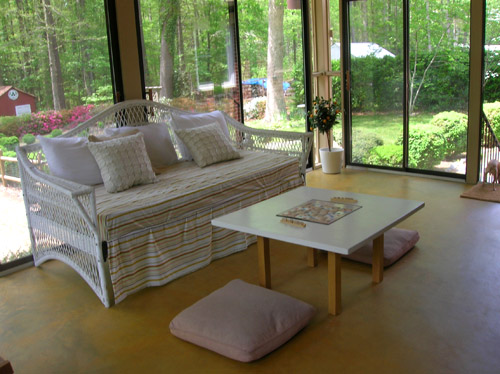 We actually did a fair amount of work in eight months in here. We got that wicker daybed as a hand-me-down and then got a hand-me-down twin mattress for it (and used regular old twin sheets from Target to cover the mattress and make that odd little skirt in the front). We also used a cheap-o lack table from Ikea to create the scrabble table (we just topped it with a larger tabletop that came with the thrift store pedestal that we used to make the dining table). We also stained the concrete floors a color called "tuscan gold" – which I later grew to hate because it was a bit too orange-y in direct sunlight (so we painted it a glossy chocolate color to tie it into the hardwood flooring throughout the house).
Patio, First House (8 Months In):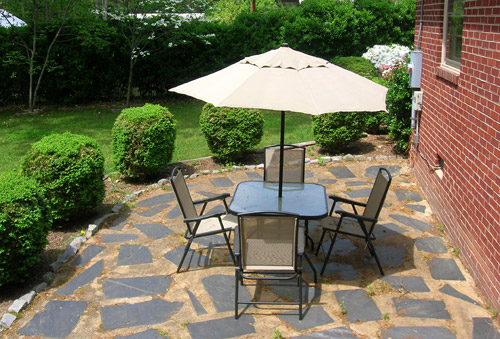 This patio was labeled as "needs replacing" during our inspection, so we knew it was on its last leg but thought we could live with it for a little while. But when my mom visited a few weeks before our backyard wedding and said she feared for guests' safety (and pictured them all breaking their ankles on it) we decided to spend some of our saved-up "house fixing fund" to pay a pro to redo the whole thing over the course of three days (since it was just a few weeks before the wedding and we feared a giant half-finished disaster if we took it on ourselves). Knowing just how hard laying a patio is from doing the one at our current house, we're still very happy we hired that one out so we could plan the rest of our wedding without that monkey on our back.
Back Yard, First House (8 Months In):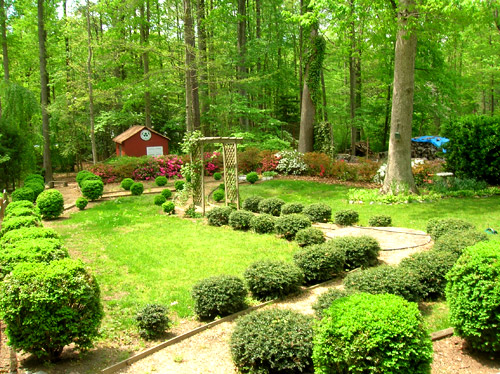 During our walk-through I glanced through the window in the old dated dining room and saw this. And I nearly lost my breath. I remember thinking "all this could be ours?" – I just thought having all this space would be awesome (the deep woods beyond the planted part was also part of the acreage). At first we loved the park-like setup above (and kept it pretty much exactly like this for the wedding (you can see how we set things up here), but eventually we grew tired of weeding the long pea gravel path and pruning the bushes and trying to use the tiny patches of segmented grass for incredibly mature things like extreme frisbee and chasing the dog, so we eventually craigslisted the gravel & bushes (folks dug them all up and hauled them for us in exchange for them being free) and we laid down some grass seed for a nice flat grassy yard in front of those deep woods. And Burger thanked us repeatedly for the trouble.
So there you have it. The state of our first house around eight months in. Thank goodness for the whole learn as you go, trial and error thing. It might not be the quickest way to a complete makeover, but I'm telling you – there's something to it. Eventually you get there. Heck, it's still the exact method that we use today (we just know a bit more about what we like and what type of paint should be used on trim and in bathrooms). So rejoice if your house is only a shadow of what you long for it to be. That stuff takes years, at least it does for us. So just keep trying things and learning about what floats your boat and eventually you'll get there. Oh and don't forget to enjoy the ride.
&nbsp&nbsp&nbsp
Last Friday on this post we got this comment and thought it sounded like a good time: "I love your videos and it's crazy to see the difference in YHL style from the first house to this house! If you wanted to do a side-by-side of rooms past and present, I wouldn't hate it :)" – Sarah
I decided I wouldn't hate it either. So here we go. It's a battle to the death. First house vs. current house. Cue the dramatic music and picture me in a Gladiator outfit. Of course it's kind of an unfair fight since we've been in this house for eight months and it took us four and a half years to finish our first one (and we definitely expect this one to take us at least that long since it's bigger and we have crazier plans). So think of this as finished vs. in-progress (aka: cut the current house a little slack). Oh and we stole most of the current house pics from our House Tour page, hence the big "progress" label on the bottom. Anyway, it's on:
The Front Yard, First House: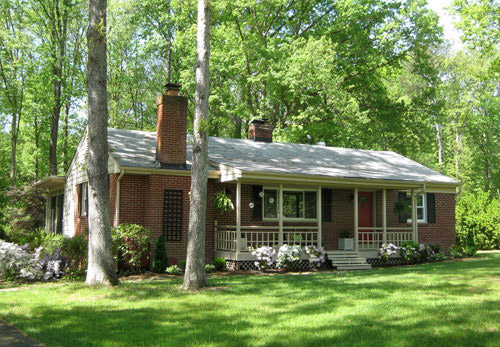 The Front Yard, Current House: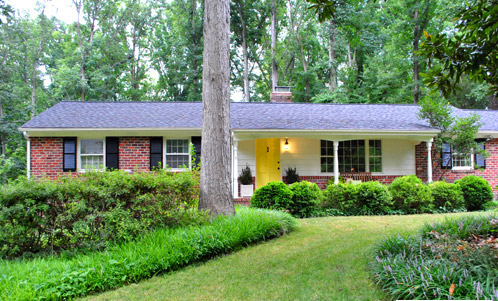 Winner: The first house. That's an easy one. It took us over four years to upgrade it from this disaster, and we still need at least three more years on our current one, since from other angles it looks like this unfortunate mess.
The Front Porch, First House: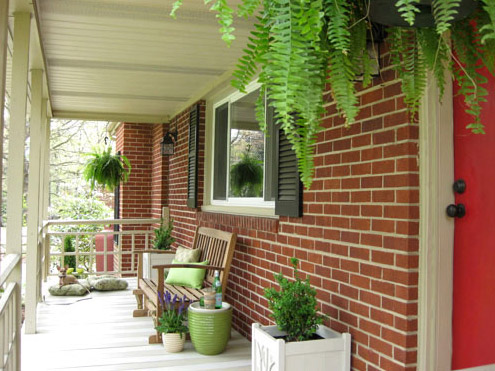 The Front Porch, Current House: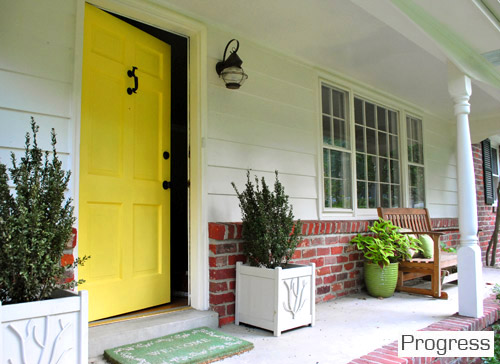 Winner: The first house. We actually would give the front door win to our second house (we loved the red but we lurrrve the yellow). But we still have big plans for boxing out the porch columns and staining the concrete and doing about a million other things at our new digs – and the hanging ferns and tan-and-cream stripes on the first house's porch were a few of our favorite things.
The Living Room, First House:

The Living Room, Current House: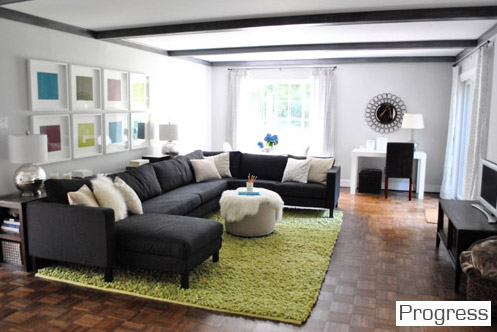 Winner: Our current house. This might be a controversial choice since our current living room is nowhere near done (and still looks like a hot mess from certain angles), but we never really used our formal living room in the first house (we had a den for TV watching and chillaxing). So we feel tons more at home in the current living room where we can sink into our giant sofa, play on the cushy rug with the bean, and even eat by the big window at the pedestal table in the back (sometimes while watching TV, we'll admit it).
The Kitchen, First House: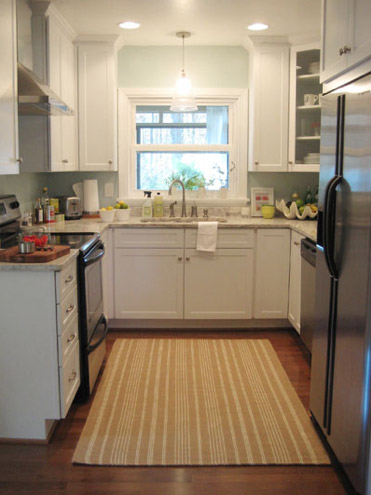 The Kitchen, Current House: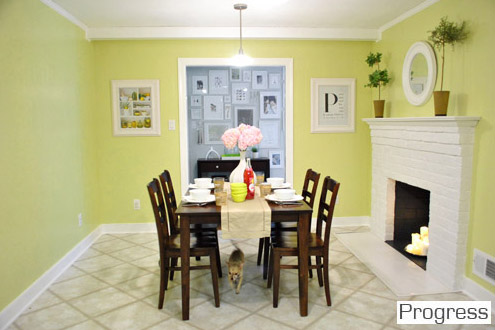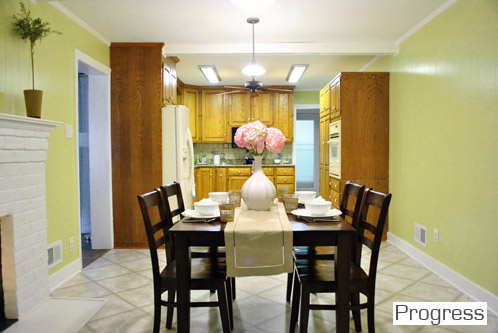 Winner: Is it lame to say it's a tie? The first house's kitchen made our hearts go pitter patter when it came to the granite counter, shiny white cabinets, and the stainless steel appliances… but it was tiny. The new kitchen, although extremely early on in our big makeover plan, is nice and spacious, with a fireplace and room for an eat-in area. And once we knock a huge opening to the dining room, get new appliances, paint the cabinets, and upgrade our old table for something built-in, we think the current kitchen will take the win, hands down. So I guess it's a tie just because the last one was full of loveliness but pretty small, and this one is full of space to spread out and some serious promise.
The Hallway, First House: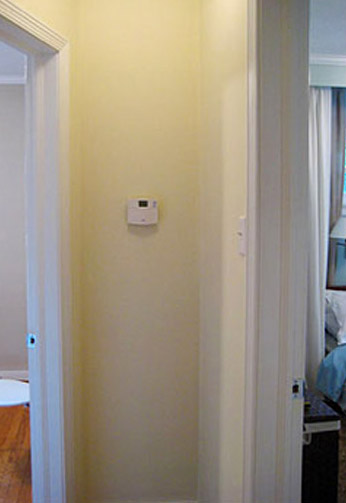 The Hallway, Current House: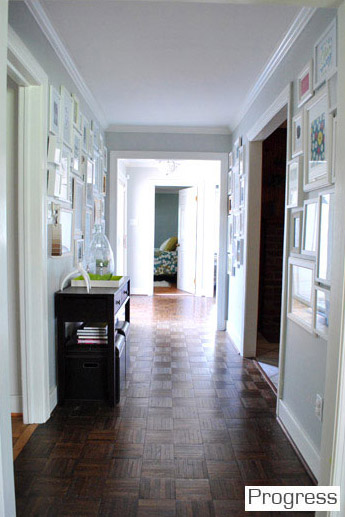 Winner: Current house. We're so thankful to have a nice wide, light-filled hallway. And the giant family gallery of frames makes us feel all warm and fuzzy.
The Spare Bedroom, First House: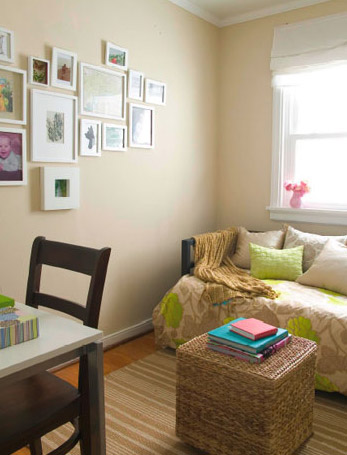 The Spare Bedroom, Second House: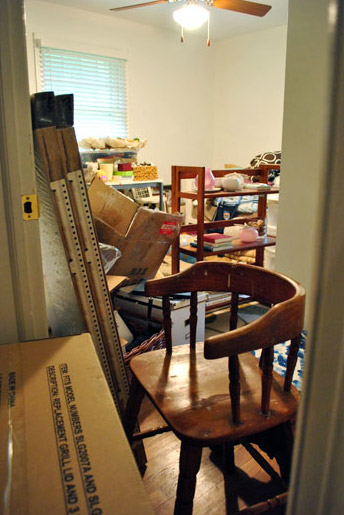 Winner: The first house. Duh. Although this picture is stolen from an old post about how messy the playroom was before my mom helped me clean it, once again it looks almost this ca-razy. So yeah, the clean little room with a daybed and a desk was a lot less hive-inducing.
The Nursery (Formerly The Third Bedroom), First House: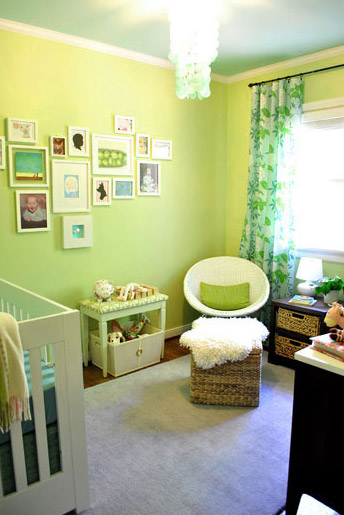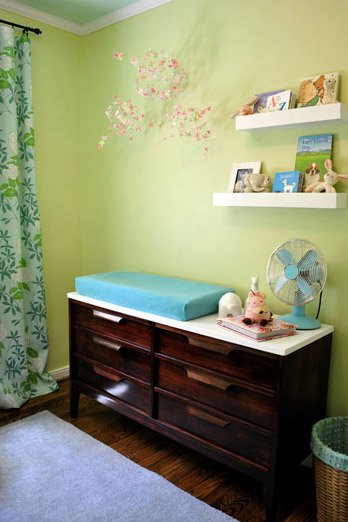 The Nursery, Current House: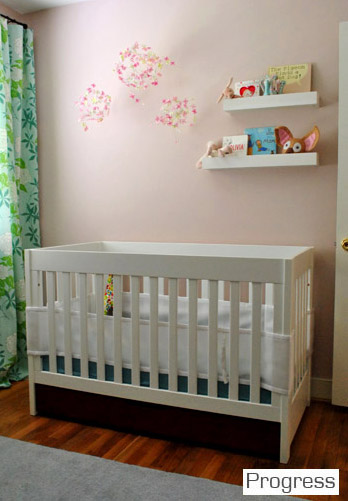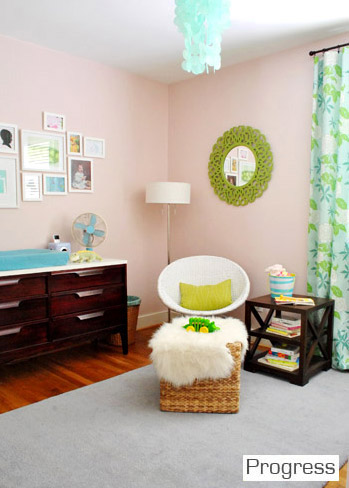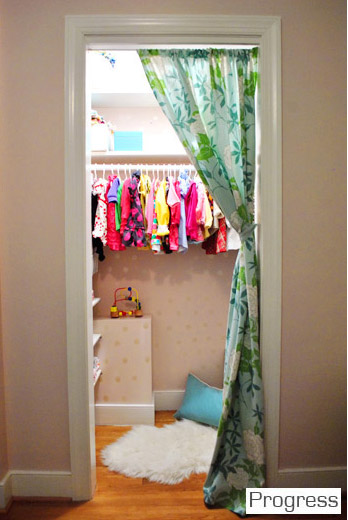 Winner: Current house. But it was a hard call. We loved the room that we took Clara home from the hospital to so much. It just was such a sentimental space. But the bigger closet in the current room (which Clara now uses as a reading nook) gives her current room the edge.
The Master Bedroom, First House: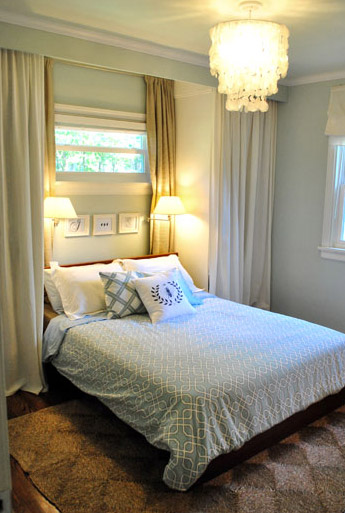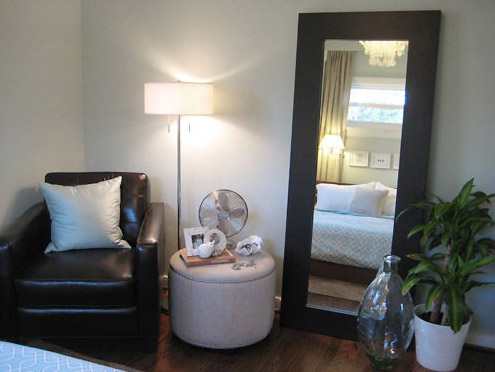 The Master Bedroom, Current House: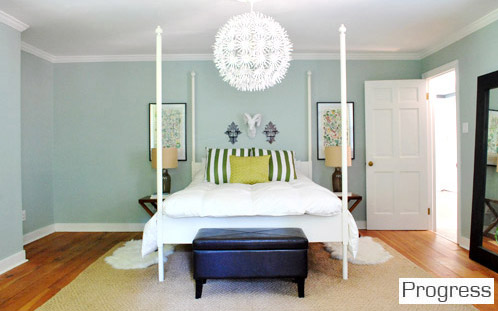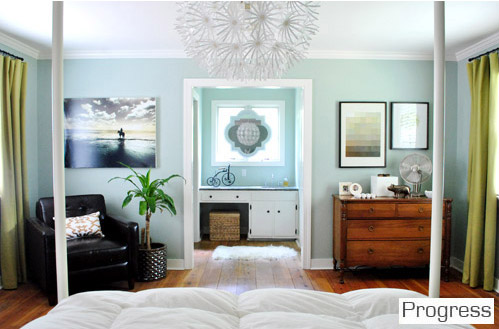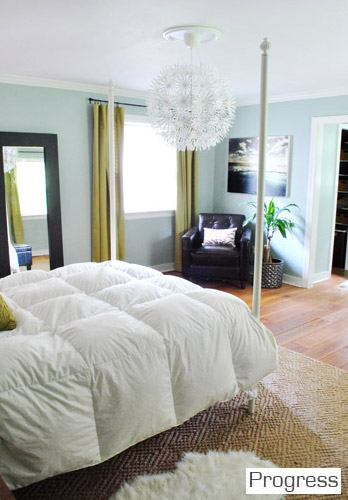 Winner: Current house. Even though it's only about 20% done, sleeping under that big chandelier which reflects perfectly in the mirror that we hung above the sink makes us geeky-giddy. And of course having a walk-in closet and a master bathroom that's actually connected is a huge step up. Although the built-ins that we created with doorless Ikea wardrobes to flank the bed in our first house (and provide some much needed storage) always have a special place in our hearts.
The Master Bathroom (located in the hall), First House: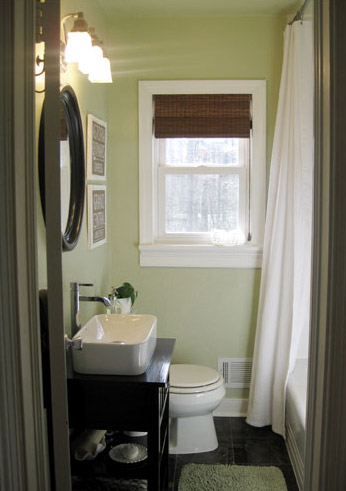 The Master Bathroom (actually attached to our bedroom this time), Current House: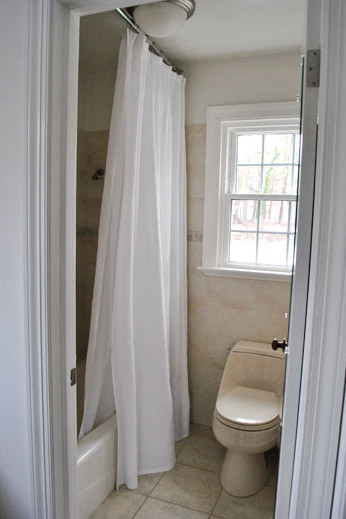 Winner: First house. By a mile. We loved that complete bathroom gut job more than words can say. And we haven't really touched our new one. But we can't wait to update things (check out that bisque toilet). We'll probably love this one more someday, since it's attached and doesn't have to be shared by everyone in the house.
The Office/Guest Bedroom/Playroom, First House: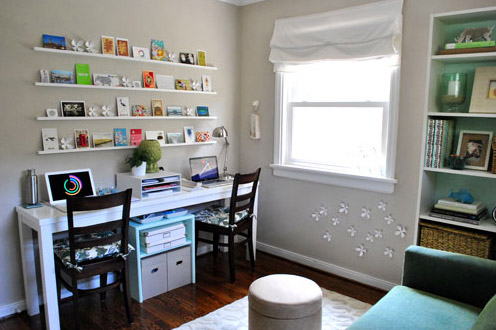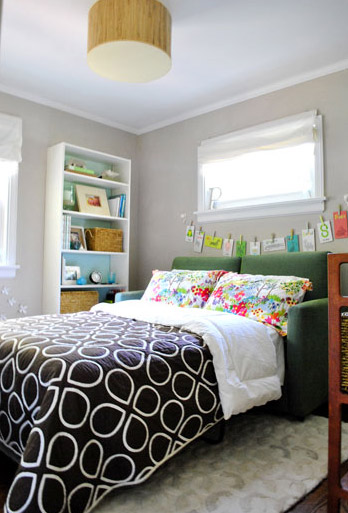 The Office & Guest Bedroom (which are now separate rooms), Current House: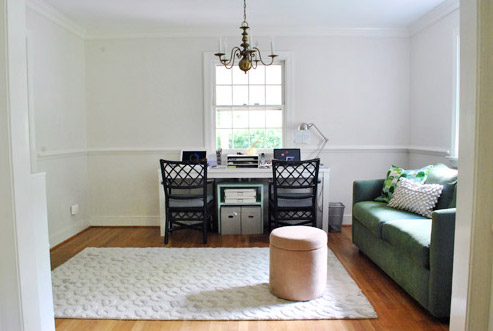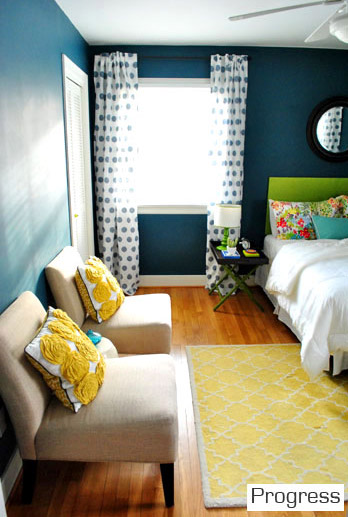 Winner: Current house. The office in our first house was such a great multi-tasking space, but it was teeny and it made us feel a little cramped when we were all in there (just look at how small the desk that used to take up a whole wall looks in the new office pic to see what we mean). And when guests came to town it was hard to do blog stuff (which definitely doesn't stop on nights and weekends) since the office was occupied by family & friends. So although our first home's office/playroom/guest room was such a fun space, it's a lot more functional to have our own cheerful guest room (with its own attached bath) for guests. Although we wholeheartedly admit that our current office situation "ain't got no alibi, it's uggggly (hey, hey) it's ugly."
The Den, First House: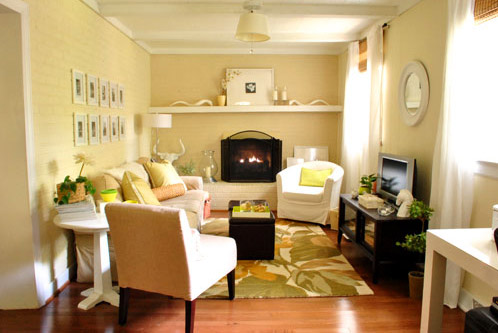 Winner: The first house. 1) Because our current house doesn't have a den, and 2) Because our first house's den was one of our favorite rooms ever – so cozy.  Although the room that we call "the living room" in our current house could have been a den (but instead we opted to turn what used to be a formal living room into a spacious dining room to accommodate our huge family who couldn't squeeze into the dining room behind it, which we made into the office). We decided that one huge casual room for TV, reading, playing, & hanging out was more than enough, so we didn't need a second formal living space in the front (especially because we didn't use the first house's formal living room much at all).
Dining Room, Current House: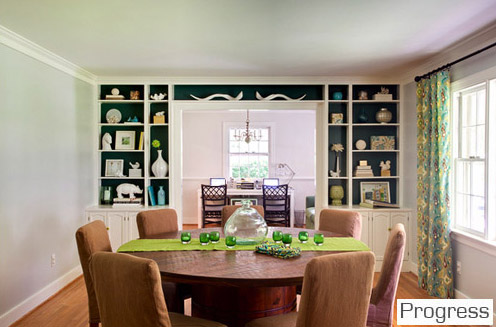 Winner: Current house. 1) Because those curtains are my babies and we're enamored with the dark teal color that we painted on the back of the built-ins, and 2) Because our first house didn't even have a dining room (it just had a dining nook in the corner of the living room). Well, originally it had a small dining room off of the other side of the kitchen but we closed off that doorway to turn it into a third bedroom which later became the nursery since we needed that space far more. It's all much more clearly explained here.
The Laundry Area, First House: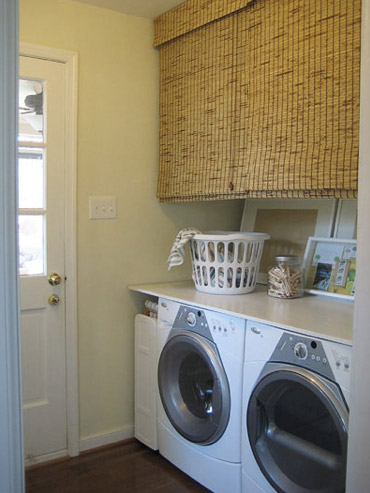 Laundry Area, Current House: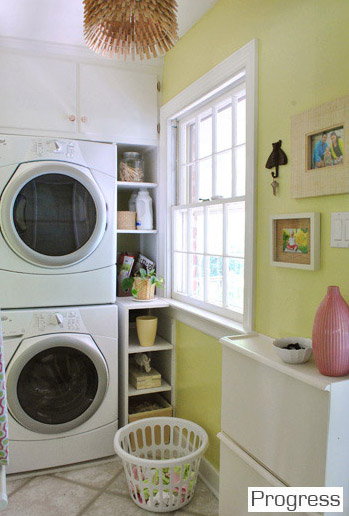 Winner: The current house. We love our new laundry space. Even though it's narrow and we don't have a surface for folding, it just feels happier. Plus we don't have to fight all of our normal human urges to resist clutterering up a big long counter near the door like we did in our first house (it was always full of incoming or outbound stuff). And it's more fun to fold laundry in front of the TV on the sofa in the living room anyway.
The Hall Bathroom, First House: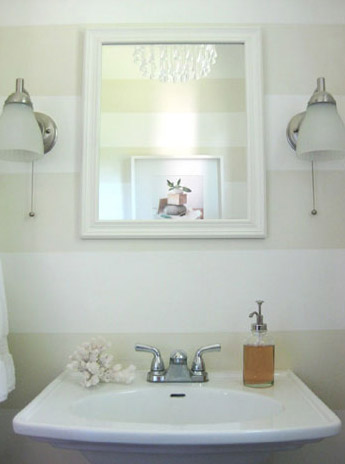 Hall Bathroom, Current House: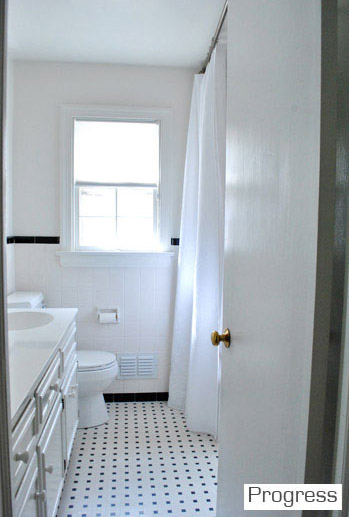 Winner: First house? The stripes and the fun glass chandelier were so charming. And we loved the pedestal sink and the pocket door too. But the new hall bath isn't just a toilet – there's a tub in there, which is where Clara takes all of her baths. So maybe the current house wins for function but the first house wins for sweetness? Either way, that blank slate of a bathroom in the current house is begging for some love. But we'll count this as a point for the first house until we tackle the new one, since that was our first instinct.
The Sunroom, First House: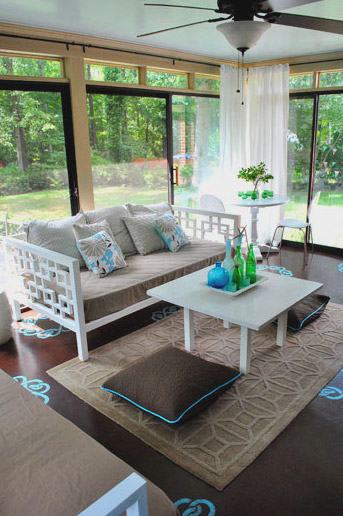 The Sunroom, Current House: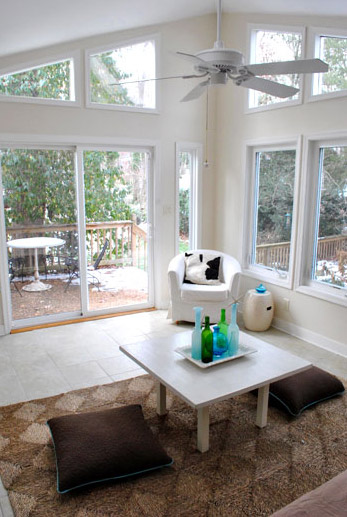 Winner: First house, all the way. We have about ten million things on the list for the current one though, so maybe in four years it'll give our first one a run for its money…
The Patio, First House: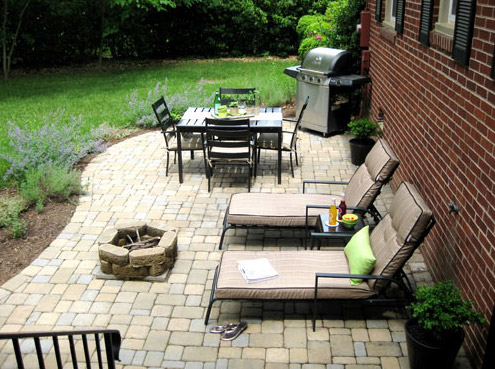 The Patio, Current House: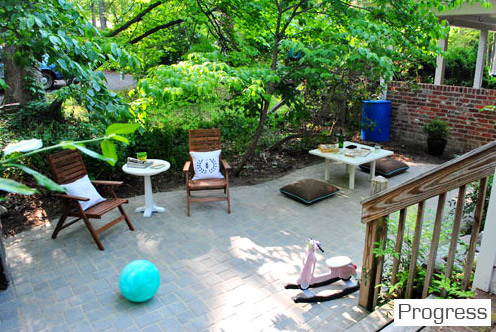 Winner: Current house. Just because it's more spacious and cozy/shaded. But most of all because we did it ourselves (we hired out the first house's patio since we were three weeks away from our backyard wedding and worried that if we tried to DIY it we'd get married next to a half-finished mud pit).
The Basement, First House: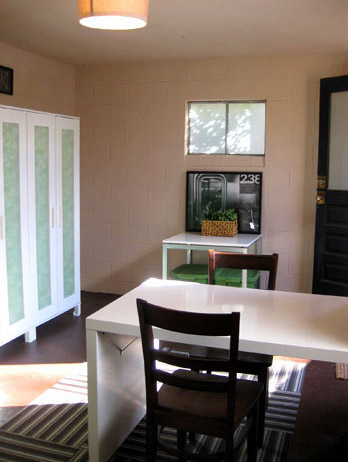 The Basement, Current House: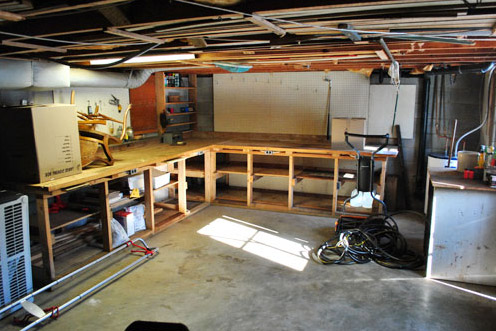 Winner: First house. Because we've obviously spent a little more time on the first one. Haha. But you never know what we'll do down there with our current one someday…
The Backyard, First House: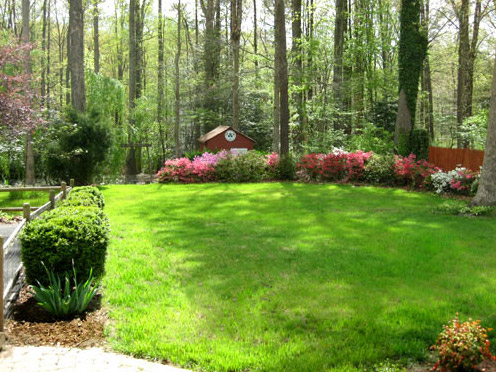 The Backyard, Current House: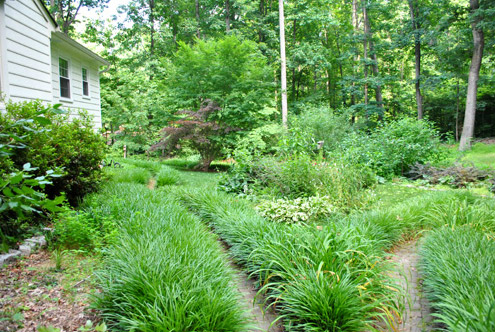 Winner: First house. We still miss that lovely flat grassy area surrounded by pretty woods. Someday we'll get there though (after lots of transplanting, to hopefully make a little grassy spot for Clara and Burger to romp).
So there you have it. I think the final tally is 9 to 8 (with our first house in the lead). But I guess in fairness we should revisit this whole comparison thing when some of the spaces in the new house have actually been updated a bit more. That was a really fun little comparison though, Sarah. Thanks for the suggestion. It's interesting to see how our style is gradually evolving, although we always have a soft spot for the tone-on-tone look of our first baby- er, house. What do you guys think? Have you ever looked at photos of your current house next to photos of a previous house to compare what you liked or disliked about them? Isn't it funny how a new house is a chance to completely reinvent yourself, yet you're usually working with a lot of existing furniture, so it still has "glances" of your first style going on? The evolution is definitely all part of the fun.
Psst- Check out a full source list for where we got nearly every last item (and what paint colors we used) in our first house here (we're still working on one for our current house).
&nbsp&nbsp&nbsp