Halloween is in just a few short weeks so we broke out the old creepy raven along with a bunch of other spook-tastic props from last year (see our big Halloween '09 set up here). And other than springing for some candy for the kids in our neighborhood and some candy corn for ourselves we didn't spend a dime (hindsight: candy corn is the worst- it's basically just a stomach ache waiting to happen). Oh and we grabbed some $4 carnations too. So here's the console table all decked out: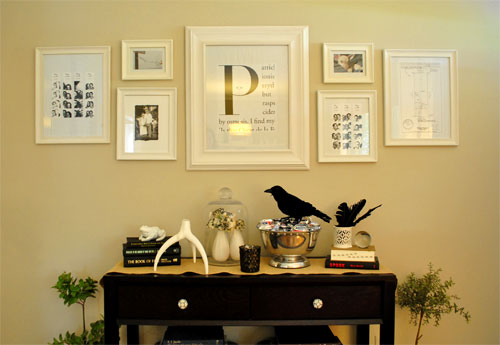 Nothing too fancy, just a piece of burlap as a casual runner with things like some eerily titled books that we dug up along with some feathers from last year and my new little white ceramic frog (further explained here). And of course there's the bird, a faux antler candlestick, and the black votive from last year's Halloween dealy-o.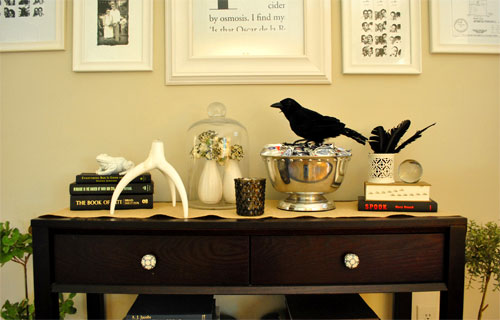 And see the photo above Mr Frog? Here's the close up. John made us skulls in photoshop last year and we loved it so much we brought it out again this year. John's cavernous hole-like eyes are so handsome.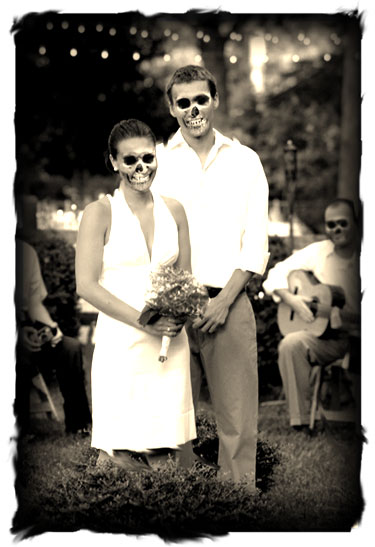 And can you tell what I shoved under that glass dome?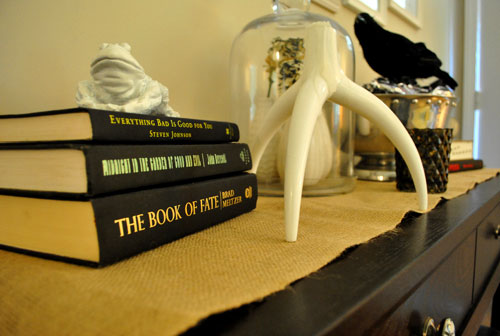 Last year I stuffed a framed black silhouette of Burger in there, but this year I picked up some $4 white carnations and painted them black for a gloomy-ish look.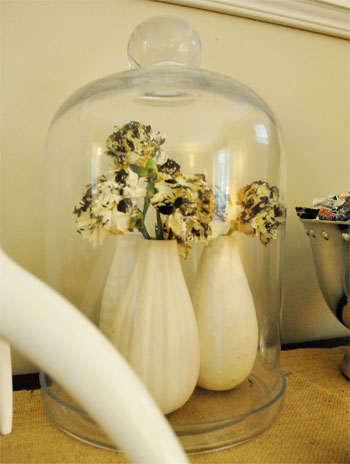 Now we just have to resist the Three Musketeers and York Peppermint Patties instead of eating them all before the 31st. Honestly, that's probably not going to happen.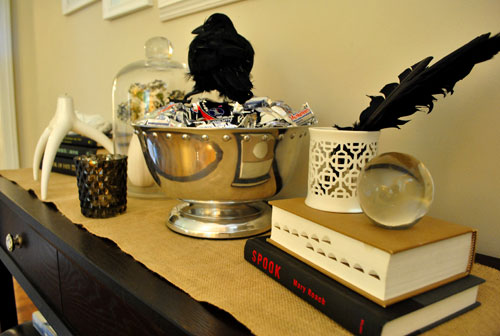 And here's the coffee table full of faux pumpkins, round votive holders (I liked how they mimicked the shape of the pumpkins), and two vases with dried grasses for a little fall texture and height.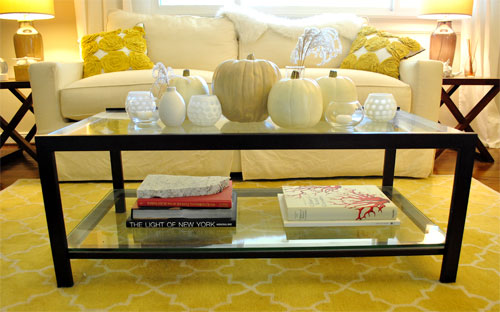 And see the dining table beyond our little pumpkin and candle fest?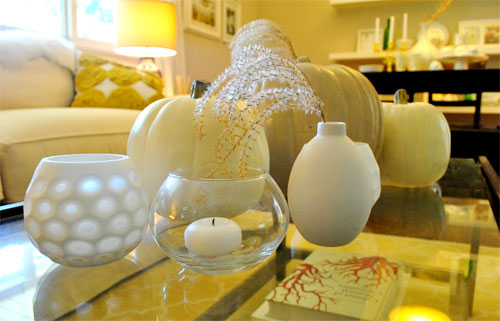 That's where I broke out the tummy torturing candy corn (maybe we just eat too much but it always makes us want to die about five minutes later) along with my spray painted faux gourds and Lumiere (the Beauty & The Beast-esque yellow spray painted candlestick from Goodwill).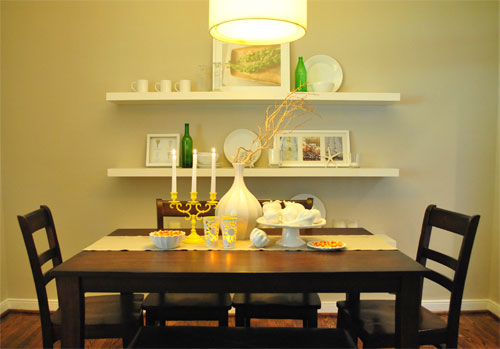 We also added three votive cups (also from Goodwill a few weeks back) with faux candles flickering inside of them and a manzanita branch for height and more of that seasonal stick-y vibe.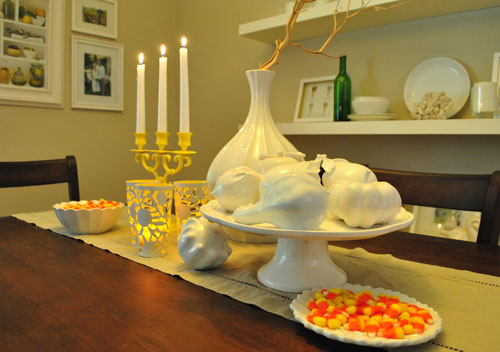 I guess you could say our theme for this arrangement was bold lemon yellow (as seen in the candlestick, the two-toned metal cups, and that dastardly candy corn).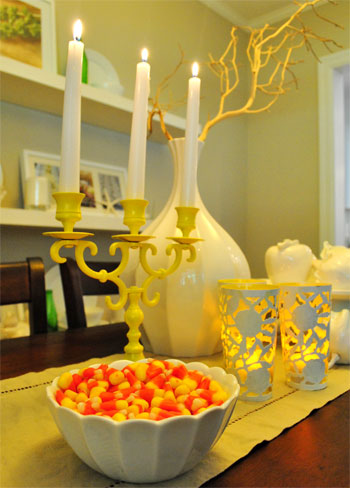 So that's how we added some "creepy" to our living room without spending any money (except for the aforementioned edible items and those white carnations that we painted).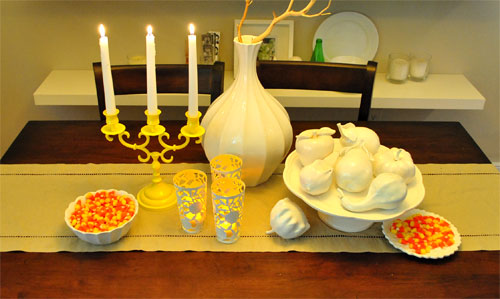 What are you guys doing to get your place Halloween ready? Is anyone with me on the candy corn is evil theory? Does everyone else have to buy two rounds of Halloween candy since they eat the first batch well before the 31st?
Psst- Wondering where we got our Halloween props above? Peep last year's post for a full source rundown.
Pssssssst- Don't forget to check out our weekly BabyCenter post, this time it's about animal themes, from owls to rhinos and beyond.