How did we gain a ton of extra square footage to take our for-sale casa from 1300 finished square feet to 1550 in the last 48 hours? We'll give you a hint: we didn't add an overnight addition. We just added a permanent heat source to our existing sunroom… and now it counts as livable square footage!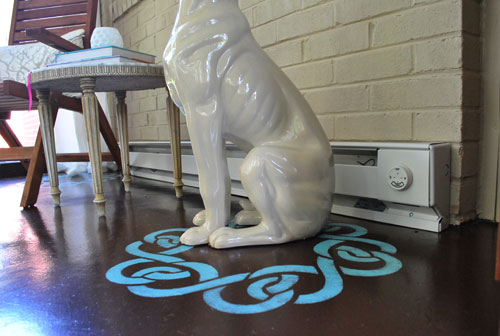 A realtor friend of ours advised us that rooms don't need to be heated and cooled to count as "finished" here in Richmond – just heated. Meaning the only thing keeping the biggest room in our house (our sunroom) from getting counted as official square footage was a source of heat. So we called a few electricians and got some estimates for a six foot baseboard heater to be hardwired and installed, which should definitely keep the room nice and toasty on a crisp winter day (assuming the sliding doors are all closed of course). The winning bid was $250 and within 48 hours it was done-zo. Yup, our former three season room can now be used year round.
Here's what the breaker box looked like when the job was in progress: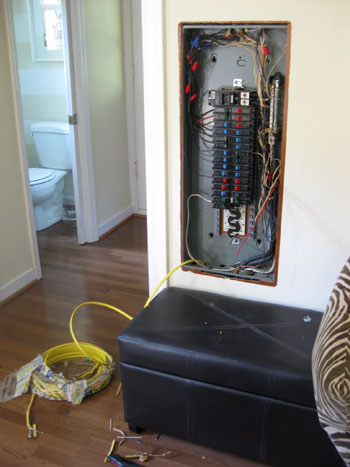 Let's just say that we're glad that we didn't attempt to DIY it ourselves (messing with the main breaker box while the house was on the market just sounded like a bad idea, and the installers actually had to drill through the concrete sunroom floor and wire things up through the basement and the crawl space so we're glad we left it up to the pros).
The most fun part of the project for us? Changing our fliers from 1300 square feet to 1550, which makes the dollar per square foot ratio even better for any potential house hunters (and now we won't lose people who've set a must-be-at-least-1500-square-feet search parameter). Plus with our sunroom being one of the most awesome rooms in our entire house, we must admit that it definitely hurt when it couldn't be counted as anything before. Doesn't that room deserve a little love? Well, the problem is now officially solved. Sunroom: you count.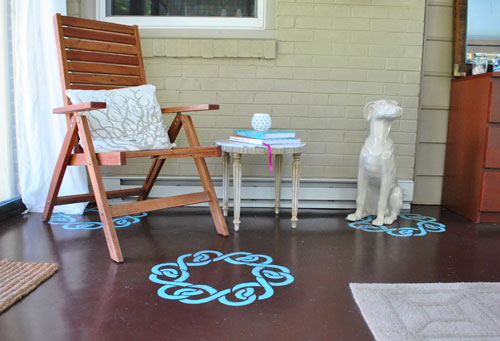 We like how crisp and streamlined the baseboard heater looks installed at the foot of the brick wall. And the easy-use dial (marked off, low, med, and high) is all anyone needs to heat things up whenever the mood strikes.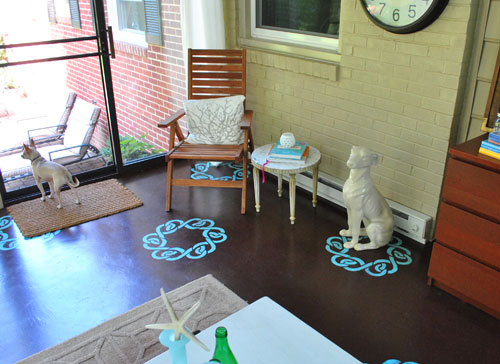 The more expensive solution would have been to install a one-room heat pump system (estimates for that ranged from 2-3K) but our realtor friend actually recommended the baseboard solution over the heat pump since it's such a simple and inexpensive upgrade (and it's usually all that people need from a sunroom anyway). So that's how we gained 250 more finished square feet – for only about a dollar per square foot.
Have any of you guys "finished" an almost-finished space in your house (either to sell it or enjoy it)? We're kind of sad it took us this long to tackle Project Baseboard in our sunroom since it's definitely one of our favorite rooms. Who knows how much we could have used it in the last four winters that we've spent here!
Note: For anyone who goes this route, we suggest getting an impartial appraisal so the updated square footage can be verified and recorded on record for your protection! Also remember that you may have to inform the county that you've expanded your square footage and may need to pay taxes on that area (we already pay taxes on the sunroom, garage, basement, and other unfinished areas but we still plan to double check that we've done all that we need to do for this square footage to officially "count"). And remember that different areas have different rules, so check yours out before diving in.