When we spotted these odd little metal cups for $1.50 a pop at Goodwill (which you may have noticed in our recent Halloween post) we decided to take them home for a speedy little spray paint makeover. We fell in love with the little cut-out shape and since we already had yellow and white spray paint around (thanks to this project and this project) we got right to work.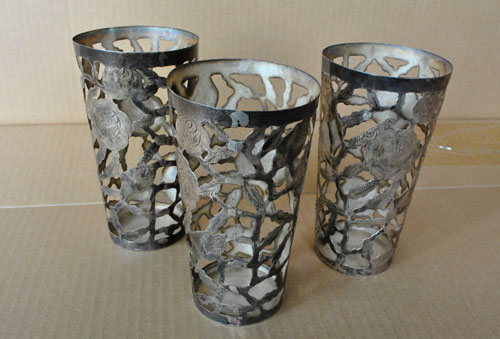 Our concept was to make the inside of each cup yellow and the outside of each one white, just for a little two-tone fun. So we thought up a few ways that might work when it came to accomplishing that effect. First we debated spraying the whole thing white and then covering the outside with painter's tape and then spraying in the inside yellow. But we reasoned that it would be harder to spray the inside of the cups (and the painter's tape might peel off the new-ish paint) so we decided to start by spraying the inside of each cup with yellow paint, which of course got on the outside a bit as well: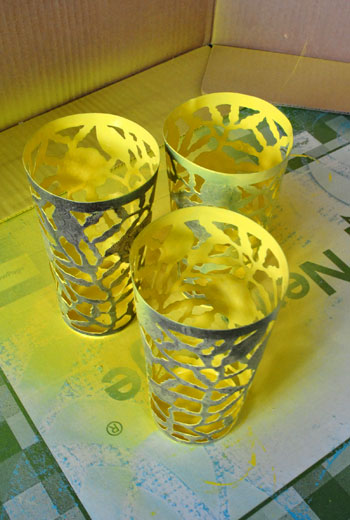 Then instead of messing with painter's tape we decided to try rolling up a piece of white paper and slipping it into each cup (to hopefully shield the yellow spray painted interior from the coat of white spray paint that we then applied to the outside).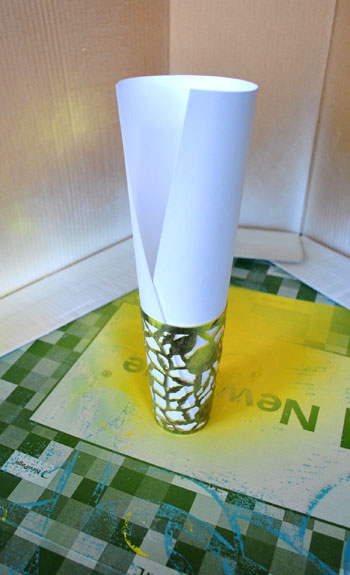 Here's what it looked like after that coat of white was added: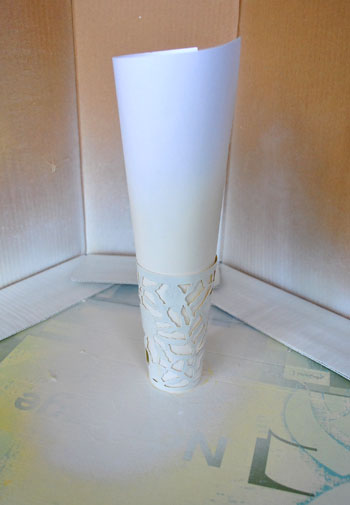 We had no idea if it would actually work, so when we removed the rolled up piece of paper from each cup after the paint dried, we were pleasantly surprised to see that we were left with a nearly perfect result: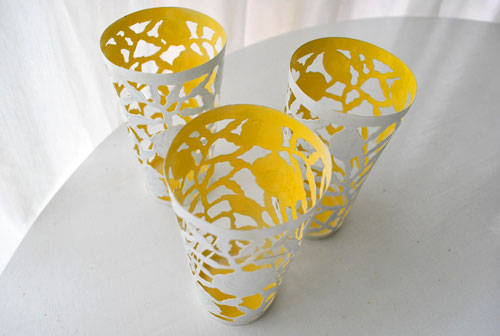 And it honestly only took about three minutes to complete the entire project (not counting the five hour drying period that we allowed for after spraying the yellow and before slipping in the white sheets of paper in and spraying the outside white).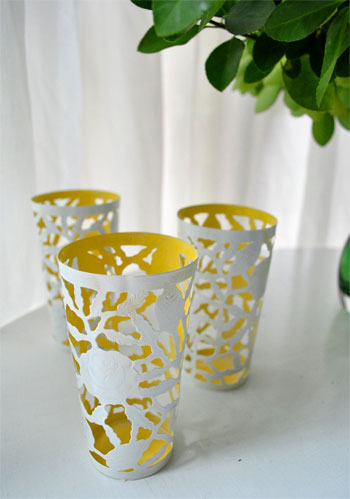 We love the idea of using them for flameless candles so the yellow interiors are illuminated without the risk of setting our whole house on fire. You know, because that would be bad.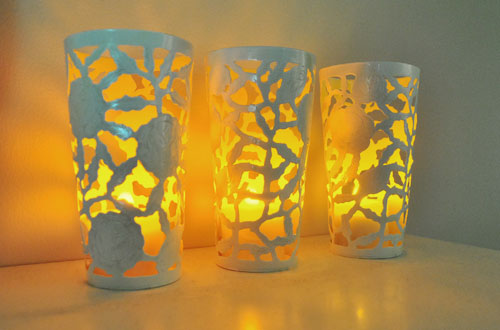 What about you guys? Are you spray painting anything in a two tone finish? Are you morally opposed to faux candles because you think they're tacky (you know those small battery operated fake-os)? I must admit I resisted them for a while but for things like this they're tres handy.